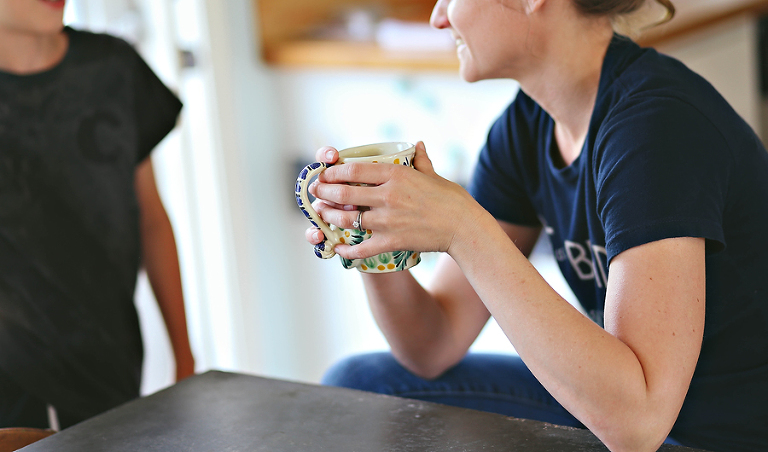 We were sitting on a gym floor watching our youngest daughters during their gymnastics class. Running around the gym, our other kids stayed happily busy. I was multi-tasking. Watching one flip with her class, keep my ears attentive to others playing basketball and diy-ing some business cards for Hope Spoken. As we sat there just catching up, my dear friend told me about how someone challenged her to drink her coffee with two hands.
Two hands.
The idea was simple – when we drink coffee (or tea or Dandy Blend or whatever you choose) with two hands we are usually moving slow and soaking it in a bit more. Usually we are really enjoying that cup of coffee, that moment. When I think about two handed coffee drinking, I think of camping trips, Craft Weekends, Saturday mornings…basically, I think of slow. Most days I pour a cup of coffee and drink it with one hand. The other hand is busy doing a host of other things. Sometimes the cup sits on the counter and is never finished.
Drink my coffee with two hands. So simple, but shockingly hard on many days.
I've been thinking about it constantly. I've been drinking my coffee with two hands this week and let me tell you – there is so much wisdom in that simple challenge. When my hands aren't busy doing other things, my mind is more attentive to what is happening around me. Two handed coffee drinking – I think it needs to become all the rage in this house.