PINTEREST UPDATE: This is a post from 2010. I do not take custom orders, only the tutorial is available. The lamps have held up wonderfully.


As many of you requested, Marie is sharing a little tutorial here on how she made her lampshades. When she made them she was not planning on doing a tutorial for this blog, so be sure to thank her for taking the time to write all this out. Also, for those wondering…Kara will be sharing some tutorials for her book art on her blog soon.
*******
Marie is happy to do custom orders for those that prefer buying over making!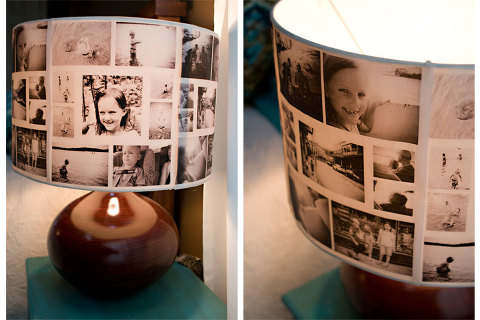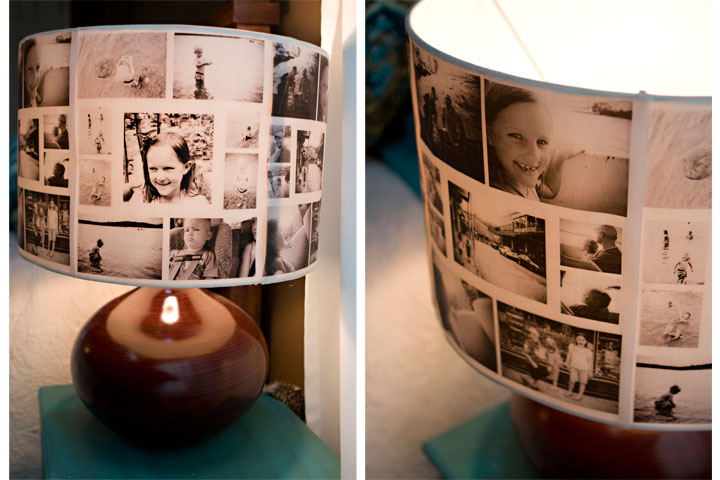 SUPPLIES:
* LAMPSHADE – Hobby Lobby carries self-adhesive shades & nightlights, Target has some smaller lamps for $19 that would be perfect for this project, I've found some lamps & shades on Craigslist. The simpler the shape of the lamp, the easier this project will be
* GLUE – I used a hot glue gun for the first lamp. I tried repositionable scrapbooking tape for the second, but that didn't work as well. You could experiment with spray adhesive or other, more permanent scrapbooking type glues/tapes. If you choose to attach something to the inside of a lamp, you can just use tiny pieces of tape on the corners
* VELLUM – I buy this in packs of 20 (I think) in the scrapbooking section of Hobby Lobby. I used clear vellum – but you could also buy tinted vellum for a different look.
* CRAFT KNIFE OR SCISSORS, PENCIL & RULER – to trim the vellum, I used a ruler and pencil to mark the cut lines & then used a craft knife and self-healing mat to cut the vellum. Scissors and a steady hand work too.
* PHOTOS – I used a free program called Picasa to make the photo collage (I believe this program is made by Google, check their page of programs if you are interested). I used Picnik (a free online photo editing program) to make the different colored photos for the tall lamp.
* PRINTER – I have a color inkjet printer. I believe you can also print on vellum with a laser printer.
I didn't take any photos of the lampshade-in-progress because I had no idea that I would ever enter it into a competition or need to explain to anyone how to make it – but I'll do my best to explain the steps involved.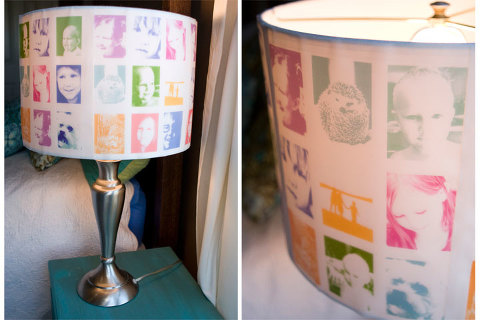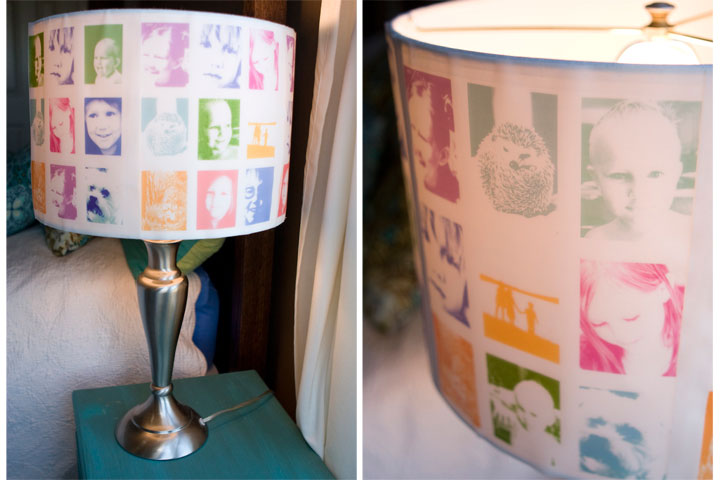 If you are using photos – there are several options. You wouldn't have to do a collage. You could do several large photos. You could make your own collage by cutting out smaller pictures and gluing them individually around the lampshade. You could print them in regular color or black & white or sepia or whatever you come up with! This summer I was playing around with some vacation pictures one day & decided to make a photo collage in Picasa – it's very easy to do. Just select the photos you want to use, click on the COLLAGE button at the bottom of the page & then format the collage (you can rearrange pictures and choose from different collage options). After I had a collage I liked I decided to print one on vellum just to see if the idea I had might work. At this point – measure your lamp & determine if you need to change the margins of the collage or photo. My lamp was 10" tall – so I made sure that there was ~3/4" white edge on the top and bottom of the page (8 ½ x 11") so I wouldn't have to trim to close to the photos. You'll also need to measure around the lamp & determine how many pages you will need & if it ends up not being a nice, even number – adjust the margins on the sides to make each page narrower.
Next I printed the collage on the vellum – depending on your printer, you might want to adjust the printer settings. In the past, when I printed baby photos on vellum for birth announcements, I changed the setting to "fast" because the "high quality" setting put down too much ink and made it look blotchy in spots. I have a different printer now & I believe I printed this in the "regular" setting – although I'm not certain. Key here – make sure you have plenty of vellum to experiment with.
Once the photo or collage or quote (or whatever you decide to work with) is printed, don't mess with it for a few minutes. The ink takes longer to dry on the vellum and it will smear if handled too early. Once the ink is dry, use your ruler and a light pencil line to mark where you need to trim the paper (if necessary). I have a self-healing mat & craft knife (purchased at Walmart) that I used to trim the vellum. On a smaller lamp I made, I just trimmed the vellum using scissors. Works just as well.
Once the pages are trimmed, make sure they fit around the lamp the way you want them to. On the tall lamp I made, I had to tweak some of the edges because the lamp was a tiny bit bigger at the top than at the bottom (didn't realize this until I was getting ready to glue the pages on & the edges weren't matching up!).
For the black & white lamp – I used a hot glue gun because that was what I had handy. Like I said in the supply list – there are many other glues that would probably work. I liked the hot glue gun because you really can't see the glue dots unless you look closely & it holds the vellum really well. I used teensy, tiny dots of hot glue on each corner & middle of the side edges – primarily because I wanted to be able to remove the pages at some point to do a different collage. If you want it really stuck down, do a thin line on the edges. I tried a repositionable scrapbooking tape, but the edges kept trying to pull away & I had to touch it up with hot glue. A stronger tape would probably work better & would make for a nice, clean finish (I'm guessing, lol). I'm guessing that spray adhesive would probably work great too – although I haven't tried it yet.
**Two important notes on the vellum (in case you've never worked with it before). Be careful not to bend it – because the vellum will crease & once it creases, a line will always be visible in that spot (this is the main reason I cut it with a craft knife – the less you have to handle it, the less chance of creasing it). Second thing to keep in mind – if the vellum is printed with and inkjet printer & the vellum ever gets wet – it will most likely smear. (If I were making a lamp for a bathroom or kitchen or something, I would either glue a second sheet of vellum over the photos or I would experiment with putting the vellum *inside* the lampshade).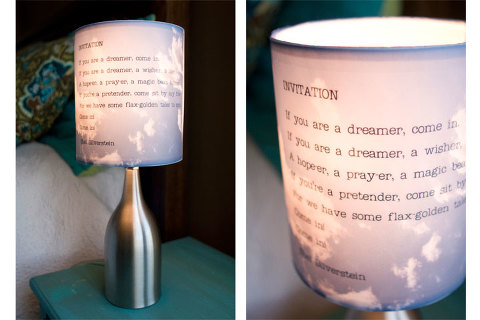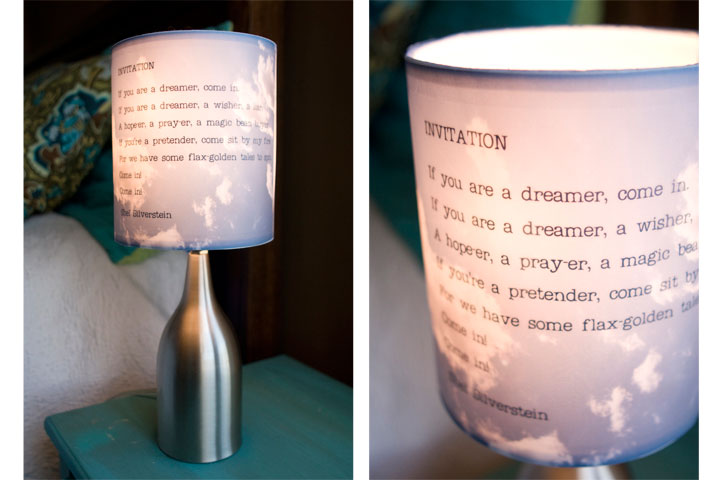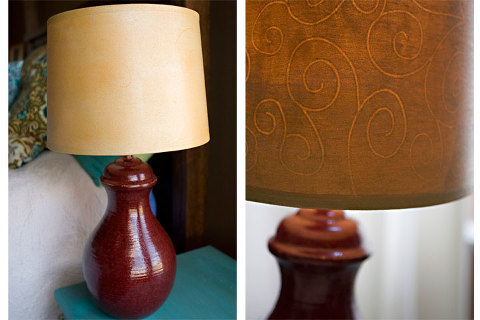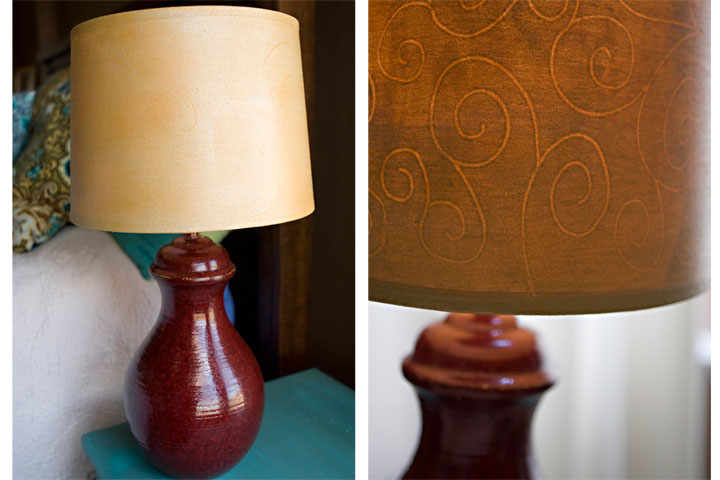 That's it! Kind of a wordy description for something that really was quick & easy to do. I hope this information helps! I'm happy to answer any question or troubleshoot for you if you need advice. You can email me at darby3878 @ cox dot net or mariedarby @ cox dot net
If you make one please share it with Marie on Facebook! (you can also see some of Marie's other projects there…check out her barstools)
I hope you enjoy making the lamps and the lamps bring you joy!
Marie Darby
******
thanks Marie!

Save