Well…I've thought all weekend about what I would post here today. Goodness it has been a rollercoaster, powerful weekend, but I feel heavy…soul weary heavy. So many voices of hope, fear, bravery, hurt, anger and kindness have filled my listening ears the last few days. It is overwhelming and I am trying to process it all – process it for myself, so I can come alongside my kids and help them do the same.
The past few weeks the kids and I have been focusing on three things at home: Be slow to anger, Be slow to speak, Be quick to listen. With those three things in mind – I'm going to sit quietly for a bit here. I'm not ignoring or avoiding the significance or importance of current events, I'm just dialoguing in person, in my community and in my family instead of taking those discussions online, at least for now.
This Saturday is Chinese New Year. We will be celebrating in our very non-traditional, Okie way. The first year we celebrated CNY, I tried to keep it as traditional as I could. I've since come to grips that I really need my Chinese friends to live closer to me to help me pull off a more traditional CNY Eve dinner!
We may not do things in a traditional way, but we sure have fun celebrating just the same. This year we will be eating Hot Pot together. In June of 2015, my friend Ruth visited with her family. She taught me the ropes of serving Hot Pot and I wrote a post to help others like me. I thought some of you might want to celebrate Chinese New Year in a non-traditional way too…so here you go!
Originally posted 07.03.2015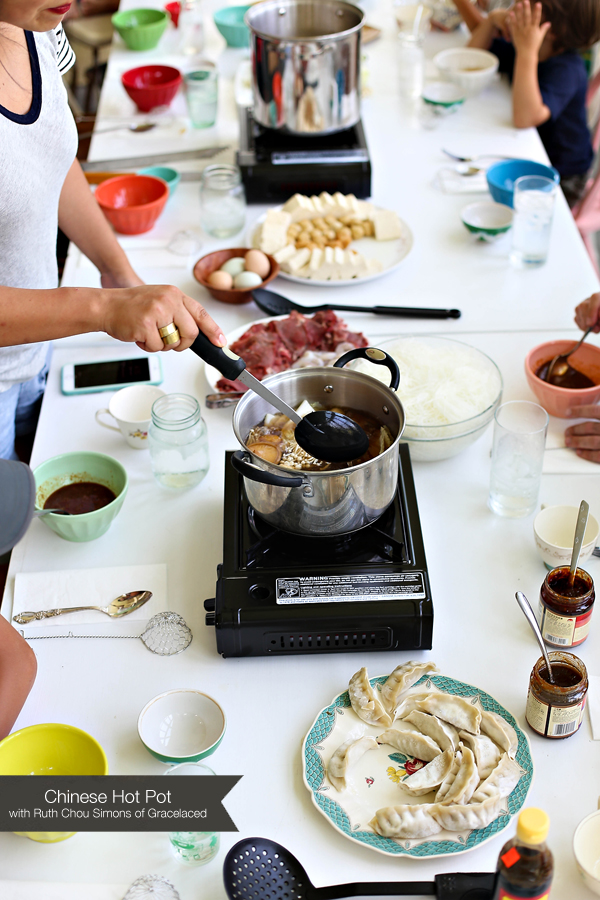 My friend Ruth and her family stopped by earlier this week as they returned home from a few weeks on the road. Ruth inspires me and challenges me in so many things. Besides being a phenomenal artist and cook, she gently pushes me with her words and actions to be all God has created me to be as a woman, wife, mom and friend. We laugh at how opposite our personalities are. She is everything I am not and she smiles at all my quirks. I like her a lot.
I like her so much that when she said they would be able to spend a couple nights at our house, I asked her to cook us all dinner (that is my family of 7 and her family of 8). Really – there needs to be a hospitality book about the graciousness of a host that invites people over and then makes them cook for everyone. I've been wanting to learn how to cook Chinese Hot Pot and I knew Ruth would be the perfect one to teach me.
My plan is to do this meal for Chinese New Year – so I needed Ruth to show me how to do it in a simple and practical way. I am not Chinese. Shocker, I know. My goal is not to cook a meal that is authentic in every possible way. My hope was to learn the basics of Hot Pot, so I could share it with friends and family. Ruth taught me a version that tastes amazing, but doesn't involve so many details and steps that I would give up before trying to do it on my own.
Since there are a lot of ingredients that I would not recognize by name and I am guessing some of you are like me – I took photos of all the ingredients. Yay for visual aids!
We made two Hot Pots (not sure if that is the right way to say that!). This served 4 adults and 11 kids with just a few leftovers.
So, first I am going to walk through what you need:
This is for the soup bases: Soup Base for Satay Hot Pot, 2 Cans Beef Broth, Soup Base for Seafood Hot Pot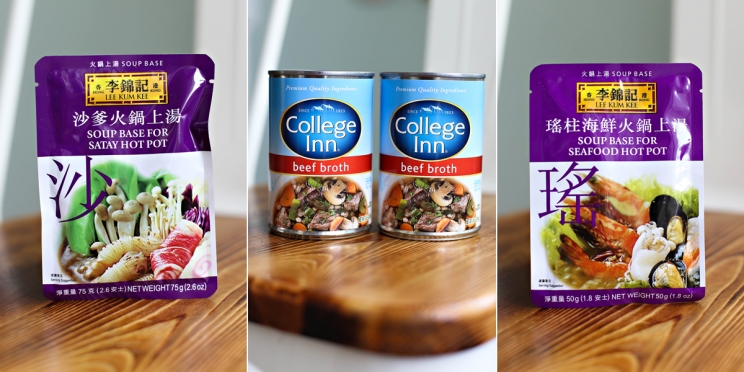 Enoki Mushrooms, Bean thread noodles, dried shitake mushrooms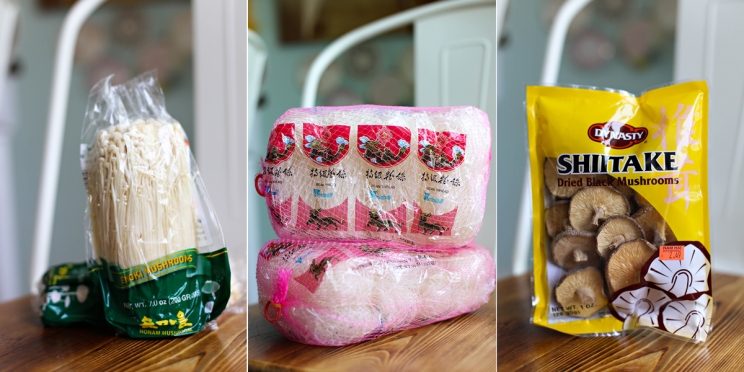 Dumplings (we did pre-cooked frozen for ease), napa cabbage, medium firm tofu
1 lb. Shrimp with shell off, frozen fried fish balls, frozen fried shrimp balls
1 lb beef sliced super thin (we sliced this thinner than pictured. You can also freeze steak or roast and then slice super thin.), I have no idea what these are called!, Chili sauce, Soy sauce, sriracha sauce
Guilin style chili sauce, black vinegar, sa cha sauce
Now onto the steps involved:
First, put the dried shitake mushrooms in warm water. Let them soak until soft (about an hour). At the same time, put the bean thread noodles in slightly warm water. Let those soak until soft (not crunchy, not mushy, about 20 min). While those are soaking you can go onto the other stuff.
Rinse the enoki mushrooms and chop off the ends.
Slice the napa cabbage into chunks.
Cut the tofu in half and then into squares.
Arrange your ingredients on plates. You can use a different plate for each thing if you have enough plates and table room. We put the frozen fish balls with the tofu. The cabbage, shitake mushrooms and enoki mushrooms on another plate.
If your beef wasn't pre-sliced super thin, you will want to slice it up. Your noodles should be soft by now. Using kitchen scissors, cut the noodles. Do what Ruth is doing about 4 times.
Fill one stock pot with water and add the two soup base packets. In another stock pot, add water and the two cans of beef broth. We had a lot of kids, so the beef broth version was less spicey…just something to keep in mind regarding why we did the two different pots. Once the pots get boiling, remove them and put them on your hot pot stoves. We boiled on the stove first simply to save the gas on the portable stoves.
Place everything on your table: Beef & Shrimp, tofu, fish balls, shrimp balls, mushrooms (enoki & shitake), frozen dumplings, bean thread noodles, cabbage. (there are other things you could add too…this is just what we did)
Place all the different sauces together on a sauce tray.
Before we began eating, Ruth took a few minutes to share with us the heart of hot pot. I'm sure I will recount some of this incorrectly, but I think I have the basics. Hot Pot brings everyone together around the table. It is not meant to be a meal that you rush through. Instead, you slowly cook items for others and yourself. If you are seated far from the dumplings – the person closest to the dumplings and the hot pot cooks a couple for you. Take your time and enjoy the process. It is a beautiful communal meal – a slowing down and coming together.
Once you are ready to start eating, the first step is to prepare your sauce. In your bowl, you add whatever sauces (those pictured) you want to create a customized flavor. I added a little of everything. Typically, you also mix in a raw egg. Our chickens gave us some eggs about an hour before dinner….and I eat a lot of cookie dough….so yeah, the adults added raw egg. Do as you wish on that part.
Most of the kids just used soy sauce as their sauce.
Now it is time to just drop stuff in the pot, let it cook. Everything cooks super fast.
The Simons have 6 amazing boys. Add my 3 boys to that mix. It was awesome. They hit it off right away. Dart guns. Matches. Pocket knifes. Boy 'crafts'. My guys are already asking when they will get to see their new friends again!
The meal was delicious. My 9 year old was so surprised to discover he likes fish and shrimp balls. My oldest daughter devoured the dumplings. It was so, so good. I can't thank Ruth enough for sharing her tips with me, but more importantly sharing her family with mine. Our hot pot may not look like everyone else's, it may not even end up looking like Ruth's…but it will taste good and we will relish the heart of the meal.
I see hot pot becoming a Campbell staple…
Chris and I want to have a couples night soon with hot pot. My idea is to print off pictures of the ingredients to give those invited. I love the idea of sending my friends to a market they rarely shop at to buy fried shrimp balls and sauces they have trouble pronouncing. I think they'll enjoy the adventure of it and the coming together to share the meal.
For those in the Tulsa area, I purchased everything (including the stoves) at Nam Hai.