Waterpark + 5 kids + me…not too long ago that would equal massive amounts of stress. Actually, I would not have even attempted it. Kids grow up. They really do and there is so much wonderful about that truth.
I headed to a small waterpark with my sister-in-law, 3 nephews and my crew. AND it was relaxing. What?! Relaxing? I know it feels like a lie to even write that, but it truly was a relaxing day. All of my kids are terrific swimmers, they stick together, and there were no huge rides/slides to be worried about. A lazy river, 2 slides, a net course, a shallow pool and a kiddie area. It was not ideal for my oldest, but he still had a great time.
We were among the first to arrive and my kids instantly wanted on the net course. They watch a lot of American Ninja Warrior, so they were ready to test their skills. They patiently waited for the lifeguards to give the clear that the pool was open.
(all these were shot with my iPhone. I did not want to take my big camera because I wanted to be in the water and on the slides too!)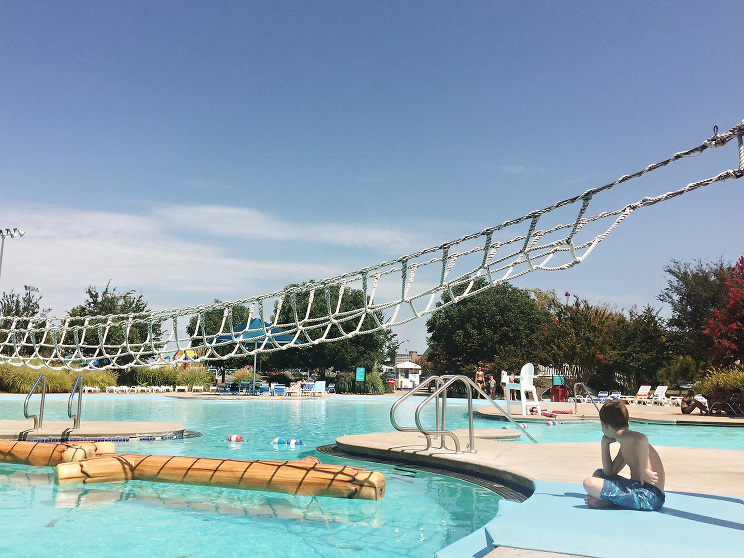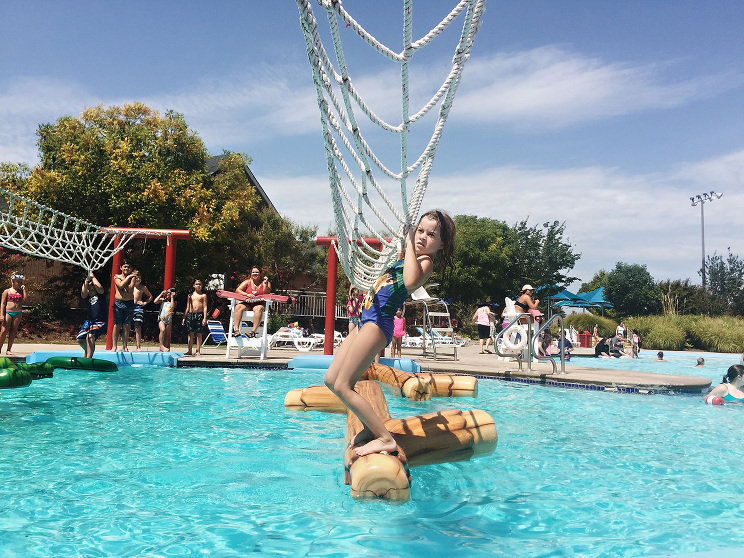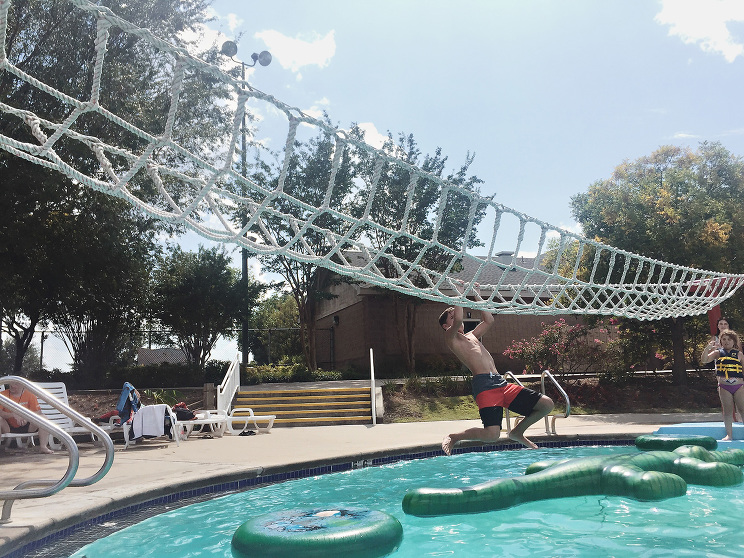 Over and over and over again they crossed the nets trying it a variety of ways and challenging each other to races. I just sat and watched. I SAT CALMLY STRESS-FREE AT A WATERPARK. A handful of you understand why that is in all caps. I feel like I've crossed a motherhood rite of passage. Hallelujah!
My youngest was bound and determined to cross the net too. For a solid two hours she attempted over and over again. She would get to the very end and stretch her legs out…and fall into the water. I asked her if she wanted to go to the kiddie area with the slides and climbing structure. Nope. She wasn't leaving until she crossed the net. I cheered. I coached her with my words, but I did not reach out to help her. She didn't want help and I think we both knew she could do it. Each time she would make it to nearly the end and then plop in the water as she stretched to get across. Climb. Stretch. Fall. Get up and get back in line. The girl has grit.
I was planning on taking a picture of her stretching to try to finish when out of nowhere she leaped from the floating log. You have to look closely at the picture below. The girl leaped! She made it across and looked over at me with a big smile. "I completed the course!"
After her flying leap, she went back and figured out how to stretch, use her arms and make it across. I think she shocked quite a few parents and lifeguards.
I sat in a chair with my feet up at a water park. I was nearly giddy at the reality of it. I thought about all those years of having little ones that couldn't swim. All those leaps to grab a little guy that fell in the 8 inches of water. All the assisting babies on tiny slides shaped like animals. All the years of avoiding going to the pool alone. All those floaties and life jackets and swimsuits with random cartoon characters.
I sat in that chair and felt like I paid my dues…this was what the other side looked like. I could go cross that net with them. I could go down the slide and the lazy river with them. I could sit and simply watch them in awe that we all survived and made it this far. I could choose. I did a little bit of it all and it was awesome.
There is a beauty of those early years where they were so dependent on me. It wore me out, but it was beautiful too. This new stage…well, there is a beauty with their growing independence too. It wears me out in a different way, but still so beautiful.