There have been a few questions left in the comment sections the last few days, I thought I'd answer some:
* Where is the red visor from that you and FireCracker are wearing? Twirling Betty
* What lens and camera do I use? See the About Me page
* Do you always shoot in Av mode? Nope, I basically never shoot in Av mode…only M (manual)
* How do you clean your sensor? Very carefully! I use a rubber bulb thing (like what you get to clean baby noses). I recommend doing a lot of research online before attempting to clean your own sensor. I don't feel comfortable posting a tutorial as I am sure I do about 20 things wrong.
* How do you do rounded corners on photos? For individual pics , for lots of pics I use these
* How do you make photo collages? I use Design Aglow templates
* What is that tent thing you have for your daughter? It is KidCo Portable PeaPod Indoor/Outdoor Travel Bed. We bought it when our 2nd son was a baby. If you have young kids and are a on the go family I highly recommend it. It was one of the best baby gear purchases we've ever made. We take it everywhere, it collapses small and is very portable. FireCracker used it as her bed at night on vacation and a sun shade on the beach during the day
* Do you have travel tips now? Yes, those will be posted Monday.
* How do you get FireCracker to sleep wherever, whenever? We don't she sleeps 2 places: in her bed and on the beach. I wish her bed could always be on the beach!
***
Onto today's post…while we were gone I wanted to take advantage of the beautiful local for some posed pictures. I had a vision for a picture using my Chalkboard Thought Bubble and my red fabric bunting, but in the rush to get out of our Okla. house I forgot the bunting. At least I didn't forget a kid. I am sure you are thinking posed pictures in Hawaii…must mean all in white and khaki on the beach. Um, no. I did what I do at home…we went 'downtown'. I even found a pile of wood pallets with tropical leaves nearby. Score.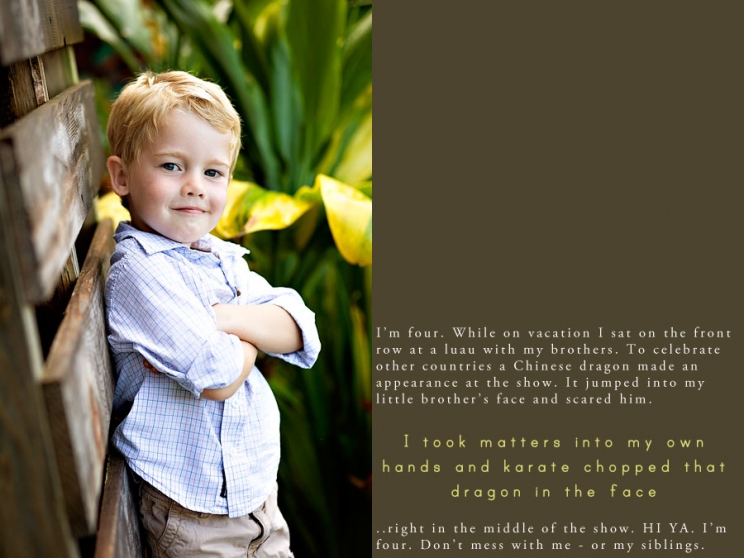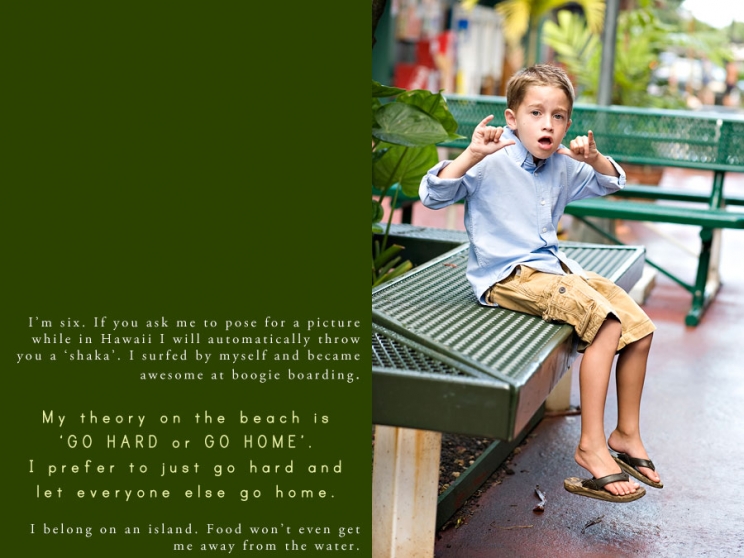 A benefit of Photoshop is you can remove things like grass on feet…if you wanted to. I didn't. It's her.
The next few were on the other side of the alley behind the buildings. She likes her brothers. They do whatever she wants them to do. I thought I'd add an older picture. She hasn't gained any weight, but the hair is coming in! I'll get the most out of this cute dress before she outgrows it.
Camera on timer, balanced on backpack, balanced on a rock.
I am counting this collage as one photo (to fit the 10 in 10 theme I know you all could probably care less about!). I couldn't pick one because there is not one picture where they are all looking at the camera with a normal face. Oh well. I tried.
So those are my attempts at posed pictures. A couple that I love, most that make me laugh.