UPDATE: Contest is now closed. The winner is:
"Liz – A portrait session would be AWESOME for our family! We are hoping to get our first family portraits done soon, with our sweet baby girl!"
There are so many reasons I teach SnapShops, but one centers on the reality that the automatic mode on your camera is unreliable. Sometimes you can get killer shots on automatic. Sometimes no matter how hard you try what is in your head you can't get your camera to create. On automatic mode you camera is reading available light and calculates an average of what is needed in regards to settings to capture that image.
For instance, on the two photos below my 4 year old wanted to take a picture of Chris & I with FireCracker. Since I use a back focus button I have to switch my camera to fully automatic mode for others to use it. You can see Big Brother got a great first shot, but the second shot is terrible. He didn't change any settings, but you will notice there is more of the white comforter in the first shot…providing more 'light' for the camera. Hence, the unreliabilty of shooting on automatic.

Back to the June SnapShop…I wanted to share a few pictures from each of the attendees. For several attending they had only owned their cameras for a matter of days! First off, I thought I'd share a few pics Ryan took of me during the day…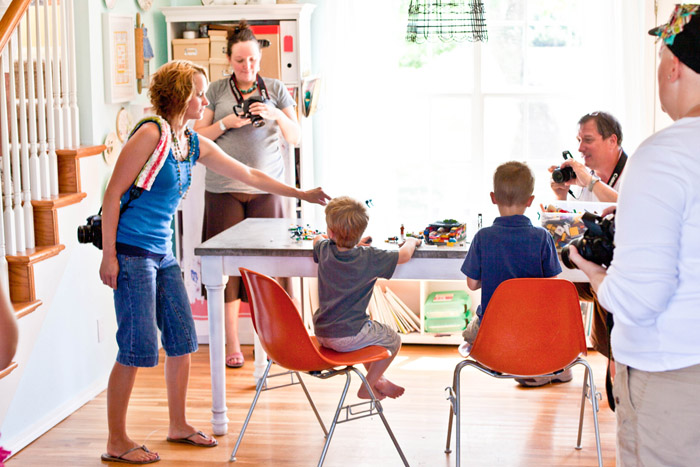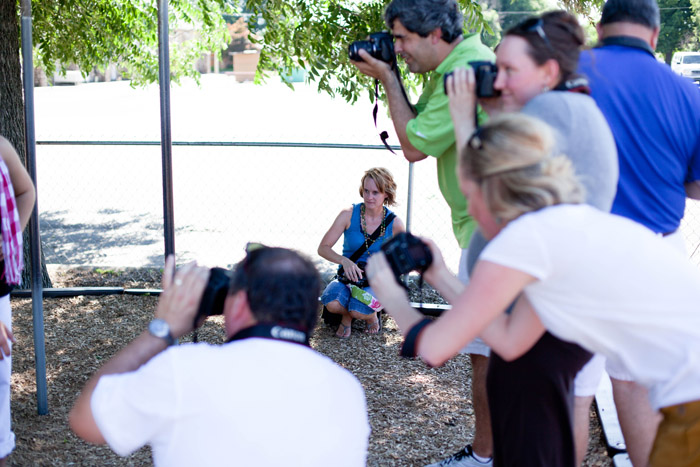 And in alphabetical order…some practice shots from the students:
Photos by Bill S.
Photos by Carl L.

Photos by Christine M.

Photos by Gary S.
Photos by Kristie E.

Photos by Liz H.

Photos by Mariah E.

Photos by Ryan A.

It has been fun for me to watch how many SnapShop students have gone on to start their own photography businesses….I have shared several of those with you before. One of the June SnapShop attendees is fully launching his photography business….Ryan Arrowsmith Photography and wants to offer one of you a free portrait session! You need to check out his flickr photos from the SnapShop (there's some cute ones of Littlest Brother) and his website. What is more exciting than a business launch? A giveaway for a free portrait session!
Here are a few shots from his site….
Ryan Arrowsmith Photography is located in the Tulsa, Oklahoma area….there will be one portrait session giveaway winner, but Ryan is offering $15.00 off all other sessions if you mention "Ashley Ann Photography" when you book your session. I know a lot of you local folk are bummed Shannon is no longer offering baby, kid & family sessions…you should check out Ryan. Onto the giveaway…
Giveaway Details
Prize is one session with Ryan Arrowsmith Photography
One winner, chosen at random
One entry per person
Contest ends Thursday, July 1 9:00pm US central
To enter: In the comment section of this post tell me what type of session you would book with Ryan Arrowsmith Photography!