The first 2010 SnapShop has come and gone. When the house empties out at the end of the day Chris always asks, "So how do you think it went?" I'll be honest, I always worry after the ladies leave if they liked it or not. I cover A LOT of material in the course of the day and I get a lot of 'deer in the headlights' stares, but hopefully there are a lot of 'ah ha' moments too. Here are some snapshots from the day:
Frosting cookies for the indoor shoot. It is so funny to me how they really don't pay attention to all the cameras. The night before, I asked Big Brother (the one in the middle) if he was going to smile for the ladies. He said no. I asked why. His response, "It is because of my hair. The ladies will all tell me I am so cute because of my hair and I don't want them to tell me I am cute." So I asked the ladies not to comment on how cute he is!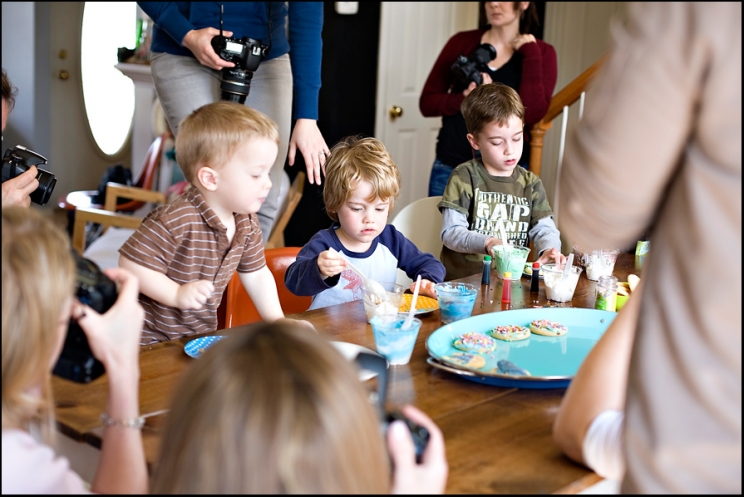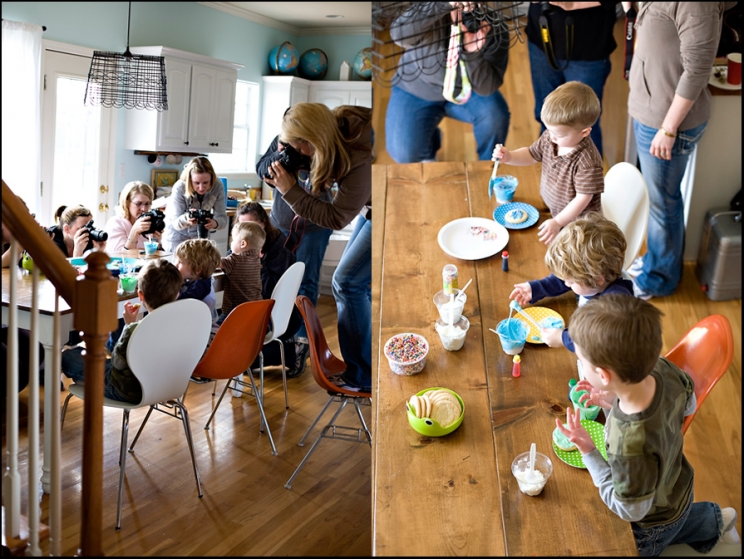 But he is so cute. I told him he needed a haircut. He told me, "Mommy, Jesus had long hair and he is not a girl." My 3 year old pulled the Jesus card on me.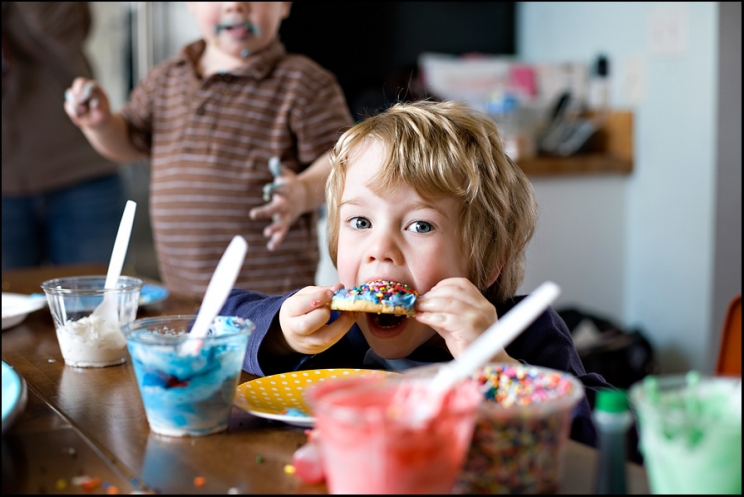 For our outdoor session we had 5 gorgeous seniors. You might remember Ashlyn's senior pictures from last year. Ashlyn and 4 of her friends were so great to model for us…the night before they left for their senior trip. It was so fun to photograph the girls. I mentioned to Ashlyn's mom that the girls were all so beautiful and she responded by telling me that they are all just as gorgeous on the inside. I love that.
Since we did some group shots I played with the post processing a bit more than normal to make some a tad more 'edgy'.
I used Totally Rad Actions and some Jesh De Rox textures on several.
I thought I'd share a few pictures Chris took of all of us shooting and the 'after' picture of what I got.
Umm yes, I am in the most awkward position ever and I look like I am making a peace sign. Actually I am just getting the girls to look at my camera.
We found a bed of clovers. I really like beds of clovers. I really like fun seniors that will endure tiny bugs jumping on their faces while we photograph them.
Doesn't this make you wish you had pictures with your friends before heading off to college. I wish I did. Well, since I still see my high school friends regularly I could convince them to do this going down the street with all our strollers and diaper bags. Just doesn't seem as cool. (There is a Jesh De Rox texture on this pic).
A couple of things to mention:
1. I am going to reserve some spots in an upcoming SnapShop for guys. If you are a guy (or you know one) that has wanted to attend a SnapShop, but not be a lone male…shoot me an email.
2. AWESOME reader etsy store giveaway coming this week….and it has nothing to do with kids or babies!
Google Reader is not reliable with my blog…don't trust it to update