Update: Contest in now closed. Jenn has the last counting comment.
Wow, that is the most original title for a post EVER! A little over a year ago I lived in a small little world in regards to little girl stuff. I thought the only thing out there to put on a baby girl's head was big bows made out of all kinds of ribbon. Around my part of the globe you can find the most elaborate ribbon hair bows to go with just about any outfit, sports team or event. I am the mom that has a can of hairspray in the car so that when we pull up somewhere I can give the boys a quick spray as they unload the car and they are good to go. I don't fix hair and the sight of all those bows made me break into a cold sweat….then I had a girl….and found headbands on etsy.
I like headbands. I like hats. I really like headbands and hats with some kind of flower….felt flowers, fabric flowers, messy flowers, you name it and I will probably like it. I like her in headbands and hats…even if they are of the superhero kind.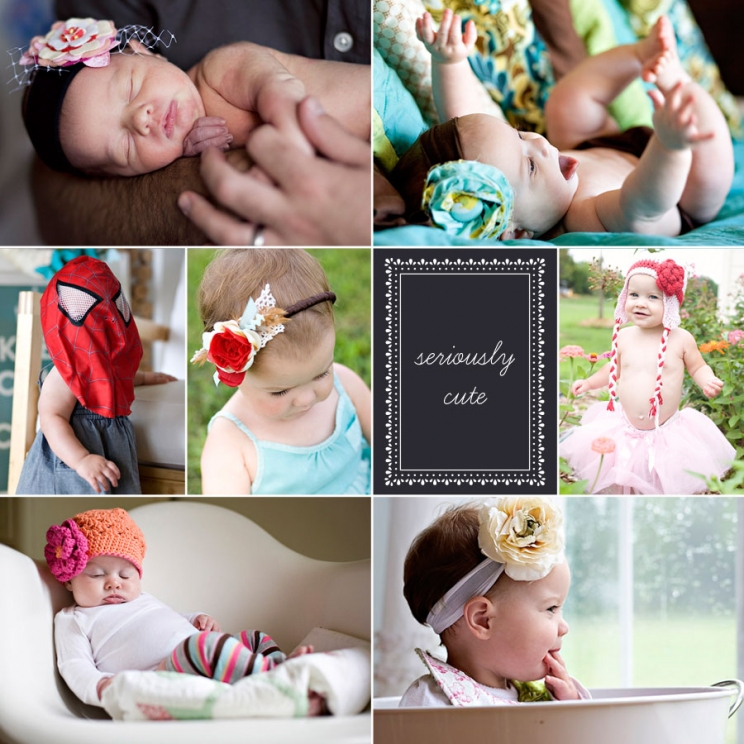 Funny how her headbands and flowers are getting smaller as her head gets bigger. Her hair is getting thicker…my hairspray bottle won't do the job anymore. I am not particularly excited about having to fix another girl's hair….hard enough to do my own. The headbands sure help. The fact that her hair grows straight back helps too!
We were playing on the back porch and I was snapping a few of her in her new headband. The grill got in the background of this one. There is something about her face that I just love in it, but the grill was driving me crazy. I attempted a little Photoshop fix. It is a terrible Photoshop effort, but it gives you the idea of how Photoshop can come in handy. Maybe I will find time to do a better fix up on this picture…highly doubtful.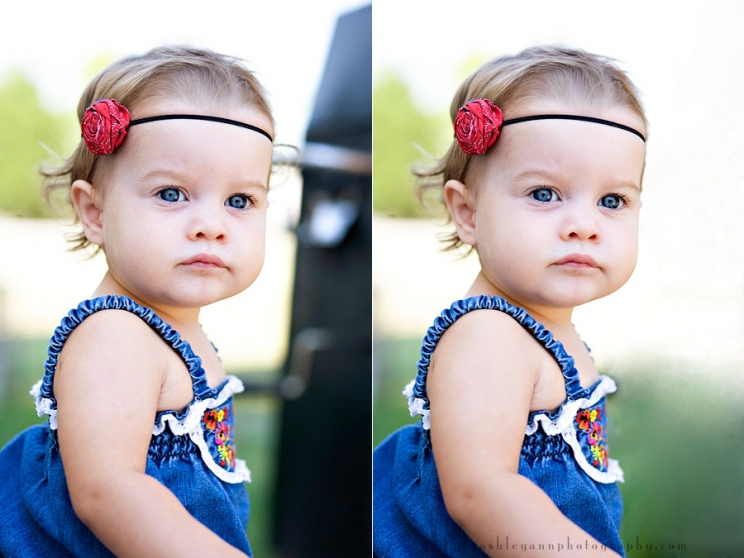 In Photoshop and Lightroom you can run things called Actions. Her headband worn like this coupled with the jumper just has a bit of a 70s feel to me, so I edited it in such a way to emphasize that feel. If you play with editing your pictures, never delete the original file. Photo editing can be very trendy and you will kick yourself in the future if all your pictures have funky editing jobs done to them.
And back to life, back to reality…she doesn't keep headbands on. So those of you that have asked in the comment section how I keep headbands on her, I don't. Well, I should say I didn't. She is actually starting to leave them on more. When she sees one in the house she'll bring it for me to put on her. She does that with her pretty shoes too. It's weird.
Now all that headband goodness makes you want one…good thing I am doing a reader etsy store giveaway today! Sweet Pea Hats & More not only has cute headbands like FireCrackers, but tons of amazing hats. If you are a photographer you should snatch up some to use as props in your sessions. Just sayin', they're cute. 
You can also find Sweet Pea hats here:
Website: http://www.sweetpeahats.com
Blog: http://sweetpeahats.wordpress.com/
Facebook page:http://www.facebook.com/pages/Sweet-Pea-Hats/128219567210837
Etsy Store: http://www.etsy.com/shop/beatricekillam
Giveaway Details
Prize is a $20.00 gift certificate from Sweet Pea Hats
One entry per person, winner chosen at random
Contest ends Thursday, Sept. 9th 9:00pm US Central – contest is now closed
To enter: In the comment section tell me about your biggest hair mistake
(or if you weren't alive in the 80s you can tell me about your favorite hairstyle)
I'll start for you. In college I dyed my hair red after a bad haircut. My hair was about an 3 inches long all over and a horrible shade of purple red. My friends are laughing as they read this and remember it.