UPDATE: The giveaway is now closed, Heather has the last counting comment "I would thank my amazing husband, my boss, my awesome co-worker Rachel, my mother in law and the guy who held the door open for me at the coffee shop this morning."
So going along the same lines as I mentioned in the joy post yesterday, comes this post. The same day our friend spoke on joy he also said one way to combat grumbling and complaining in your life is to say thank you to 5 people each day before lunch. Sounds simple enough if you are actually around 5 people other than your kids during the course of a day! I liked the practical idea of it though, so the boys and I decided to pick one person each to give a special "thank you" gift. Not thanking them for something they have done for us, but just a simple thank you for being them and making our lives better because they are in it.
Our zinnias are almost out of control and they make such pretty cut flowers, so we made simple little vases out of bottles. We don't really drink much pop, but I bought the Crush for a different project I had seen on one of your blogs…now I can't remember where. The project was of 6 bottles tied cutely together with flowers inside as a centerpiece. If that is you, leave a comment and let me kmow! Goo Gone is the best at removing hard to get off stuff from glass.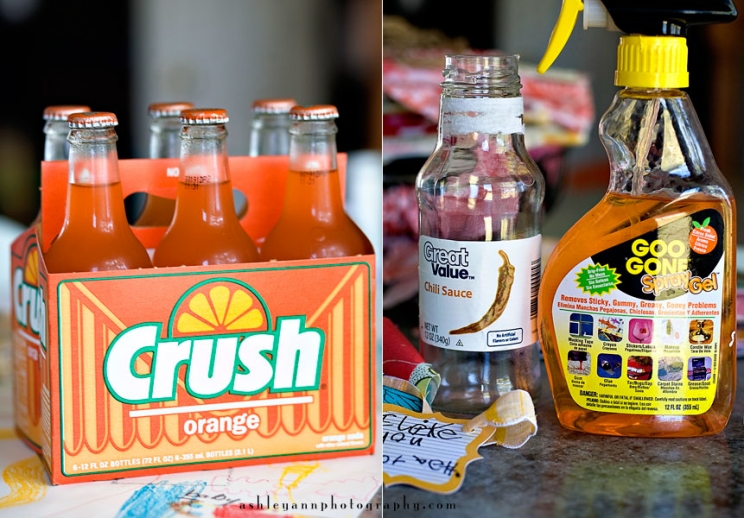 We also used scrap fabric and scrapbooking labels for our tags/notes.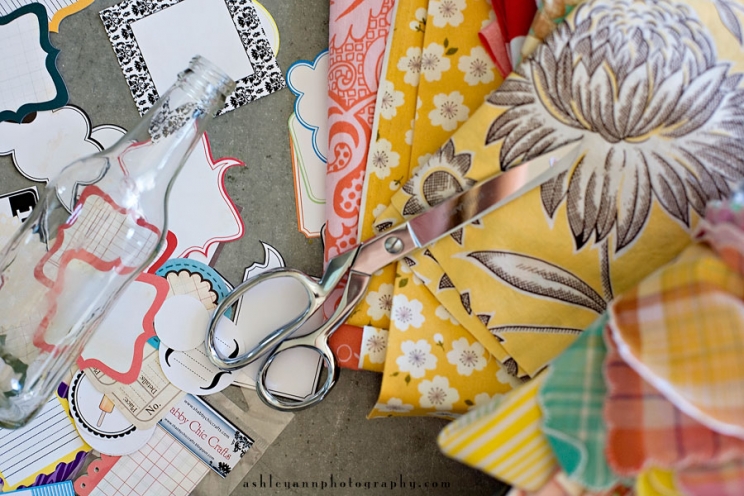 I let each boy pick out the label of their choice and the fabric of their choice.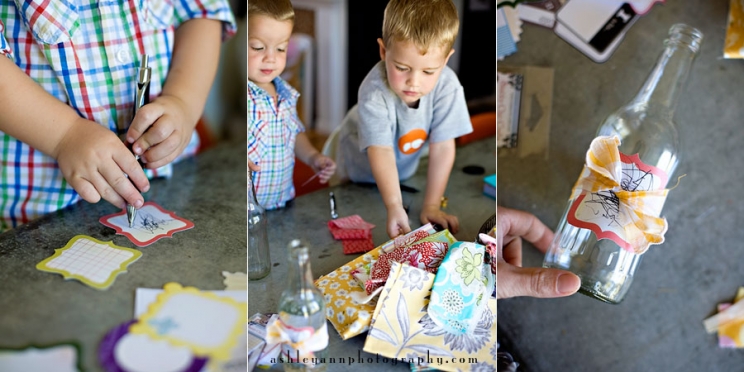 They also got to pick out their flowers.
The vases turned out really cute. If you are wondering about the Yoda picture below, well it is semi-related to this post. The company that I used for the labels makes all kinds of scrapbooking supplies. I love to send notes with the boys in their lunch boxes, but to be honest sometimes it is hard to come up with something different to write each day.  This year I've been using the alphabet tags to help me come up with something new each day. The boys like seeing what word I'll come up with each day to describe them.
And as you probably guessed….the scrapbooking company, Shabby Chic Crafts is offering a giveaway today. Here is a peek at some of their stuff:
Giveaway Details:
Prize is a $35.00 store credit to Shabby Chic Crafts
One entry per person, winner chosen at random
Contest ends Friday, August 27th 10pm US Central
To enter: In the comment section of this post tell me 5 people you could thank today (whether in person, mail, email, text)