To answer yesterday's question about my point & shoot…I use a Canon Powershot 870IS. It is a few years older and there are many better options out there now, but I am pretty happy with it. Keep in mind the camera only does so much…
I took down our big shoe canvas in the living room and am replacing it with something else. In the process I went through the digital files of our family pictures from the year's past. If you haven't done that in a while, I highly recommend it. Chris and I had a great time looking back and remembering what the kids were like years ago – and our oldest is only 6. I thought I'd share just a few that made me laugh.
This is the kitchen of the first house we bought. I looked up all kinds of ways to paint formica, but ulitmately my dad came over and helped us replace it. When Big Brother (the current 4 year old – I know their names are confusing on here) was a baby I did a camping themed nursery. I painted a big ole' mural on one whole wall. It took a long time and the hiker guy was really wonky looking. For the rocker in his room I got an outdoor camping chair that rocked. It is funny to look back at our old rooms. One day I'll look back at pictures of my current house and think, "why in the world did I do that and actually think it looked good? A ruler backsplash…must have been pregnancy brain!"
UPDATE: I DID NOT PUT IN THE PINK FORMICA…I REPLACED IT!!!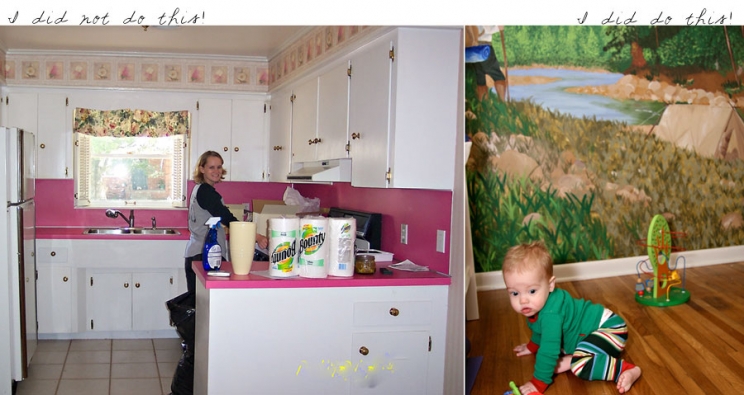 This is one of my all time favorite photos of him.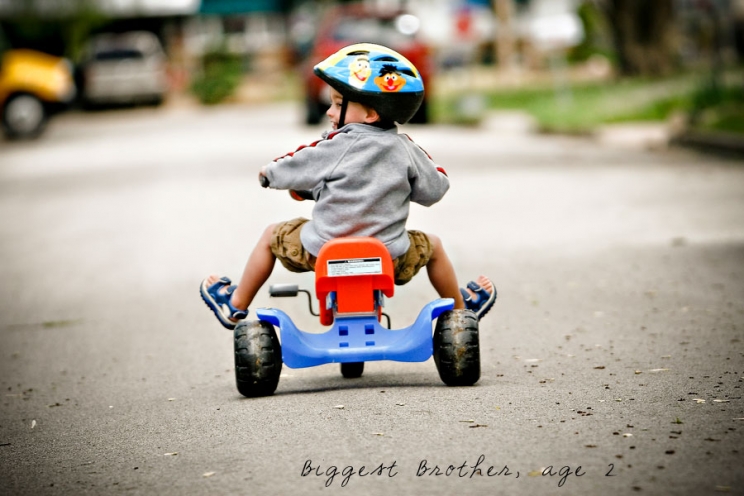 When there were only 2….and they hadn't discovered Legos.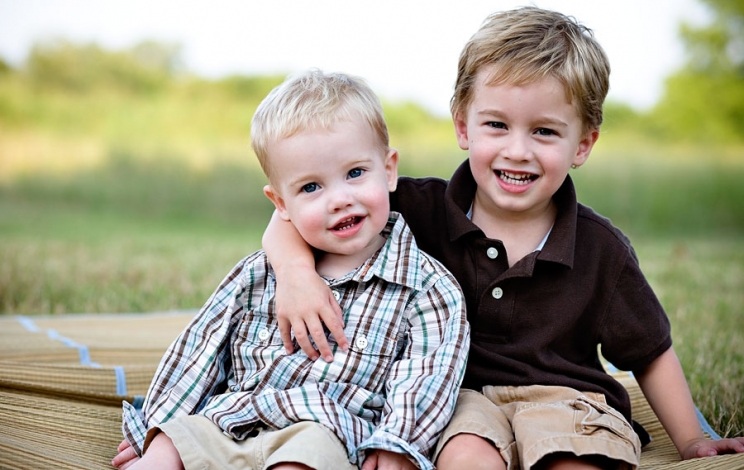 And then there were three…
Photo Tip: As I looked through old pictures one thing did stand out in the very early years….how I processed the pictures. When we first bought a digital camera and when I first got my dslr the only processing software I had was iPhoto (which has come a LONG way now). Back then all you could really do with iPhoto was mess with the saturation, contrast and change it to Black & White. I made the mistake of messing with saturation too much. I see this a lot still when people are just learning to use photo editing software. There is a fine balance in playing with saturation. You will most notice too much saturation in the oranges and reds of a photo. Skin can quickly become orange when you play with saturation. Be mindful of this when editing your photos. I am by no means an expert on photo editing, but I hope I can learn from my own mistakes.
Photo Tip: Always save the color version of your photos…even if you like it better in black & white. The photo below of Biggest Brother was taken on an overcast rainy day. I caught him drinking rainwater that was dripping out of the gutter (gross I know). I actually liked the color version much better, but in all my digging through files could not find it. I am left with just the black & white, which is better than nothing, but it would have been better to have the color version too. If you play with actions (like I did on the Persimmon Hollow photos yesterday) always save the original!