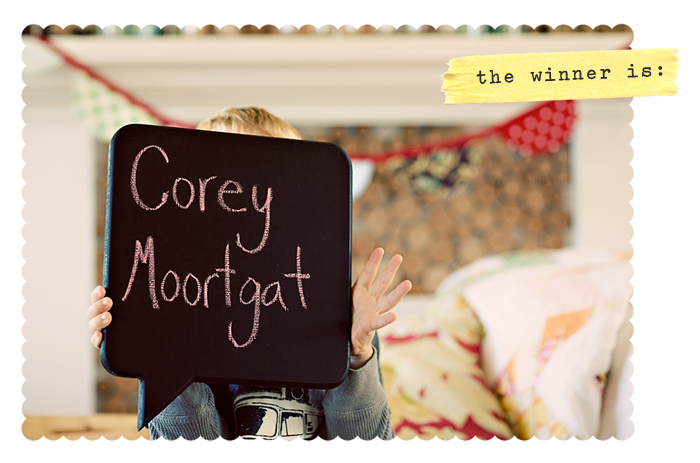 Congratulations Corey! I know many of you have already tried purchasing a Thought Bubble Chalkboard and the  RVA store was sold out….you guys cleaned them out! The RVA store will be listing more on Monday, but I am guessing they will sell out again very quickly. So that is my heads up to you – watch the store on Monday if you are hoping to snag one.
My thought bubble chalkboard is going to be getting a lot of use in the coming days. The cute bunting in the background of this pic will also be getting some good use (at least I hope). It is from one of the October Sponsors (Banana Papers) – she's  a friend of mine and was sweet enough to put my all time favorite fabric in my bunting…more on that later.
Thank you for all the kind comments on the blog update. It is funny how many of you that know me in person and how many of you that only know me via this blog commented that the new look was more "me". I guess you get a better idea of "me" on this blog than I thought! I do feel like is more reflective of me…just needs a bit of twine & a Lego man somewhere.
One last thing….we won The Tea Company photo contest! Thanks for helping me pick which photo to submit.  I ended up going with this one: