Thank you for celebrating with us this week about a simple pizza dinner. Isn't amazing how something as simple as a 5 year old eating pizza can be the very opposite of simple or ordinary?! The posts that garner the most comments on this blog are always the ones where you join my family in celebrating something significant with us. It is incredible to me – the way you support and cheer and encourage. Thank you for that.
The pizza dinner was quite a welcome home for me. I had been in Kansas for the days leading up to it. My friends Meg & Kimberlee invited me out to be a part of Camp Create. I've posted about their Craft Weekends before, but this was my first time at Camp. The camp lasts longer than the craft weekends and includes more involved crafts and a time of teaching. Stephanie Ackerman, Ruth Simons, Meg and I all led crafts/art projects. Ruth also took us through the Beatitudes. I am still mulling all I learned as we dove into the words of Jesus.
A highlight of the week was meeting the women that traveled from all over the U.S. to join us. A couple of the ladies have read this blog for a bit and it meant so much to me to get to sit face to face with them.
For my project, I opted to teach a block printing session. I thought it would be fun and something new…that was until I told Ruth and she was all, "Oh yeah..I majored in that in college." Great. I asked her to teach it, nothing like teaching something you only know a bit about to someone who actually studied it! I tried to kick her out of the room when I began teaching, but she doesn't listen very well. In all seriousness, I'm so thankful it was the project I picked – the ladies knocked it out of the park. I wish I had taken pictures of their printed tea towels and canvas bags. You'll have to take my word for it – they were awesome!
Once I finally sat down to carve a block for printing I couldn't find inspiration, so I went for goofy. The random face is a joke from a watercolor self-portrait Meg painted. Art doesn't always have to be serious. Sometimes you just need to make something.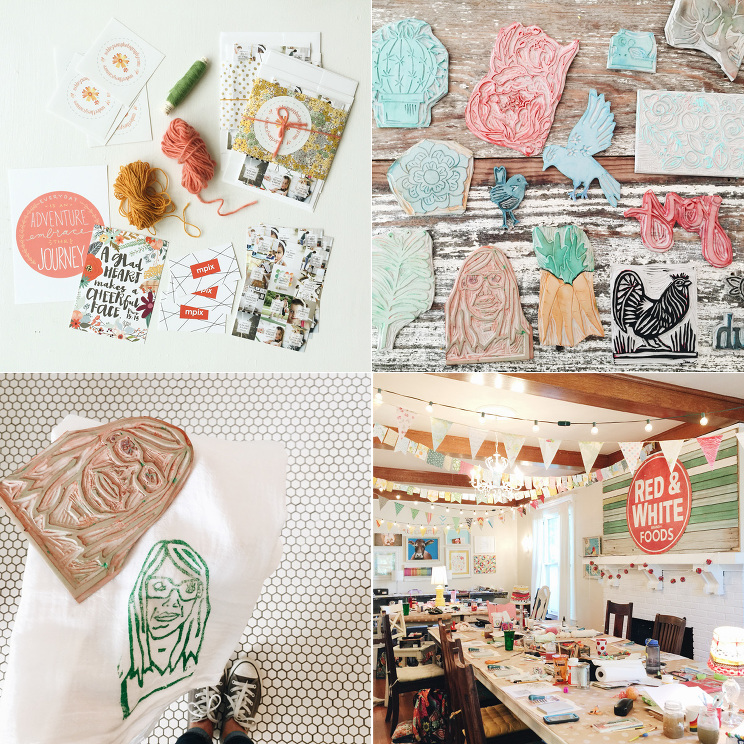 We took a day to go shopping at a barn and antique store. Ruth found a quilt and wanted a picture with it. We tried her just standing and holding it…but it was boring. I told her to run with it like a cape. It worked until she got hung up on a nail!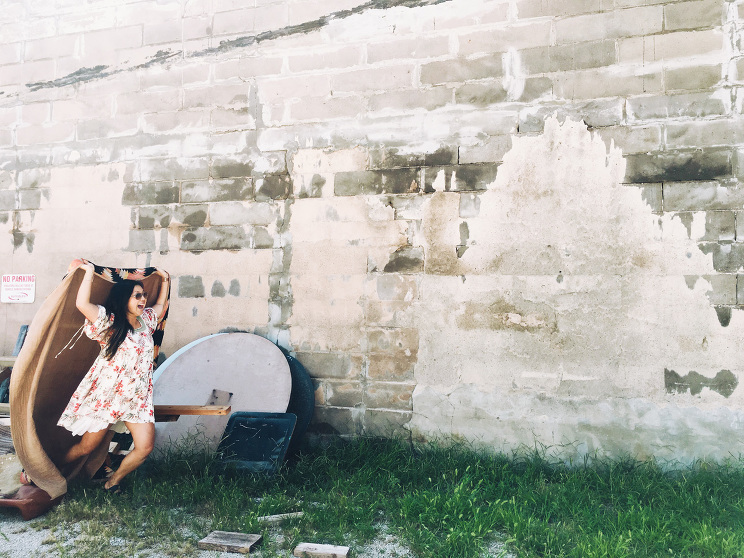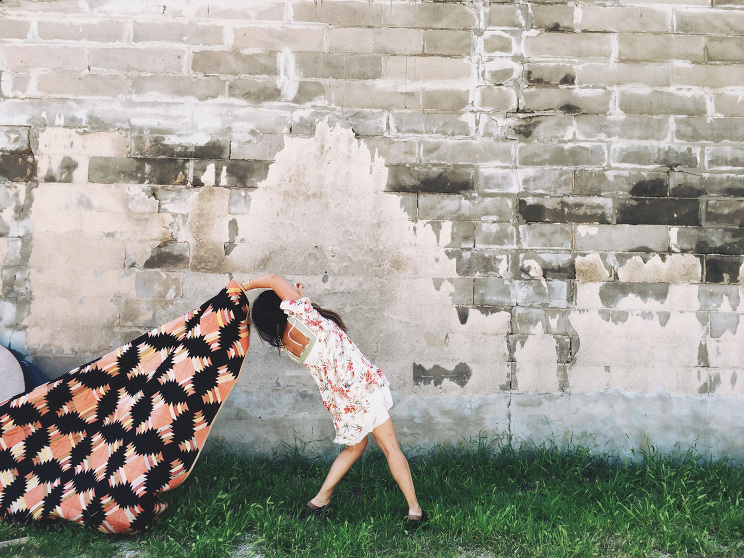 This was one lovely group of ladies. Each and every one of them challenged and inspired me in different ways. It can be risky to put a bunch of women that don't know each other in one house for 5 days. I'm so thankful Meg and Kimberlee take that risk time and time again. They are creating more than crafts inside that old Kansas home.
You can find out more about Camp Create and renting the Craft House for your own gatherings by visiting Meg's blog.