Last week I kissed my cherished grandpa's cheek goodbye one last time. On the eve of the election, my grandpa was welcomed into heaven. I spent last week surrounded by family and reeling from a loss that we all so deeply feel.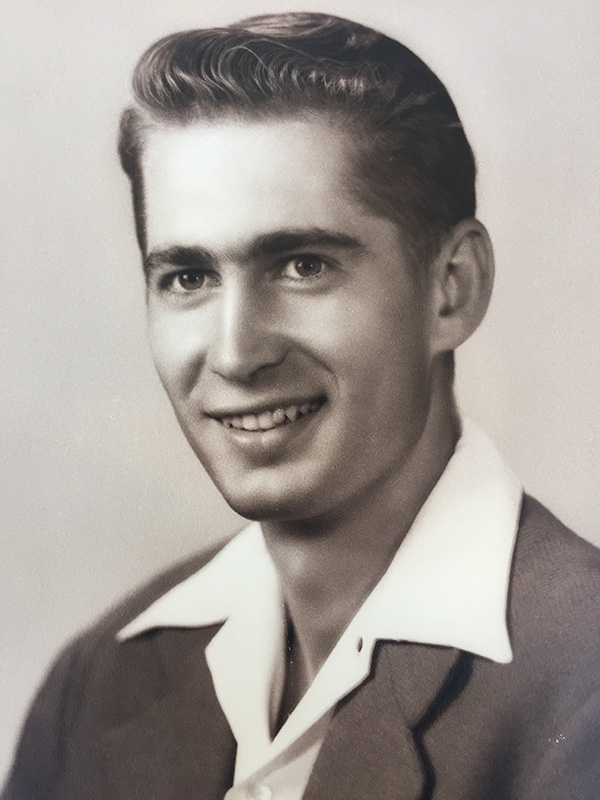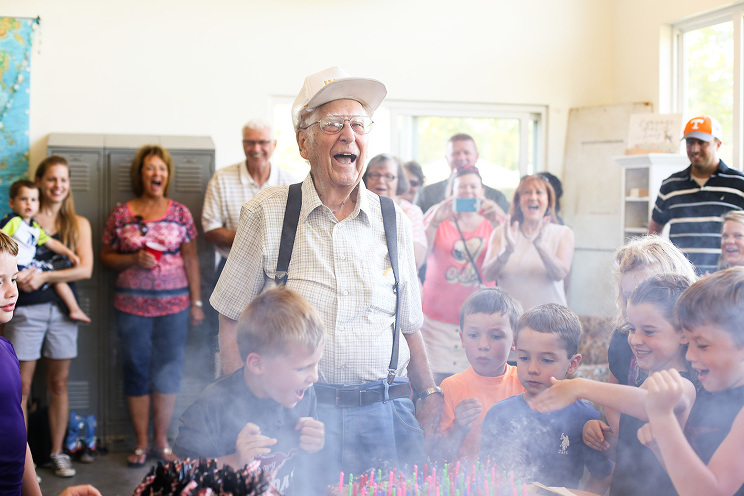 Over the years, you have loved my grandpa too. With each post about him you have shared stories of your grandparents and you have complimented mine. We celebrated my grandpa's life formally with others on Friday. My sister and I wrote a letter that Corbett (my oldest) read to those in attendance. I wanted to share it here today – a chance to brag a little more on my grandpa. He was always bragging on me.

"P.S. She is still beautiful." Those are the words Grandpa ended his written life story with – the one we asked him to write because we wanted a record of all the stories he shared with us over the years. It is fitting that he would end with words about the love of his life – our amazing grandma. As we look back at pictures over the years, goodness did those two love to kiss!
Grandpa could never understand why we would want him to write down his life story. It just didn't make any sense to him and in the process he often told us he didn't have anything noteworthy to write about. He would tell you that Ashley bossed him into writing it, but that he felt honored just the same. 
He could never see what the rest of us saw – an incredible man whose life touched each person he came in contact with. Grandpa taught us what humility, gentleness, kindness and honor look like. He was a great teacher and an even better listener. There was a never a story too boring or uninteresting enough to gain his full attention.
When Grandpa looked at us – it always felt like he saw us the way Jesus does. He would always smile, rest his hand on our shoulders and make the biggest celebration of the smallest things we did. We grew up with a living example of unconditional love – it came covered in sawdust and wearing overalls.
In June, Ashley asked grandpa if he would give her 3 boys woodworking lessons. He agreed, but being a humble man, he added that he didn't have that much he could teach. When the boys showed up for the first lesson, Grandpa had building kits for each of them and a lesson plan written out. He told Ashley he probably only had enough information to teach 2 or 3 lessons. Those 2 or 3 lessons turned into several months and only ended when Grandpa could no longer be in his workshop. His final days covered in sawdust were spent with his great grandsons passing down lessons that go far beyond wood and hammers.
A couple weeks ago Grandpa shared with us some frustrations he was feeling and said he needed to calm down about it because he didn't want to lose control. We might have laughed a little as we told him in all our years we had never seen him lose control. In that moment he began sharing how his mom never expressed anger, even when disciplining him. Her life made a profound impact on him and we told him that he must be a lot like his mom. His life has always made a profound impact on ours and the lessons he taught us we think about daily. Just last week, he talked with us about trusting Jesus more and more each day.
A picture of humility, he couldn't imagine that he had much of teaching value to share with us, our cousins or his many great grandkids. When we would tell him things we learned from him, he would respond in shock, "You learned that from me?!" He lived a quiet life, worked with his hands and consistently sought to know and trust God. And goodness was he smitten with grandma. He might have been our biggest fan, but his whole heart belonged to his Joyce. You rarely saw one without the other….like the coffee and donuts they shared, Grandpa and Grandma just go together.
Grandpa finished writing his life story with these words, "This may be the end of reviewing facts about my life to date but not the end of life – there is eternity. P.S. She is still beautiful."
Goodness will he be missed this side of heaven. For those interested, here are a few older posts about my sweet grandpa: