Depending on who you ask – you'll get a few varied opinions on recent Oklahoma weather. There are those complaining they can't wear their layers or drink their pumpkin spice lattes and there are the few of us summer fans who couldn't be happier to see 80+ degree days in October.
I will soak every last bit of shorts and t-shirt weather up before I have to start wearing my walking sleeping bag every day. We took advantage of the beautiful weather this weekend to head to one of our favorite nature preserves –  Redbud Valley.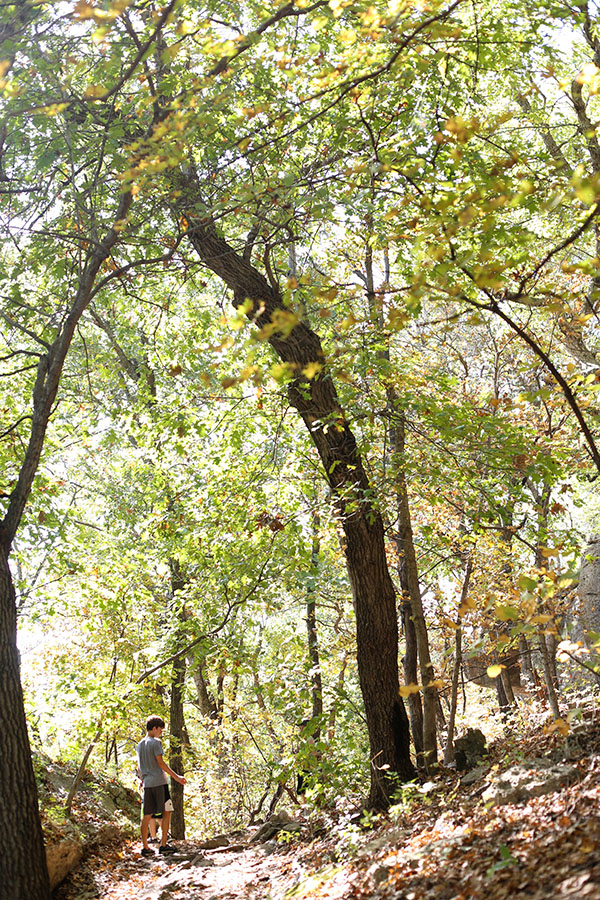 I've posted pictures from Redbud Valley before, but this time I thought I would share a few more details for those interested in visiting.
Redbud Valley Nature Preserve is located a couple miles northeast of downtown Tulsa. The drive there is beautiful, but if it is your first visit you might wonder if you are getting lost. Google maps is very accurate, so just follow those directions.
The sign to enter the parking lot is a little hard to notice…keep an eye out for it.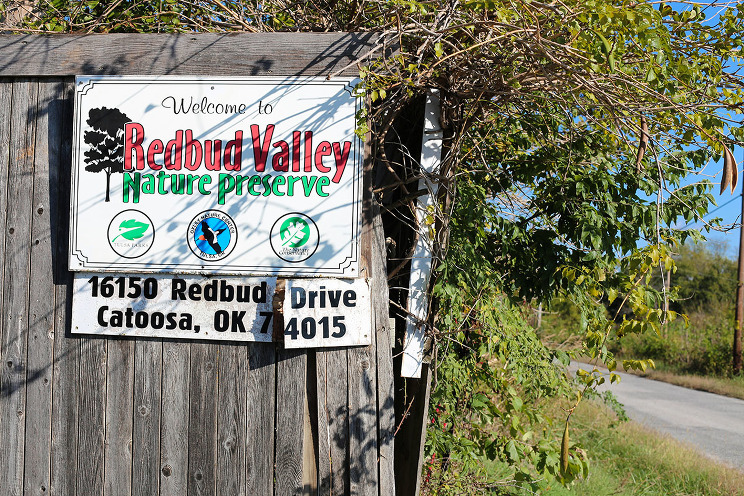 When you turn in, there is a small nature center to the left and the parking lot to the right. From the parking lot you can begin the Main Trail hike in two places. The entrance on the north side of the parking lot takes you to the bluffs first. The entrance on the west side of the parking lot takes you on the high road first and wraps around to the bluff. The trail is one big circle, so you can pick which way to start.
I recommend starting with the west entrance that heads to the Woodland Fork Trail (see the trail maps on the website or at the park). My kids are the least interested in this part of the trail, so it is great to start with while they are extra motivated. It is also more uphill. Starting here means you end going downhill and on a rugged trail.

The trail leads into more rugged terrain and soon a beautiful bluff area.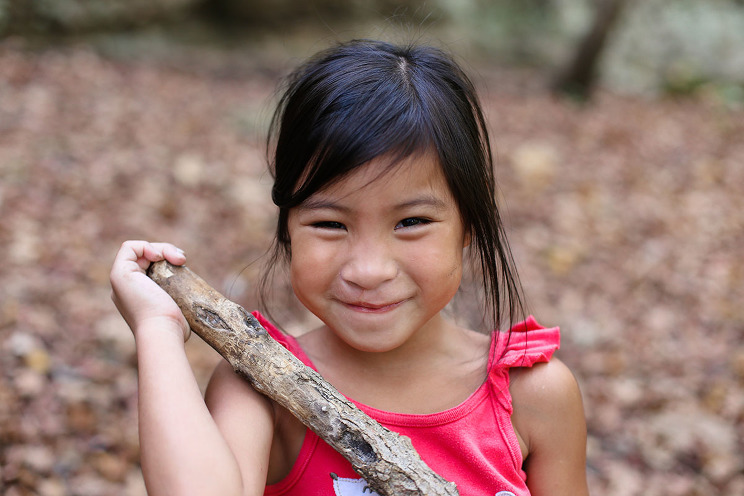 When I was a kid, I took school field trips here. Back then you could explore a little into the rock caves. Those are gated off now, but it is still such a fun hike.
The Main Trail is about 1.5 miles long. If your kids like rough climbing terrain, it is a perfect little hike. While we were hiking we passed two women exploring. They looked at me and said, "You are really brave to hike this with so many kids!" As I began sharing with her that we hike quite often, my eldest daughter piped in, "We hiked the Grand Canyon!" Made me smile…and laugh a little bit.
I was looking at few older posts with pictures from Redbud Valley….you guys…I had babies!! No wonder hiking those bluffs is easy now – 7 years ago I hiked it with a baby tied to me!
Redbud Valley was also one of the locations my oldest wanted to spend his Double Digit Getaway. Needless to say, we have a lot of memories on those trails!
A few things to consider if you visit:
After rain, the rocks can be slippery.
After rain, the lower trails can be muddy.
There are bathrooms near the Nature Center.
It is preserve, not a park…respect the environment.
With little ones I used to pack snacks, the trail is short enough now that we don't have too.
The bluff area is a fun spot to sit and nature journal or just stop to soak it all in.
There are picnic tables near the Nature Center. Picnics are encouraged there and not off the trails.
The bluff trail has a few steep areas. If you are not comfortable with rocky terrain, you might want to stick with the lower trails.
The trail is pretty shaded.
You can't get lost if you stay on the trails. They all lead back to each other and to the parking  lot.
The bluff trail is our favorite.
Admission is free. Hours are Wed-Sun 8am-5pm. It is closed on Monday & Tuesday.
For more information you can visit the Redbud Valley Nature Preserve website.