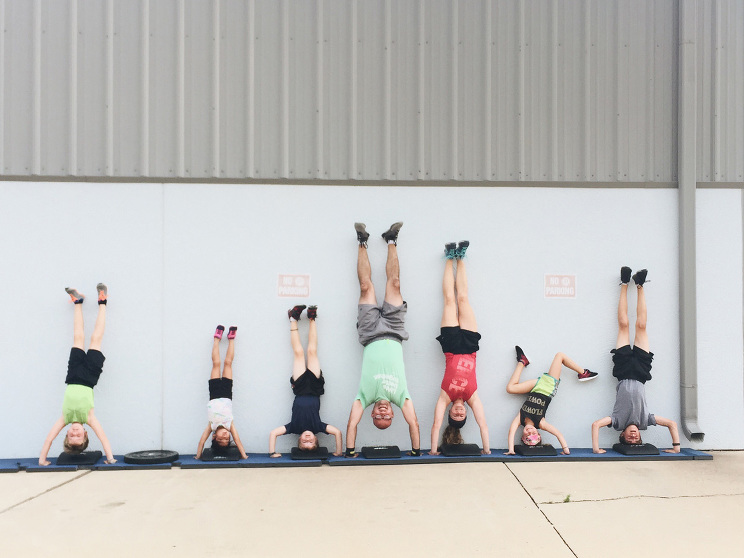 This is how we started our 4th of July celebrating…a workout at our Crossfit gym with our friends. This photo makes me smile for so many reasons. The simple fact it is all my people doing handstands (or handstand push-ups) makes me grin. My eldest daughter's need to always pose for a camera, even when upside down will always make me laugh. All of us – together – doing something we all have fun doing.
There are a lot of differences among the 7 of us. Different personalities, different interests, talents, gifts, and preferences. If you told me 3 years ago that the 7 of us would bond over pull-ups, box jumps and squats – I would not have believed you. We will soon begin our 5th year homeschooling. What?! So much for my plan to homeschool 1 year! There were things I expected with homeschooling and things I did not expect. I knew I'd be giving up any time alone. The house would never be empty and I would have to figure out how to educate 5 kids while still running my own business. I knew I'd probably live in a state of being perpetually overwhelmed when I began to think about juggling it all.
There were things I didn't know. I didn't realize that though more would be on my plate, our family as a whole would enter a much slower pace. I didn't know there would be so much down time for the kids. I didn't know we could travel without the crowds. I didn't know we would have more flexibility to do things together. I didn't know that slow mornings would mean we could go workout together and have fun doing it.
Life changes in an instant. Goodness, by the time you read this post everything could change for me. Right now our little family of 7 is healthy, strong and together. I'm going to soak it up. I'm going to laugh when the boys challenge me to rope climbs or when my oldest tells me he is going to beat me at pull-ups. I'm going to take pictures of us. Now. Together. Doing our thing. It can all change, so I am soaking it up.
Turns out I started homeschooling for a couple of reasons, but a million other reasons keep me welcoming that full plate each school year.
Family handstands are just icing on the cake.
Save
Save
Save