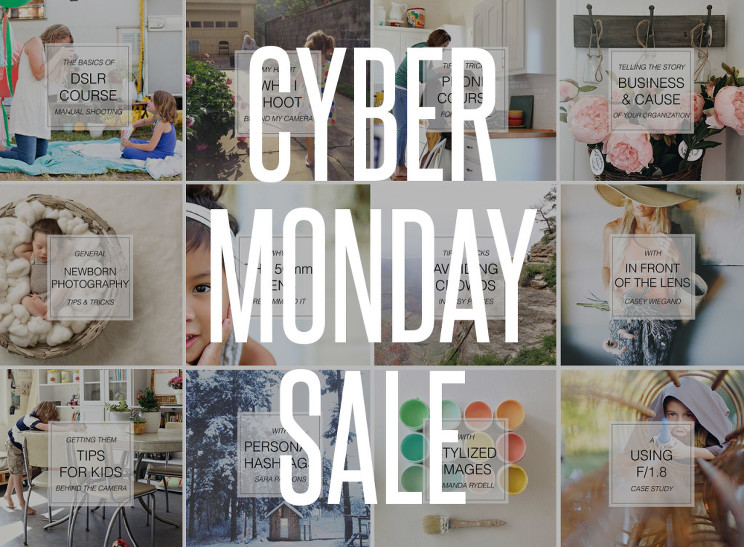 I know how hard it is to find time for online courses that require logging in at a certain time or with limited access. In January, I combined my SnapShop: DSLR and SnapShop:Phone courses into one online photography website with new lessons added monthly. Instead of logging in at a certain time or only having couple weeks to access content, the new site is subscription based. As a subscriber you have access to all the content for as long as you keep your membership. The monthly membership costs less than a fancy latte.
I'm holding a flash sale! This will be the biggest discount for the remainder of the year. The initial registration fee will be 50% off for TODAY only! The registration fee will be discounted to $25 (normally $50).
We are also offering annual memberships designed to be given as gifts available for purchase through the end of the year. Annual memberships will be $100 and only available until Dec. 31st. Today only we are offering $25 off the annual membership.
CYBER MONDAY FLASH SALE
$25.00 off the $50 registration fee
or 
$25.00 off a $100 annual membership fee
Offers are good today only.
This flash sale will end at 11:59pm CST on November 28, 2016.

Registration includes access to all SnapShop content (used by over 3000 students since 2009), including: 
SnapShop DSLR Course (a $200 value)

SnapShop Phone Course (a $50 value)

Interviews & tips with leading photographers & bloggers

Course discussions

Additional lessons posted monthly by Ashley Ann and guests!
To register click here and use the code: CYBERMONDAY
Discount code is case sensitive and can be entered at checkout.  Subscriptions will renew for $5.00 monthly to maintain access to existing content and new lessons!  
To see a listing of all the lessons and courses included and a FAQ page answering common questions visit the SnapShop website.