I had great plans to make some much needed updates to this blog last week…but life happened! It would probably be wise to shut down this blog and do all the updates at once, but I'm afraid that could only happen if I had someone helping me. Since it is just me…I'll just keep trying to slowly get things freshened up around here.
Our living room/kitchen floors are finished and we started putting up new trim and baseboards. Kind of like updating this blog, we'll just be going slowly room by room to get that big project done. I'll post more details and pictures about our floors later this week.
I'm trying to pick a front door paint color….so many colors, so little door space.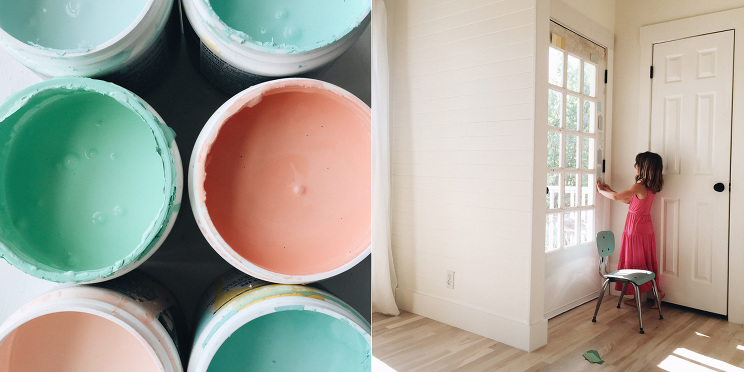 And for other random news from last week….my blackberry bush exploded and Aldi's had funnel cake mix. I probably should have planned ahead and combined the two, but the blackberries were calling my name. I got my sister a funnel cake mix too because no one loves fair food like she does.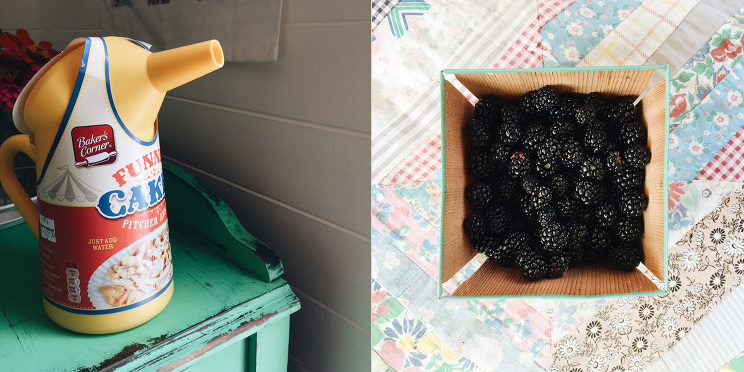 Running errands with my girls takes 1 million times longer than it does by myself or with my boys. "Mom, look at this. Take a pictures of this. Isn't this beautiful. I NEED one of these. This is SO ME." My 6 year old told me she wants to have a birthday party inside Hobby Lobby. I told her I do too.
Their personalities sure come out in their poses!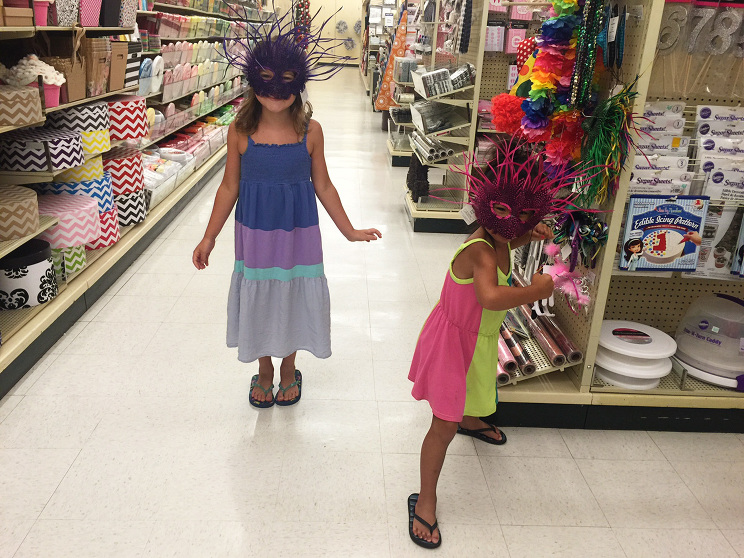 My kids are doing "Great Grandparent Camp" this summer. At least that is what I am calling it. My grandpa is teaching the boys (and me) woodworking, while Grandma is teaching the girls to quilt. Whether it is helping me pick paint colors or taking pictures for a blog post, my eldest daughter is always close by my side – mimicking and learning.
Oh glorious post-swim naps!
We hit the road to visit a local lake with friends, where Chris willingly let his friend toss him to the delight of our kids. My mother-in-law saved a few magazines for me…one featured Carlton Landing. I flipped the page and was like, "Hey, I've been in that kitchen!!" It was beautiful in the magazine, but even better in person. In somewhat related news, I got my first Yeti tumbler. I show Chris every night how my ice from the morning is STILL NOT MELTED. Really, my mind is blown by the thing. It has a plastic lid…how does it keep ice all day in Oklahoma heat? Mind blown.
I didn't get blog updates accomplished last week, but I did add a new SnapShop lesson:
It is a simple case study on how I capture reoccurring everyday family events. I often opt to take a chunk of time to really tell the story once instead of pulling my camera out every day to capture the same thing. This keeps me from bouncing between being present and my camera. The lesson walks through my approach and camera settings.
If you are a SnapShop student, I will soon start sending monthly emails to let you know what lessons have been added. I also keep my @SnapShopWorkshop Instagram account updated with new lessons.
For those interested in learning more about photography at your own pace, you can find a registration discount code on at @amandarydell (look for the ice cream picture on her Instagram account). Amanda is a featured interview on the SnapShop site. In the interview, she shares her tips and tricks for creating stylized images. Her photos are among my very favorite and I am honored she is a part of SnapShop.
Well, that is about all for today's random blog dump. Last week I started updating the sidebar (still more to do). This week I am hoping to get some new images on the header slideshow. I kind of wish I could just make the header a slideshow of my current instagram pictures. If anyone knows how to do that (I use a ProPhoto WordPress template), I would willingly take your help!
Happy Monday!
Save