On the top of our family's list of new favorite stops in Oklahoma City is Riversports Adventures. If you give us an opportunity to do something adventurous together – we are all in. As part of our trip with Adventure Road, we took an afternoon to get sweaty and active at RiverSport Adventures located near Bricktown in OKC. You can see the downtown skyline in the distance. While it is not the background to rafting we've done in Colorado, it is pretty cool to have something like this in our state.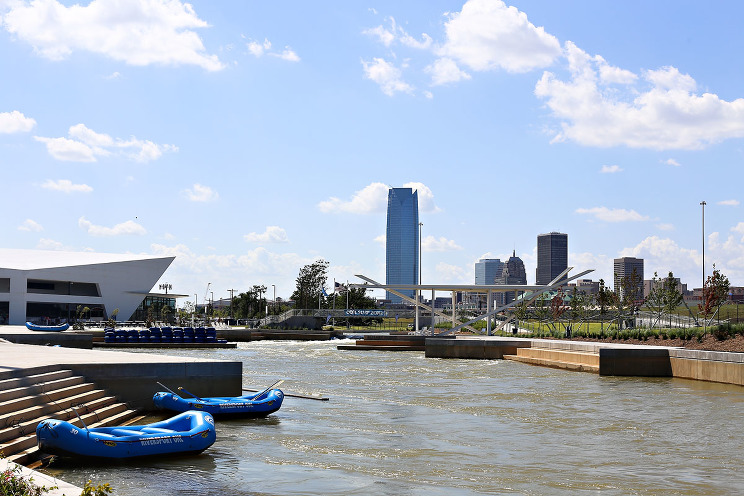 My four guys could not get out on the water fast enough. Throughout the day the rapids are 'turned down' and you can go tubing.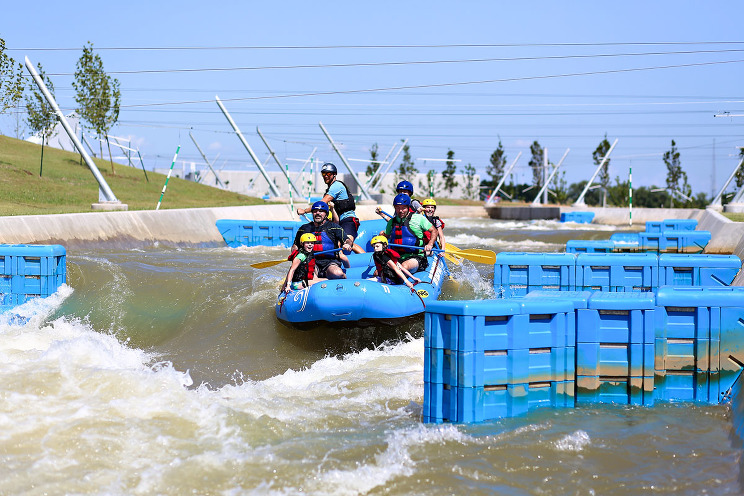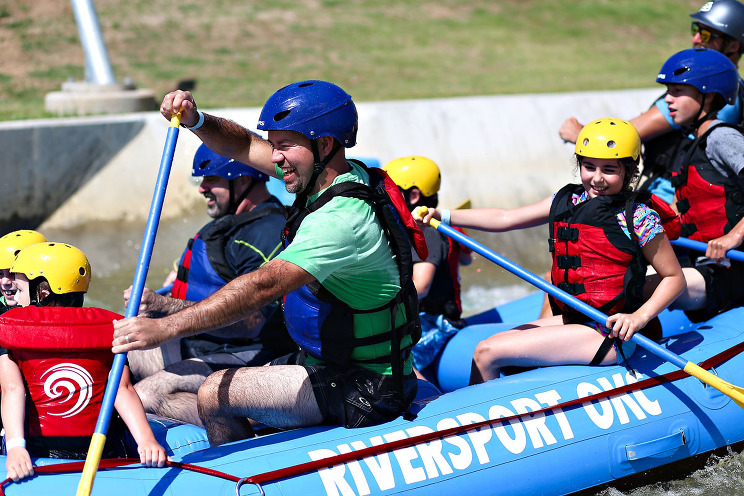 I took one for the team and sat on the bank with the girls while the guys did the rafting. The girls weren't quite tall enough, so we waited and watched. It wasn't nearly as fun on the sidelines, but seeing the guys have a blast together was pretty great. We kept dumping water on our heads while the boys were getting soaked. Oklahoma is hot this summer (and every summer)! On the other side of the rapids is the Oklahoma River where you can flatwater kayak and stand up paddle board.
The rafting adventures take about an hour and a half. After we watched the boys a bit, I took the girls over to the Youth Zone. The disappointment of not being tall enough for the rapids was subdued a bit by the activities they were tall enough to do. The Youth Zone area is only for kids under 48″ and is $10 a day (3 and under are free). It is such an amazing deal if you have little ones. There is also a free park next to the Youth Zone.
The day we went the girls had the whole Youth Zone to themselves. It was awesome!
The Youth Zone also had a mini ropes course. The girls got to wear a real harness and lock in just like the big ropes course. Though they wanted up on the high adult course, they had a wonderful time on the youth version.
Cutest little ropes course walker ever.
Since Chris got to go rafting, I got to do the SandRidge Sky Trail while he stayed with those that did not want to climb. My 10 year old and I got on our harnesses, hooked in and started climbing. My son said it was like training for American Ninja Warrior. There were beams, bridges, ropes, ladders, etc. that you cross. The structure goes up 80ft with 6 different levels. If no one was waiting down below for us, we could have spent a great deal of time just climbing and challenging ourselves to try everything without holding on. So much fun. I want to go back.
For those that don't want to climb all the way up (and those that do) there are a few high speed slides too.
The highlight of the day for me was the zipline. The actual zipline across the river was fun, but the chance to do it with my son was the best part of the day. He has been waiting YEARS to do a high zipline, but he has never been tall enough. Friends have shot past him in recent years, while all he ever asks me for is a growth spurt. It is so hard to see your kid struggle with something and not have the ability to fix it. When we walked up to the zip line, I held my breath until we were sure he was tall enough. He was! Happy dance by mom!
Together we climbed the stairs to the top. As we reached the very top, he started to get nervous. It was a long way down and far bigger than anything he has ever done. His nervous excitement was contagious. He was in front of me, walked to the edge and jumped off. It was one of my favorite parenting moments. That steep climb up and soaring ride over the river was a long time coming. I'm so grateful I was by his side.
I do not take days like this with my family for granted. Today I am strong and healthy, but that strength and health is not a guarantee. I know plenty of parents that would give anything to have one pain-free day with their kids. Running, jumping, climbing – the ability and chance to do these things are not guaranteed to any of us. While I am able, I am going to be as active as I possibly can with my crew.
I wanted to share a few of my tips for those of you that visit RiverSport Adventures. I'm always learning as I go when it comes to traveling with kids. Hopefully, these will help some of you!
My Tips:
Wear secure shoes (no flip-flops). We had flip-flops and had to make a quick run to the store to get better shoes. Most people wore Chacos or similar shoes. I would not wear running shoes if you want to do any of the water activities too.
If you got on a hot day with kids under 48″ bring socks. My girls really loved the Cloud Bounce, but you can't wear shoes and it was pretty hot. They would have jumped longer if they had socks.
If you want to do the zipline, reserve a time as soon as you get there. We almost missed out on this.
Reserve you whitewater rafting time before you arrive. You can reserve a spot online so you are sure to get one.
Wear active clothes and longer shorts or yoga capris. I had on khaki shorts…not so great with a harness.
There is not a ton of shade on the actual activities. Pack sunscreen.
Food. There is a concession stand and restaurant on site. The parking lot is between the rapids area and the other areas. If you have special diet concerns, you could leave a cooler in your car. We have a little one that needed food we can't find in most places. It was not an issue getting to her food quickly.
Be sure to read the rest of the Important To Know tips on the website.
The website has tons more info, I'd take time to read it all.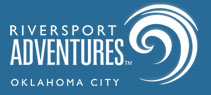 Website | Facebook | Twitter | Instagram | YouTube
Save