Yesterday I posted this image on Instagram with the caption: "What is it like to homeschool 5 grades?"…you know the ball inside a pinball machine…most days it feels like that. Lots of bouncing around and not knowing what lights will start flashing or where I'll get stuck. The route is unpredictable, but the start and finish are always in the same spot – on my knees praying for patience, grace, and wisdom wrapped in contagious joy.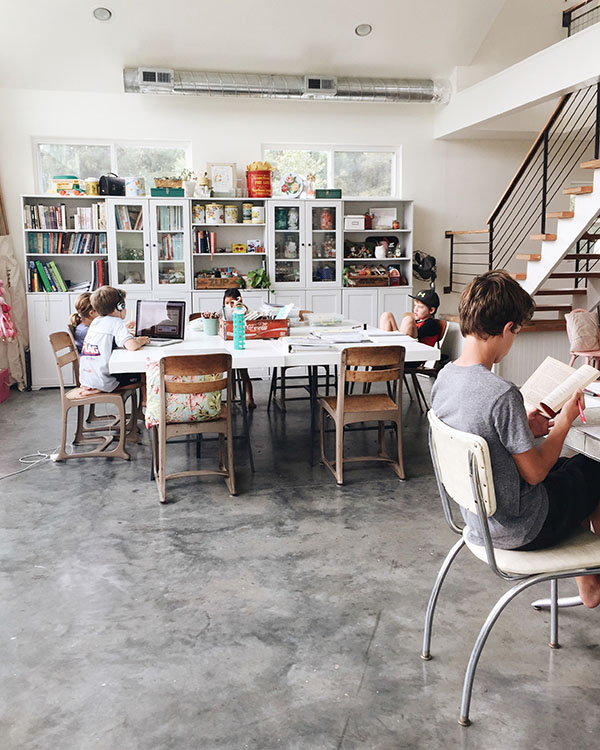 The days are full and I rarely have a moment to sit and think, which means when I finally lay down I start thinking. Thinking and sleeping are not a good combo. I am CONFIDENT so many of you can relate.
The day ends, but your mind is just beginning. I have tried every possible sleep remedy – yes, that includes all the oil concoctions. My sleep troubles are not related to diet, exercise, or health. I know mine stem from a mind that just starts going when my body stops and I can't get all the tabs in my brain to shut down (even with notepads by my bed and all the other tricks out there).
One night I was searching Amazon for sleeping aids (not the kind you ingest) and came across an Acupressure mat. It had great reviews, cost $20, and was supposed to help with muscle relaxation too (aka handy after daily Crossfit workouts). I decided it was worth a try and made my strangest Amazon Prime purchase to date.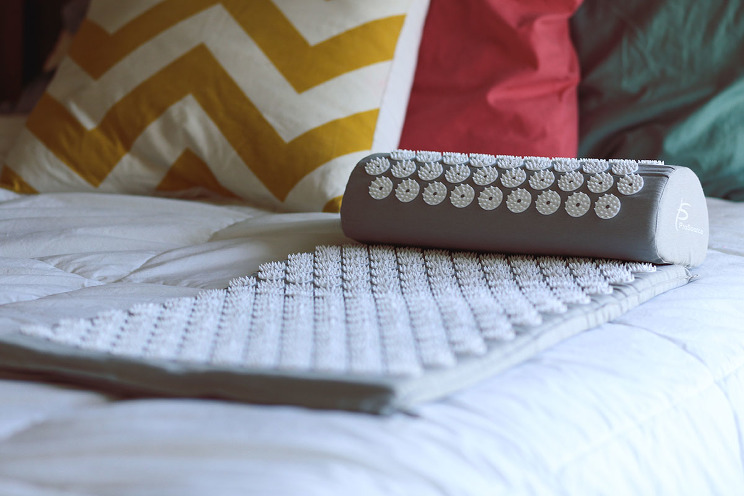 It hurts. I call it my torture mat. You are supposed to begin with a thin shirt and work your way up to using it on bare skin. The first few times I tried it, I lasted about 2 minutes. The picture of my arm is from about 15 seconds.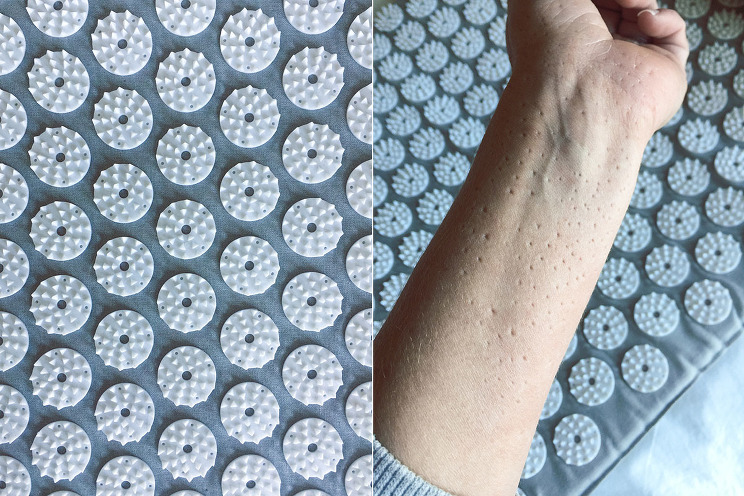 Eventually I worked up to using it the recommended 30 minutes on bare skin. It works. I fall asleep so quickly after I use it and it does cause me to completely relax. Here is my theory on why it works – it is so painful at first that all you can think about is that it hurts…so your mind is empty of everything else. You can't move at all on it, you have to be still and breath, which in turn is pretty relaxing.
Those spikes of pain are not for everyone, but if you are looking for a natural (can I call it natural?) way to help you fall asleep and all the oils are doing nothing…let me recommend a torture mat. You can even get a pillow too.

This blog is so random! I've used this for a few months now and it has really helped me, so I thought there might be one of you that could benefit from it too. Once you get past the initial pain…you might just like it too!
SIDENOTE: There is a random ad box popping up on my blog under the most recent post. That is NOT AN AD I APPROVED – please do not click on it. We are working to figure out the cause. Sorry you have to see it too!