The last time I visited the Science Museum Oklahoma it had a different name and I was younger than my oldest son! I don't remember ever going with my parents (sorry Mom & Dad if you took me). I remember going with classmates on field trips. It was a 2 hour drive in a bus from Tulsa. My favorite spot was an electrical ball you could touch and your hair would stand on its' ends. There was also a big play item that looked like a plastic atom.
In recent years, I've heard many other parents talk about the Science Museum and have thought often about visiting. Since it is an Adventure Road partner, it was perfect for this trip. We planned half a day and quickly realized we should have blocked an entire day. Oh my goodness did we have fun…and we didn't even see everything! Chris tends to travel to OKC weekly, so I think we are going to need to get an annual pass.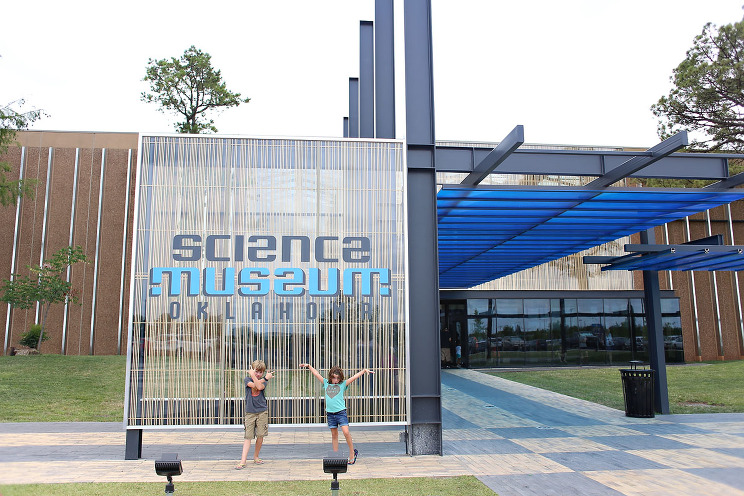 Near the entrance is a large display of things that were once in museums. In the early days of museums, science and art were combined. This led to a bit of confusion…think artists that depict an animal with several heads! I loved getting to talk to the kids about why it is important to see beauty in science, but how it is also important to separate art from science!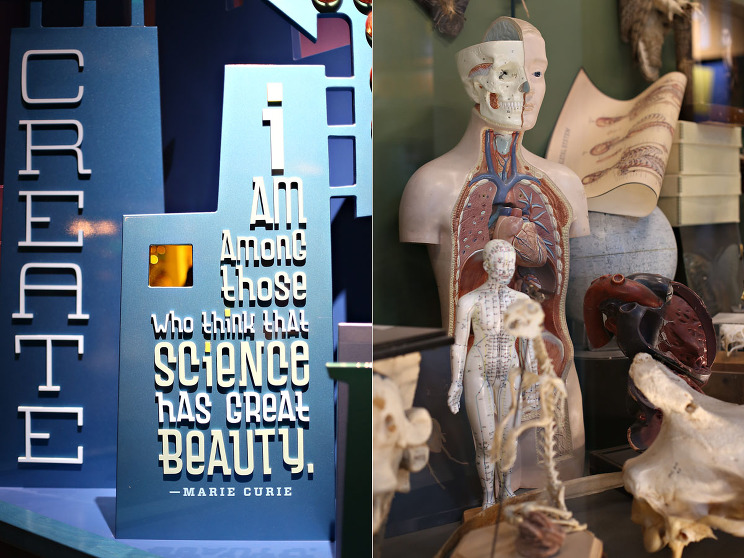 We headed into the first area of the museum, "Curiocity." We could have spent HOURS in this one area. The kids were completely enthralled in every display. I had to keep them moving so we could see more of the museum. They would play and I would randomly shout science facts…next time we go I will move slow and make them pay a little more attention to the science behind what we are doing. I am totally jealous of all homeschooling moms in OKC. I'd skip the science books and go at a snail's pace through all the content and hands-on learning at the museum.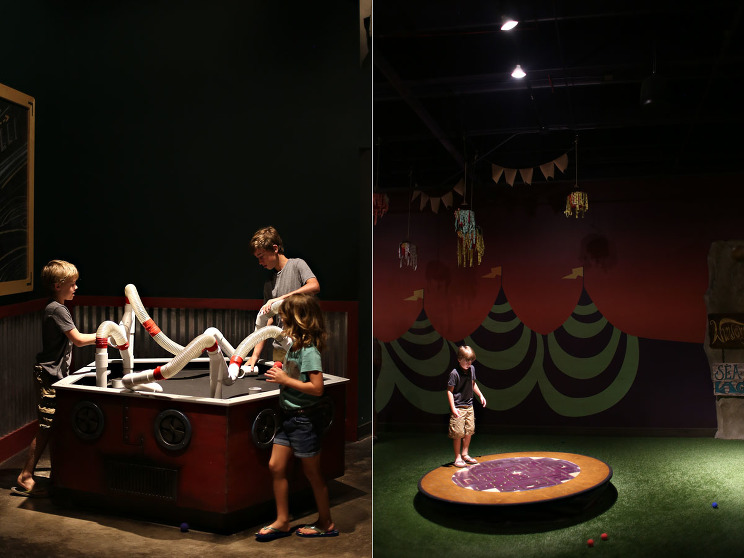 Okay…I took the picture below on the right for you moms of teeny ones. There was one room with water activities. The whole museum is set up for kids of all ages. Those little chairs are for babies to sit in. There are little fountains in front of each chair, so they can play in the water. If my friends and I were back in the baby stage, I would totally meet up with them there. The babies could play and we could talk.
Vintage Science Museum happening here…I once sat in that 'plane' when I was in elementary school!
She rode her first segway…and asked me to buy her one.
One area focused on physical fitness. Corbett challenged Chris and I to several races…we won. For now. I had to work hard for my 3:1 Tug of War victories!
We arrived in the morning and stayed until a bit after lunch. I was not prepared for how big the museum was or how each thing would hold the attention of my kids for so long. There were a few exhibits we missed and we didn't get to attend any of the shows. Obviously, we are going to have to go back! If you live remotely near OKC, I highly recommend planning a day at the museum. If you are traveling through Oklahoma, I would encourage you to schedule a day to stop and explore. We will absolutely be going back.
My tips for your visit:
Plan to spend a whole day
Pack your lunch or dining is available
If you have a big family, it would be a good idea to have at least 2 adults. It is big with lots of rooms. This could be stressful if you are trying to keep your eyes on a handful of kids.
Pack a change of clothes. The water room is so much fun, but my kids were a little conscience of getting too wet. If I had younger ones, I am sure they would have either had to avoid the water room or ended up soaked. I would not choose to avoid the room, just pack some extra clothes if they get too wet. It might be a good idea to pack a small towel too.
Play with your kids. I had just as much fun in each area as my kids. Climb on the playgrounds. Build. Interact. Play. Go outside. This is such a perfect place to really connect and have fun with your kids!
Website | Instagram | Facebook | Twitter | YouTube | Pinterest
Save
Save
Save
Save