Yesterday, I shared a few images from the Be Crafty I helped host at The Farm Chicks Show earlier this month. A highlight of the workshop was the opportunity to meet Jess (Shop Sweet Lulu) and Serena (The Farm Chicks) in person.
I've worked with Jess on various parties the last few years. Her shop is my favorite for finding adorable decorations – not to mention giant balloons! It was so good to finally put a face and voice to her name. I told her I want to come visit her brick and mortar shop – and just sit in it for a while.
Serena blew me away with her attention to detail and organization. The Farm Chicks Show is huge. She was juggling thousands of attendees and 300+ vendors. Each time I saw her, she was moving with grace and a smile on her face. She never came across frazzled or rushed. If you get the chance, read about her story growing up on her blog. She is inspiring and so gifted at what she does.
Jess | Sara | Amanda | Serena | Lesley | Me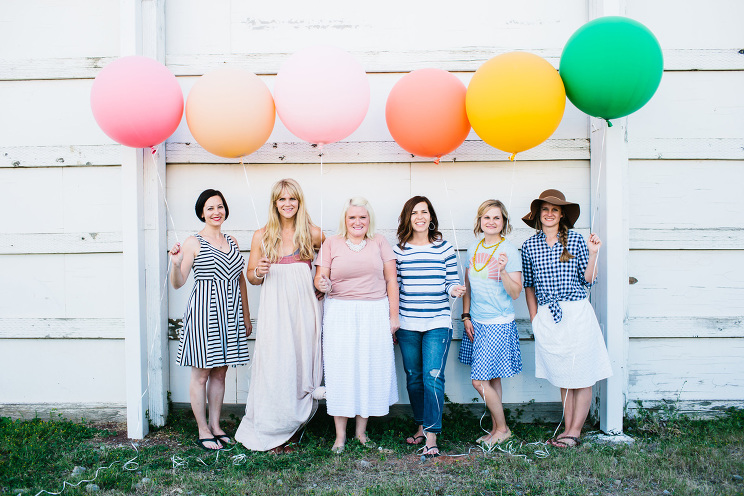 A key component of Be Crafty Workshops is supporting and sharing small businesses through swag bags. With 150 women in attendance, that is a lot of items for small businesses to send along. Many shops sent a handful of items and the swag bags included a various mix. So much cute stuff!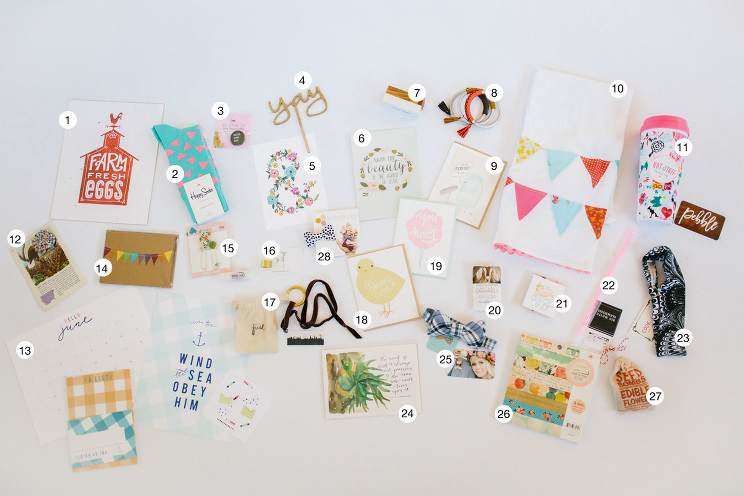 1. Home Again Creative 2. Happy Socks 3. Be Crafty Workshops 4. Emily Steffen 5. Paint and Prose 6. Katy Girl Designs 7. West Pine Company 8. Noonday Collection 9. Recipe For Crazy 10. Rebecca Parsons 11. Pebble 12. Prospect + Ash 13. PaperWorks 14. Rainy Day Colors 15. The Doo Bob Shop 16. Dear Hazel 17. Freed Outfitters  18. Gingiber 19. Pen and Paint 20. The Simple Farm 21. For the Love of Joy 22. The Mason Bar Co. 23. Fit Chic Headbands 24. Gracelaced 25. The Belle and Beau 26. Maggie Holmes / American Crafts 27. Big White Farmhouse 28. Bumblelou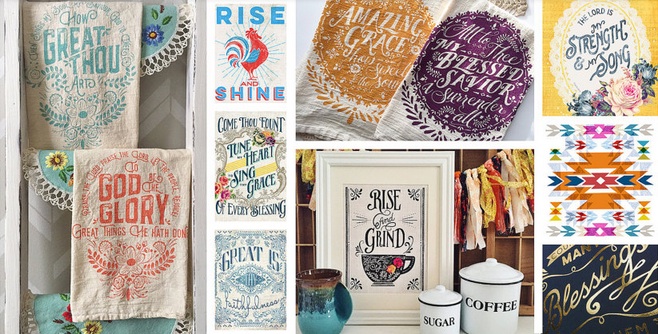 Despite our best efforts to get all the swag included in that group shot – we missed one. Fancy That Design House also provided adorable prints to many of our attendees. Be sure to check out her shop too!
We also had a few giveaways at each workshop….
Giveaway Sponsors included (clockwise from top left): Kelsey Davis Design | Simply Rosie Photography | American Crafts | Sugar Blossom |Paisley Sprouts  | Rebekah Gough Jewelry | The Felt Flower Shop
The pillow cover below is from Paisley Sprouts (linked above, you can't see it in the wrapping paper).
I would also like to thank our other event sponsors:
Shop Sweet Lulu (you can use the code FARMCHICKS to get 15% off!)
Amanda is holding a giveaway on her Instagram account for a sampling of some of the swag items. Be sure to click over there to enter!
Save
Save
Save
Save
Save
Save
Save