Thank you. I appreciate all your encouraging comments yesterday. I always tell Chris, "I have no idea why people read my randomness!" It made me smile to read WHY you actually stick around here with me. For those that said you feel like you know me despite never meeting in person – that means so much to me. I hope you feel that way! Thank you.
It had been a year since they were together, but they picked up where they left off. Maybe even a bit closer. After a year of serving on Mercy Ships, last week our friends stayed with us a bit and we soaked up a few days of our families being together. The youngest two of the families were a wonder to watch. What one did, the other did. A year ago only one of them spoke clearly and now they were jabbering up a storm together.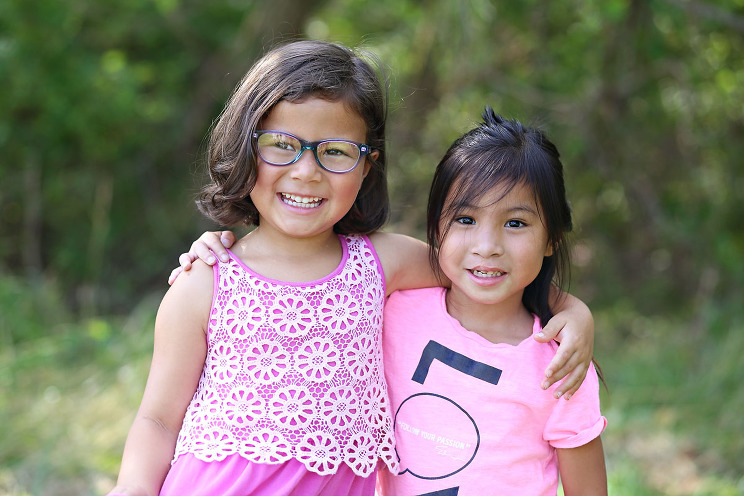 One morning the three of us sat at the kitchen table eating breakfast. They were giggling about random things and I asked if I could share a special story with them. They nodded.
I began my story, being ever sensitive to their age and understanding.
Five years ago this summer they were born. One in China. One in Oklahoma. We were not matched with our daughter until she was 8 months old, but deep inside when I held my friend's newborn, I knew I had a daughter the same age.  I told them about how I would rock one with tears streaming down my cheeks thinking of the other. For 14 months I watched one grow. I would pay close attention to her milestones and wonder about my daughter. In some strange way getting to watch my friend's daughter grow eased a bit of the pain of missing out on those milestones with my own daughter. It was oddly comforting getting to have a visual reminder of the changes my daughter might be going through too. Bittersweet.
I shared with the girls how God comforted me when I was missing one by letting me hold the other. I told them how wonderfully created they each are and how special it is for me to see them together.
I poured my heart out and tried not to cry. When I finished, I smiled and waited for their response.
They looked at me, smiled and ran off to go play.
Evidently, the story isn't quite so meaningful yet 😉
I am so thankful for their friendship and thankful when my pain felt like an ocean I was drowning in God used an unexpected way to comfort me. I'm thankful for a friend that let me cry over her baby and didn't try to 'fix' my pain, but walked through it with me instead. I'm thankful for two little girls that giggle and run off to play.
Save