Sometimes I have lots of little random things I want to share or post as a reminder…it is easier to do it all at once. So, today is a random day of those things!
The Totally Rad Actions giveaway ends today
$150 gift card to Totally Rad Actions
Giveaway ends Friday, September 25th, 2015 at 5:00pm
To enter leave a comment on Monday's post


Last week I posted about my friends' opening Restore House. Well, this week I dropped by to check out how things were going as they prepare for the opening next week. It is so amazing! It is my new favorite store and it isn't even open yet. I'm so giddy about it. I took a few sneak peeks to share. They are going to serve coffee too. I've decided I'm going to randomly show up in the store kitchen to work there instead of trying to accomplish any computer related task at home with 5 wild animals. Seriously, if you go shopping and there is a lady in the kitchen that has made herself at home – its me. Jaime is too nice to kick me out anyway.
Restore House Friends & Family Night
September 30th, 5-9pm | 924 S. Main St., Broken Arrow, OK  74012
I'll be there at 5pm. I might pitch a tent on the sidewalk before it opens. If you are there and see me, please say 'hi!'.


Remember the paint party I did back in July? This weekend I am part of hosting a giveaway with DecoArt for a paint party for 6. The giveaway is a 'round robin' on instagram with a few other bloggers that have done art parties. You'll have to visit my instagram page later today for how to enter.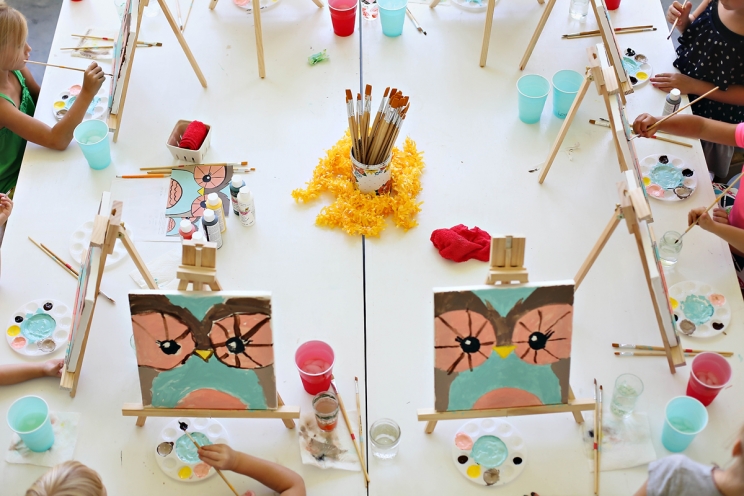 Lastly, Chris just saw that Compassion International is hosting a Compassion Experience in Tulsa at the end of October. It is an interactive tour of life in the developing world. We've never been before, but have heard great things from others. The event is free, but you do have to register to reserve your time spot. If you are near the Tulsa area, you might want to check it out.

My dad recently retired (YAY DAD!!!). This means he has more time. I'm actually not sure he has more free time, but I'm deciding he does. I have some projects for him…wood. white paint. tile. floor sander. Unfortunately his retirement coincides with my busy SnapShop season, so I don't have much spare time. I'm hoping this weekend we can sync schedules and have a little project fun.
Have a great weekend!