Earlier this year I shared about Sseko Designs and partnering as a Sseko Sole Sister this year. You can read all about Sseko and what a Sole Sister is in my previous post. I do want to share an update that Bridget (read that previous post) is headed to a top university in Uganda this fall. She will be studying Urban and Regional Planning!
Sseko Designs is a fashion brand based in Uganda that employs local women on the path to pursuing a university education. Every woman who has graduated from Sseko is currently pursing a college degree or has already graduated. Bridget was the student I was matched with….Congratulations Bridget!
Well, this post is exciting for you ($100 giveaway) and a reminder for me why I am not a fashion blogger!
When Sseko launched their fall collection they asked if I wanted to share a giveaway with you – of course I did. What I did not think through was the actual process of capturing myself with my favorite Sseko fall item – my Tiko Tote. I am not a fashion blogger. I did send an email at one point letting them know it might not have been the best decision to have me model with my tote.
Crop out my face, show off my bag. If only I could have stuck with this version for all the pictures!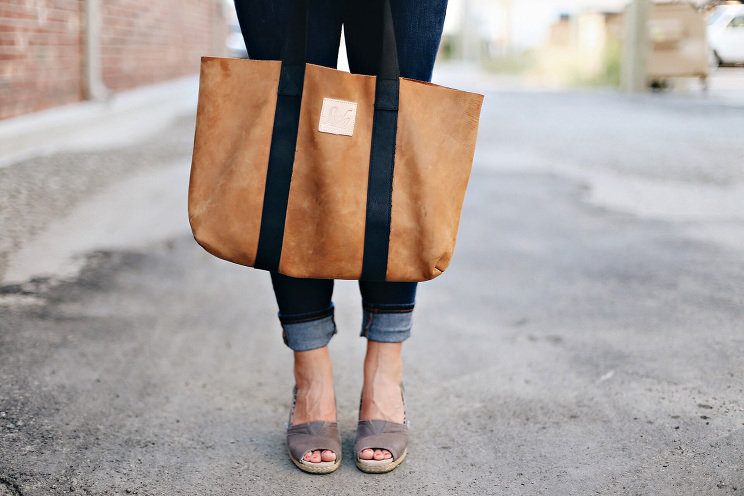 I asked my sister to help – she pretended to be awkward because she is very much not awkward. That role belongs to me. There was a lot of laughing happening during the process of trying to capture these! Lesley is in the pink shorts. Chris said we look a lot alike in these…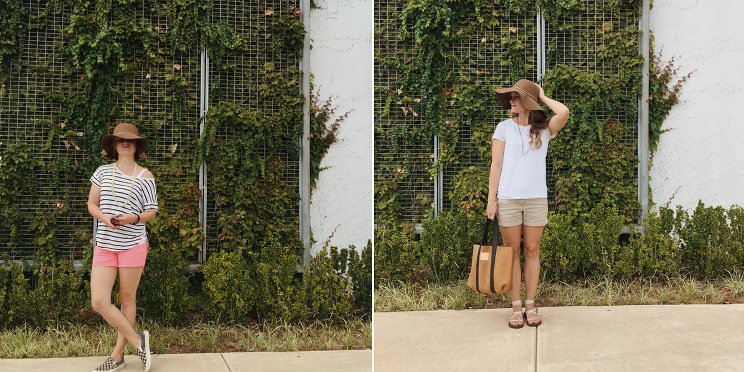 We were on a girls' trip with our mom, so the next day we attempted shot number two. I was playing it casual on some random steps with my coffee when a girl modeling for an actual shoot passed by with her big dog. I was trying so hard not to laugh…drink your coffee Ashley, try to keep it together. I almost asked if I could borrow her dog for my pictures too.
And then there was the casual walking down the cool street attempt…that I killed because I couldn't stop laughing at myself. But – hey – my tote is really cute! On a serious note – it is super cute and versatile. I carry it everywhere now.
Along with the pictures, Sseko asked me a few questions about my personal style. I'm a jeans and t-shirt girl. Actually, I am really a running shorts and t-shirt mom of 5 that never sits down or stops moving. My personal style is just whatever keeps up with me. I think more about which shoes to wear to Crossfit each morning (running shoes or lifters) than I do about what I am going to wear the rest of the day. For me to like a product, it has to be versatile, practical and durable.
I am a fan of simple products that are well made and make me look far more fashionable than I am – hence my Tiko tote!
As I answered the questions Sseko sent, I knew I wanted a couple pictures of 'real' life…me and my tote on a normal day. No posing on trendy streets or near large dogs. I needed my kids. I carry my Sseko bag every day. It holds my planner, pens, a couple books and craft supplies – you never know when you'll get 5 minutes to work on a weaving. Since it is black and brown – in my book that means it matches everything!
And let's all take a moment to pause over how huge my kids are getting!
I'm thrilled to highlight Sseko Designs on my blog this year. As I share about Sseko Designs, I am advocating for a specific young woman striving to get an education and an incredible company, but I'm also advocating for more. In sharing about Sseko, I hope it sparks something in someone else regarding how businesses can be for profit and still make a difference in the lives of employees and a community. For profit businesses positively impacting their employees, communities and customers can happen in Uganda and it can happen in Tulsa, OK. As a business owner, it pushes me to consider how I can use my business to benefit those beyond my family.
You can read my interview on the Sseko blog and on Sseko's Instagram over the next week!
It has been a really long time since I last hosted a giveaway on this blog…I am so happy to get to host one for $100 from Sseko Designs. Click on the logo below to enter the giveaway! (leave me a comment here too because I'd love to know if this giveaway excites you…for my own future reference!)
Save
Save