Seven. It is a pretty good number. We are so thankful to being starting the day to day life as a family of seven. On August 27th, 2012 we met our youngest daughter in Guangzhou, China. It is difficult to sum up the time leading to the moment she was placed in my arms and the days that followed. I documented most of our journey here on my blog. You can read through the main posts below…warning it might take a while. I suggest a cup of coffee, kleenex and a lot of time before you get started.
Here is our first photo as a family of seven, taken by my friend Shannon Phillips at the airport when we arrived home.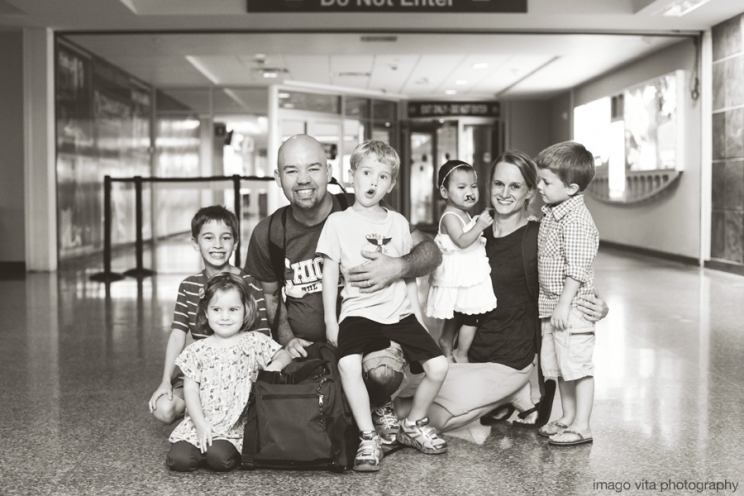 (They are listed from the earliest to the latest, left to right, top to bottom.)


June 3, 2011 – Mailed our application to Living Hope Adoption Agency (LHAA) to begin a China Special Needs/Waiting Child adoption
June 13, 2011 – Got our acceptance letter from LHAA
June 15, 2011 – Mailed our contract to LHAA
August 19, 2011 – Mailed off all the needed documents to begin our homestudy visits
September 1, 2011 – first homestudy visit (3 more during September & October)
October 12, 2011 – rec'd final copies of homestudy, mailed off our I800-A
November 22, 2011 – fingerprint appointment for USCIS
December 22, 2011 – USCIS approved our I800A
December 27, 2011 – received I800A approval in the mail
December 28, 2011 – mailed our dossier to LHAA
February 6, 2012 – DTC (dossier to China, lots of delay due to new years and Chinese New Year)
February 15, 2012 – LID (dossier logged in, we received the notification on 2/23/12)
February 27, 2012 –  received our referral for an amazing baby girl
March 1, 2012 – sent our LOI (Letter of Intent requesting approval to adopt her)
March 2, 2012 – received our PA (Pre-Approval from China to adopt)
June 13, 2012 – received our LOA (official approval from China)
June 13, 2012 – sent our I800 paperwork to US Citizenship & Immigration
June 28, 2012 – received our I800 approval
July 6, 2012 – NVC Cable (visa paperwork sent from US to China)
July 10, 2012 – Article 5 dropped off
July 24, 2012 – Article 5 picked up
August 7, 2012 – Travel Approval received
August 23, 2012 – leave for China
August 27, 2012 – we met our daughter!
September 7, 2012 – we celebrated being home as a family of 7!

Here are a few 'background' posts from oldest to the latest…little snippets while we waited to actually formally begin the adoption process. You can find all my posts related to adoption, advocacy, foster care, etc by going to the very bottom of the blog to the "Categories" option, look for "adoption & advocacy":

And lastly, during the process to bring our daughter home, I launched The Incubator Project. Click on the icon to read more about it.

Save