When it comes to questions online there are three things I get asked quite often about: adoption, traveling to China, and do I really like my Article furniture! There are posts and posts and posts about the first two topics on this blog. Today, I am going to touch on the third.
I have had the opportunity to work with Article on several projects in my house. This means I have not purchased any of my Article furniture – I think it is important to make note of that simply to present all the facts as I share about how I really feel about their furniture. After I worked with them the first time, I loved the products so much I jumped on any future partnership opportunities.
I have had countless 'in real life' friends come over and ask if I never worked with Article, would I still recommend their products. My answer is always, "Absolutely yes!" Several of my close friends have gone on to purchase tables, sofas, and chairs from Article. I share that to say – if I recommend it to my closest friends its a pretty good sign I am a fan!
Let's take a trip down memory lane…before our family and friends truly welcomed our Article furniture into the reality of our home!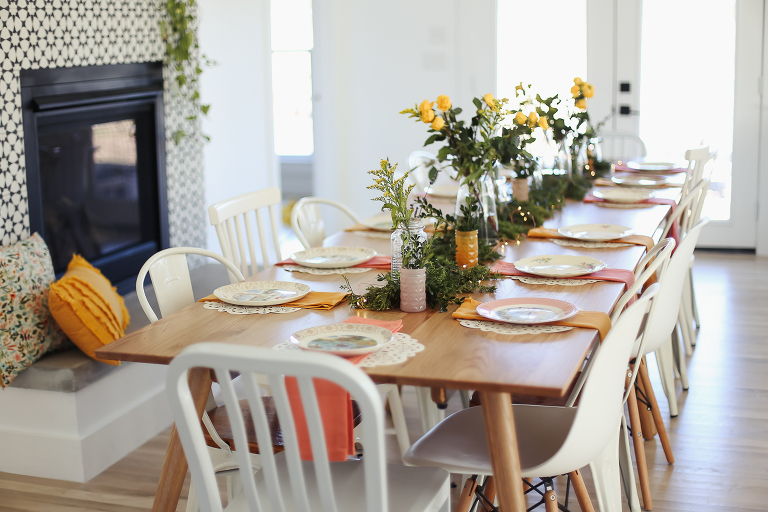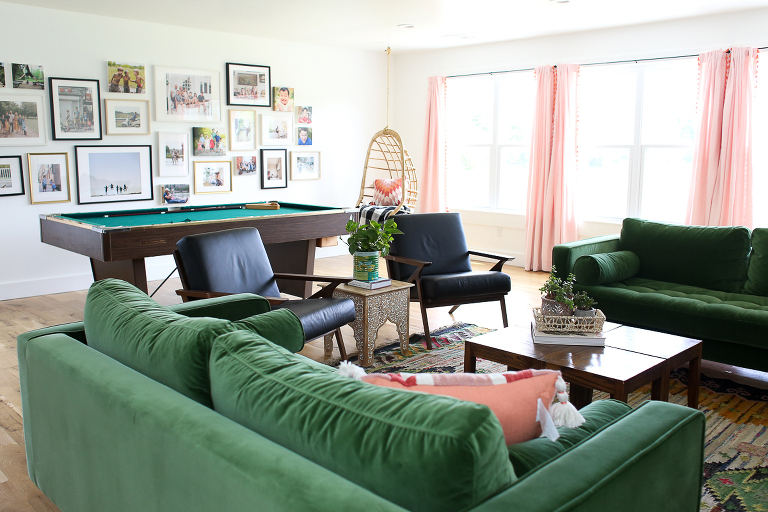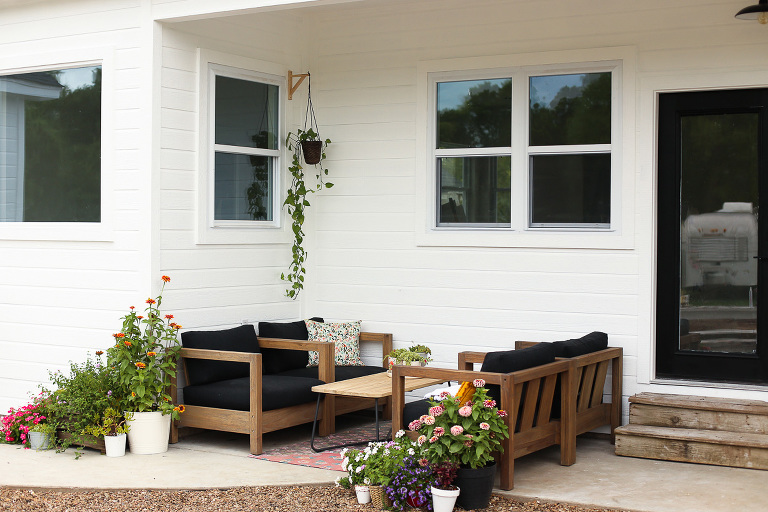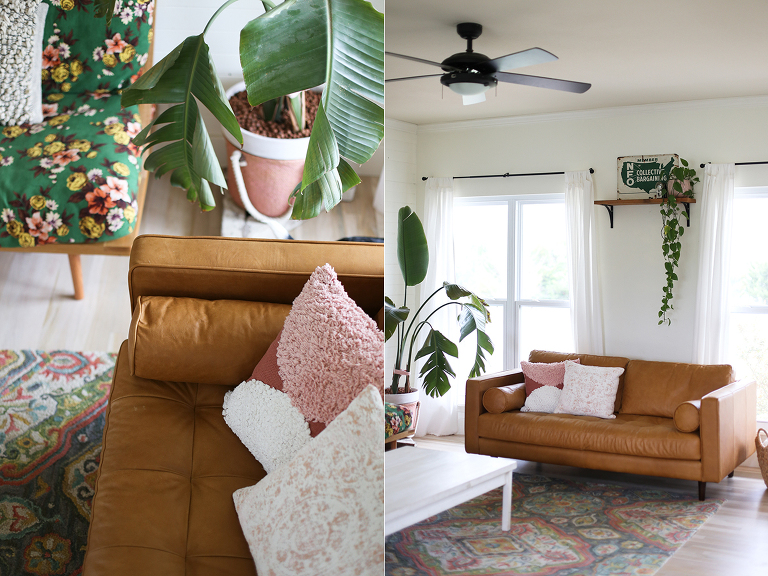 What you don't see in those images is the delivery and assembly process – mainly because it is incredibly fast and easy! Our furniture has always arrived safe, unharmed, and well packaged. All the sofas came in boxes with the legs detached. We simply screwed the legs in, tossed on the pillows, and were good to go. The hardest pieces to assemble were the outdoor chairs – only because they were heavy and I needed someone to help hold them. If you are used to furniture arriving in a million pieces with instructions that need instructions for how to read them – all this is a very nice surprise!
My house is consistently full of people. Whether it is just the seven of us or if it is 30+ friends for a gathering. There is not a single week that we do not have extra people at our house at some point. Some weeks it is a handful. Other weeks it can be over 50. Our furniture takes a beating and I am not one to worry more about furniture than how people feel in my home – my kids included.
I need furniture that can handle real life.
I do have a few rules though…
 "No animals on the sofa"
"No fighting with my good pillows"
"No drinks or food on the sofa"
"No flipping over the sofa"
"No wrestling on the sofa"
"No chickens on the table or chairs" (outside)
Lets be honest though – all my rules get broken, pretty much everyday.
Real life looks like this: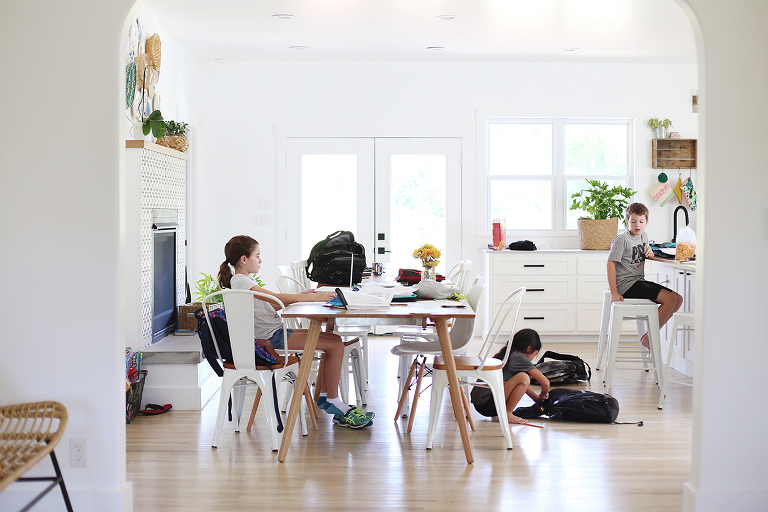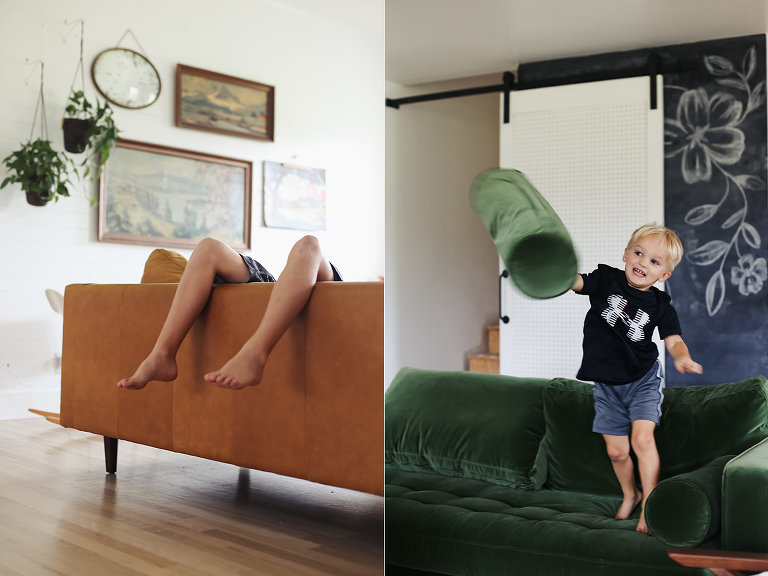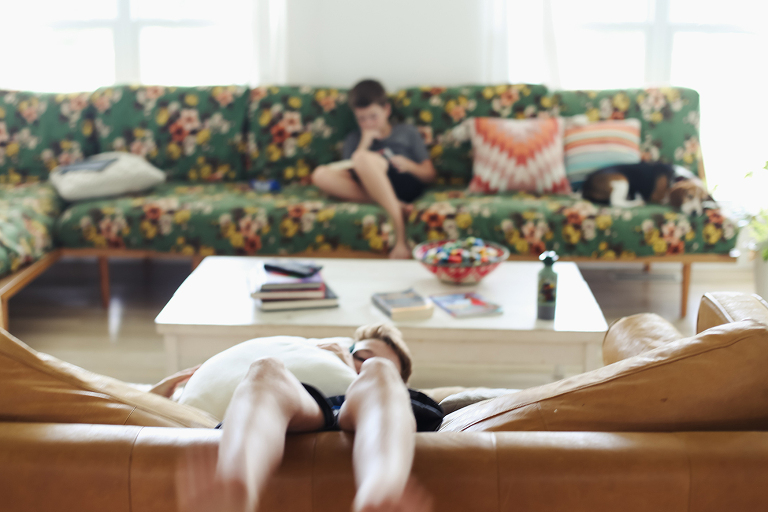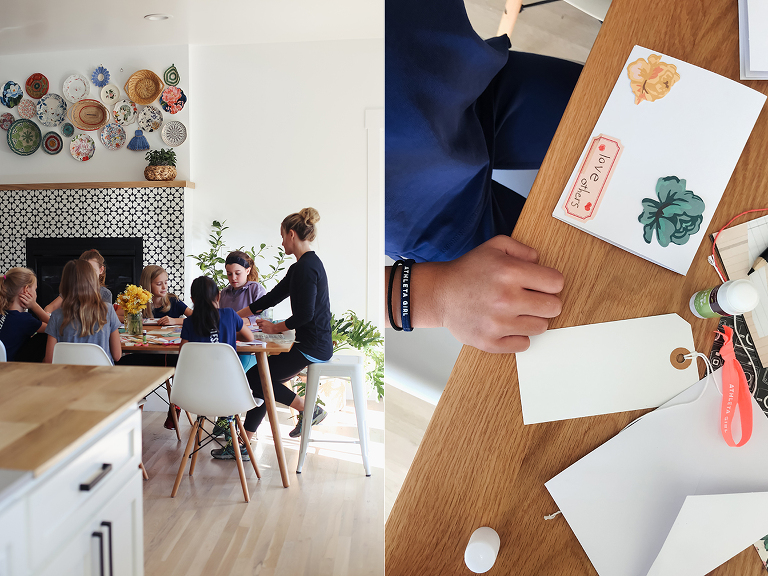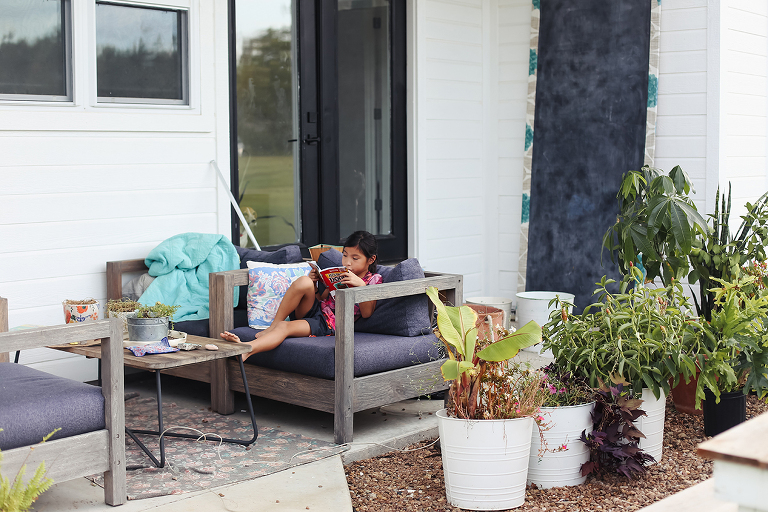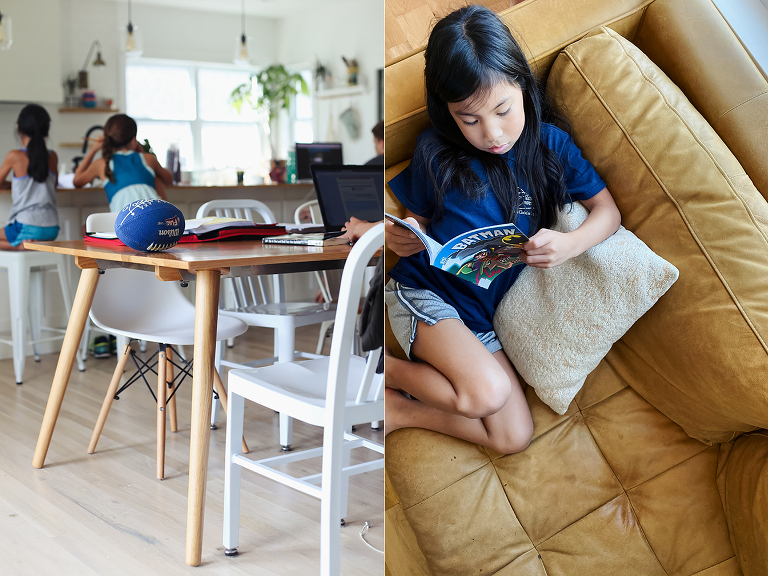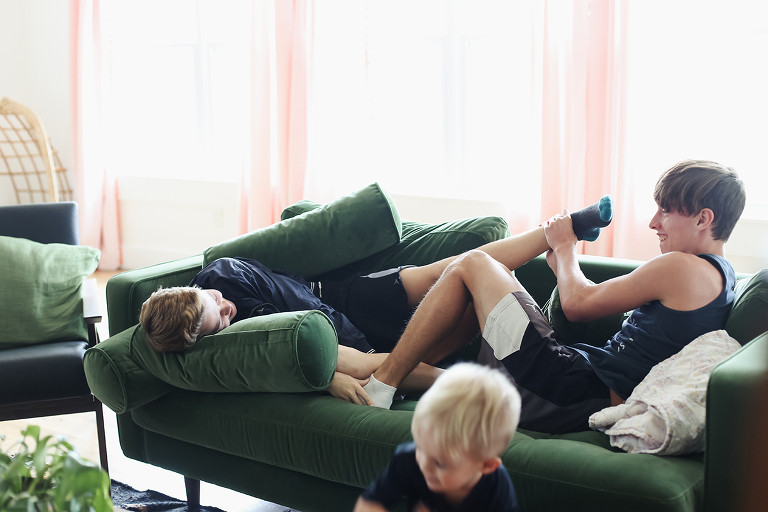 Our dog threw up on our leather Sven sofa (see the dark area in the bottom right corner in the pic where my daughter is reading). The chickens pooped on the outdoor table and chairs. A kid drew on paper with a sharpie at the kitchen table and it bled through. BUT everything cleaned up so well (you should have seen the leather before!). I am incredibly thrilled with all of our furniture. If I could convince Article to outfit my entire house – I'd be all about that.
So what are my thoughts – the good and the not good on each product we own?
This is an incredibly comfortable sofa. If I can't sleep, this is where I go.
Leather does stain. It just does, but it honestly still looks amazing. Even with our stains, I recommend it to my friends and would get another one for my own house.
Back pillows are so soft, but they can sink down. They are really easy to fluff and I've heard others add more stuffing to theirs.
It is super light, so if you have guys that like to wrestle it makes it crazy easy for them to rearrange the furniture. This could be a pro or a con. It depends on my day and my mood!
The girls got spoiled when it was in their room during construction and were so bummed when I moved it back out!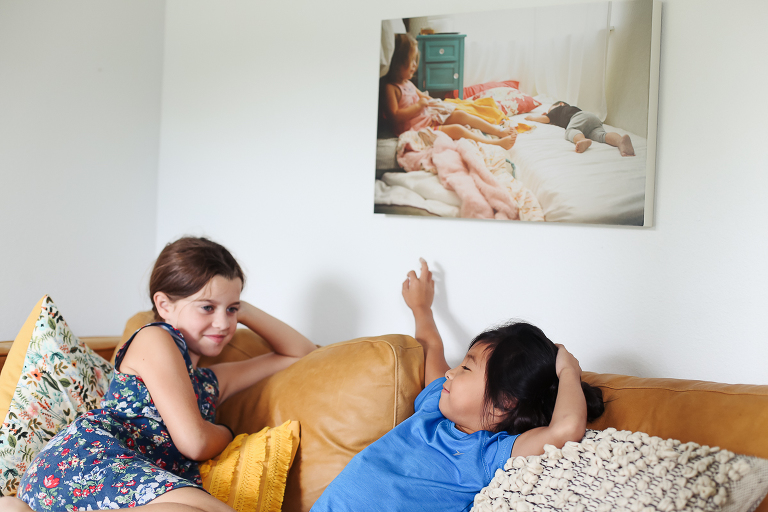 Sven Grass Green Velvet 72″ Sofa:
Again – crazy comfortable!
These have't endured as much life in our house – yet. The biggest con right now is that velvet attracts more fuzz and pet hair. The pet hair shouldn't be an issue because technically the dog is not allowed on the couch. Kids don't always listen to my rules! Neither does the dog.
The velvet can fade, so I try to be mindful to closing nearby curtains when the sun is shining directly in the room.
Like the leather version, these are so comfortable and the color couldn't be more perfect for me!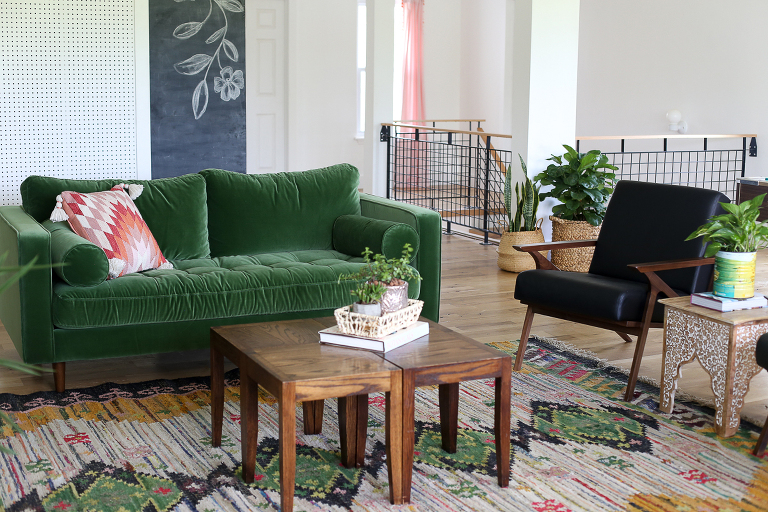 Otio Black Leather Walnut Lounge Chair:
Perfect height! Some lounge chairs are so deep that they aren't very comfortable for those of us that don't have long legs.
The leather is really durable and the arm rests are a great width for comfort.
And again – easy to clean! The cushions are easy to remove, so dusting the wood portion is simple.
So far we haven't had any cons with these chairs. The leather is holding up great, but we are only a few months in at this point.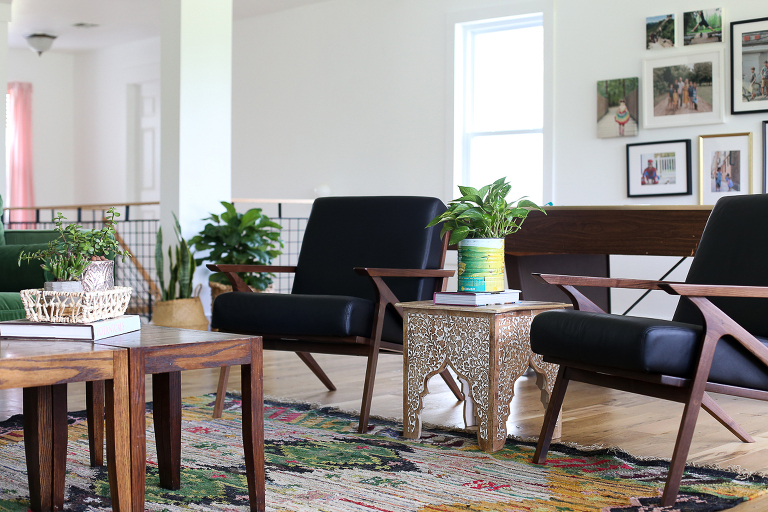 Seno Extendable Oak Dining Table:
This is the most used piece of furniture in our home! It takes a beating from daily life and from gatherings. We do school, meals, crafts, all of life here. Extensions are easily added and removed.
It cleans so easily!
The extensions have to be stored elsewhere. We have two tables, so that is 4 extensions I store in my closet. However, if the extensions were stored under the table, the table would not be as streamline. I'll take storing them in my closet.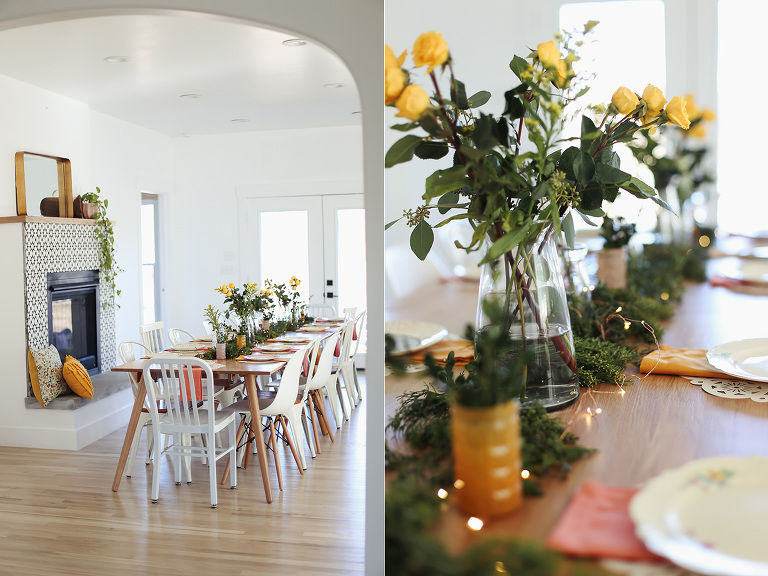 Arca Vintage Brown Lounge Chair:
I spend most warm mornings outside with a cup of coffee in one of these chairs. They are really comfortable and withstand weather wonderfully. They also dry quickly after a rain (or spill).
These are really heavy (which is probably good since they are meant to be outside). Since they are heavy, it is hard to easily move them to sweep under and around them.
The cushions clean really easily (are you catching on to how important easy cleaning is to me?!). Our chickens, unfortunately, have made their way to the porch several times and pooped on the cushions and wood. Thankfully, the easy cleaning saves the day…and cushion
These are made of teak, so the wood naturally turns a silver brown with time. You can see the difference in the color by scrolling back up.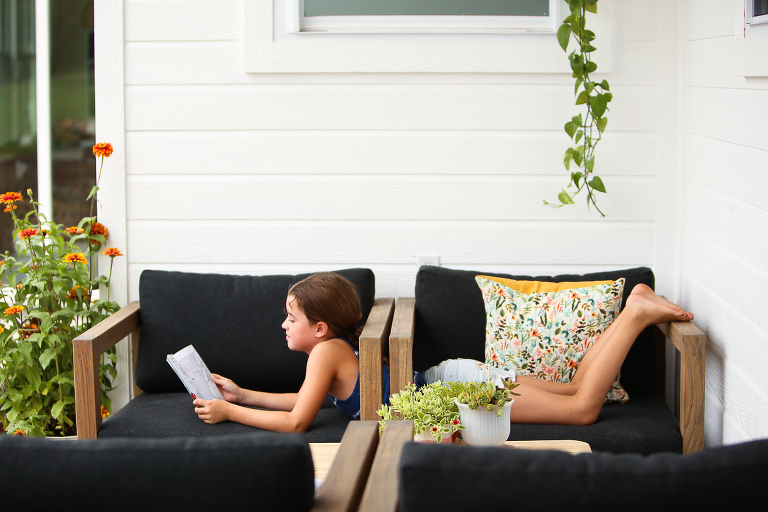 In regards to cleaning/up keep – we mainly just wipe all the wood parts down with a damp cloth to remove dust. I do clean the kitchen table daily with Thieves cleaner because that is where we eat, craft, etc. For the leather sofa and chairs, I wipe any dust off or pet hair off and then sweep the floor. To clean the velvet, right now I am only using a lint roller. We have not had to do any deep cleaning, but when the time comes I will probably rent a steamer and tackle several things at once. Lastly, I've hosed down the outdoor cushions when they get dirty from the elements (and the chickens).
Most Article products can be found on Instagram using hashtags with the item name (for instance #SvenSofa). Looking at pictures of the products in different homes and settings helped me make decisions regarding the pieces we've picked over the years for our home.
I hope all of that was helpful! I am happy to answer any questions you might have. Feel free to answer below in the comment section. Article usually has incredible holiday sales, so I would definitely check out the website in the coming months if you've been eyeing any particular products.
__________________________