As much as I like sharing ideas for travel and incredible places far from where I live – Oklahoma is home and its beauty and adventure have my heart. Over the weekend Chris and I had the opportunity to take our boys on a zip line canopy tour at POSTOAK, which is only 25 minutes from our house. Working with local companies like POSTOAK to share about my hometown and state will hopefully always be something I have the chance to do!
We've all been ziplining before, so there wasn't any fear among our group for taking those initial steps off the towers. The POSTOAK Zip Line Canopy tour includes 6 zip lines that varied in speed, distance, and height. In total it covered more than 10 football fields in distance. It was awesome!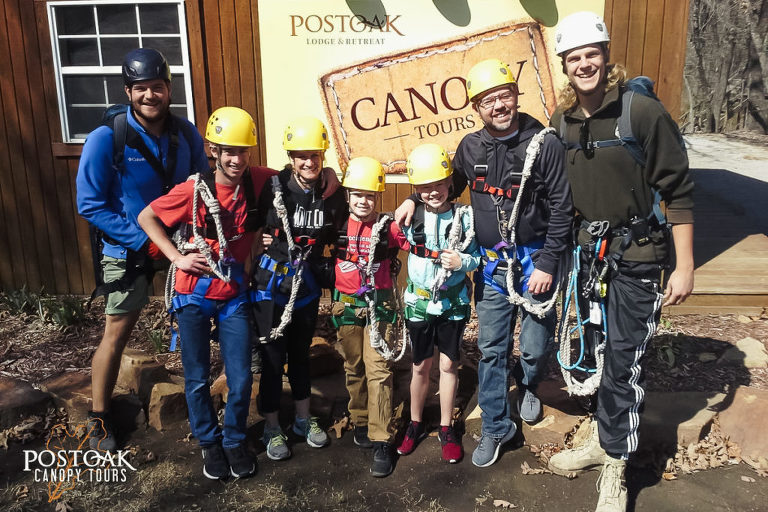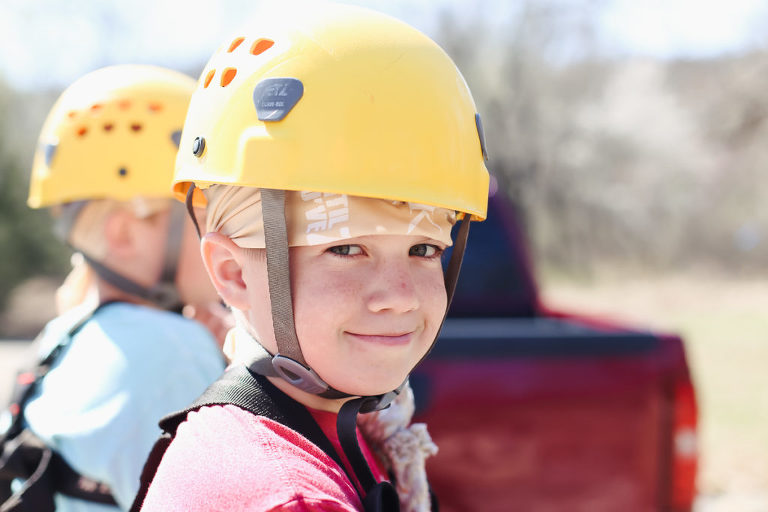 He obviously wasn't hesitant about making the leap – nerves were replaced with goofiness in my crew. Goodness does he make me smile!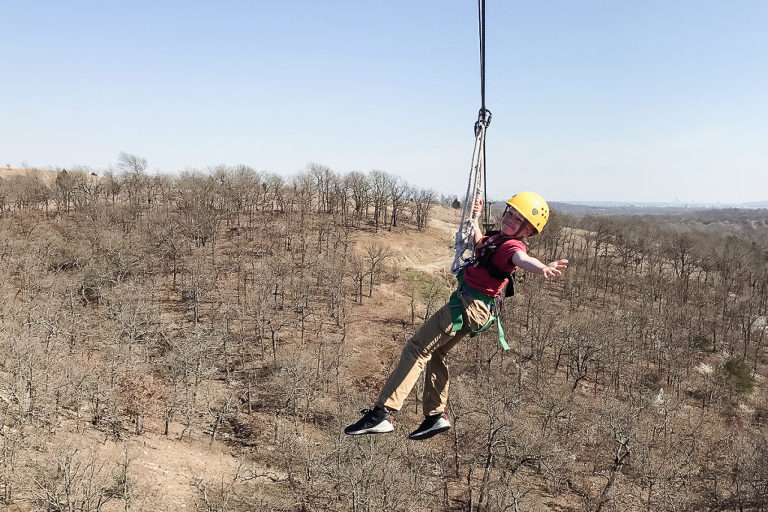 And then there is Hudson….he gets away with a lot because he makes me laugh and half the time I don't know what to do with him. Incredibly responsible, compassionate, and mindful of others – mixed with ornery humor.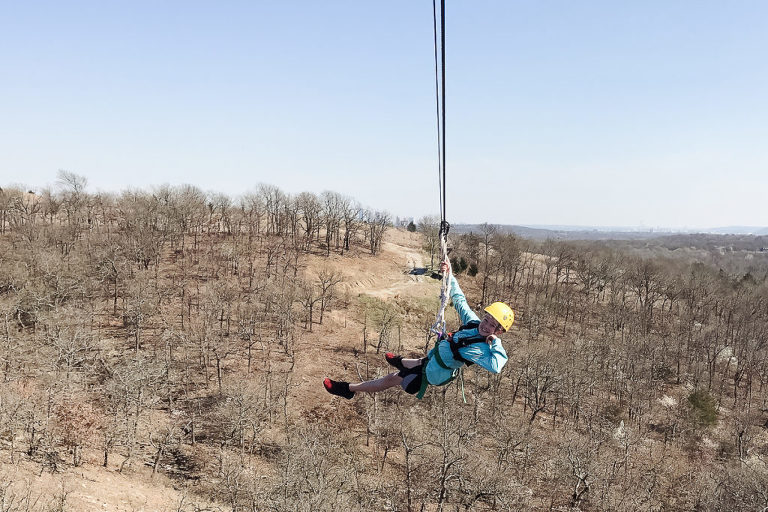 I can only imagine how beautiful the canopy tour must be when the trees are green next month and in the fall when the leaves start changing colors. Perched just outside of Tulsa, the views of downtown and surrounding areas were stunning.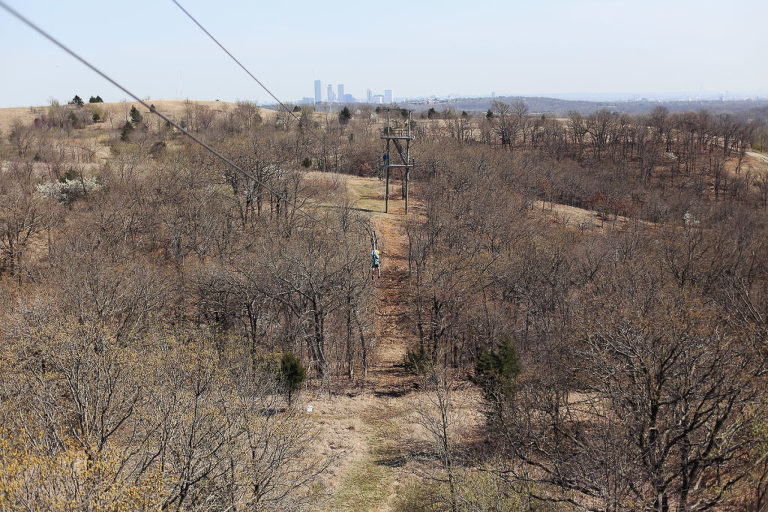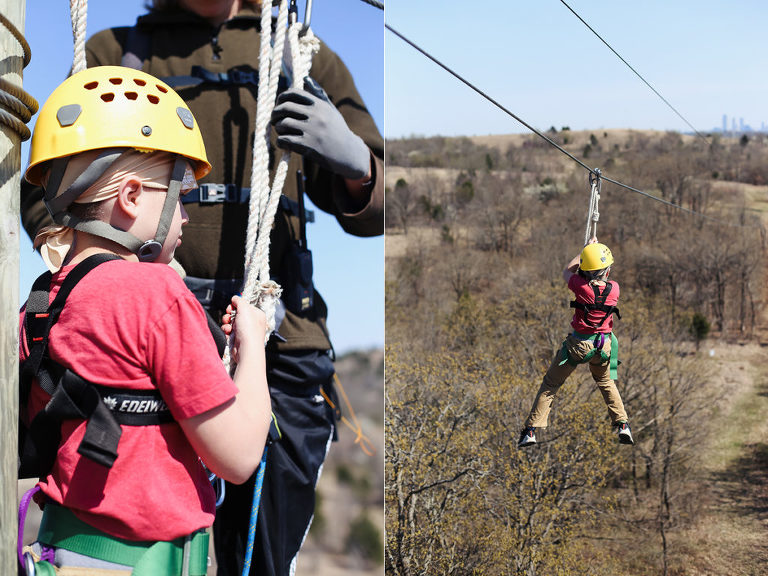 There were 6 ziplines total. Three were 'short' (still pretty long if you ask me) and 3 that were longer. They were a great mix of both and gave us plenty of time to enjoy the views while were were zipping.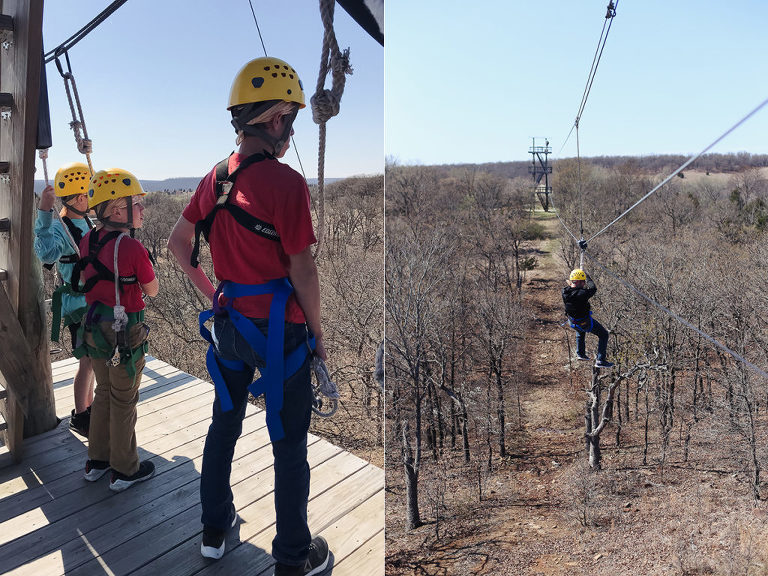 The girls were pretty bummed they did not get to join us. They weren't old enough and definitely did not weigh enough (need to weigh at least 70lbs). I could easily see them dangling out in the middle – and they probably would have loved that if it had happened!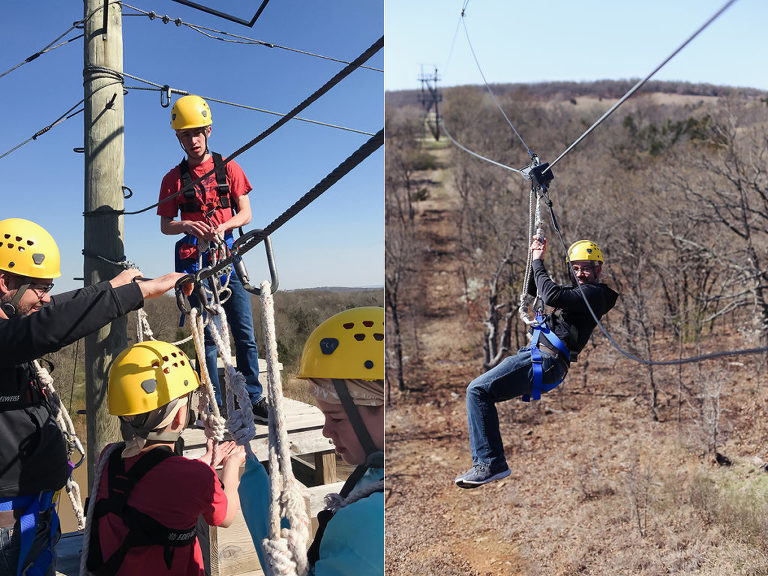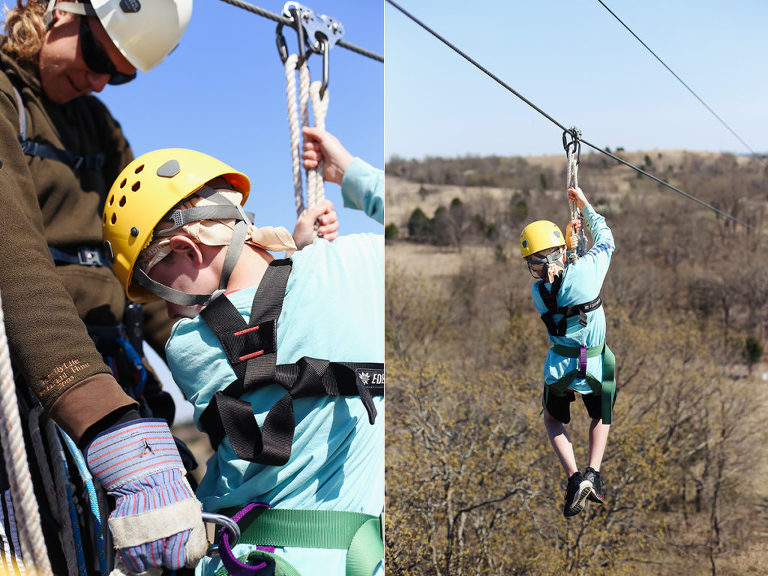 The guides were not only very safety conscious, but so much fun. Both of our guides were college students that had been homeschooled, so that kind of made our trip. It is always encouraging to be around young adults that are mature, engaging, full of wisdom, and fun. Finding out that they were homeschooled was like icing on the cake as a mom on this particular type of schooling adventure. I appreciated the way they engaged my boys and taught them life lessons about college and picking career paths even when they probably didn't realize that is what they were doing.
This is Hudson's attempt to 'lick' Tulsa…photo taken by one of our guides.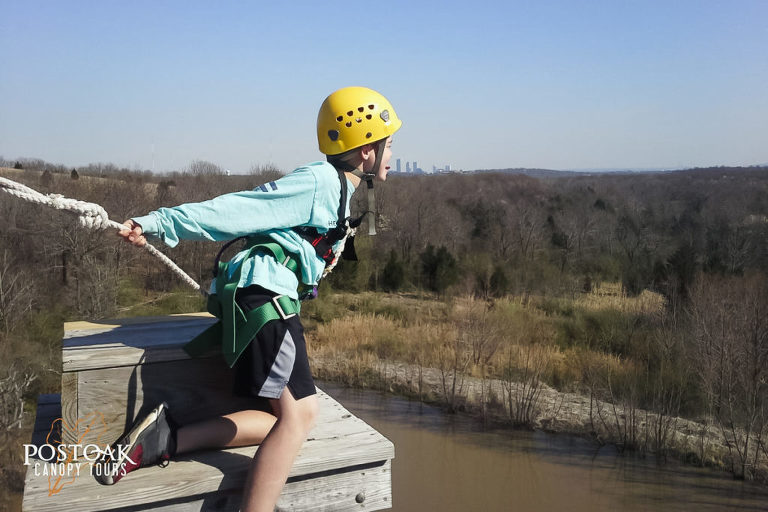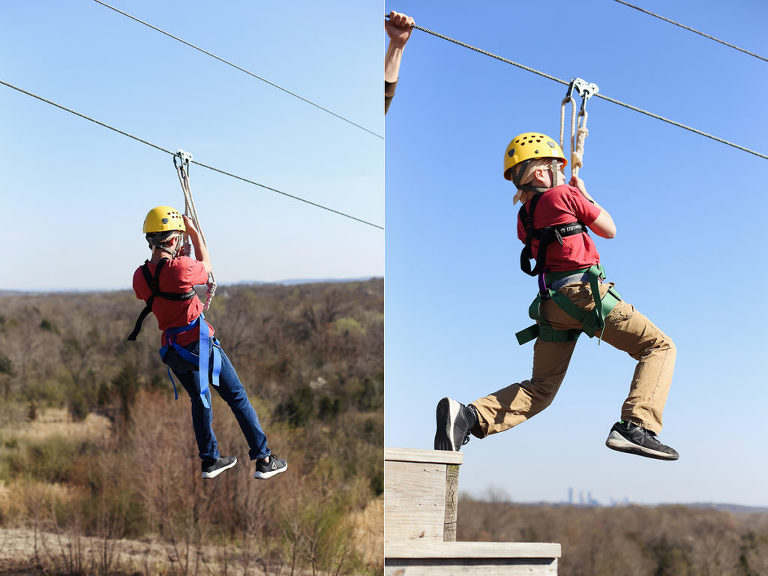 On the last zip line there was a basketball goal set up on the ground. Anyone that could make a basket would win a free zip line tour. My boys were living out their Dude Perfect dreams. Let it be known that I came the closest…which is funny because I can barely make a basket when I am on the ground!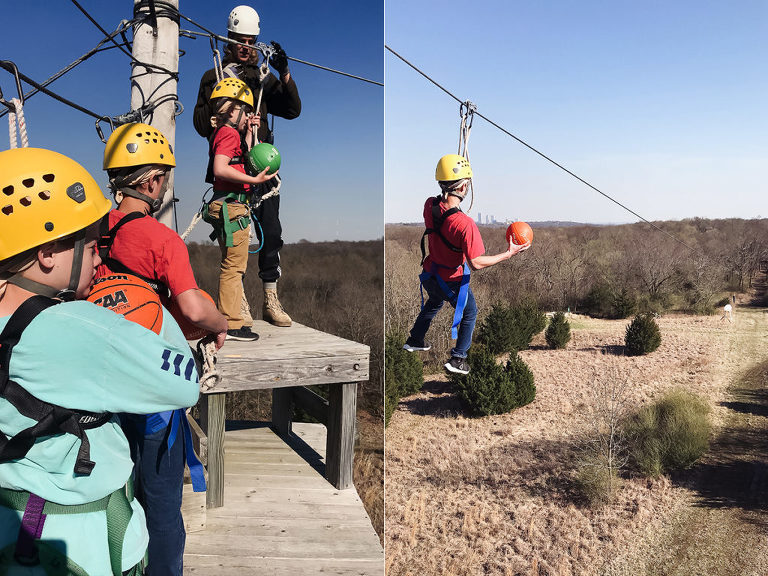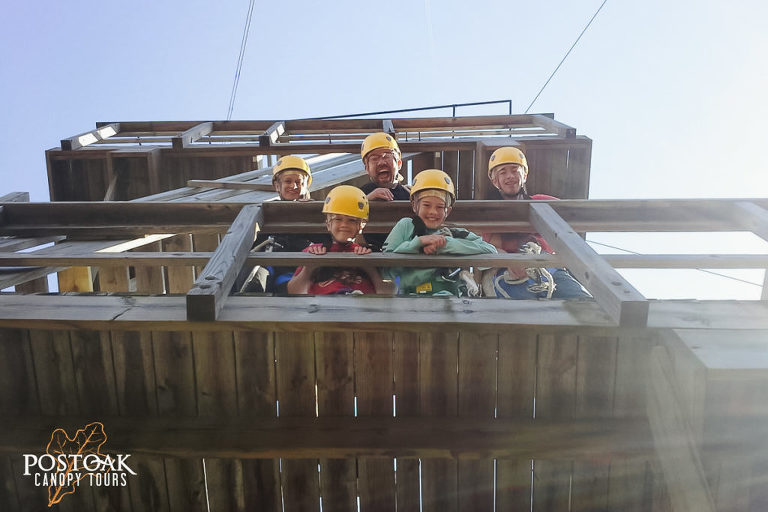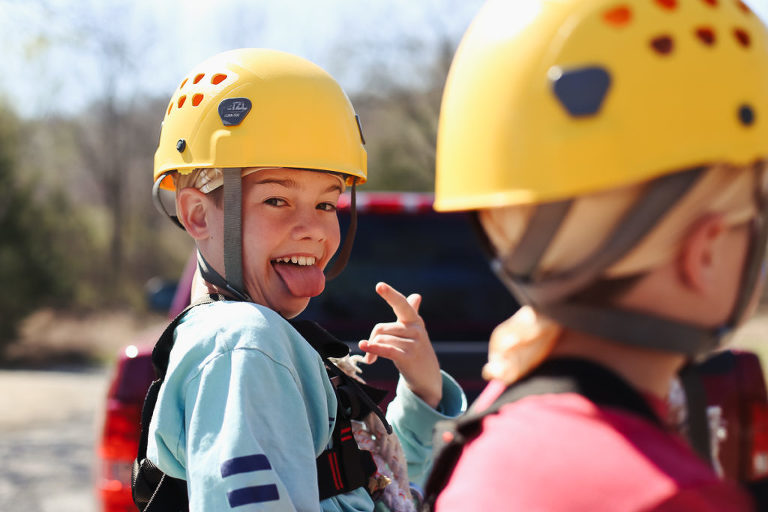 When the tour wrapped up and we were headed out Chris asked Hudson if he had any tips –  meaning monetary tips for the guides. Hudson got a huge grin on his face and began walking out the door. Right before he was out he said, "Chew your food and chew it well. If you don't, your farts will smell." To his credit, Chris totally opened the door for that by asking for a tip and Hudson very willingly walked right on through that door in typical Hudson style. I wasn't sure if I should be embarrassed or laugh – I did a little of both.
I'm grateful for every chance I get to watch these guys (and their sisters) soar, thrive, and even tell fart jokes. It is a good life and I am grateful.
A couple tips if you head on a POSTOAK Zip Line Canopy Tour:
Wear closed toe shoes
If it is a little chilly outside, it is cold up on the towers – dress accordingly
Cameras – you can take a camera in a zippered pouch. I used a fanny pack and took my DSLR and my iPhone. If you have a GoPro, that would be fun too.
Arrive 30 minutes early to begin getting on your gear (I drove us to the wrong place and did not get there early!)
Talk to your guides and ask them their stories – they are pretty awesome
You are going to have a helmet on, so if you have long hair I'd go with a low pony tail or a braid
If you are nervous – just go for it and have fun!
_____________