Every nook and cranny of our house is in some form of disarray. The kitchen, dining area, and our master bedroom are all packed up in the room we do school. The boys have shop-vacs and wood flooring piled in the middle of their room. The girls' room – it is being used by the girls, Chris, and me. School has started and the overwhelming chaos of our house is definitely taking its toll.
In an effort to gain a little sanity, we decided to create a retreat outside. We've never had a covered patio area out back, so when we began building out the addition to our house we included small covered space. I didn't want it to be too big as it would cut down the natural light getting into the house.
Operation Create Ashley Sanity By Fixing Up the Back Porch commenced. After partnering with Article.com earlier this year, I was thrilled to work with them again as I began brainstorming how to maximize our small back porch area.
When the boxes arrived the delivery man commented how it must be good furniture because the packaging always stood out to him. He was right – about the furniture and how well it is packed.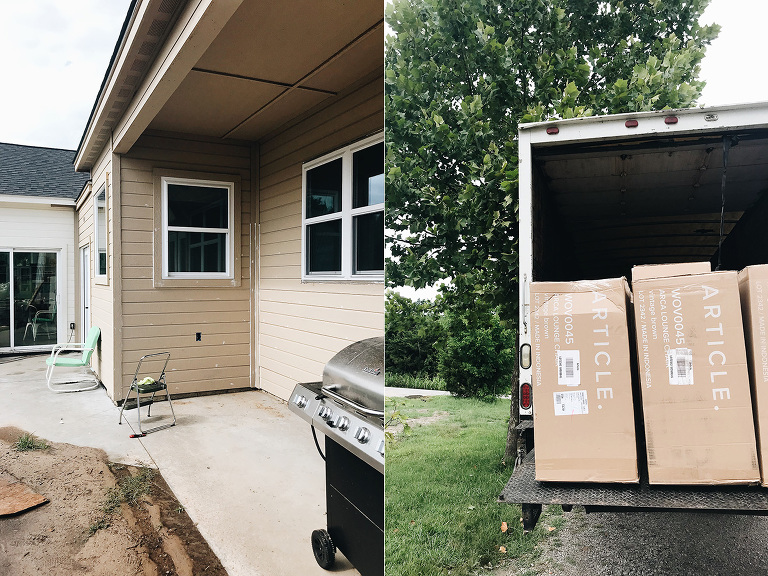 Before we could enjoy sitting outside, we needed to caulk and paint. We do have rollers and sprayers, but we started with brushes. It looks like my kids did all the work, but they only last for a short bit on the painting. However, the boys did get the chairs put together for me!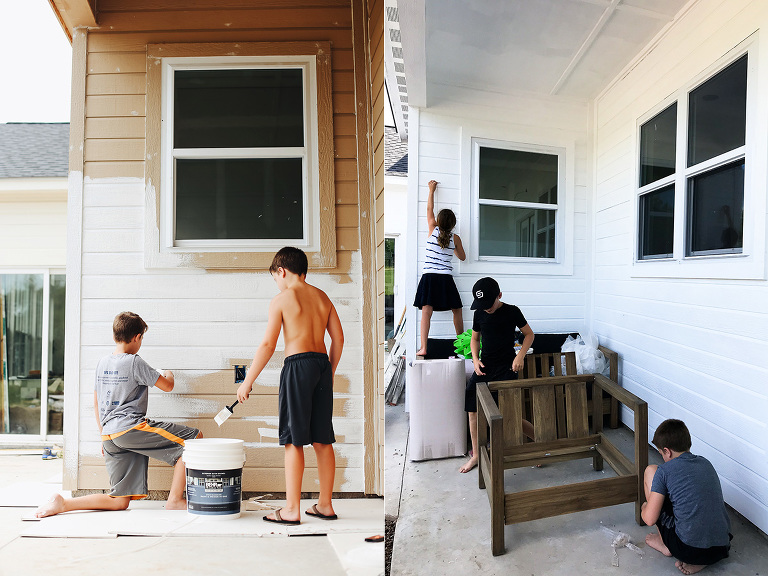 This is actually the only area of the exterior of our house that has been painted! I'm slowly caulking the addition, but have not begun to paint anywhere else. We needed a space to retreat from everything inside, so we worked to get this area finished. I'm so thankful we didn't wait until the rest of the house was ready to paint. Our back porch has definitely become our retreat.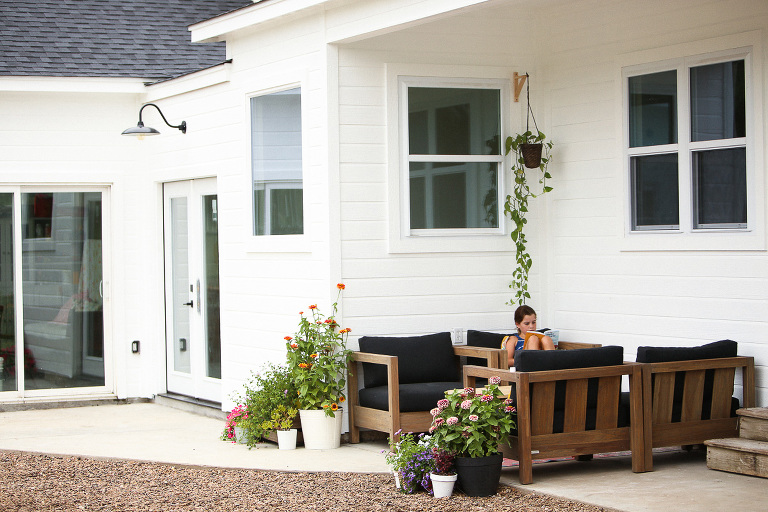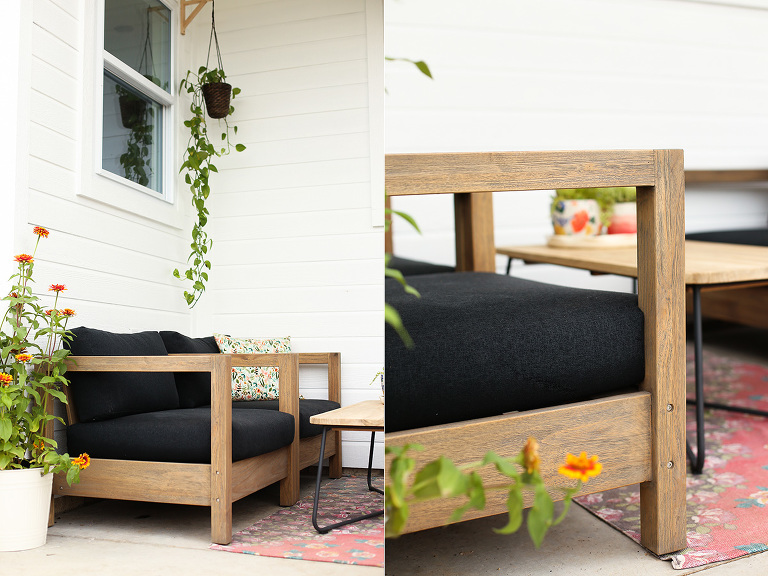 Originally I thought I wanted to do a couch on the porch, but am so happy we went with four Arca Vintage Brown Lounge Chairs and the Nimbus Graphite coffee table. The chairs are actually wide enough to fit an adult and a small kid (at least Campbell size adult and kids!). This area has become our dinner table every night as we can all comfortably sit around it. It feels so good to have one area to take a breather from all the construction mess everywhere else.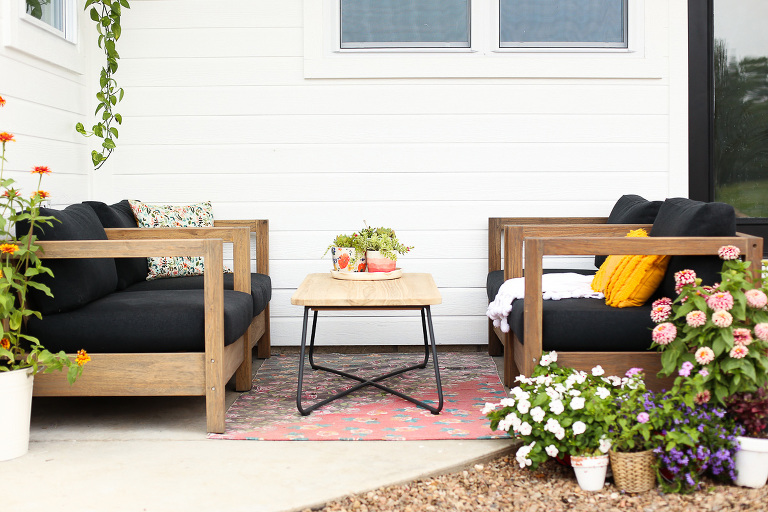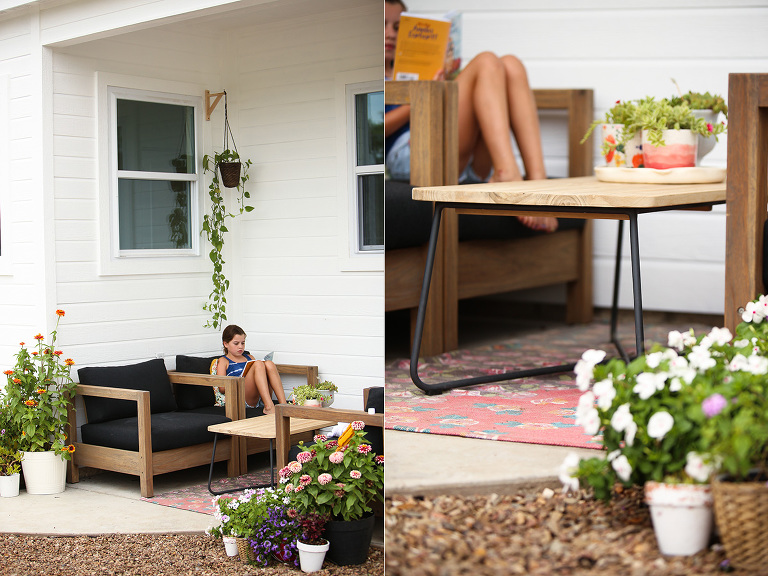 Kids can get comfortable in any place. I was cracking up watching her change positions as she read. It has been so good to have somewhere clean for them to read again!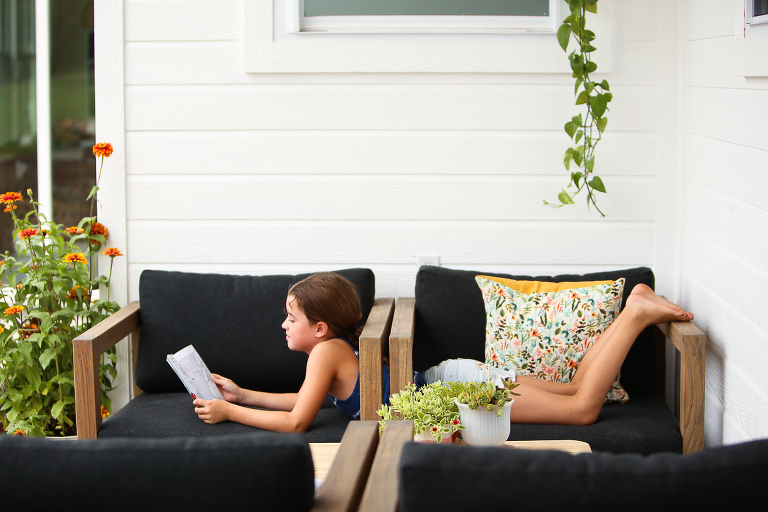 The chairs are much heavier than I anticipated, which is welcomed news outside in Oklahoma. We have already had a few big thunderstorms with high winds. It was nice not to worry if my outdoor furniture was going to blow away! The cushions are very firm and held up fantastic in the rain. Our Article Sven couch is extremely soft and you sink into it the best way. These chairs are much firmer and are obviously built to withstand the elements. I do think I will get chair covers for added protection over time.
Both the chairs and table top are made of unsealed solid teak and will develop a beautiful silver patinas over time. Sold by Article as outdoor furniture, I think they would look fantastic inside too.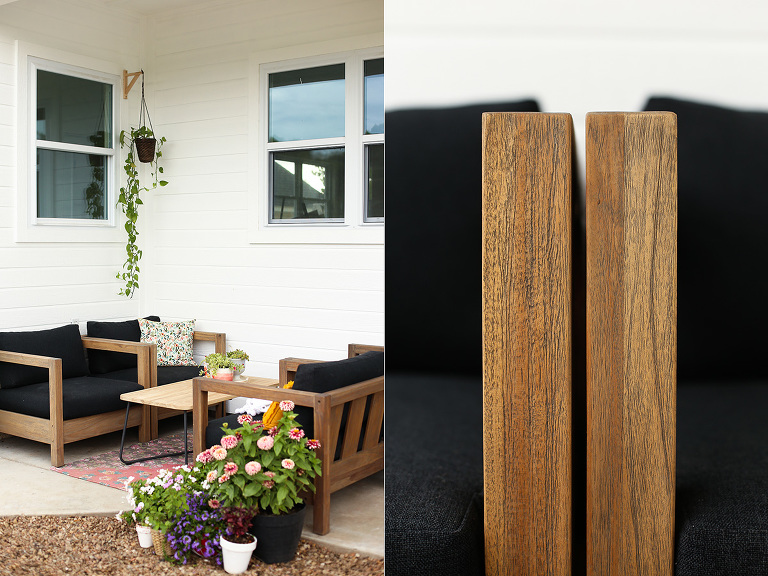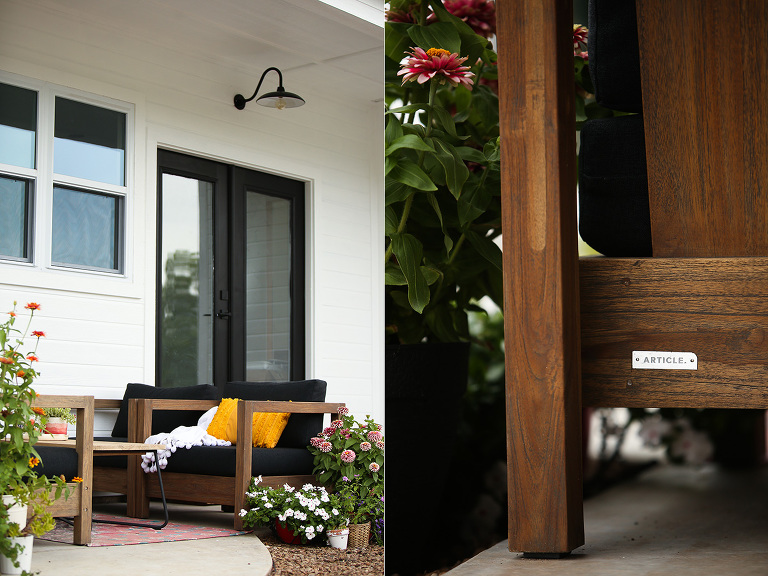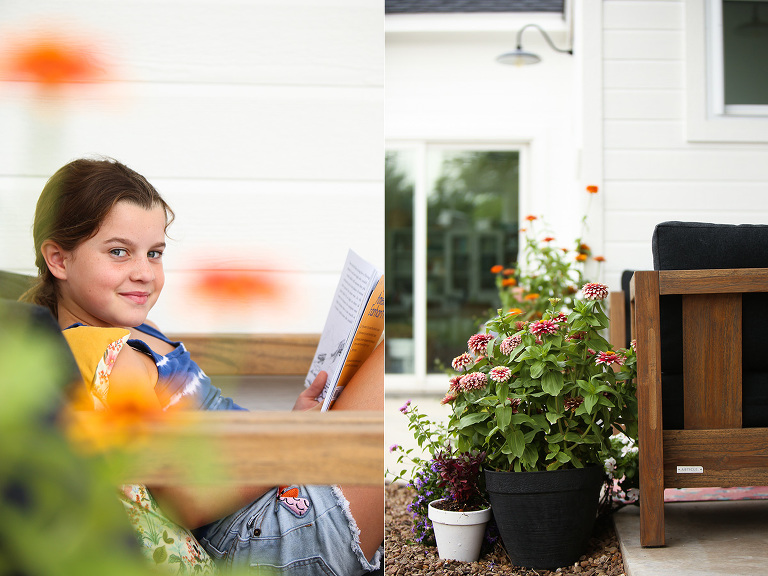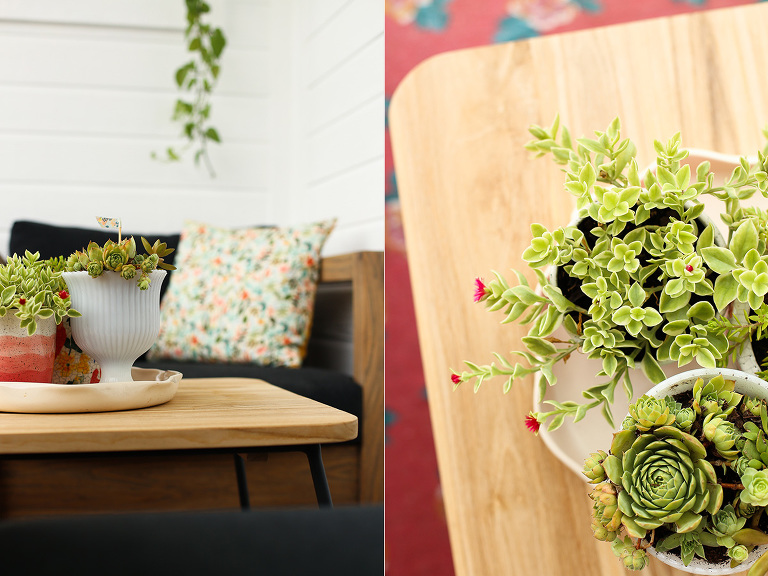 Article offers a flat shipping fee of $49 (or $19 for small shipments) for most orders. You can also opt for in-room delivery and assembly. I will say the furniture we have has been so easy to assemble – you can do it! Article also offers a 30-day satisfaction guarantee – you can get a refund (minus delivery and assembly charges) if you are not 100% thrilled with the product you ordered.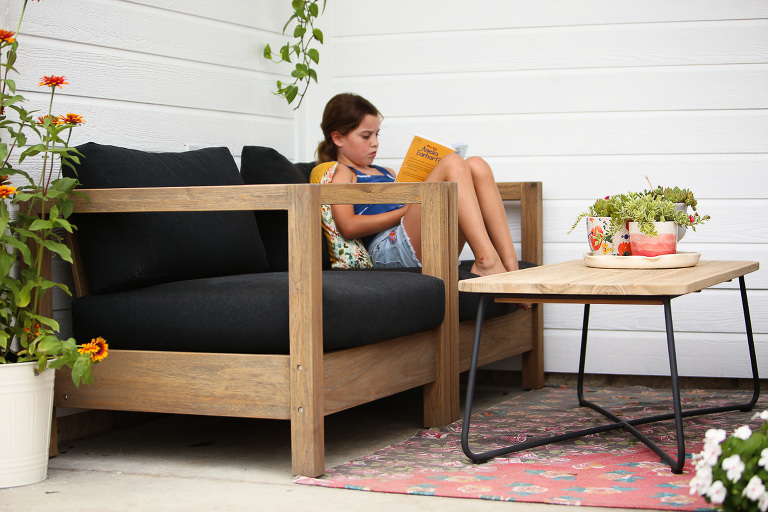 This might be my favorite picture from this series because you can see our trailer in the reflection. I almost deleted it, but I treasure the way that reflection will remind me of this season. My back porch is dreamy, but my kitchen is located in a trailer by our chicken coop!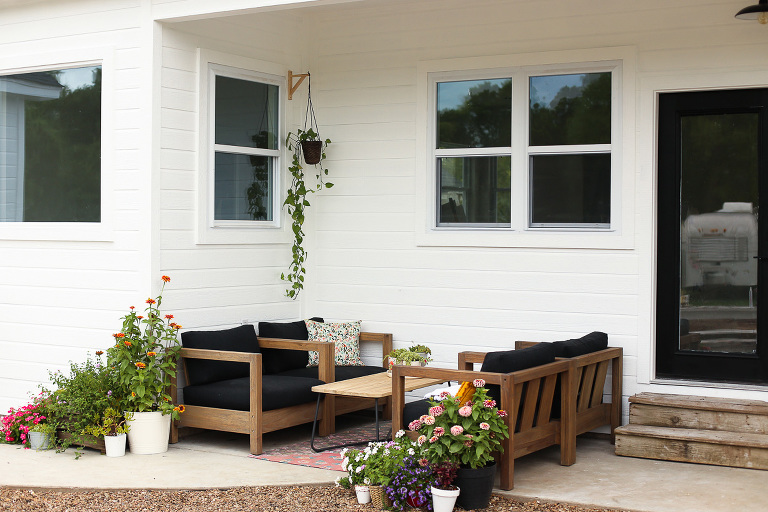 Sources:
_______________