It only took over a year, but our couch is finally finished and I can post on it! I feel like part of what I can offer on this blog is encouragement – encouragement especially for parents who can never seem to get a project finished.
From when the first boards were cut to when the cushions were finally finished – nearly 14 months. We did have a big delay because the fabric got put on backorder for nearly 5 months and we moved to China for 3 months. Sometimes (well, most of the time for me) I have to pick between kids and projects. Kids win – they give better hugs 😉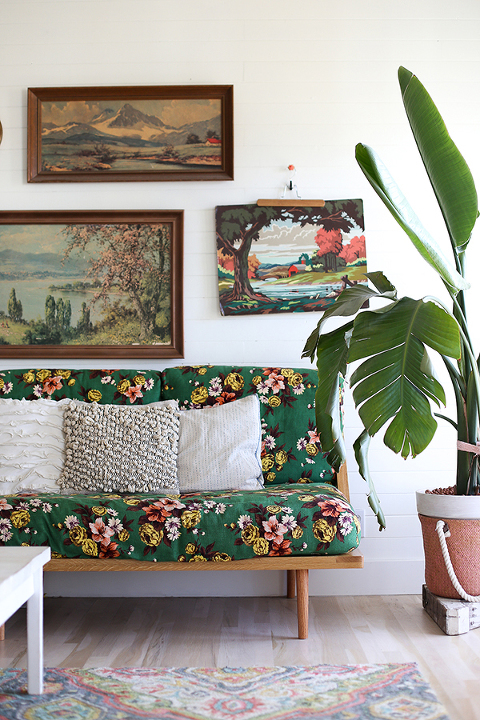 Our living room is pretty small and as a family of 7 we needed to maximize the seating space. We've never been able to all sit next to each other or actually all even have seats in the living room, so I had dreams of a big couch that filled the space and overflowed with my people.
I was drawn to solid colors, especially the current velvet trend. However, I have 5 kids and lots and lots of their friends over on a weekly basis. I don't want to be worried about stains and I want my kids and their friends to feel at home. Needless to say, a solid velvet was not an option. I needed a durable fabric with a print. Out of the blue one day my friend Amanda sent me a text with a photo of fabric that reminded her of me. It was a perfect green floral barkcloth. (It is called Elaine in Orange by Gertrude Made – but is out of stock again).
I looked online for sectionals, but could not find one that perfectly fit the dimensions of the room. My favorite was from Pop & Scott, but the length wasn't right for our room. I knew I wanted patterned cushions and the couch to be the length of the room and I could not find it. SO…. "Hey dad, do you want to build me a couch? And, Mom, can you sew the cushion covers?" Well, a conversation similar to that took place.
I showed my dad what I had in mind and he went to work drawing up plans. In no time the couch was being built.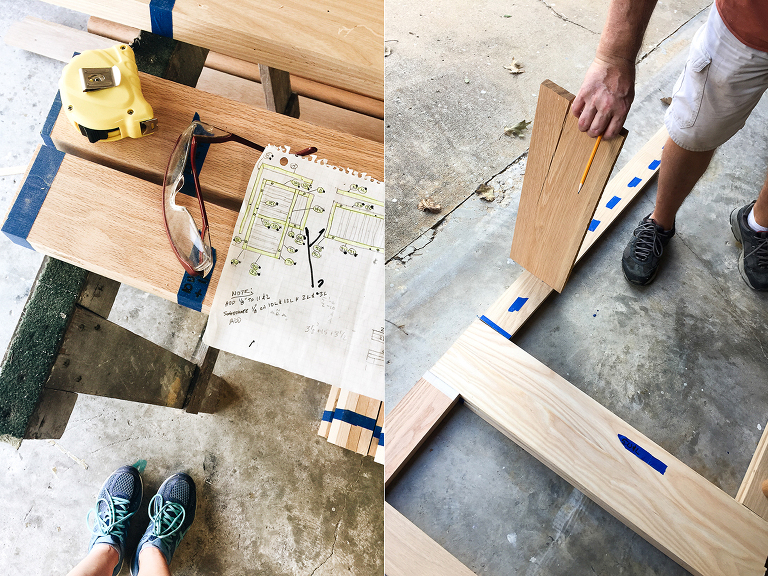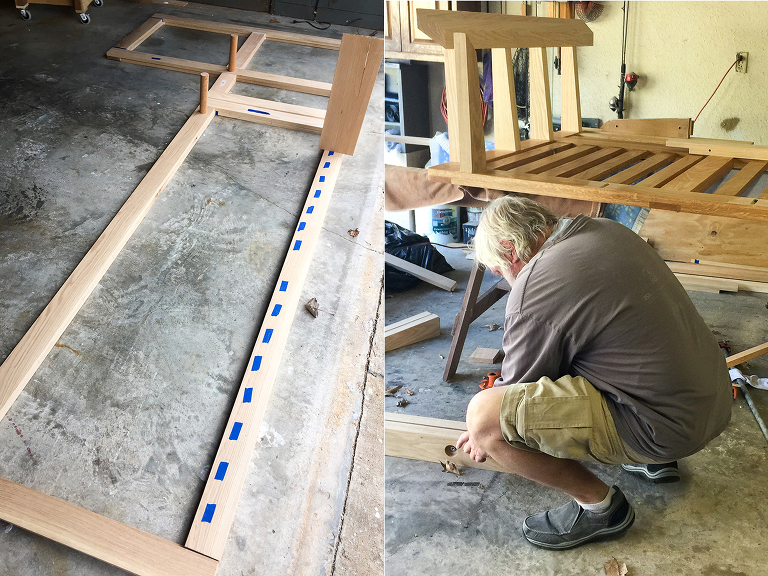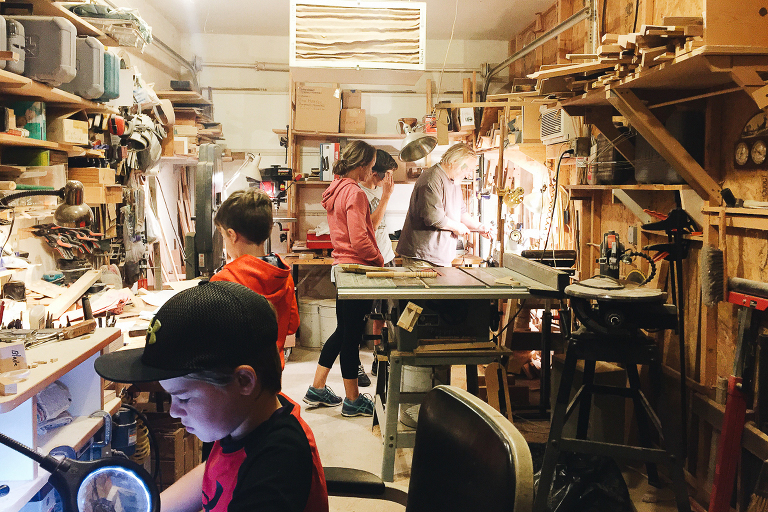 Once the wood portion was finished, I began working on the cushions. For those curious, here is what I did:
1. Purchased 3″ foam from JoAnn's (watch for this to go on sale, I got it 50% off and for as much foam as I ordered, that was a significant amount of savings)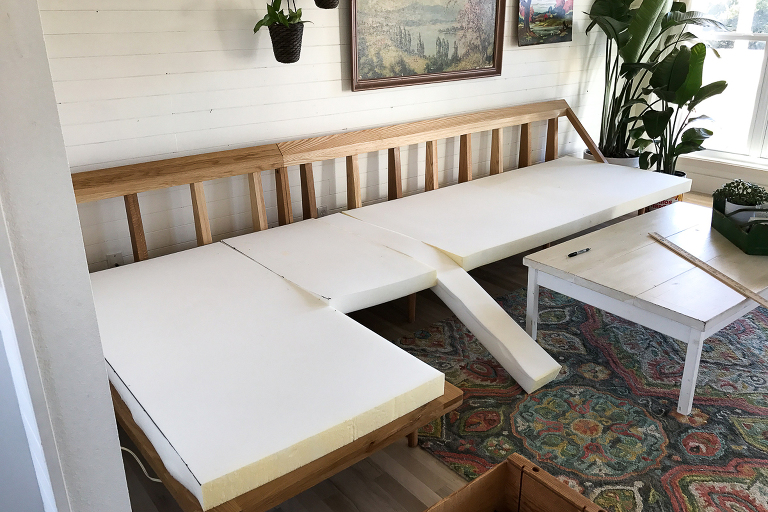 2. Measured and cut foam to fit the couch (an electric knife works awesome for cutting foam)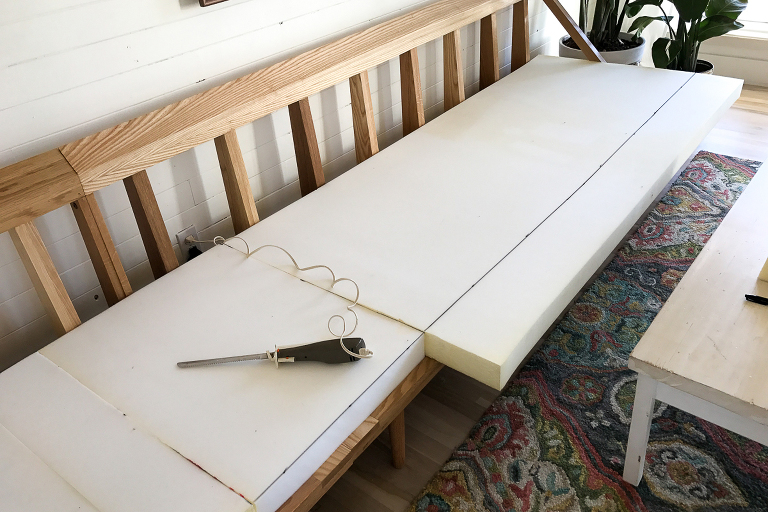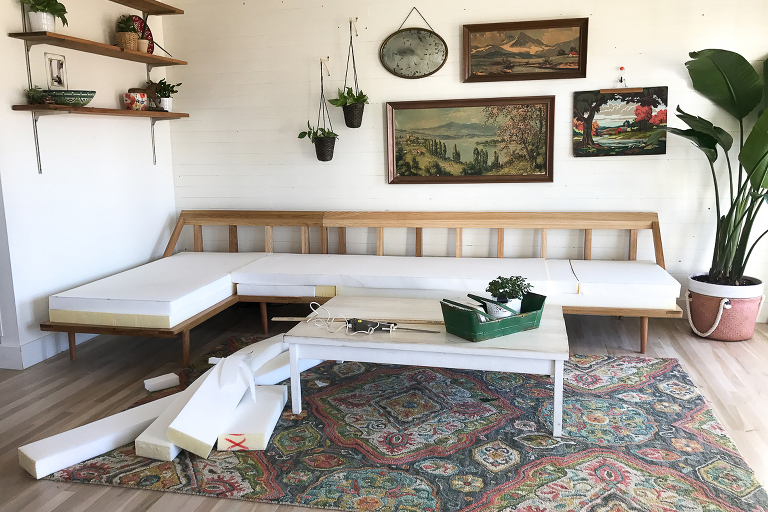 3. I wanted the cushions to be rounded on the edges, so I beveled the corners.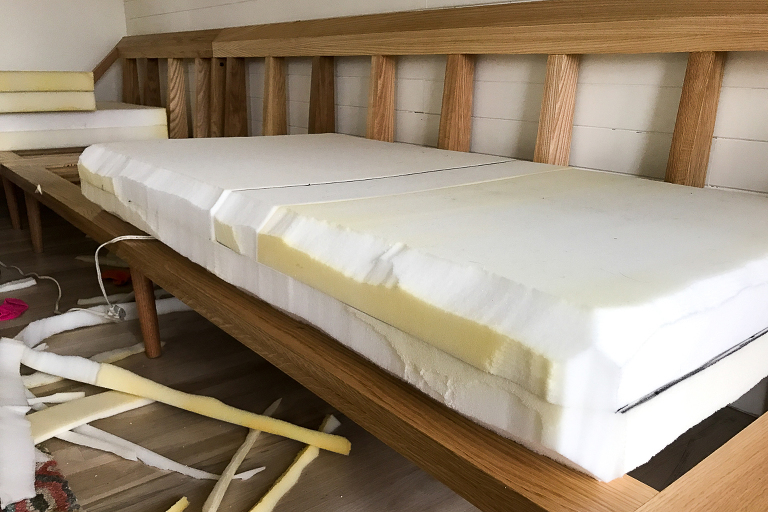 4. To make the cushions soft and more fluffy, I wrapped them in alternative down comforters. Unfortunately, the only photo of that process I can find is this one of me goofing off with my niece. You can see the comforters in the background. I hand-stitched each comforter around the foam. It was a painstaking process!
5. My wonderful mom created 'fitted sheets' out of the fabric. This is the best ever option for a couch that has lots of extra kids over all the time! Pop them off and into the washing machine. Mom hacking at its finest!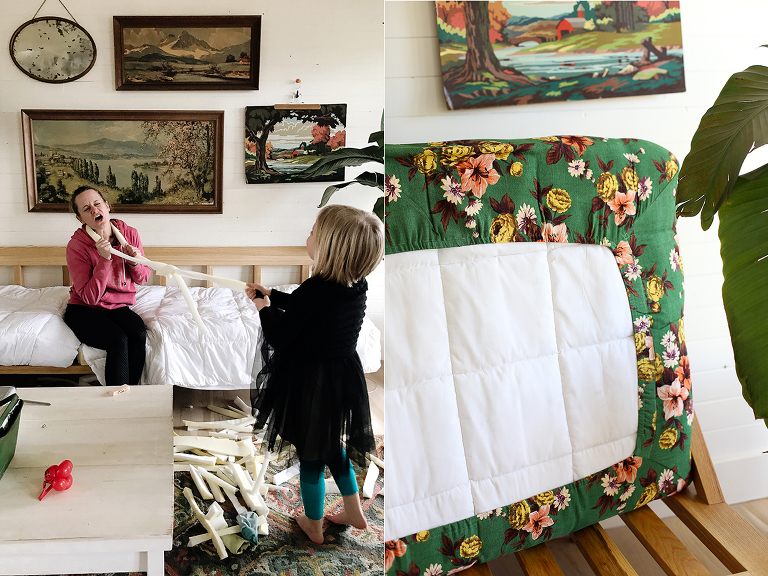 6. My mom made the back cushions. She started with a foam base and then wrapped them in padding to make them sturdy, but soft. They are covered in zip pillow cases for easy removal and cleaning.
The other night I counted 11 kids on the couch watching a movie. I snapped a photo and sent it to my parents…mission accomplished. And it looks cute too!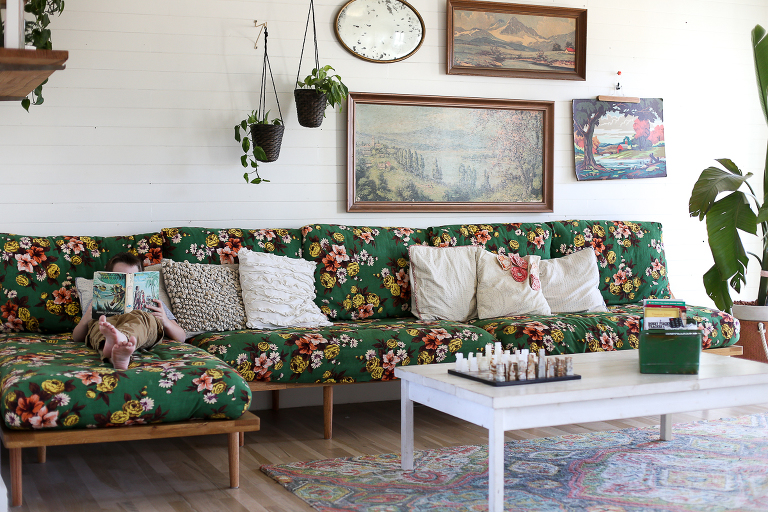 Every project my dad makes for me he leaves a little note. He welded the note into the studio stairs, boys' loft, and our living room stairs. My grandpa did the same. If you look hard enough, you'll find a note to Dudette #1 (that's me) on half of my house. Notice the year he finished the wood part of the couch…I wasn't joking!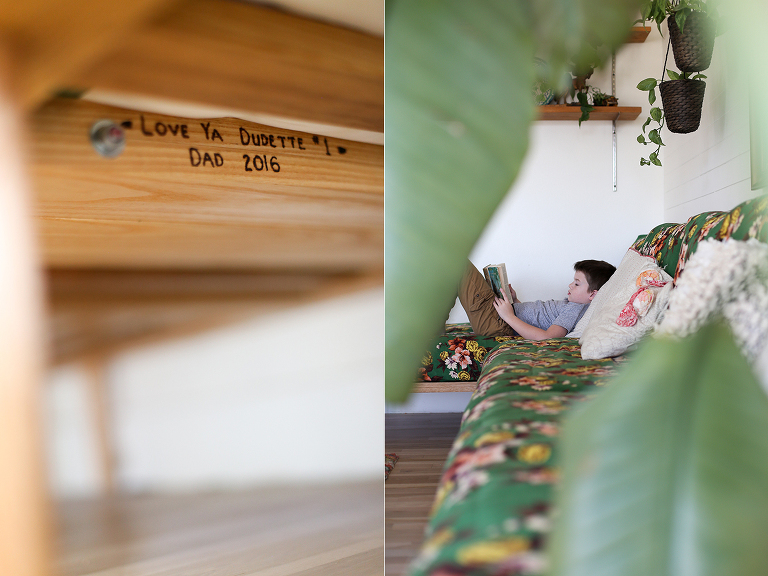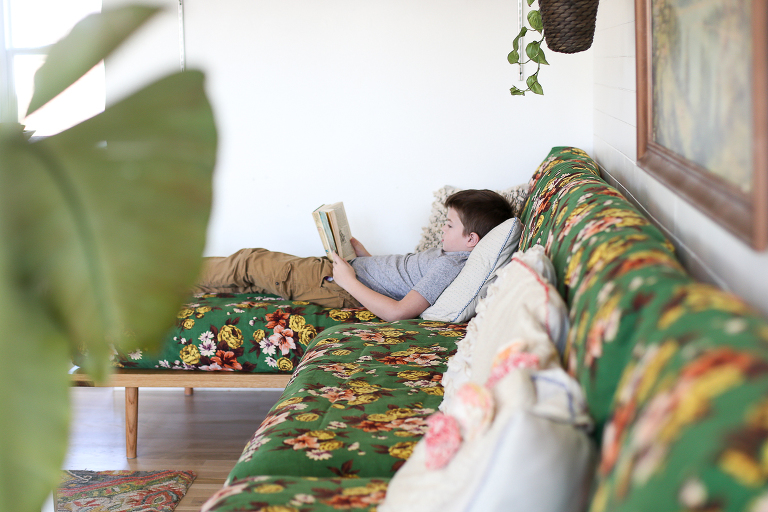 My dad turned the legs on my grandpa's lathe. He asked me if I wanted an ornate design, knowing I always go simple. We settled on a slightly tapered leg.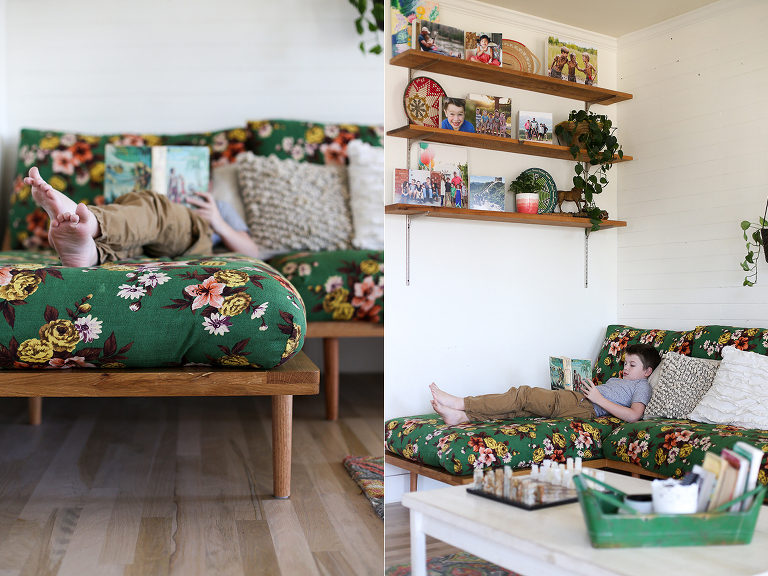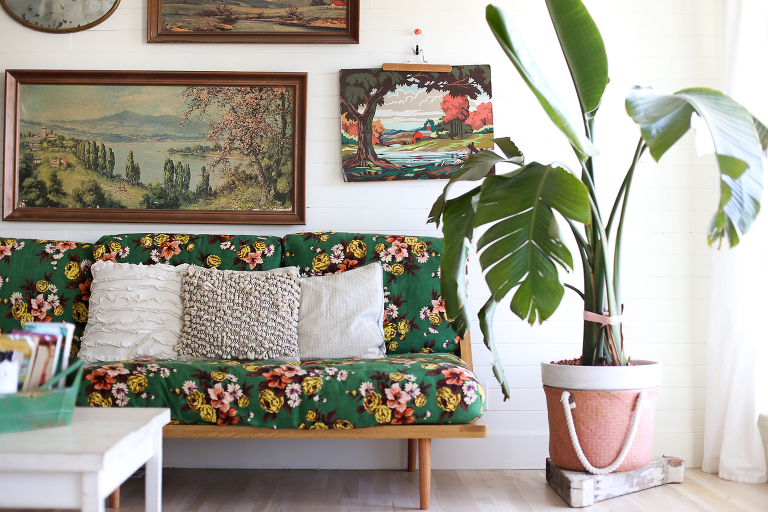 It was well worth the wait! In the evening you will find all seven of us piled next to each other. It makes me ridiculously happy to stretch my arms out and have my people all close to me. It is even more special because of the hands that made it.
___________
SaveSave
SaveSave
SaveSave
SaveSaveSaveSaveSaveSave