This semester the girls and I have been diving deep into the stories of brave women in history and the personal sacrifices they made for the well-being of others. A few years ago the boys and I went through many of the same stories, but I had two tiny girls running around and I was doing good just getting one book read.
Without having tiny ones in the house, we have more margin for digging deeper into more books. All of our other history, science and math curriculums include countless stories of men of valor, integrity and an honor, who changed the world. There is a noticeable gap in the amount of women included and I want to be sure my boys and girls learn those stories too.
I was asked on Instagram to share links to some of the books we are reading and tips for how I select them.
The selection process:
Well, this is easy. I just go to the biography section of the juvenile area of OUR  local library. I've learned my kids engage with books best if the illustrations captivate them. I just thumb through the books and pull out ones that catch my eye. If I am not familiar with the story, I do a quick read. If available, I get a few books on the same person. It is interesting to see what different authors focus on in the biographies. Secondly, as we read stories inevitably other names come up that we want to learn more about. If books on those individuals are not available at my local library, I just do a library request (it gets sent over from another library). We go to the library weekly.
You will find links to the books featured in this post below. Unfortunately, I did not take pictures of our first several library trips, but these are a good start!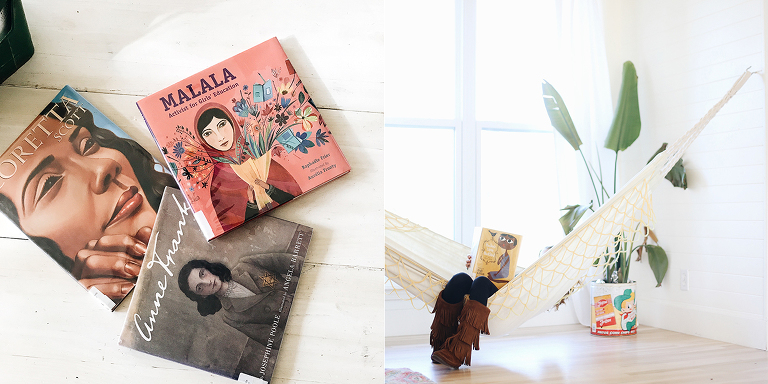 Coretta Scott | Malala: Activist for Girls' Education | Anne Frank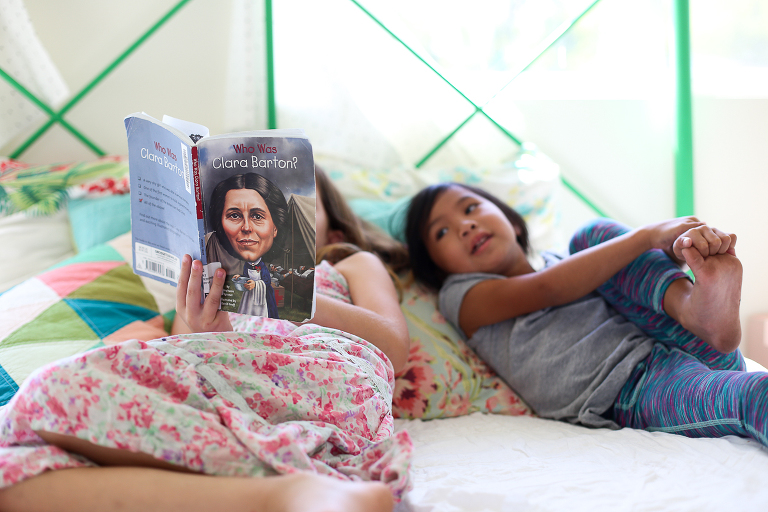 Who Was Clara Barton? | The whole Who Was series is so good!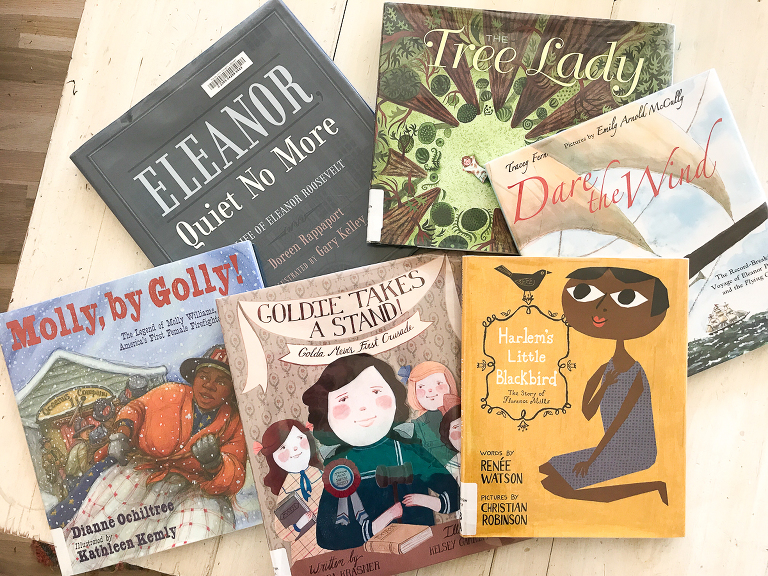 Eleanor Quiet No More | The Tree Lady | Dare the Wind  | Harlem's Little Blackbird | Goldie Takes A Stand! | Molly, by Golly! | Amelia Earhart | Who Says Women Can't Be Doctors
The illustrations in the Amelia Earhart book (pictured below) captured my attention. I wanted to frame several pages…or turn them into fabric for something. It is such a cute book.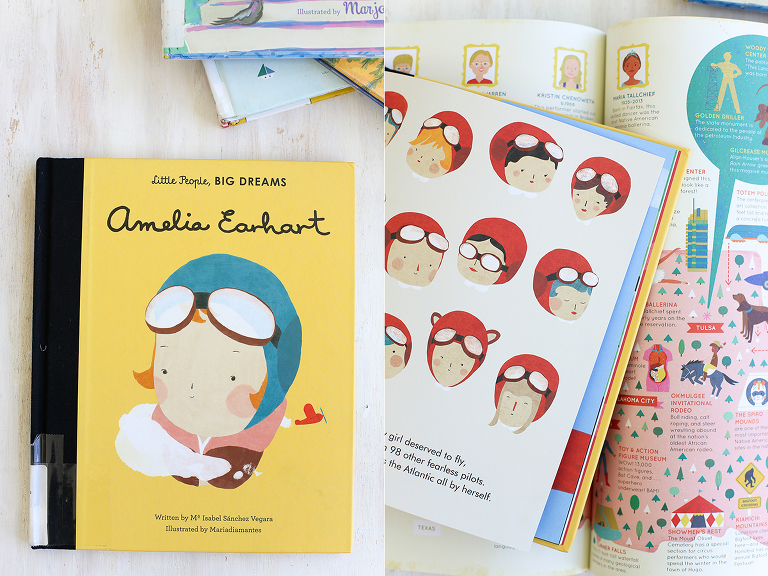 The Tree Lady was a story I had never heard before. It is the story of Kate Sessions and how she was instrumental in growing San Diego from a desert town into a city known for its beauty and trees.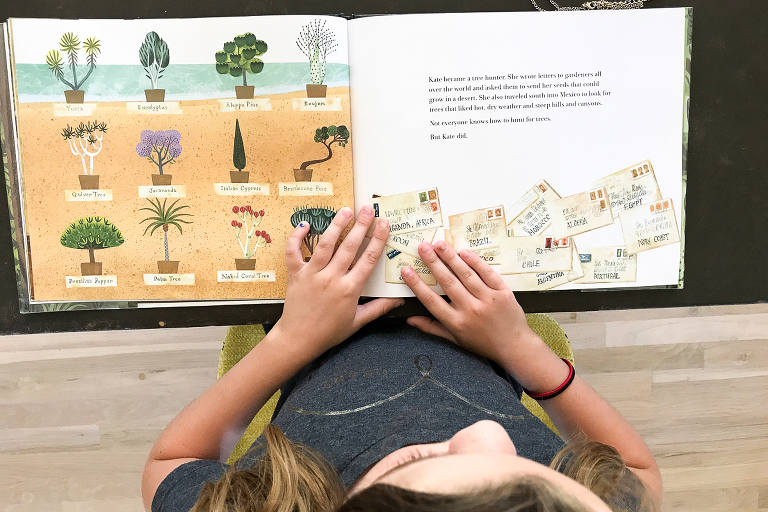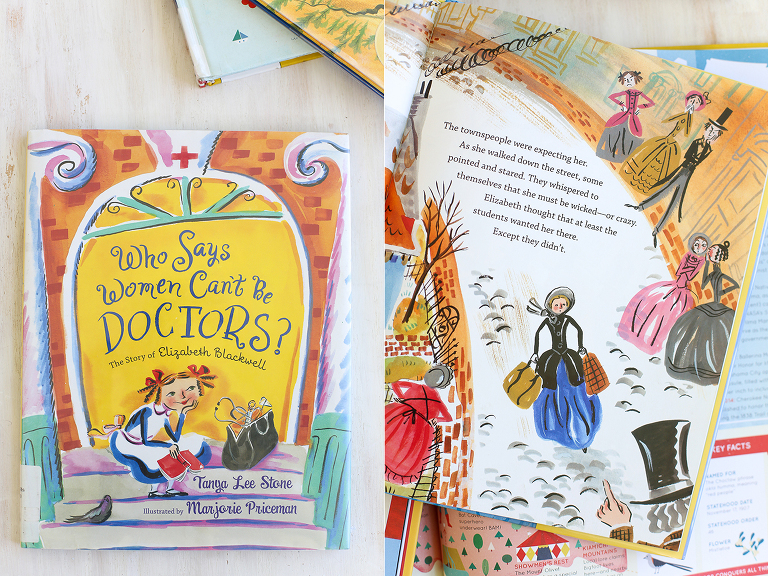 The 50 States is not a book about a woman, but I took pictures of it at the same time and am including it because it is awesome! My kids are learning about the states this year and this book has tons of interesting facts about each state. The illustrations are gorgeous!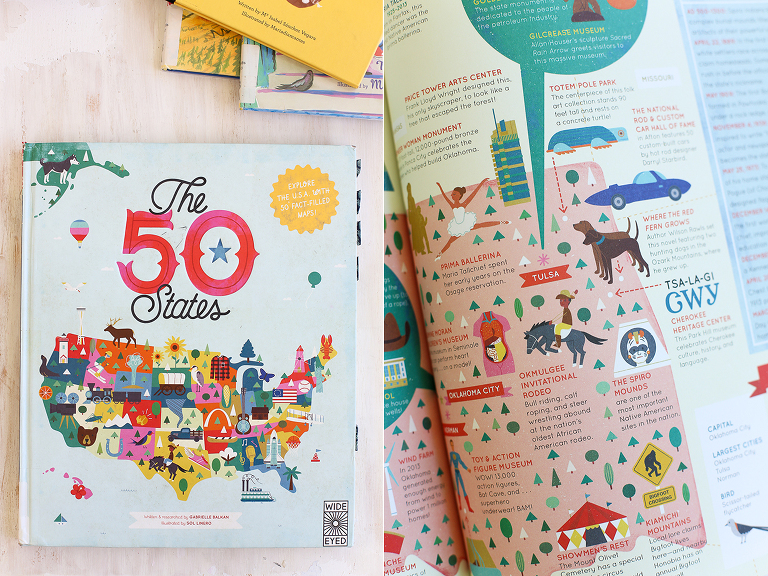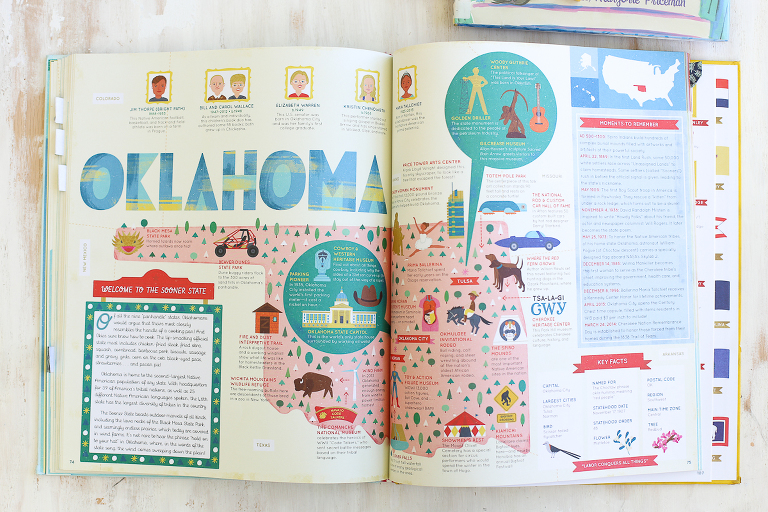 My friend Jessie did a Motherhood session during our school time a few weeks ago. I am so thankful she took photos of me reading with the kids – it is a huge part of our school and one I will treasure.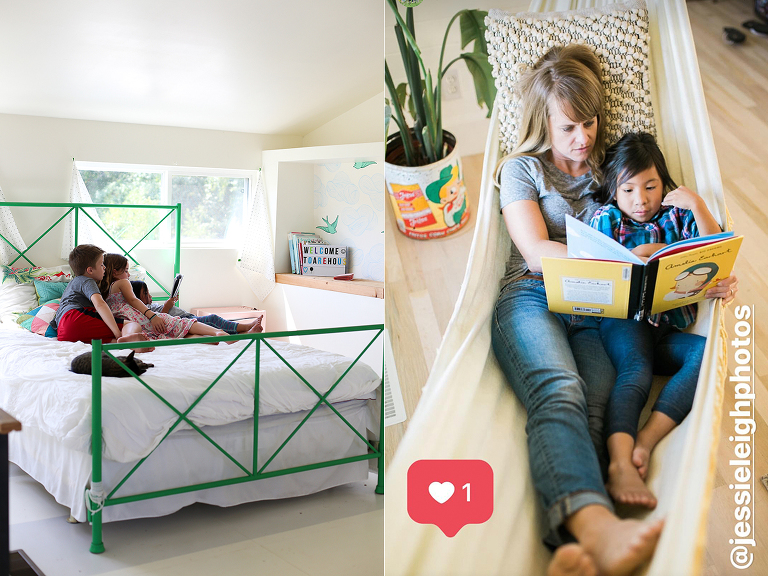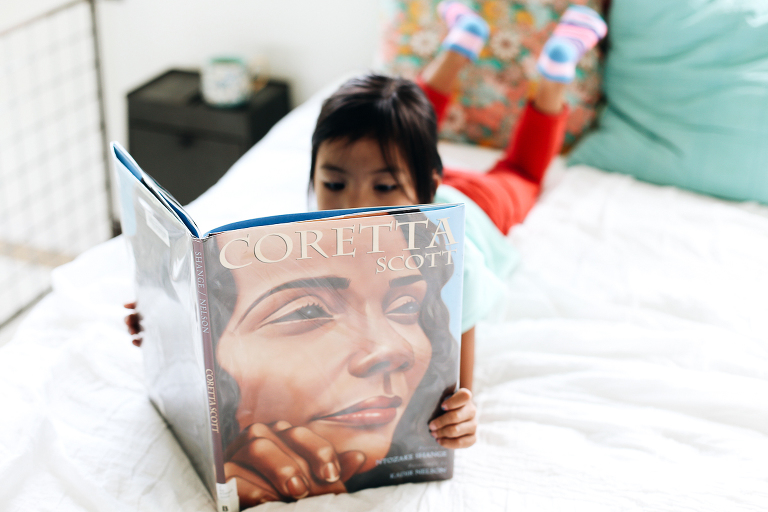 I want my kids to hear stories about women (and men, of course) from every walk of life that were gifted and interested in a variety of fields. Social justice, law, politics, medicine, wildlife, community service, business, art, aviation, photography – anything and everything.
I want them to see that it is in using their unique gifts and talents that they will find the most joy and an overflow of that can change the lives of those around them (near or far). I long to help them recognize their interests and the things that drive them, so that they can grow in those areas and walk confidently in their unique giftings.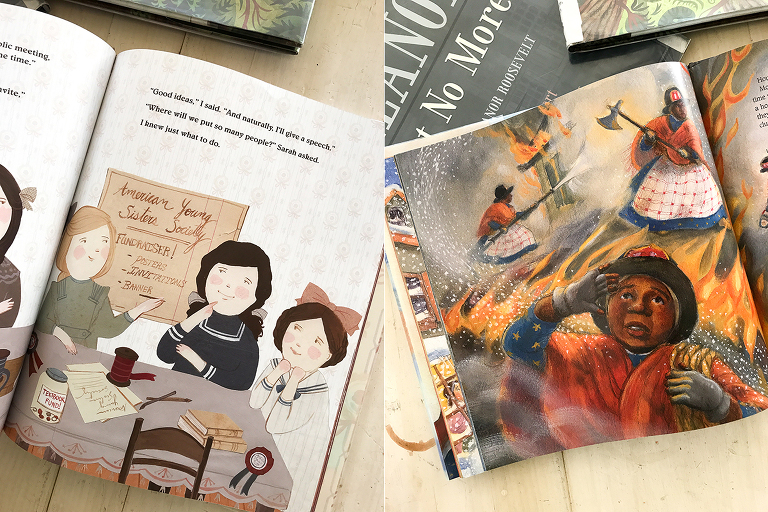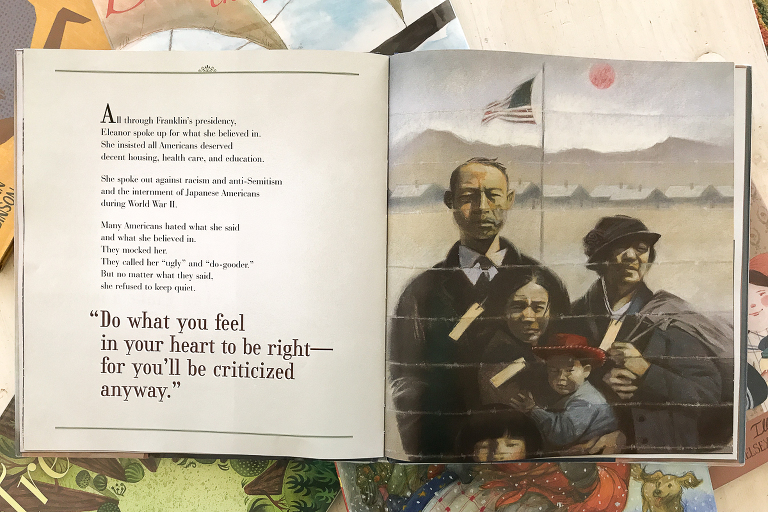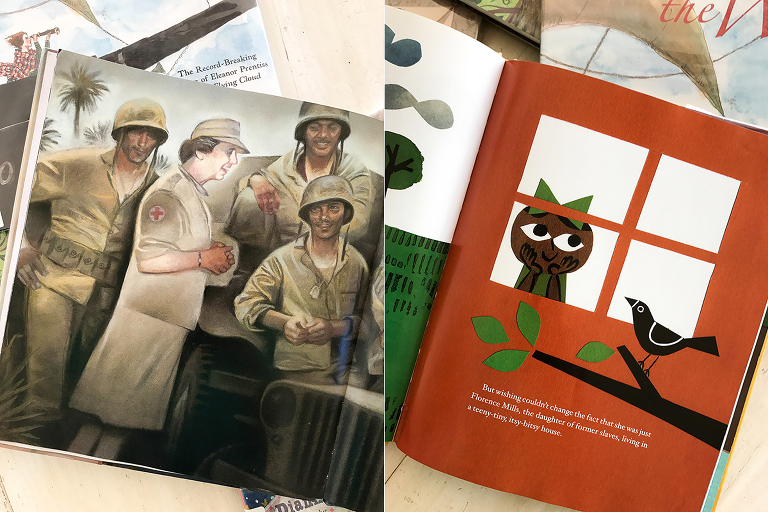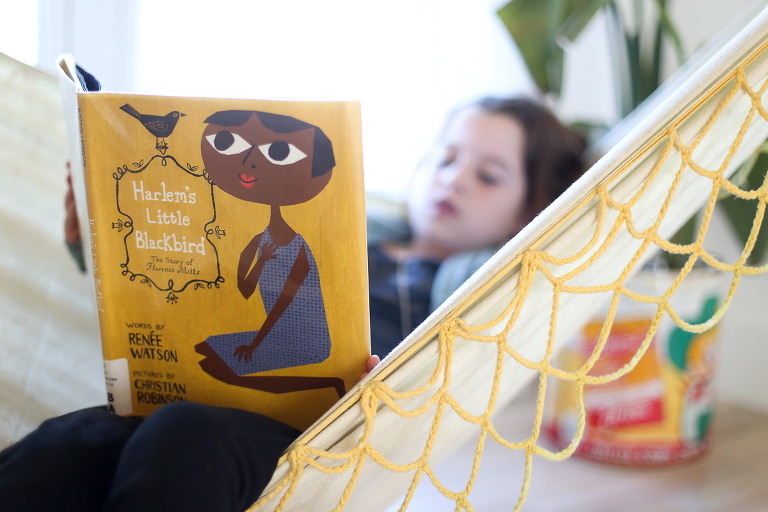 My heart is so full watching them make connections between these women, history, geography, science, culture, politics, and how it all impacts their own lives. Their little hearts are moved and inspired. What a humbling gift it is to sit with my kids, study history, and be changed by the stories of the brave and self-sacrificing. It is also pretty fun to watch them run around the house pretending to be Coretta, Rosa, Clara, Sacajawea, Amelia, and others!
When I posted a little about this on Instagram, others shared their favorite books and resources. Here are a few that were mentioned:
I am 100% confident you all have so many other book recommendations, so please share those with us today. I'll be keeping a list and reserving them at my local Tulsa County Library!
"The more that you read, the more things you will know. The more that you learn, the more places you'll go." – Dr. Suess
________________
SaveSave