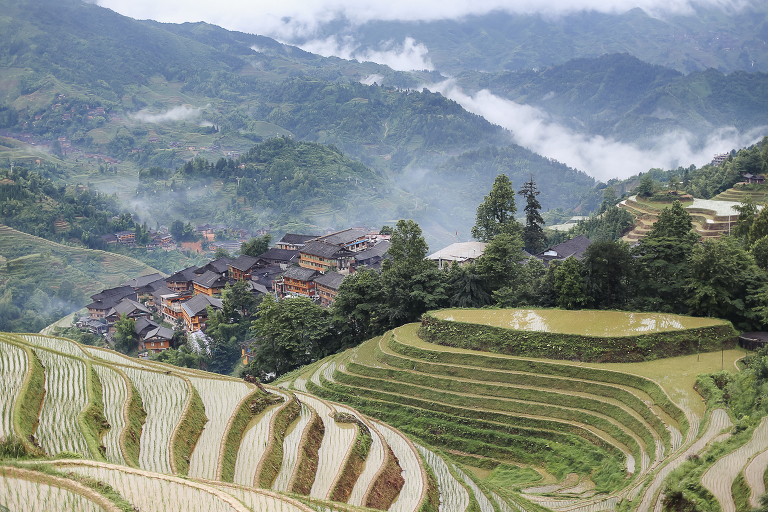 About 20 years ago Chris and I were dating and he spent a summer backpacking through China. Once he came home and developed rolls of film, he shared images of rice terraces with me. Ever since it has been in the back of my mind if I had the chance hike among rice terraces, I would jump on the opportunity.
While planning our trip, I learned the Longsheng Rice Terraces were in the general area of where we were traveling. A few Pinterest searches and random blog posts convinced me we needed to add it to our trip.
After our time in Yangshuo and Xingping, we caught a bus to Guilin and then a van to take us the 2 hour drive to the Longsheng Rice Terraces.
We almost cancelled the trip. On our way rain began pouring down. Our next hostel was a 45-minute hike up through the rice terraces. I wasn't sure it would be a good idea to take 5 kids on a hike in the pouring rain, especially since two of my kids not typically fans of wet clothes. We were so close to turning around.
I'm thankful we didn't.
The starting point for the hike up is Dazhai village. Most people come for the day…hike up the terraces and then back down to catch a return bus to Guilin. A day trip is definitely do-able. We've learned as a family we have the most fun when everyone is having a good time…which means little legs do better with long breaks. We found a hostel up in the terraces and booked it a few weeks before the trip. (my next post will have tips for hostels as a family).
Here is the map to the hostel, Dazhai Dragon's Den Hostel, – we were so thankful for the pictures!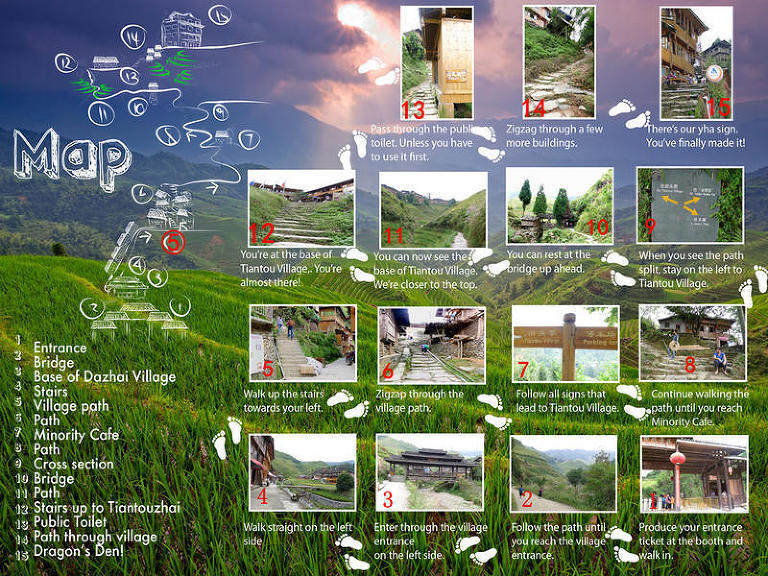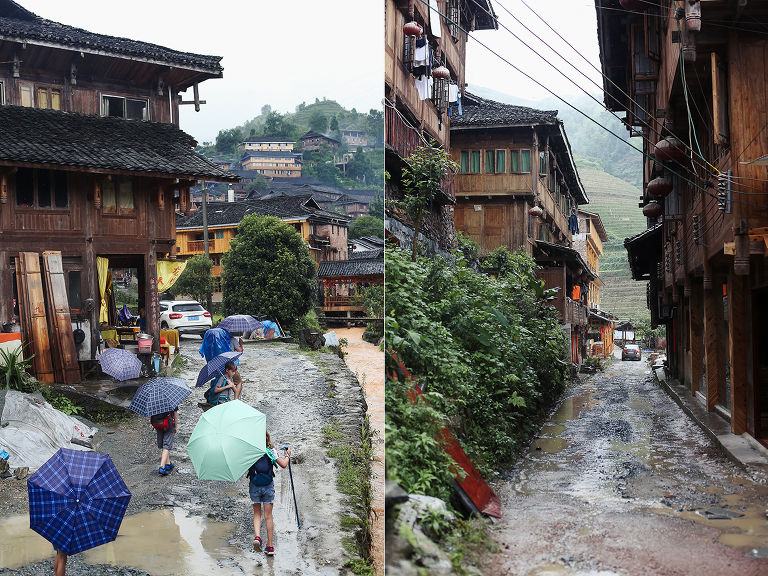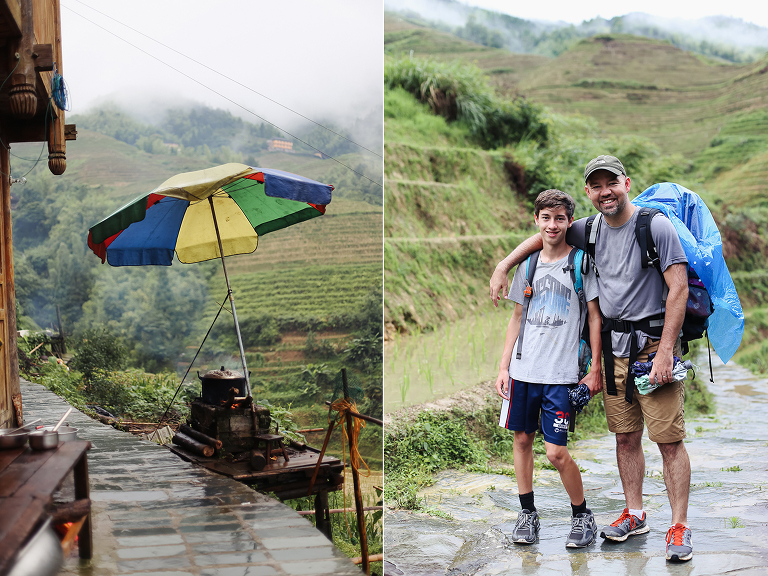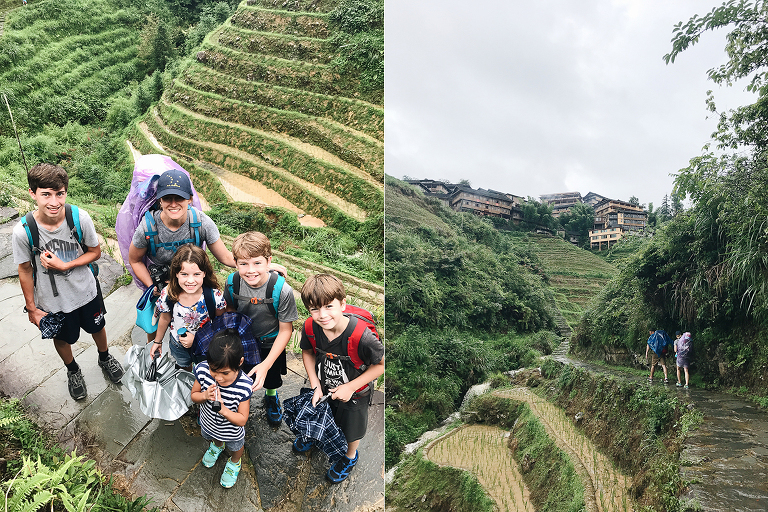 When we made the decision to go ahead and go for the hike, we knew it would either be a disaster or it would be – as the kids say – 'epic' – either way we knew we'd be wet! We've had our fair share of adventures with disastrous outcomes, but we'll keep taking risks knowing sometimes it turns out like this!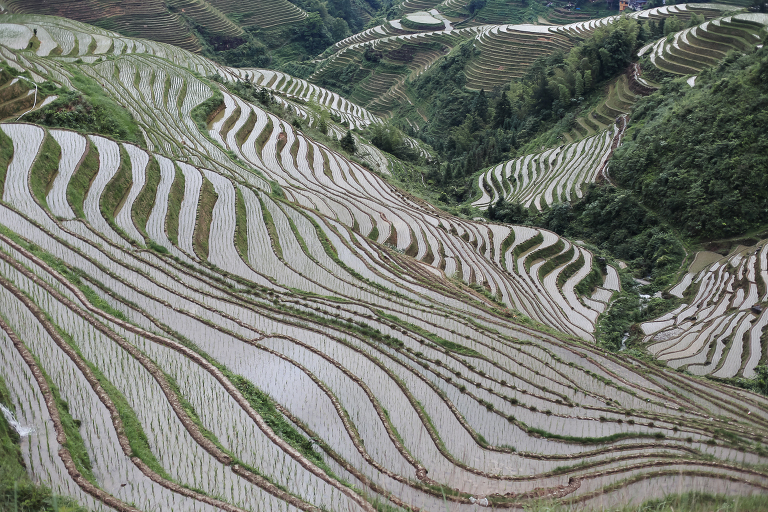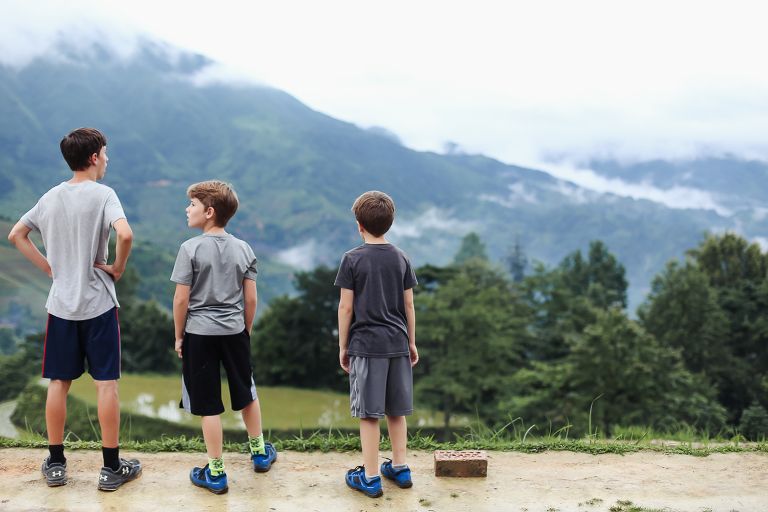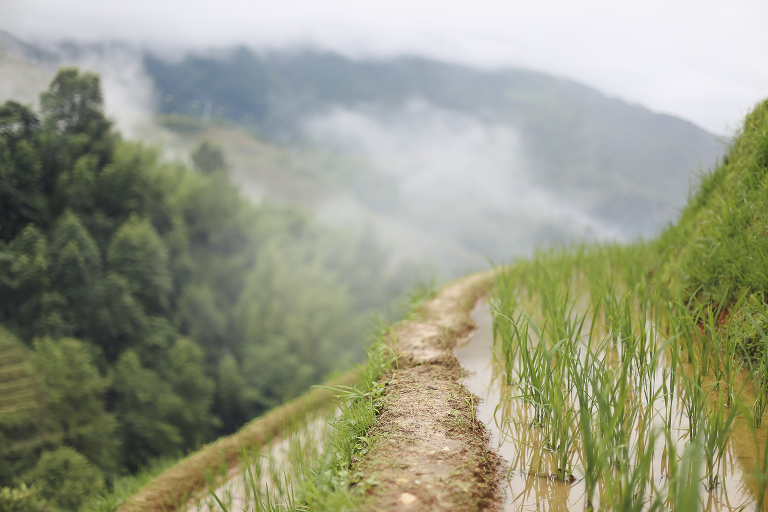 Even with the picture map, we did have to stop a few times to ask a local if we were headed the right direction. The rain stopped about halfway up to our hostel. Every hostel we stayed at had the most incredible views, this one was no different. Rice terraces…right out the front door.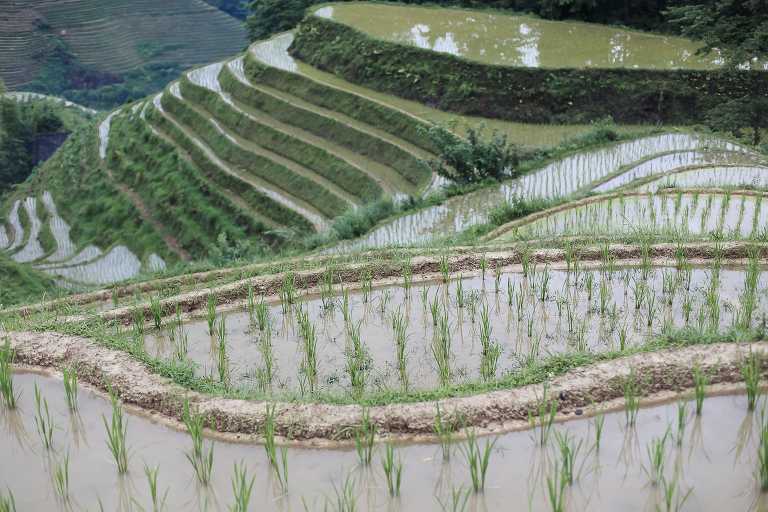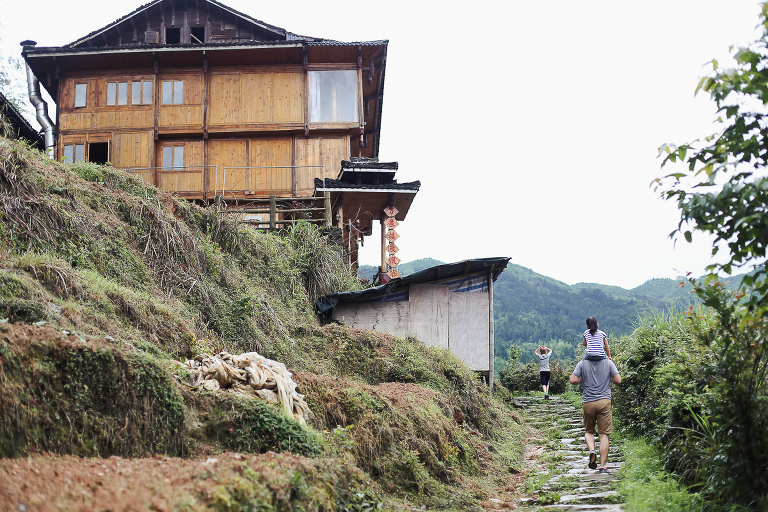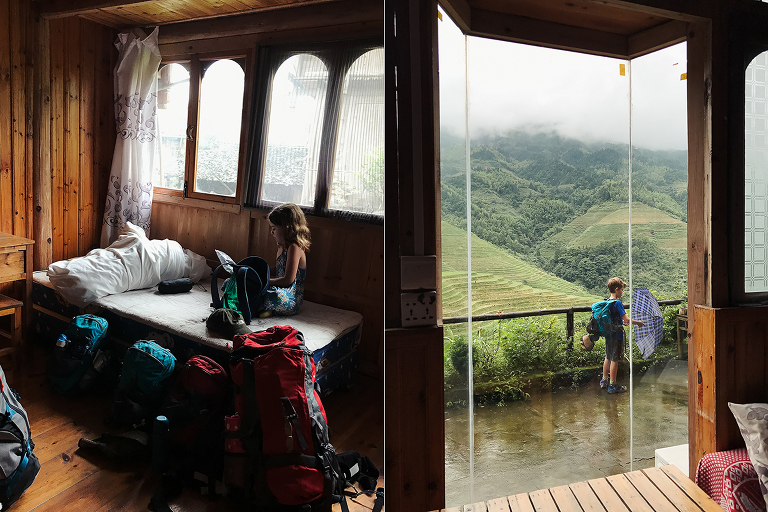 Since we were only in the terraces one night, we decided to hike up as far as we could go to a hotel with a restaurant. The hotel and restaurant were empty, but we got a meal with a magnificent view.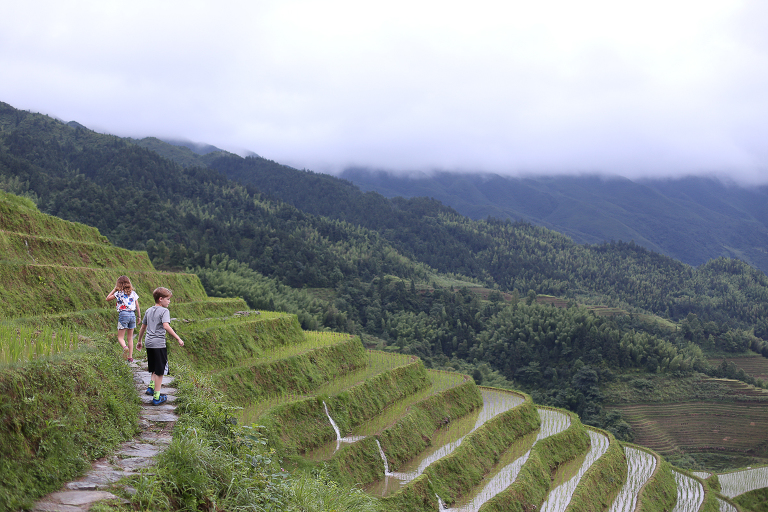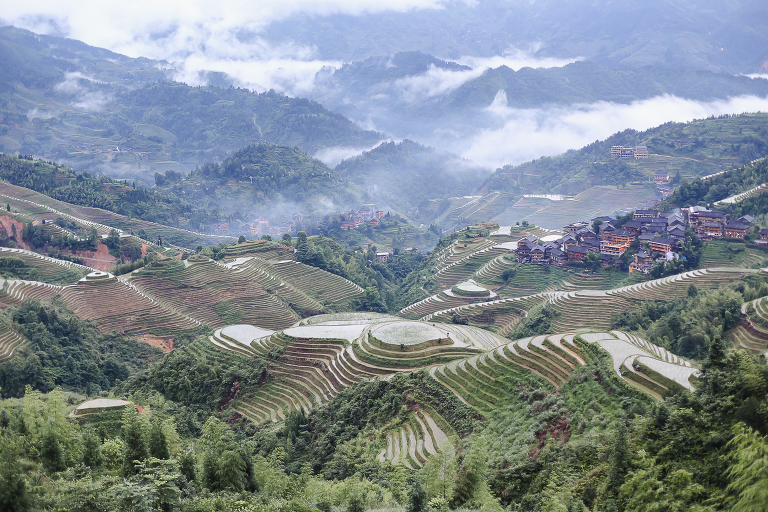 The sun set while we were eating and we had to hike back down to our hostel in the dark. We got lost twice, but met friendly locals that were happy to see us, fill us up with water and point us on the right path…literally.
On our hike up the first day we met a team from Go Guilin. It was raining and they told us we were in town for the Yao minority people's biggest celebration of the year – The Clothes Drying Festival. I thought they were joking. It turned out that we were in fact in town on just the right day.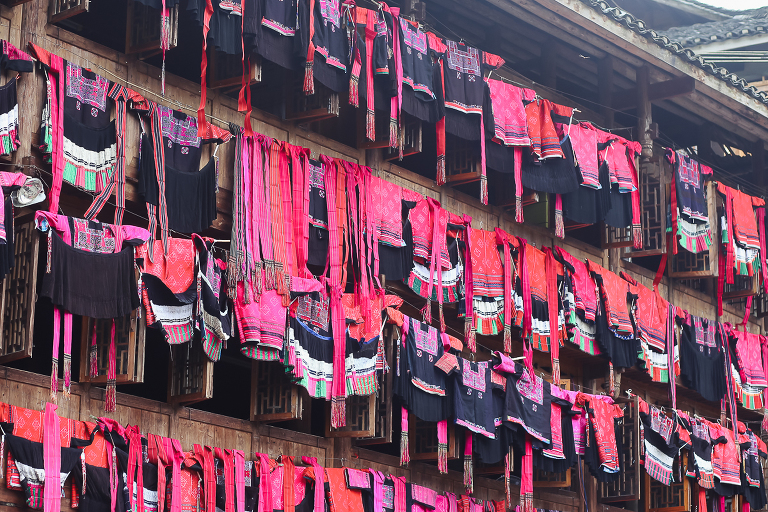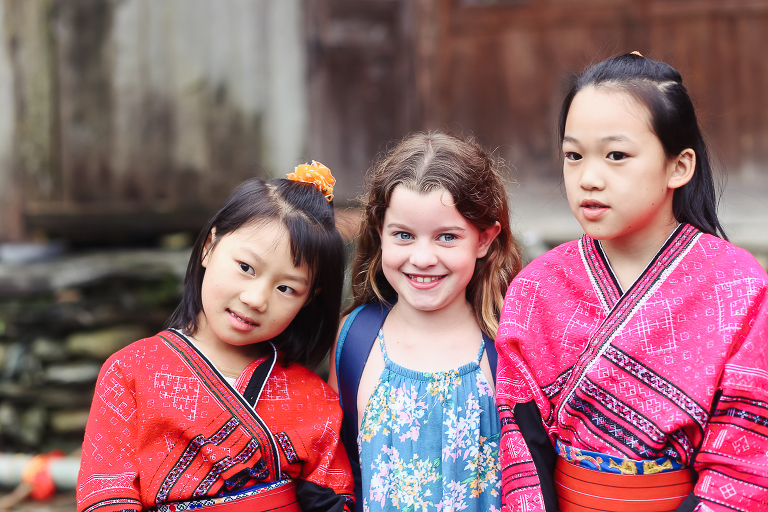 The Yao women hold the Guiness Book of World Records for the village with the longest hair. They only cut their hair once in their lifetime – around ages 16-18. Instead of using shampoo, the women wash their hair with water left after they wash rice. Women in their 80s have dark black, long locks. I need to start using rice water!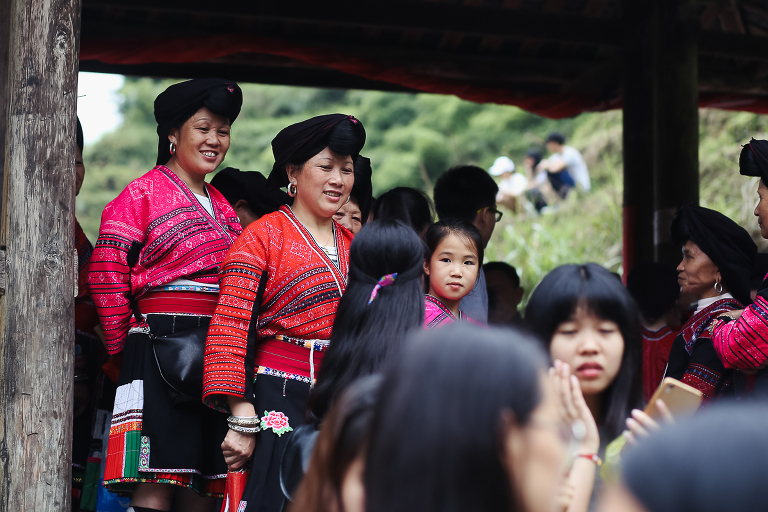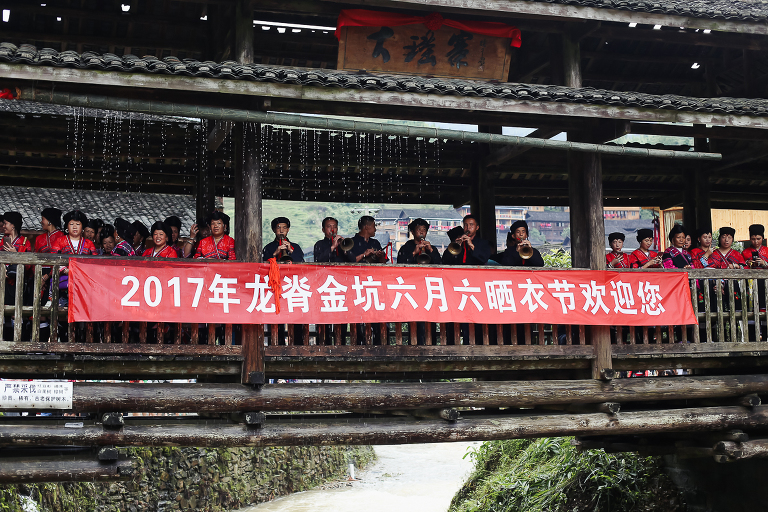 It isn't too often you can see the women with their hair down. The festival was one occasion where the women gather in public to wash their hair.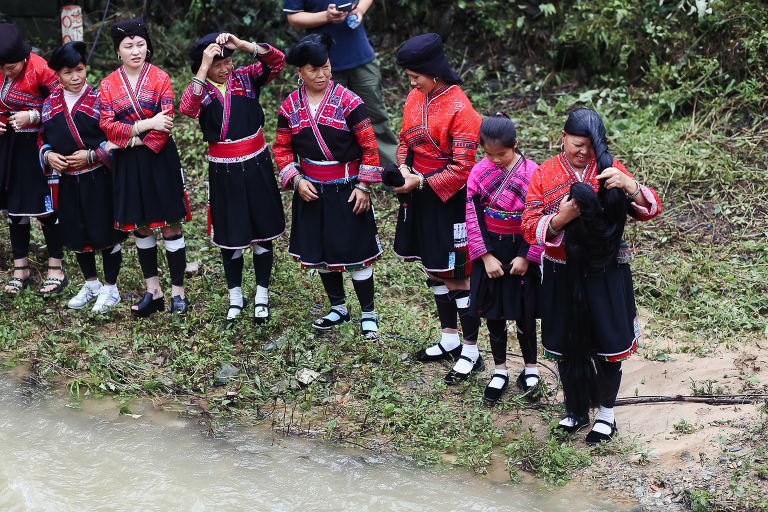 Notice that some of the young women are holding 2 ponytails. They are helping older women in the village. The women tie their hair up on their head and include two ponytails wrapped with their hair. One ponytail is from their first haircut. The second ponytail is one created from hair that has fallen out and been saved! Actually, there is a whole lot more to it – how they wrap their hair, which ponytails are included, when extra ponytails are included – everything has meaning and symbolism. I've been reading up since our visit.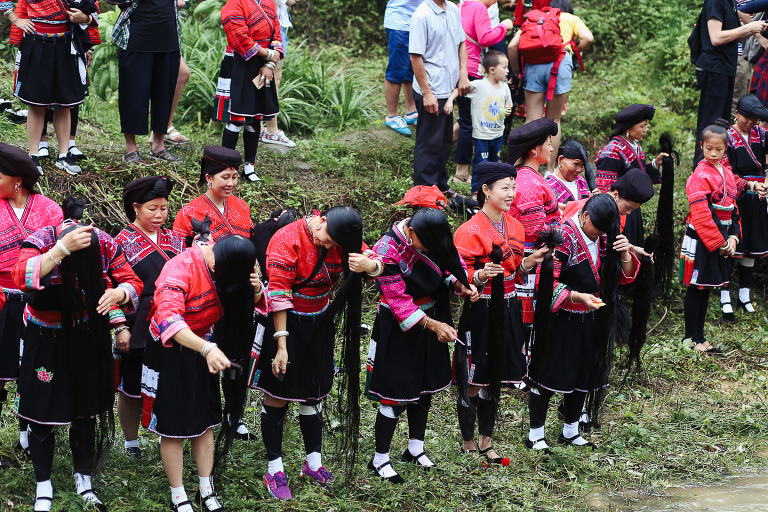 My kids and I were so fascinated by the Yao women and different traditions in their culture. If you are interested in learning more too, here are some great links:
The Ancient Chinese Community Where Women Only Cut Their Hair Once
More details on how they wear their hair
Rice Water for Your Hair and Face
My tips for visiting the Longsheng Rice Terraces & Dazhai Village:
You can definitely make a day trip out of this. I would catch an early bus, hike up, eat and then hike back down. That being said – I'm so glad we stayed the night up in the terraces. It was a relaxing day. We didn't feel rushed and could explore more of the surrounding areas up high. If you schedule permits, I would stay the night.
There are various options to getting to the terraces. Most hostels in Yangshuo, Xingping, and Guilin can help you. We took a van (found a price comparable to 6 bus tickets) to the terraces, but a bus back down to Guilin when we left.
I've watched the weather app for the last 4 weeks…every day rain is forecasted. If you consider canceling because of rain, I'd press on. It rained half of our hike, but then stopped and the fog started lifting over the terraces. Over course, you could have a different experience, but just know rain is pretty much a daily thing.
The villages among the terraces are very small. Most places to eat are in hostels and guest houses, so the pricing isn't super cheap (compared to the tiny local restaurants we usually eat in). You could pack food, but you have to carry it up. I'd just eat in the hostel.
If you hike up to the top "Music From Paradise" in the evening, be sure to bring a flashlight or headlamp. When the sun sets there are no street lights on the terraces and the path down can be slippery.