Last weekend one of my best friends asked Corbett to be her partner in a Crossfit competition. It was a co-ed team competition just for members of our Crossfit box (gym) – a perfect introduction to competing for him. Why didn't I compete with him? I would rather clean up the whole stinky, sweaty gym after a competition with a toothbrush (not my toothbrush!) by myself than compete. I'm a fan of Crossfit, but I'd rather do just about anything than a Crossfit competition. Thankfully – I have Cindy. It is one thing to have friends that are nice to your kids. It is an incredible thing to have a friend say to your kid, "Hey, I want you on my team."
I want a village to help me raise my kids and I am so thankful Cindy is a part of that village. Corbett held his own with all the adults and had a pretty great time in the process.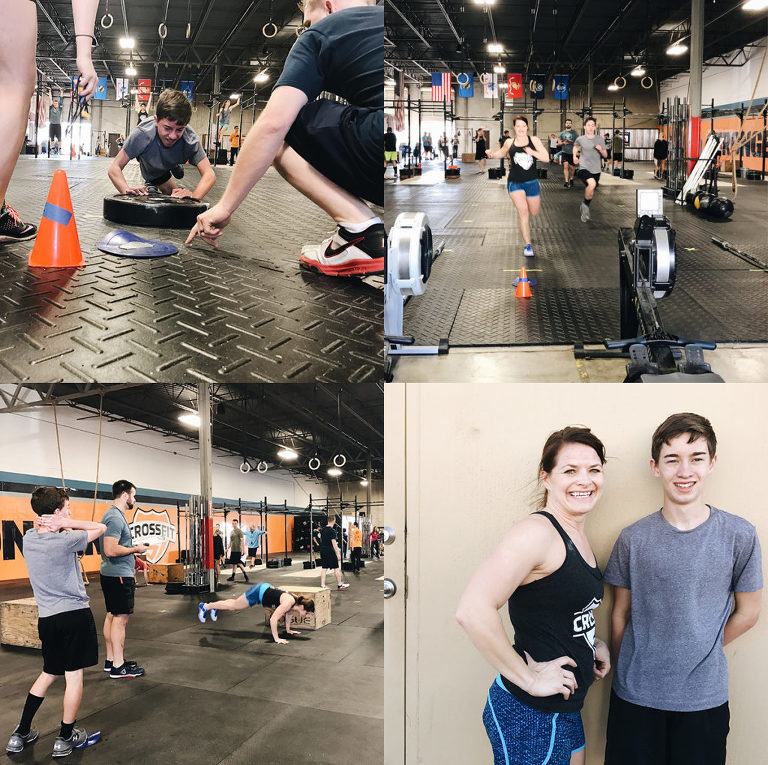 Watching Cindy and Corbett, I keep thinking of all the way she has helped me raise my kids over the years. Holding my babies, bringing me meals, chasing runaway toddlers, cheering me on when I decided to homeschool, showing up to games, and countless other ways. I don't think I ever pictured her in a competition with Corbett, but it turned out to be just perfect. I couldn't have asked for a better partner for him.
We are out of the rocking babies, changing diapers and fretting over kids starting school phases. We are entering the teen years and it makes me so excited to have her in this with me. Our friendship was forged in the season of play dates and women's Bible studies and I'm thankful it didn't end there. Next up is high school and driving and actual dates – so wild to think about. I'm a fan of kids growing up and I'm a fan of it happening with friends by my side through all the seasons.
It is also pretty cool to have a friend that is like a female Avenger – she is so strong!