We were in middle school when she told me her parents gave her permission to legally change her name. I remember exactly where we were standing. The bell was about to ring and we would be late to class if we didn't hurry. I don't have too many vivid memories from middle school, but that moment is one I'll never forget. I could not comprehend what she was telling me. I couldn't understand. I was an "Ashley". Along with the girls named Michelle, Jennifer and Rachel, we made up 60% of the middle school female population.
My friend Thao was changing her name to Tina. I couldn't articulate it at the time, but the moment she told me I felt a sense of loss. I knew her family came to the US as refugees, but I didn't really understand what that meant. I definitely had no idea what it felt like or even a guess to what challenges they had overcome. Thao was simply my friend and she was changing her name. It was the moment I realized how important to know someone's story and to imagine life their shoes before speaking or forming an opinion on something I didn't understand.
Tina and I stood next to eachother on the stage at our graduation, each delivering speeches to our 980+ student body. She served our class at the student body President. It has been years since I've hugged her neck, but I watch from afar as she continues to gently lead, empower and change the lives of others. I'm so grateful during my most influential years, she was one of the girls walking beside me.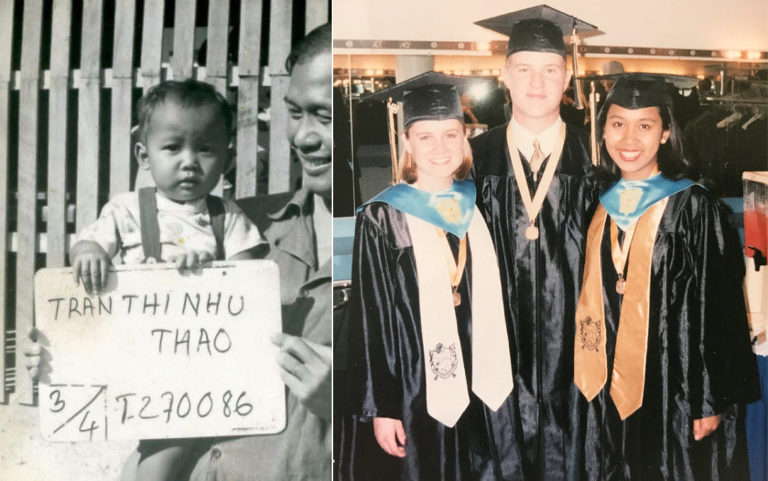 Michelle and I forged a friendship as we balanced on beams, covered our hands in chalk, and goofed off in the locker room. Gymnastics brought us together every day and she became more of a sister than a teammate. She spent weekends with my family and I spent weekends with hers. Her parents, brother and sister became a second family to me. She has always been far cooler than I – teaching me the ways of Birkenstocks and introducing me to all the good food. In all our years of tumbling floors and bouncing between our homes, I never asked her or her parents about their journey to the U.S. as immigrants. Michelle describes it as a true American Dream story and I hope one day I could see them again and hear the story in person. Michelle pushed me to work harder, to pursue excellence, to loosen up a bit and to smile – a lot.
(photo on right was taken the day her parents' application to the US was approved and they got their Visas and passports)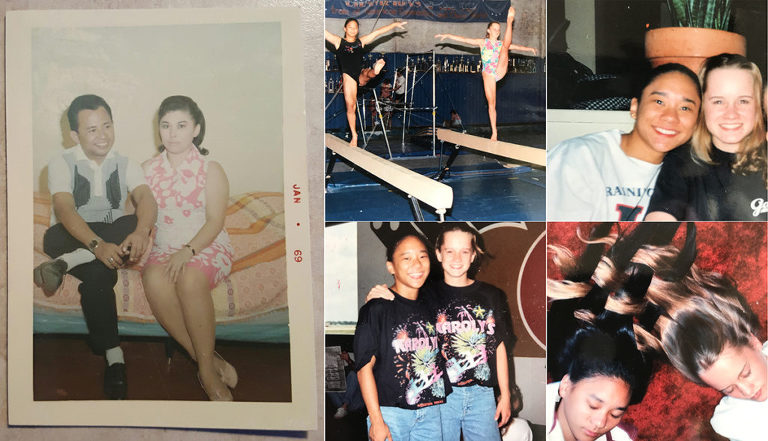 A couple years ago I desperately wanted to learn to make steam buns and dumplings. My sweet friend Bopha invited me to her home along with a few other friends and her mom. Bopha's mom spent an evening teaching us and laughing alongside us as we all tried to learn her tricks. She didn't measure anything and would smile when we'd attempt to write down a precise recipe.
35 years before she was on the run with her husband and three children (9 yrs, 6 yrs, 2 months) trying to escape Pol Pot. They had seen family members starved to death and murdered. Fleeing for their lives they made it to the Thailand/Cambodia border and a week later into a refugee camp. After shuttling between 4 different refugee camps, 15 months later her family of 5 made a home in Oklahoma. 15 years or so later, I would meet that 2 month old baby (who was by then in high school) and would grow to love and respect her as a dear friend. Decades later we would both adopt little ones from China. And years later I was in her kitchen learning to make the steam buns and dumplings to share with my family.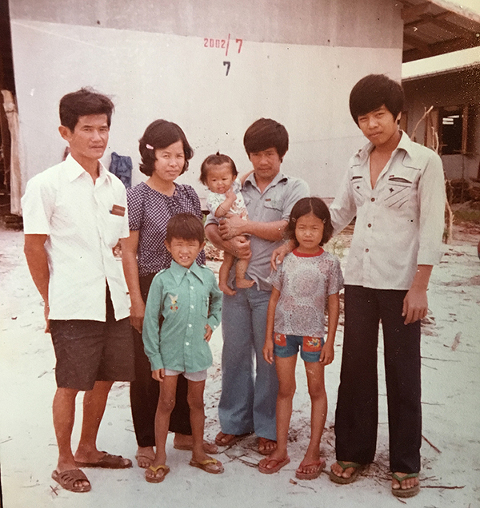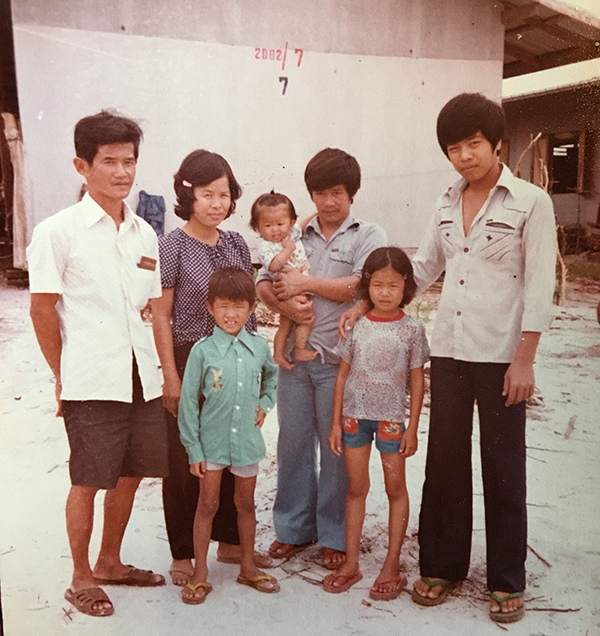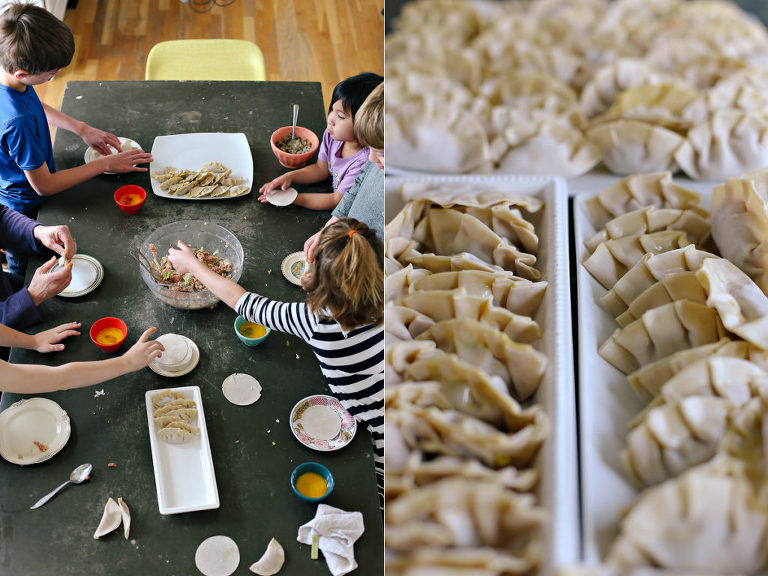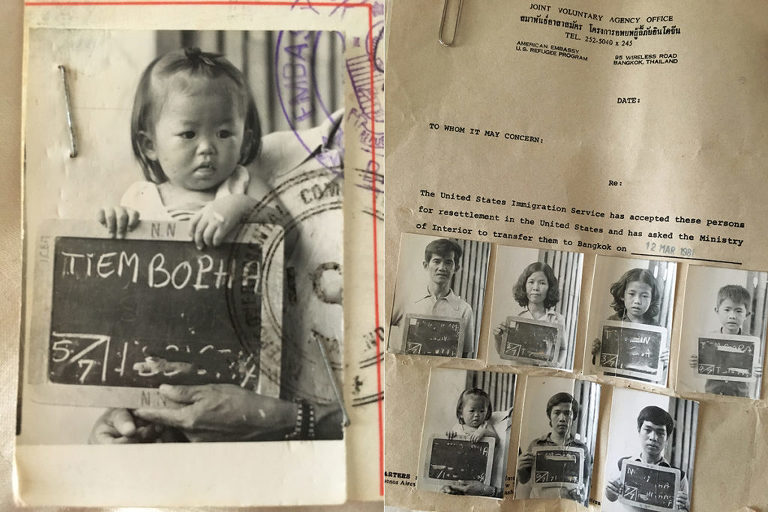 Blogging is a funny thing. Actual, real, authentic friendship can form through words typed on a screen. Many years ago I 'met' Ruth through blogging. We both had a couple kids and both were among the ranks of the strange few that called themselves 'bloggers'. I liked Ruth when I only knew her online. When I met her in person, a deep love for her and her family was born. Ruth inspires me. She challenges me. She is my opposite in just about every way. I describe myself as the 'least connected blogger', while Ruth is known by and knows pretty much everyone. I love that about her. Ruth is a friend that understands the highs and lows of being an online entrepreneur. She is sister and encourager in an area of life that can often feel lonely for me. She is a grace in my life.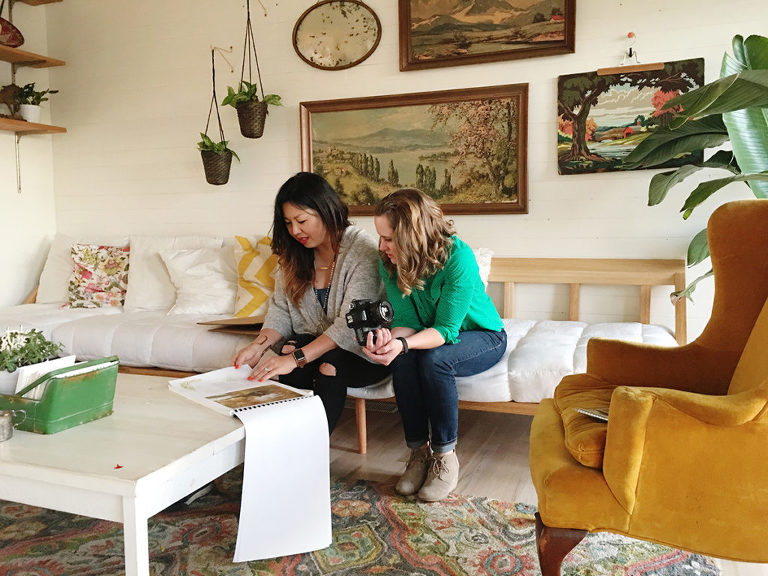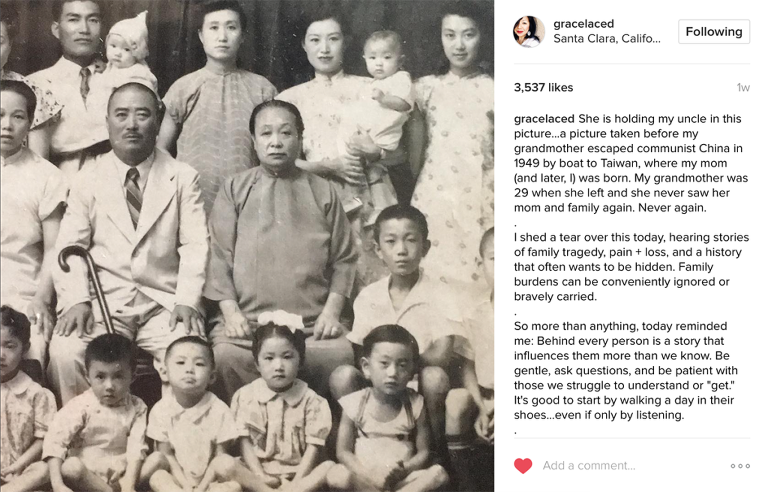 Then there was the frail little one placed in my arms 4.5 years ago. I'm forever changed by the grace of knowing her as my daughter. She is the one who makes me laugh every day, the one who is far wittier than what is normal for a 5 year old, the one who is a living example of bravery to me, and the one who joined our family via an Immigrant Visa.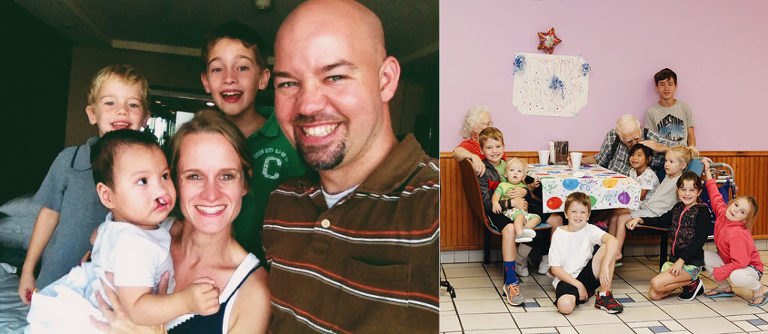 I don't know what life would be like without these 5 women in my life. They have molded my beliefs. They have taught me to set my expectations high. They have empowered me, challenged me, inspired me and changed me. Their journeys to Oklahoma looked far different than mine and I'm forever grateful for the gift of knowing them and being known by them.
I grew up in the halls of First Baptist Church. In the 80s, the generation ahead of me sponsored countless refugee families to make Oklahoma their new home. Several of those families had babies that would one day become my dear friends. Also in the halls of my church were the families that fostered countless children for decades. I grew up watching the adults in my church – they fostered, they served the homeless, they cared for the sick, they sponsored refugees, they welcomed the immigrant. Their arms wrapped around the hurting, their doors welcomed the lonely, their tables served the those hungry for food and community. They were my living example of Jesus and what his hands and feet on earth look like. Watching them molded my Christian faith, my dreams for my future and my current family.
As I tune my ear to the voices around me and online, I keep thinking to myself if only we could all be more mindful of who is listening. If only we could consider the feelings of others and how our words impact them before we speak. If we could do our research and respond out of education and not hysteria or fear. If we could remember when we throw around terms to describe whole groups of people, we are selling ourselves and others short – and we often do so much hurt and damage.
If only we could take time to sit around kitchen tables and really listen. Listen – in a way that the goal is to hear the person speaking, not listen only to formulate our response. To really listen to the fears and concerns of those supporting drastic change. To really listen and hear those that stand with signs welcoming refugees. If we could turn off Facebook, put down our phones and look into the eyes of those we disagree with – we might just find a friend in an unexpected place.
I have experienced the beautiful gift of deep friendships with women whose family stories are far different from my own. My life is richer because they are in it and I can only hope and pray my children experience friendships like I have.
Listen to truly hear. Ask questions to learn. Welcome the stories of others. Consider who is listening and the impact of our words. Speak slowly with passion wrapped in grace. I can wish it for the masses, but I know it starts with me.