Zinnias from the yard. Cookie dough mixing. Watermelon on the counter. Staples in our kitchen during the summer. Sometimes I wonder what things about growing up in this house my kids will remember most. I feel like the things I remember from growing up are so random and probably not what my parents thought would stick in my mind.
Will my kids remember sticks of butter always on the window ledge softening for cookies? Will they see a broom and think about how many times a day they saw me with one in my hand? Sidenote: anyone have a Roomba or a different brand (Neato was mentioned)? I'm considering making the investment…
It is kind of fun to look around at my day and think about what will pop out in their minds. It will probably be things I don't even notice!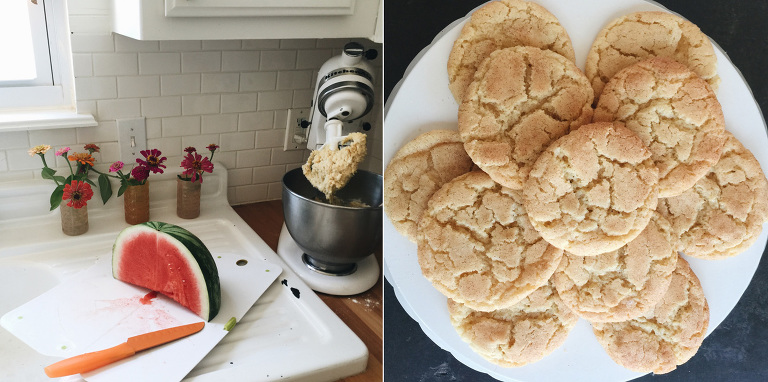 Yesterday, I posted that picture of Snickerdoodles on Instagram. A few people asked about the recipe – it is the basic recipe from my Betty Crocker cookbook. Hands down this is my favorite cookbook. It is simple, no-fluff basic recipes. I posted about my version of the Baking Powder biscuits before. I also use the Peanut Butter Cookie recipe a few times a month (topping it with a Hershey Kiss). In the back is a simple graph for tips on the various ways to cook a ton of vegetables. I reference that chart all the time.
If you like simple – I highly recommend it.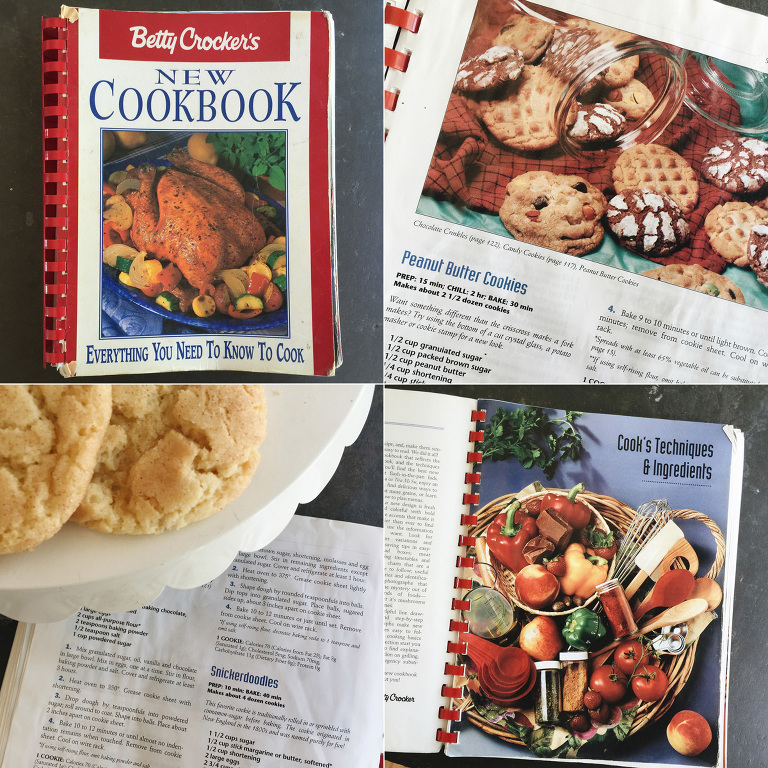 So I did a search on Amazon and it looks like you can only order used versions of this edition. However, the newer edition looks like it has my favorite recipes in it too. Here are a few links I found to the cookie recipes I use most:
Betty Crocker's Snickerdoodles Cookies
Betty Crocker's Peanut Butter Cookies (I add a Hershey Kiss on top)
I've been working on organizing my Pinterest boards – I have so far to go! I had every food item on one huge board and recipes I wanted to try got lost in the mix. I've been trying to use one new recipe a week (or every other week) from one of my Pinterest boards. If I like the recipe, it stays. If not, it gets deleted. It has been a good practice for getting me to try new recipes that I want to try but often forget.