When we plan trips we have a very tentative schedule. We need a bit of a schedule simply because we must book campsites with the trailer (I'll post more on that later with the Travel FAQ post). We camped in Moab. It is between Canyonlands and Arches national parks. We intended to spend a full day in each park, but quickly realized that plan would not work. The sun was so intense and the 90+ days we knew would be too much for little hikers. When we change or look for new plans we usually ask locals. A sweet instagram friend gave us several pointers and Chris asked one of the employees at the RV park. This particular employee pointed us to a hike (Bill Canyon) only a couple miles away that included shade and water – just perfect for us.
We drove over one evening to check it out for the next day…
After a few miles of early morning hiking in Canyonlands, we returned to do the full hike. It is a 2.5 mile hike through the canyon to the 6th longest natural rock span in the US, Morning Glory Natural Bridge. The hike includes crossing the creek numerous times, my crew made sure those stops were extra long.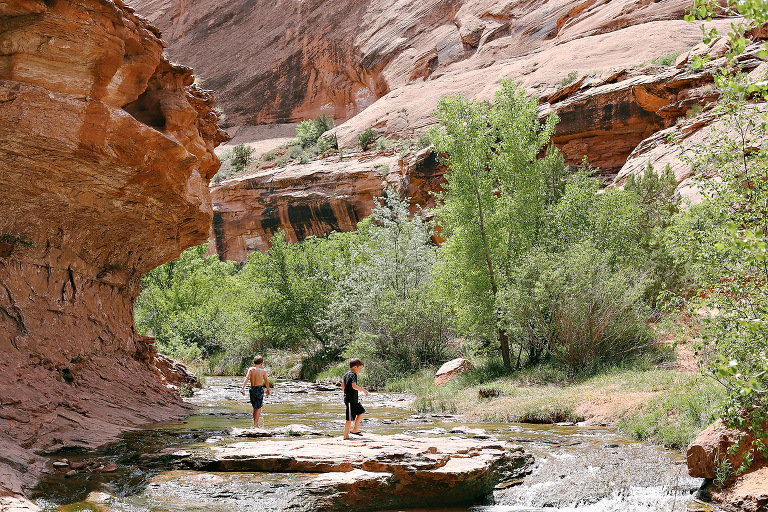 My youngest wasn't quite so ready to jump in the unknown water with wild abandon like her siblings. I watched her from behind, captured by the beauty of the unique way she approaches new things. On the shore, in her suit, watching until the moment she decides to take that first step in…her gentle step is just as brave and wildly awesome as the adventurer jumping off the largest cliff into waters below. She actually might have a step up on the awesomeness.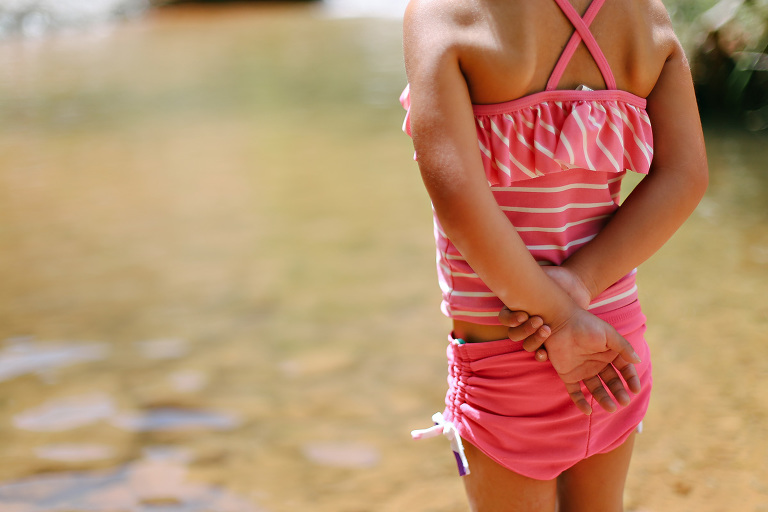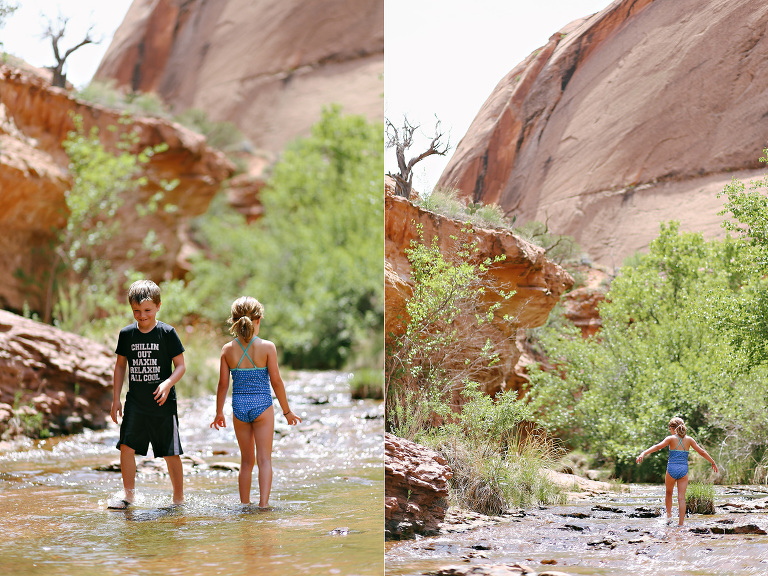 So much sand…so much sand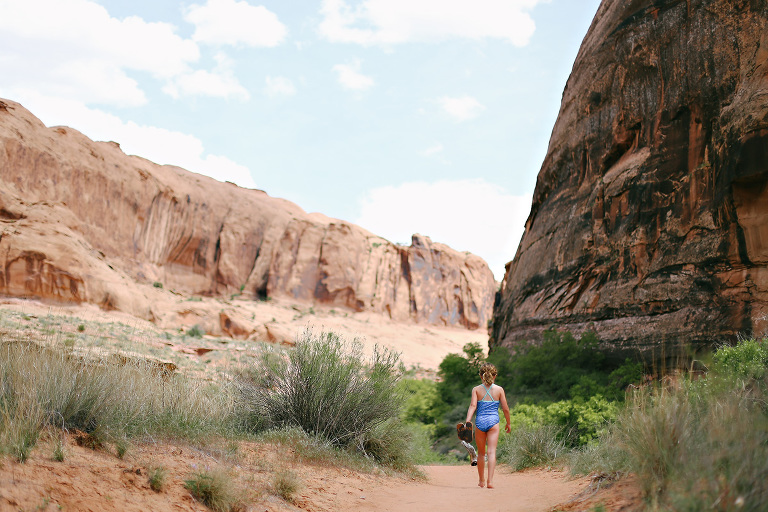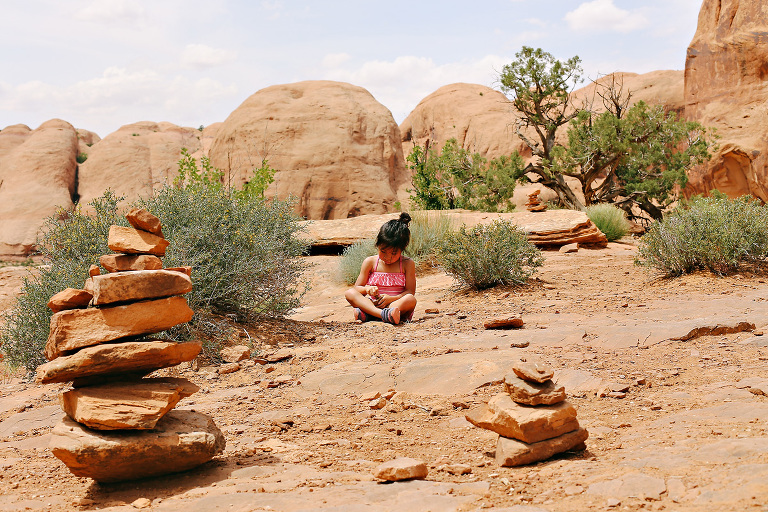 My head is blocking it, but behind us is Morning Glory Natural Bridge. You can hike all the way to the rock span, but my kids were good just getting this close. This was our last big hike all together.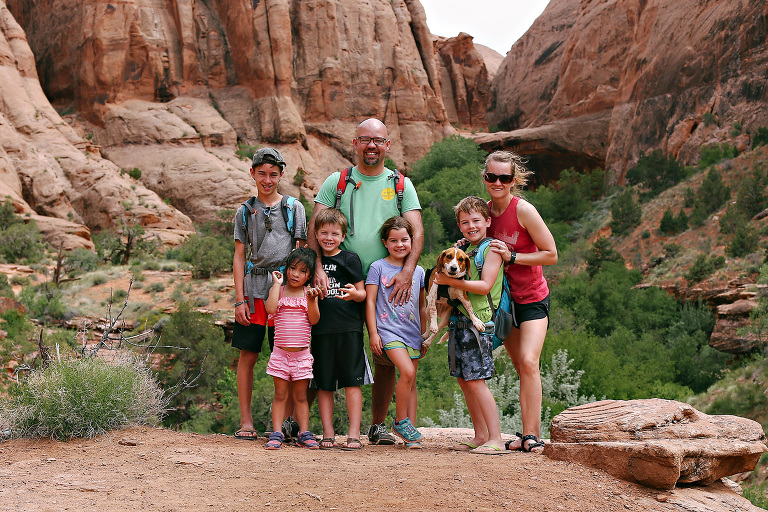 So, Moab. I think we need to go back for a few weeks. Maybe just me and Chris because the restaurants looked awesome and we only eat in the trailer with the kids to keep costs down. Actually, Chris did pick up a late dinner for the two of us from Quesadilla Mobilla…it was SO GOOD. I highly recommend it if you are in the area. I might drive back just for another one.
Okay, back to the hike. The trail is shaded in the morning and late afternoon (also the busiest times), but only spots of shade during the middle of the day. However, all the water access allows for several breaks to cool off. We brought one backpack with everyone's flip flops. The trail has so much water and sand, my boys preferred to hike in their flip flops (we basically wear them all year, so it is not a shocker). The girls went back and forth between their tennis shoes and flip flops. Water hiking shoes would work best, but my kids don't have any. I wore my high school Tevas – perfect. Eventually I'm going to get myself some Chacos. The trail was also dog friendly, so that was an extra perk for Arley.
While seeing Morning Glory Natural Bridge was an incredible end to the hike, it would have been a fun hike only going a little bit in with the kids.
I know so many of you have spent time in Moab and several of you live there, please share your favorite parts of Moab in the comment section.