From Bryce Canyon we headed back east to Moab to base camp between Arches National Park and Canyonlands National Park. We also went from layers and jackets to shorts and tanks. Wow, the sun came out in the desert! We "camped" (quotations because we are in a trailer, it is not real camping) in Moab for three days. The original plan was to spend a full day in each park. After a quick evening drive in Arches and checking out what was close to us in Canyonlands, we decided to spend more time hiking in Moab. Our kids had been hiking so much, we knew hikes in the intense sun of Arches and Canyonlands was going to be too much.
We drove through all of Arches and took in the scenic overlooks. We did one hike to an overlook of Delicate Arch. You can see it below…and all the little tiny people on the actual Delicate Arch hike. I wanted to do the hike to the arch, but my crew was tired that day.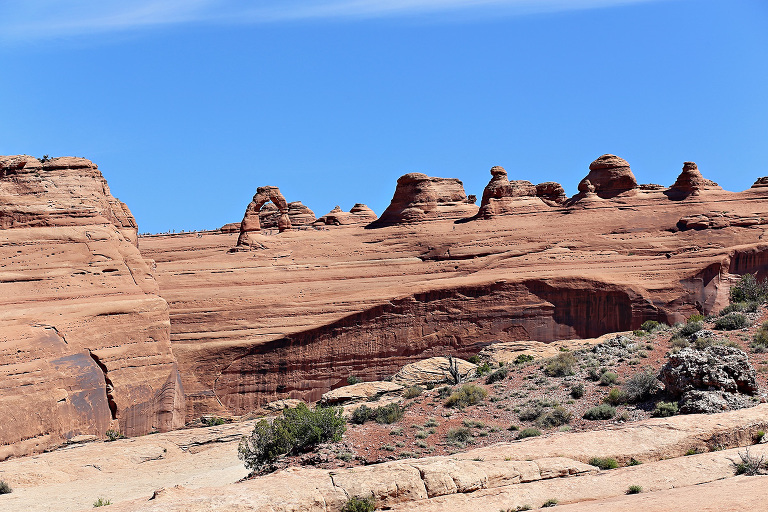 The boys and I did a really short (I think it was only 1 mile round trip) hike to Sand Dune Arch. It was short, fairly shaded and sandy. Perfect.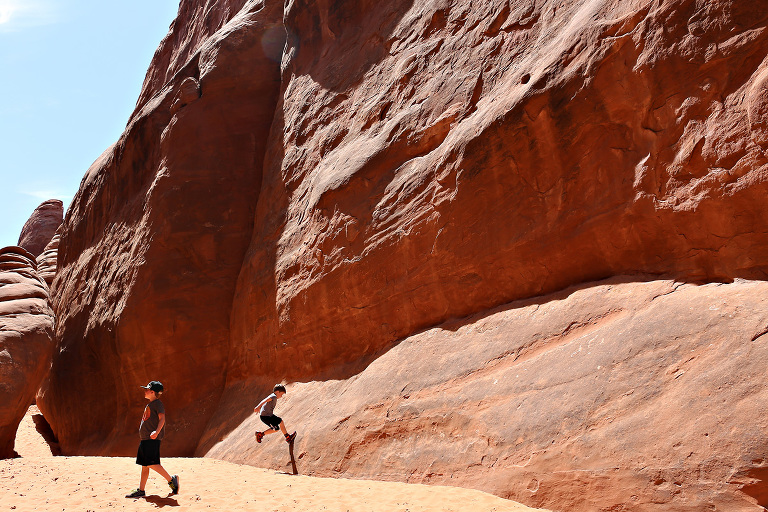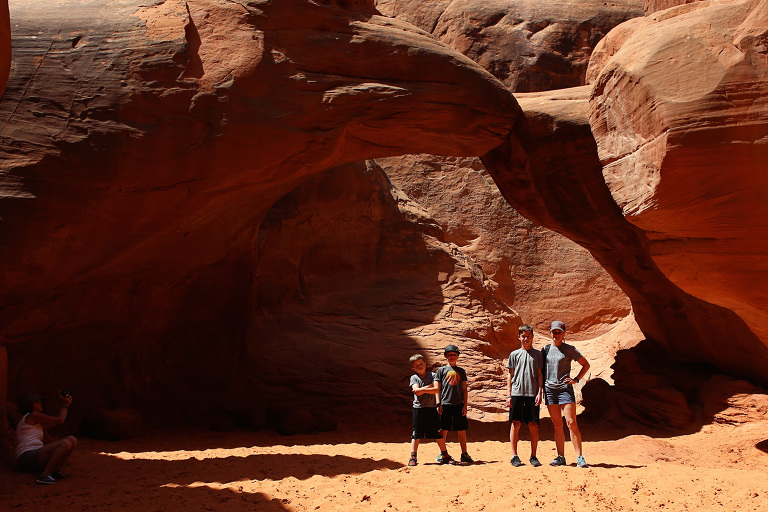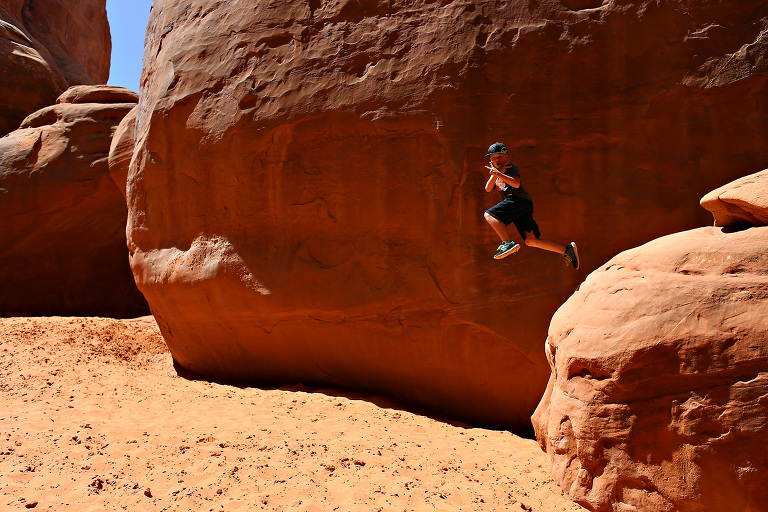 After we returned to the car, we told the girls about it and they ventured out with Chris.
The next day we hiked around Canyonlands and Moab. I really wanted to return to hike to Delicate Arch at sunset. The hike would bump us up past 12 miles in one day and the girls just did not have it in them. The boys offered to go with me to catch sunset and we were excited about a return hike with flashlights.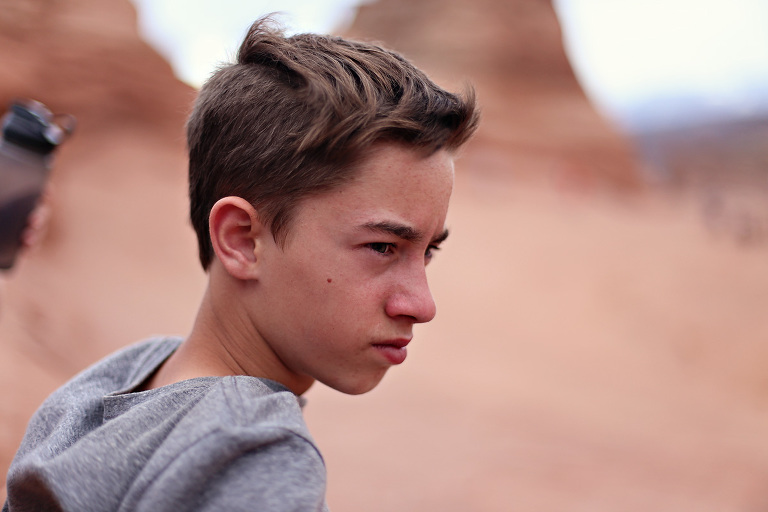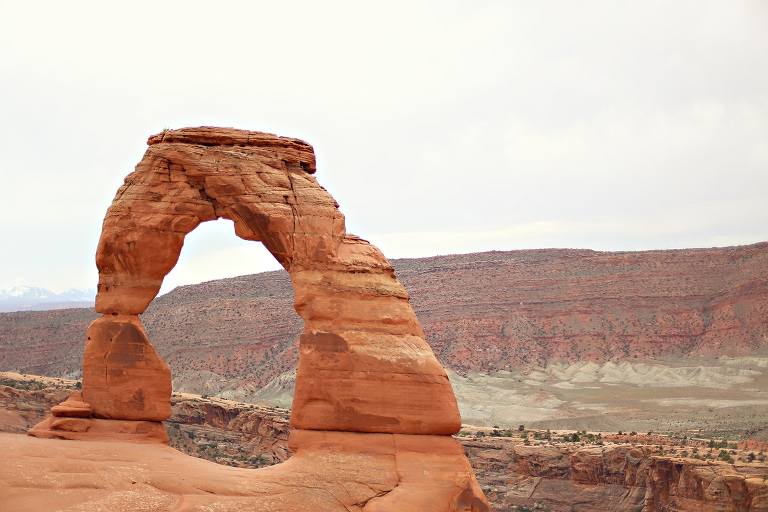 The closer we got to Delicate Arch the more intense the wind became. A storm was brewing in the distance, so we knew it was better to be safe and back to the car than chance it waiting for sunset. We attempted to take a photo of the four of us with my big camera. I would have just asked someone else, but it was so windy everyone around us was hunkering down.
Attempt 1: fail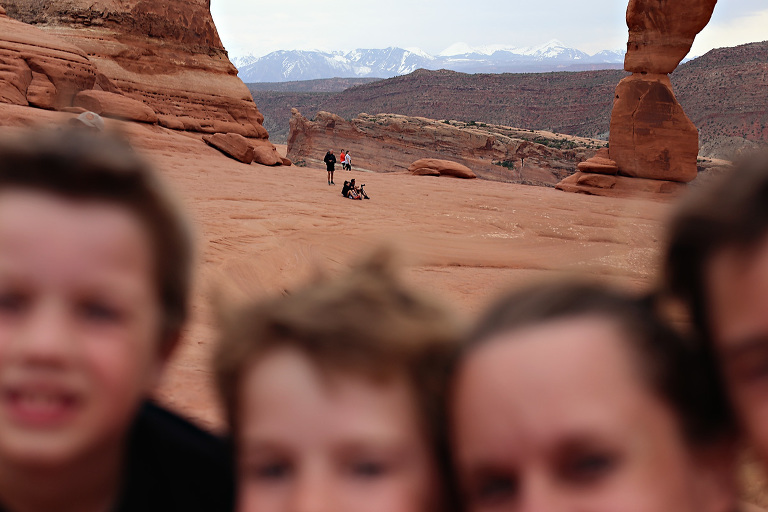 Attempt 2: where is Delicate Arch?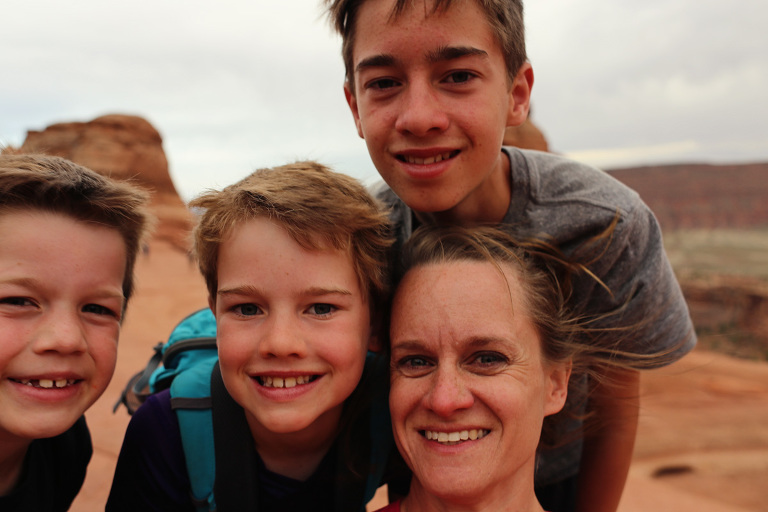 Attempt 3: well, we have the memories at least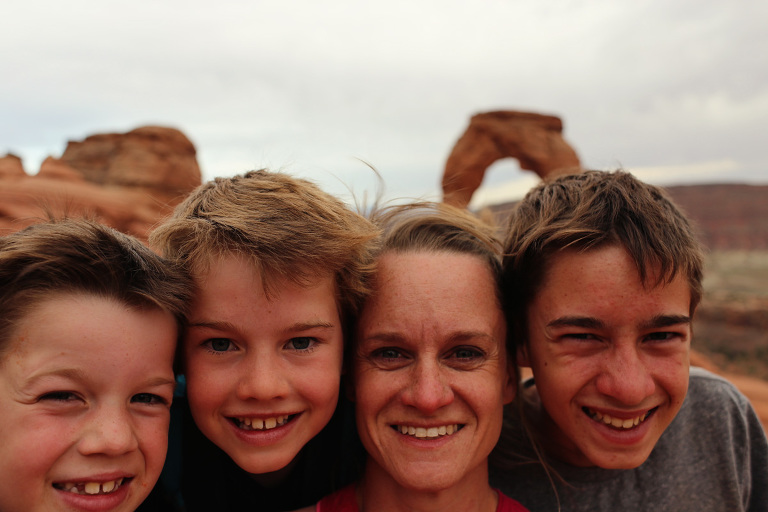 You would never know they had climbed and hiked so far that day. The whole way up and the whole way down they were making me laugh. Nearly everyone on the trail was an adult…except me with 3 boys. I am confident of everyone on the trail, I was having the most fun. There are some pretty steep parts to the trail, but nothing steeper than what we'd already done. A couple years ago I would have been nervous with them, but now they carry the water and entertain me.
Our visit to Canyonlands was super brief. We spent about 4 hours and just hit two trails: Mesa Arch and Whale Rock. The Mesa Arch trail allowed us to get close to a beautiful arch overlooking part of the park. It was breathtaking…and a super easy, short hike.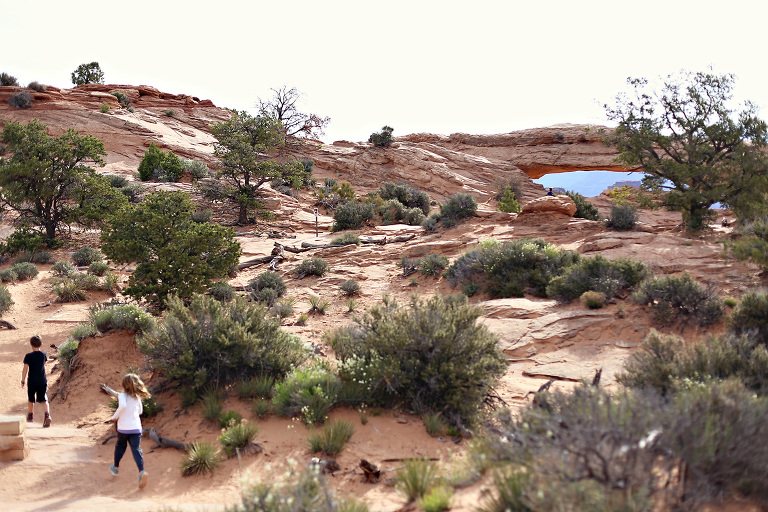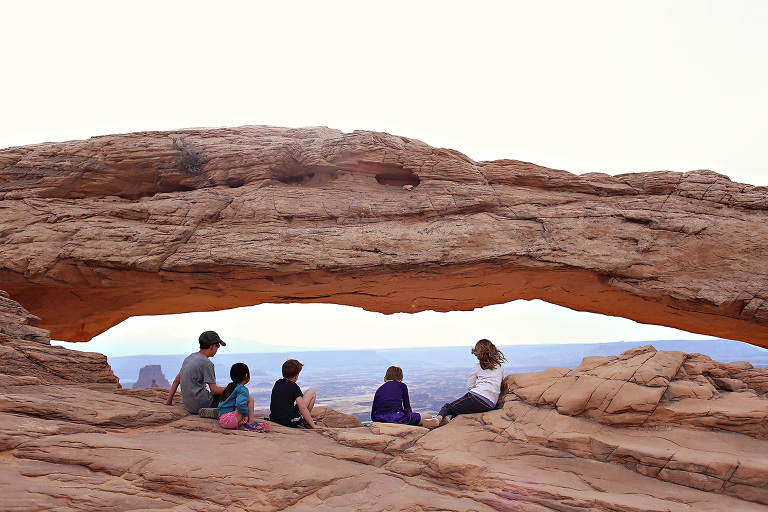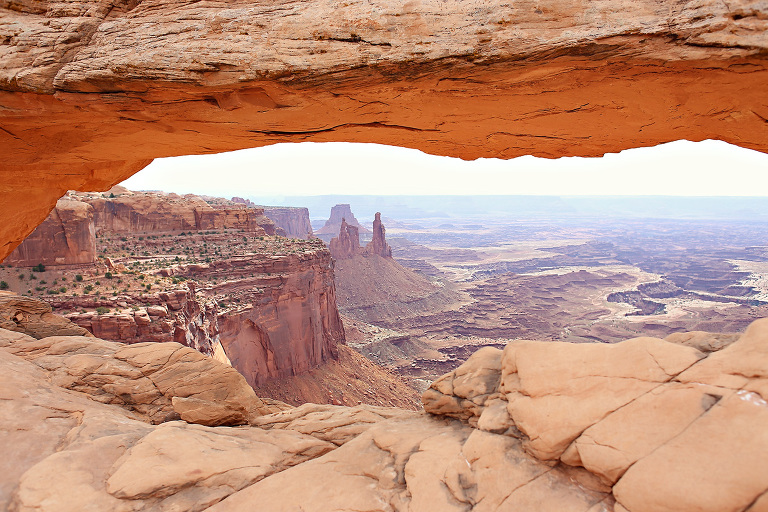 The second trail we did was Whale Rock. We love climbing and the Whale Rock trail is basically one big rock you climb to the top. It allows for a 360 view of the north area of the park. Despite being so high, it was a pretty easy and fast climb too.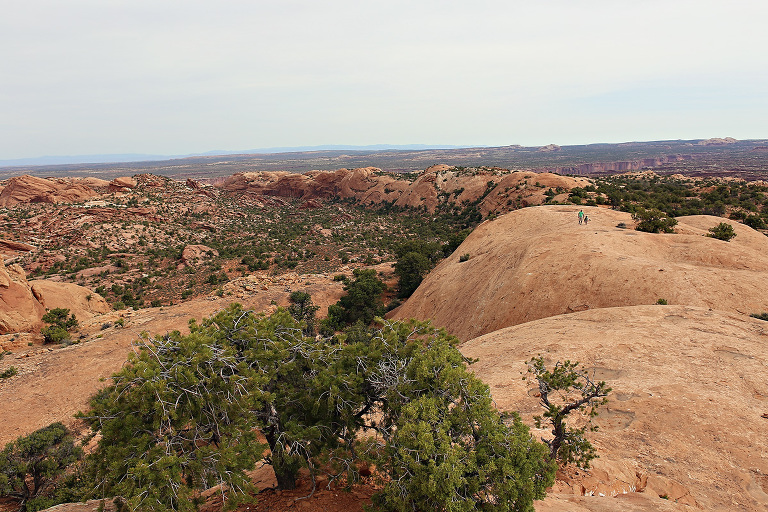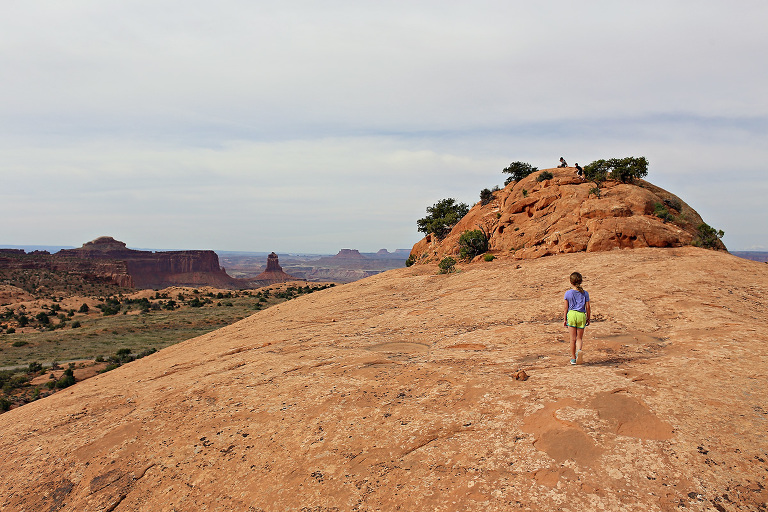 The rock is kind of a bunch of big rocks all connected…you can go from one to the next. We bribe the girls with snacks. Lots of snacks.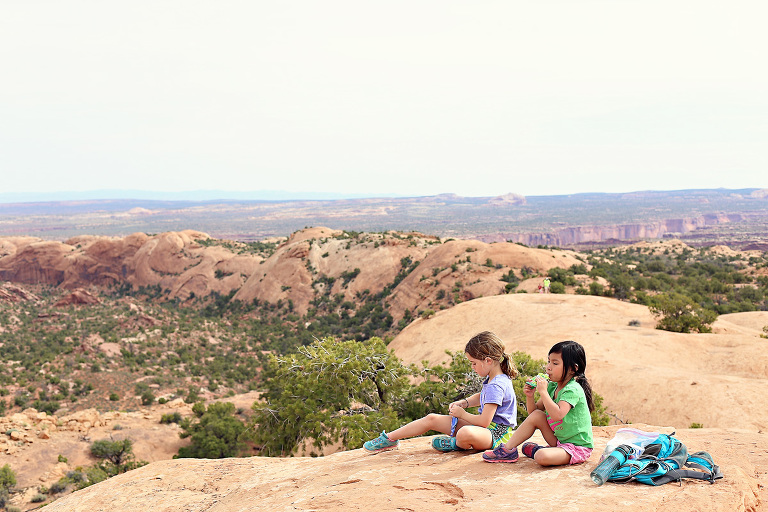 We chose to shorten our time in both parks in order to do a much longer hike in Moab (I'll post tomorrow). I think you could easily spend days in both parks. Canyonlands is HUGE…you could spend months there. The sun and heat was a big factor for hiking in both parks. We did not get up early enough to take advantage of cooler temps. If we were to go back, I would plan more hiking at dawn.
I have been asked a lot of questions related to our trip (camera gear, food, itinerary, etc.) on Instagram. I am working on a post for later this week that answers all those logistical questions. If you have a question, ask below and I'll try to answer it in that Travel FAQ post!