One of my favorite hikes turned out to be a total mistake! While we camped near Bryce Canyon, we took a day to venture over to Grand Staircase-Escalante National Monument. A few people suggested a hike to Peek-a-Boo and Spooky Gulch Slot canyons. We really didn't know what to expect other than it was far from civilization and we could expect no crowds. If you know me – if there is a mention of 'no crowds' I am all in, I really don't care what it is. No crowds. Open spaces. I'm already having a good day before I get there.
Our internet was pretty spotty and we didn't get good information on the canyons or details of what to expect, so we went in a little blindly. I'm including lots of pictures in this post in case someone else journeys out there. We drove into the town of Escalante (super cute) and stopped at a gas station to ask a few details. All we really got was head down Hole-in-the-Rock Road and turn off on Dry Fork Road. With pretty much only that we headed south….down Hole-in-the-Rock road.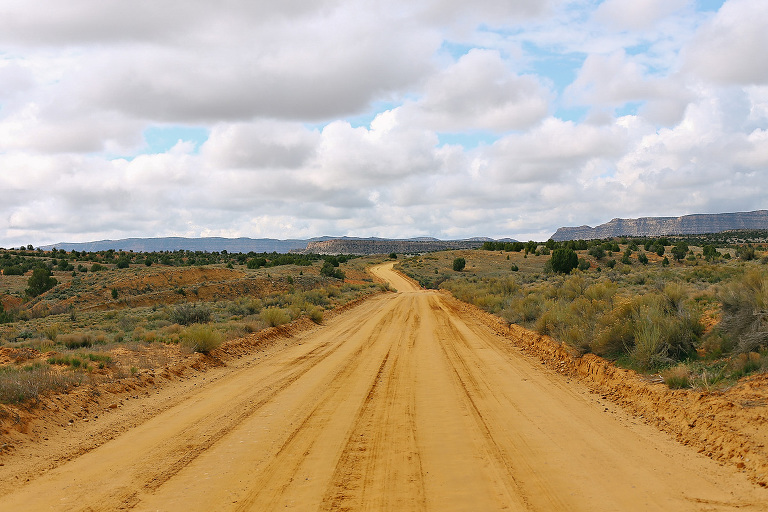 Nothing but bike trails and a dirt road. I was getting giddy at the sight of nothingness in regards to modern civilization. It is about 26 miles to the Dry Fork Turnoff. I would recommend watching your mileage when you begin down the road. We didn't and started to get worried we missed the turn-off.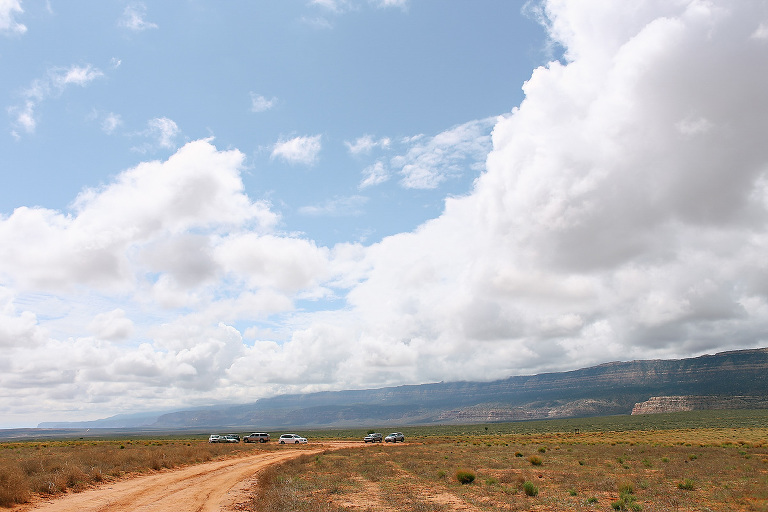 There is a parking area shortly after the turn-off. The sign stating that high clearance vehicles can keep going down the dirt path was knocked down. So, we walked 1.7 miles just to get to the trailhead. If you have a high clearance vehicle and the road is dry, I would keep driving it will save you a long walk!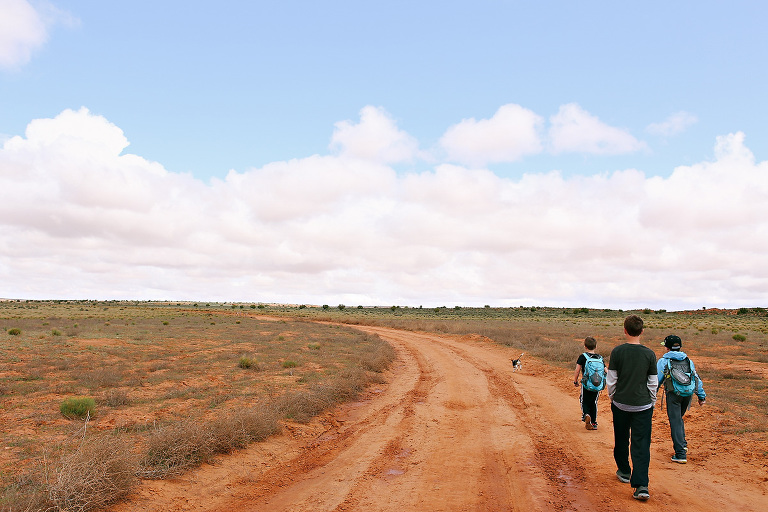 Eventually we made it to the trailhead and the second parking area.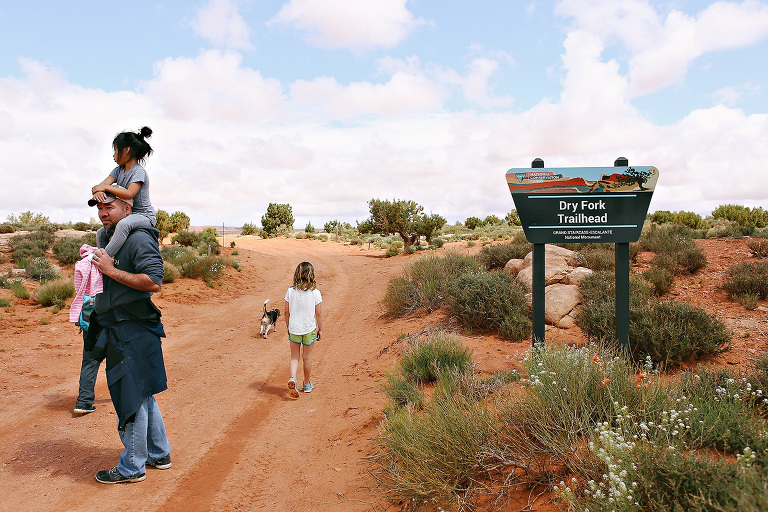 Overlooking where we were about to hike to…there are 3 slot canyons down there. It is really hard to see them if you don't know what you are looking for.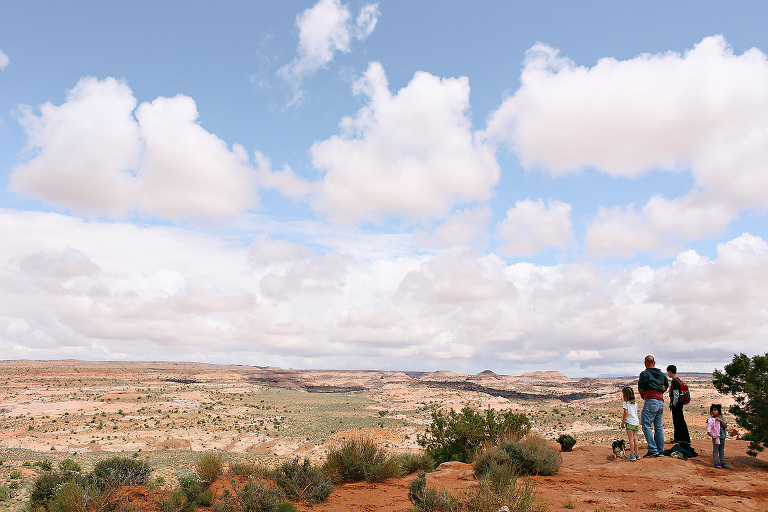 The trail is marked by cairns. There are no signs telling you which way to go. My kids loved trying to be the first to spot the next cairn.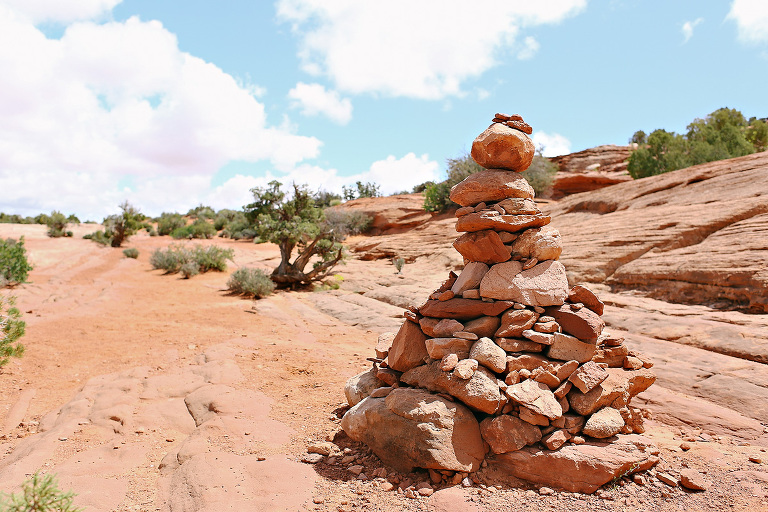 There is a bit of a hike down to the slot canyons. It was not difficult for us, but if you aren't a fan of climbing down and back up, it could be a bit much.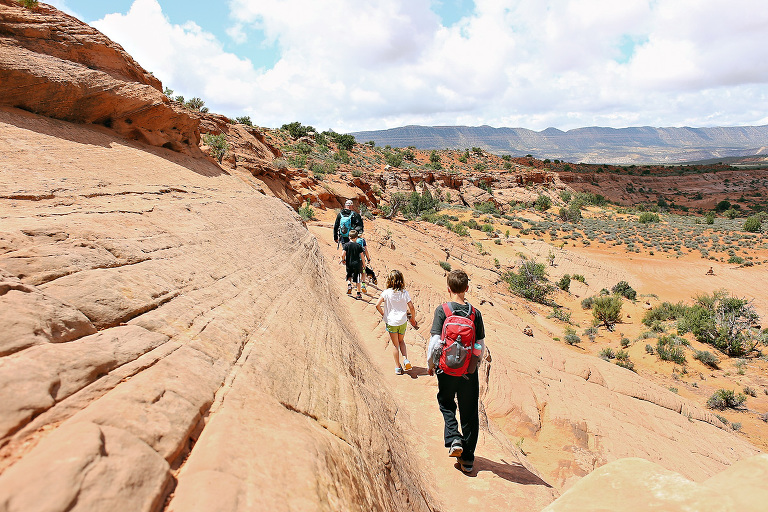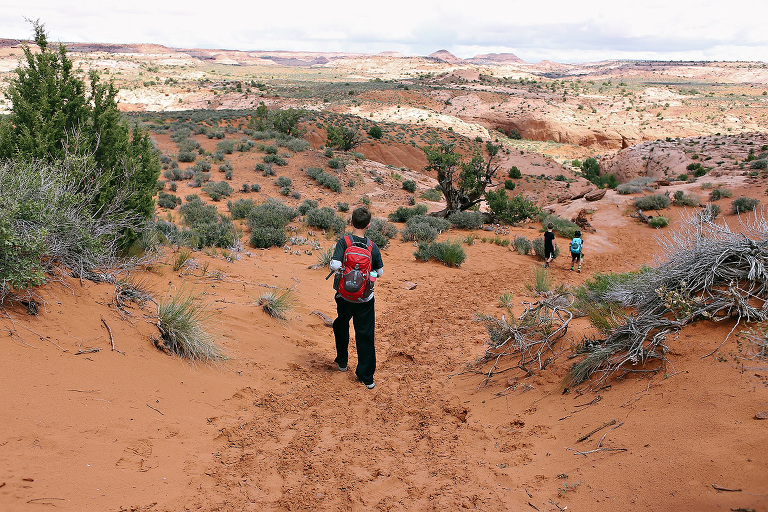 Before we reached the canyons, we came upon the canyon log. The kids had fun leaving their names and messages documenting their adventure.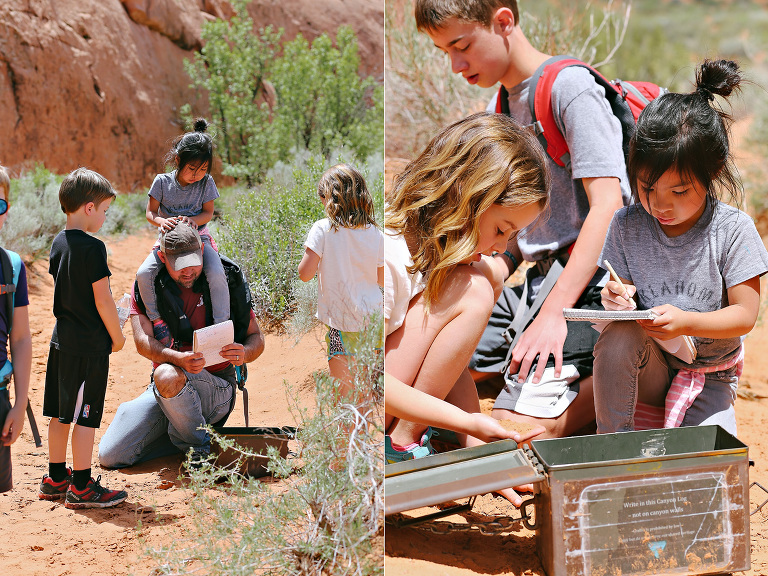 This is the entrance to the Dry Fork Narrows. We thought we were entering Peek-a-Boo canyon, but didn't learn we were in the wrong canyon until later in the day! I'm glad we didn't know because it turned out to be the perfect hike for our crew.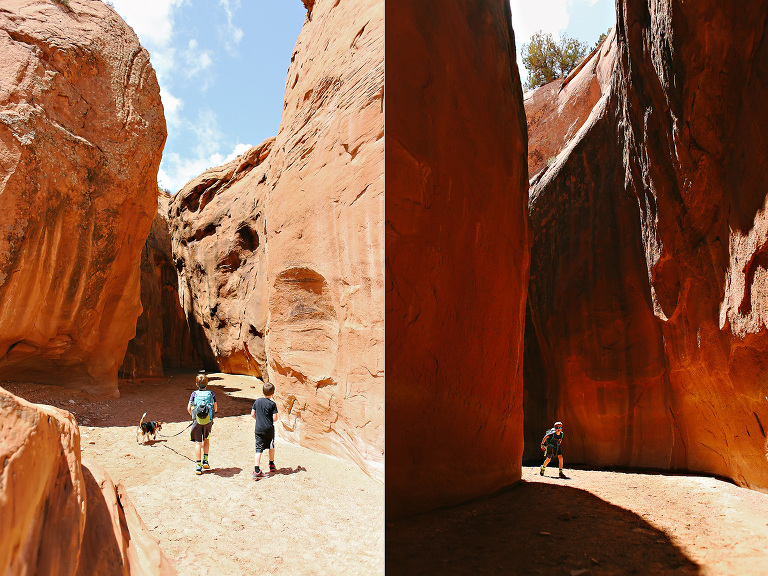 Climbing, jumping, exploring, being on an adventure is encouraged and we took that to heart.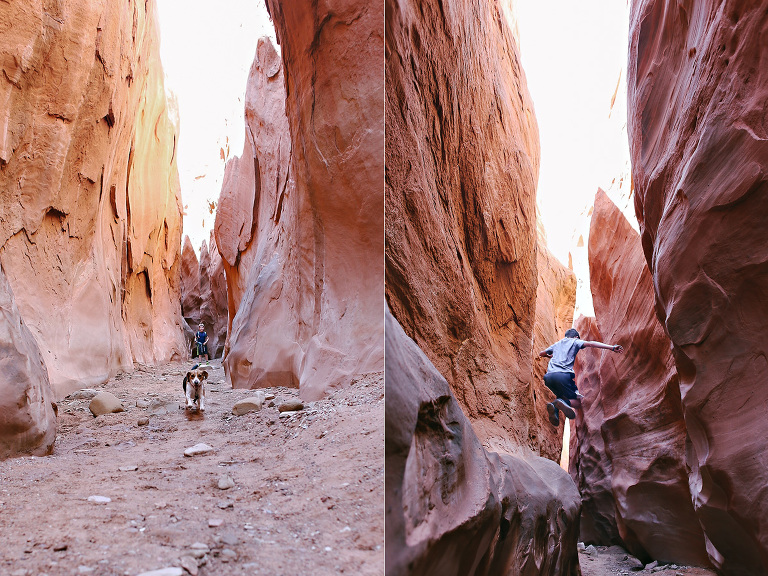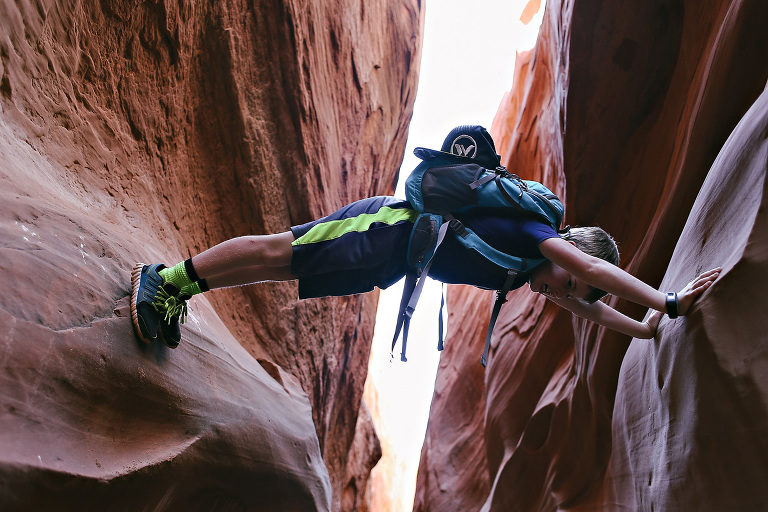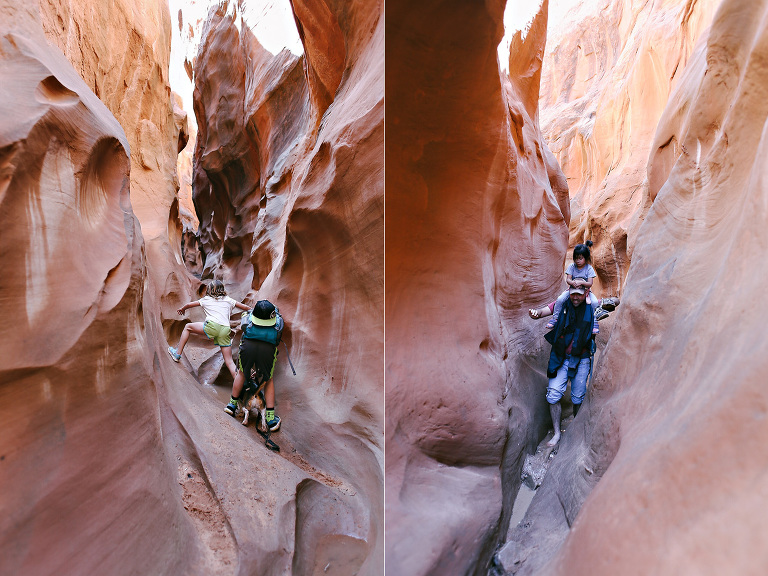 There was some rain the day before, so the canyon had a few shallow pools of water. My favorite part of the hike was listening to the kids squeal and laugh as they went through the cold water. I used my mad wall scaling skills to avoid getting wet.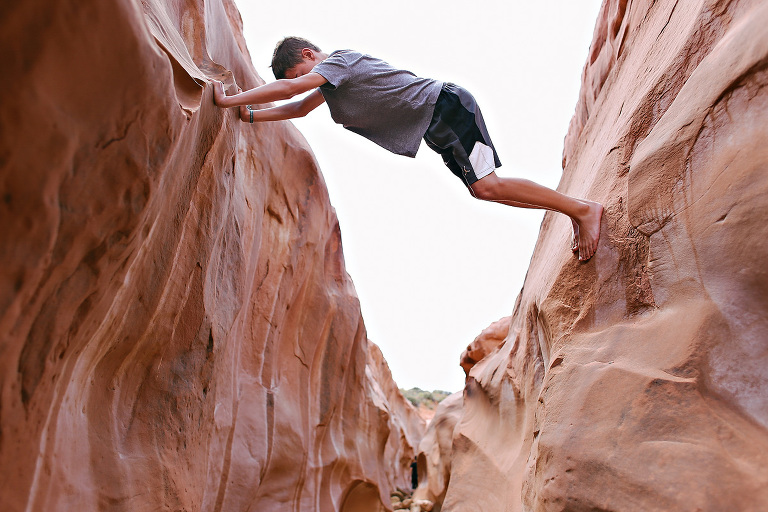 The Dry Fork Narrows is the longest of the canyons. Once we came out of the canyon we took some shade shelter (following foot trails) for a snack and to take in the beauty of our surroundings. It was spectacular! Peek-A-Boo and Spooky Gulch can be hiked in a loop. Since we thought we had just come out of Peek-A-Boo canyon, we began our hike looking for the entrance to Spooky Gulch.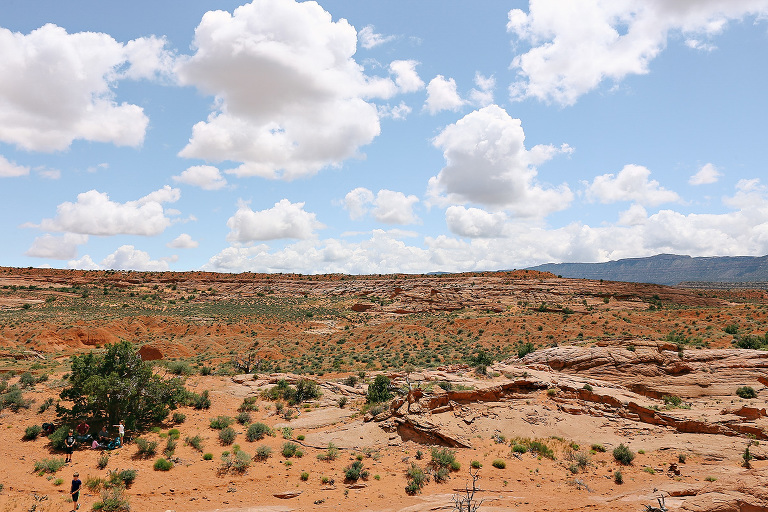 On the trail headed back towards the trailhead we met up with two fellow hikers. They had a MAP! We then learned we had been hiking in the 'wrong' canyon. Chris snapped a photo of their map. It isn't the best quality, but I am including it here for those of you that venture to the canyons.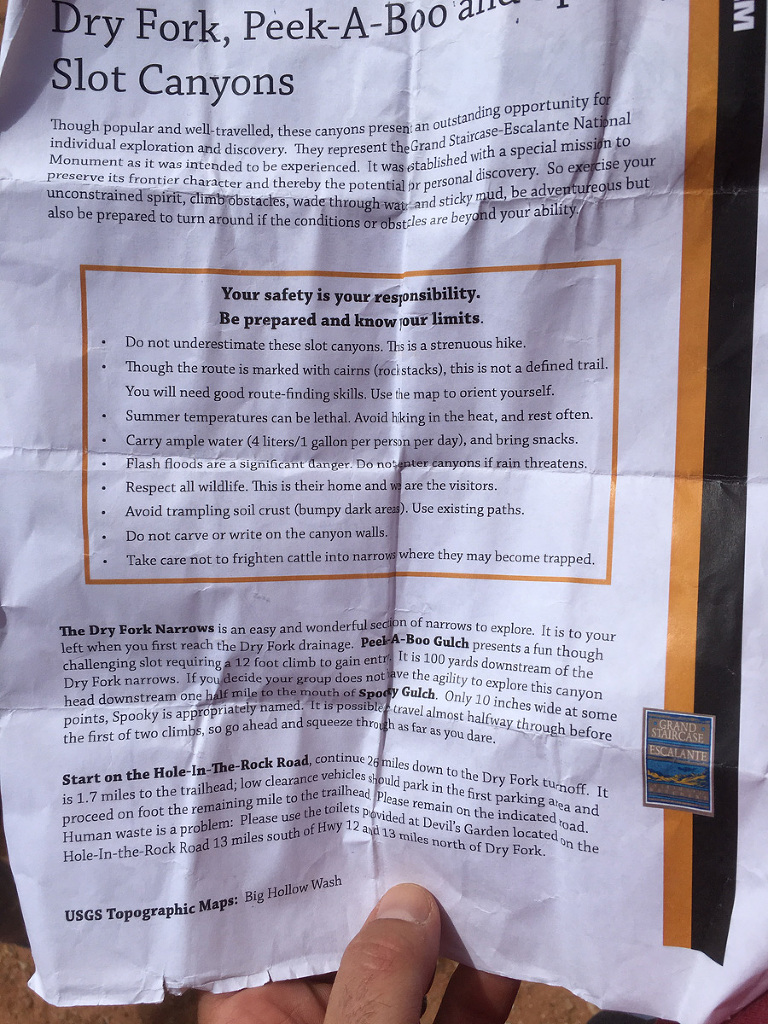 You can see in the image below the Dry Fork trail is much longer than the other two. It was so perfect for us though. The kids could climb and our youngest ones could easily keep up too. We'd like to try the other two someday.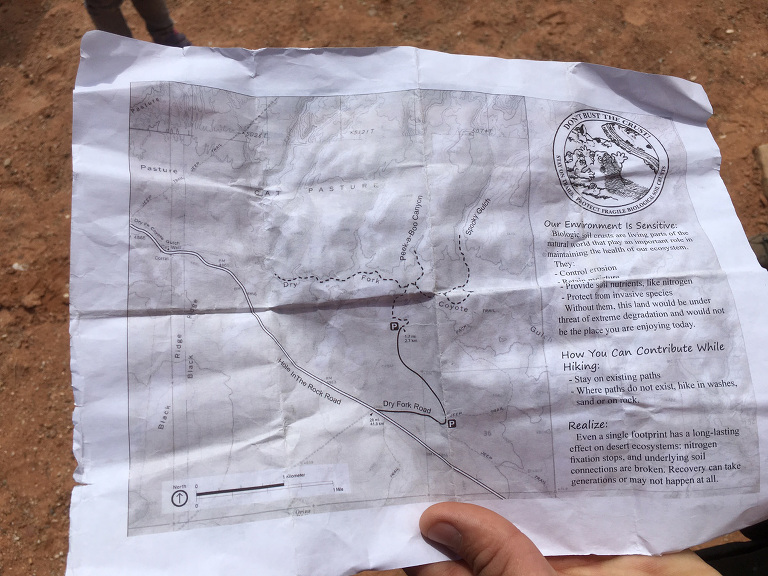 The photo on the right is the entrance to Peek-A-Boo canyon. We walked over and climbed up the 12 foot entrance. We thought we would go ahead and do this hike too, but once we got inside the canyon was pretty full of water. The boys would have enjoyed it, but the water was too cold for the girls..and me!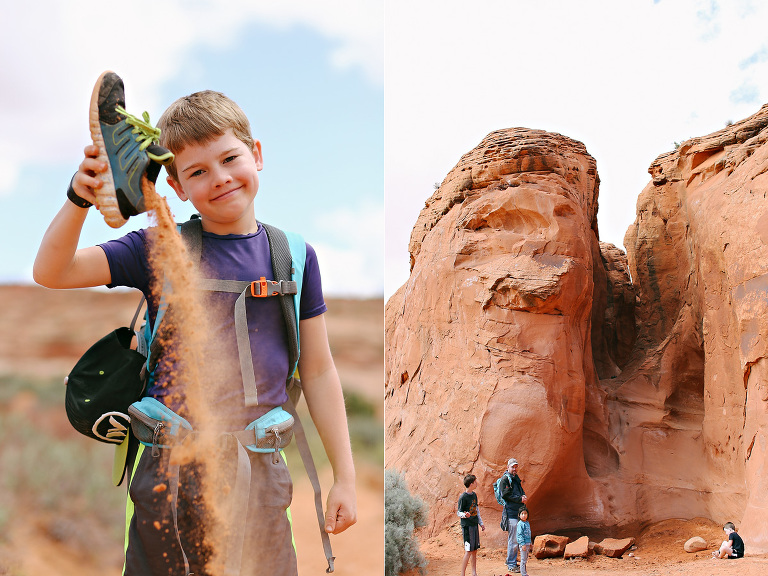 Back at the trailhead. Chris made the 1.7 mile journey back to get the car we the rest of us waited…a little beat, but pretty grateful for an amazing day.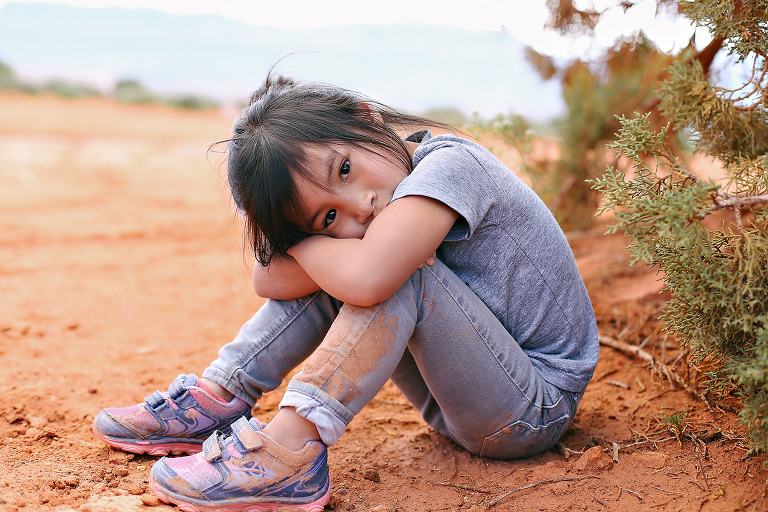 If you plan on heading out there, it took us a several hours. I'd plan a full day, so you can take your time and really enjoy it all. We went back to Escalante and ate at Nemos Drive-Thru (great peanut butter shake!). The burgers and fries were very welcomed by my hungry crew of hikers. If I had to choose between Antelope Canyon and these canyons, I would choose these…but I like more strenuous hikes and less people. If you are looking for an easier way to experience a picturesque canyon without strenuous hiking, I would recommend Antelope canyon.
Now I just need to get back…and camp out in a tent in Grand-Staircase Escalante and hike Peek-A-Boo!