I'm still trying to wrap my mind around it. I stood there on the edge. I stared. I blinked once. Twice. Over and over. Still days later, I can't wrap my mind around what I saw. I'm not the only one. Surrounded by so many people and more languages than I could count, we all were trying to take it in. To grasp the rugged beauty stretching before us.
The Grand Canyon. (that is Chris on the left)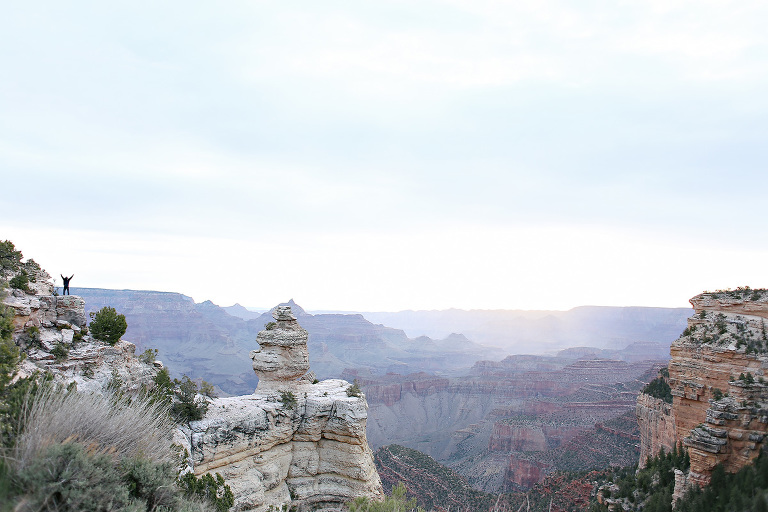 We woke the kids up at 4:30am, bundled them in blankets and headed to a lookout to watch the sunrise. The kids know sunrise is my favorite time of day and my favorite time to experience a new place. I don't ask them often to join me, but they are always up for it when I do. On this particular day it was bitter cold. They are troopers.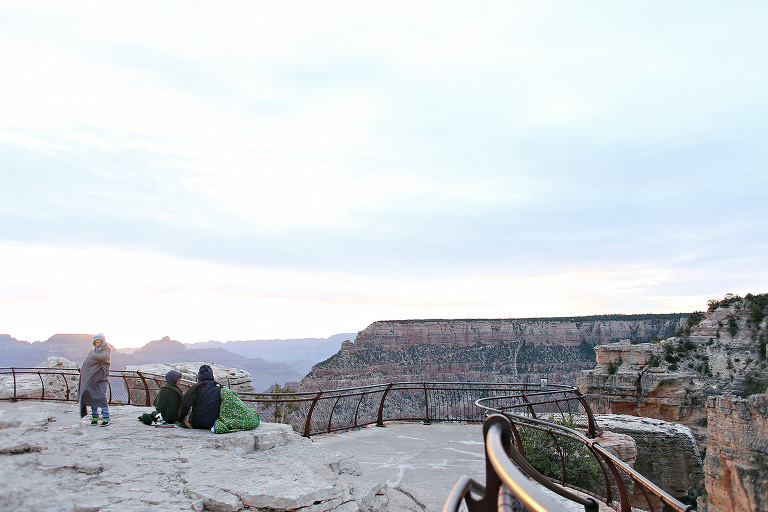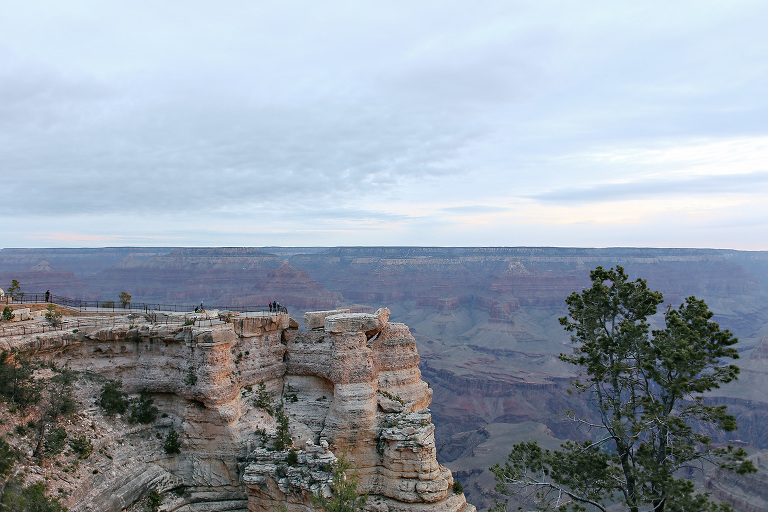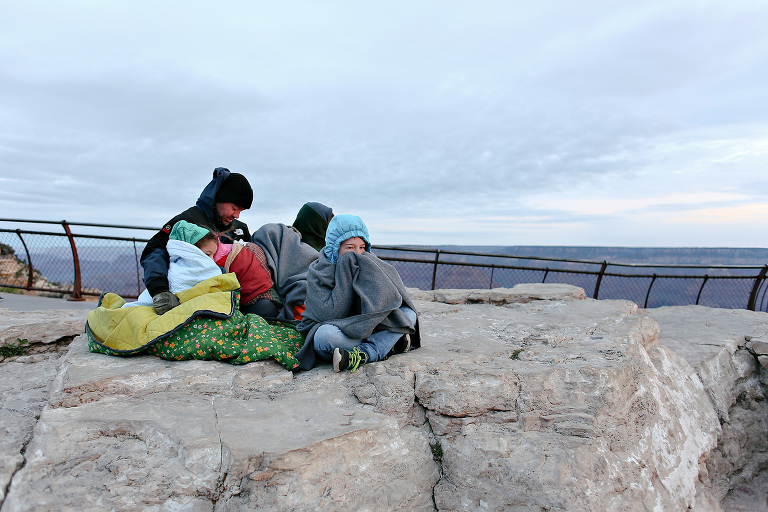 After getting some more sleep and warming up our cold bones, we headed back to hike in the canyon.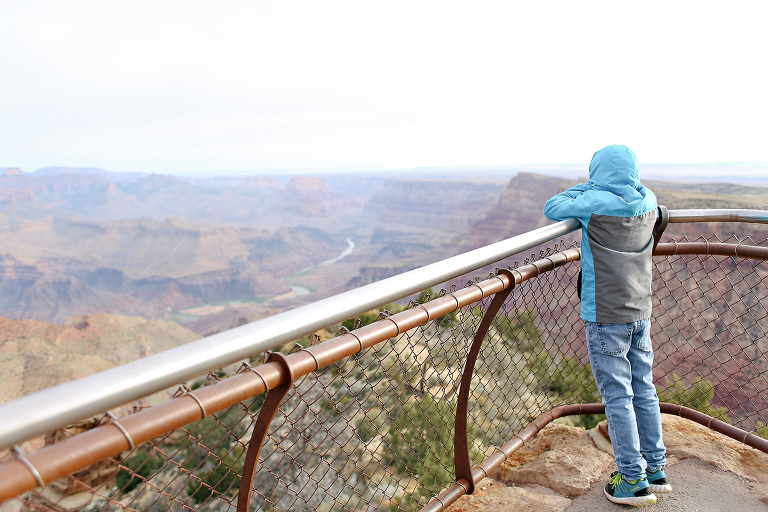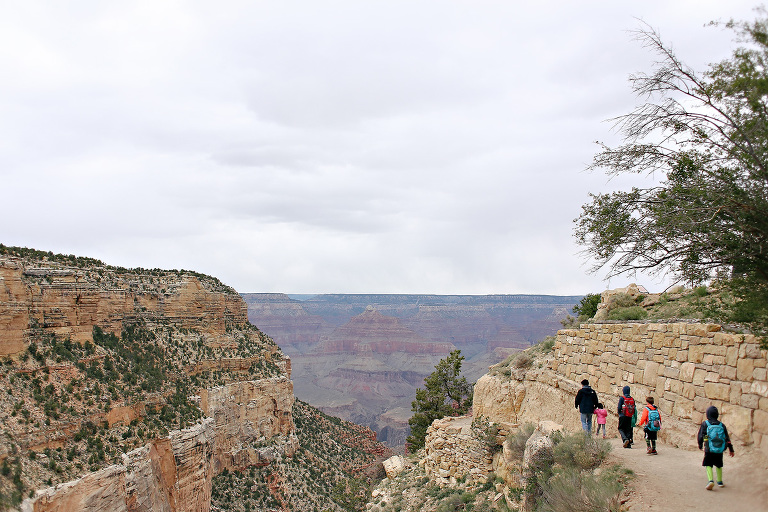 Around a bend we came across hard working mules. It was incredibly cool until we asked what they were carrying – empty coolers and trash left behind in the canyon. We are always telling the kids to leave no trace, what you pack in – you pack out, etc. Seeing this come up the trail made a huge impact and brought to life why it is so important to leave no trace.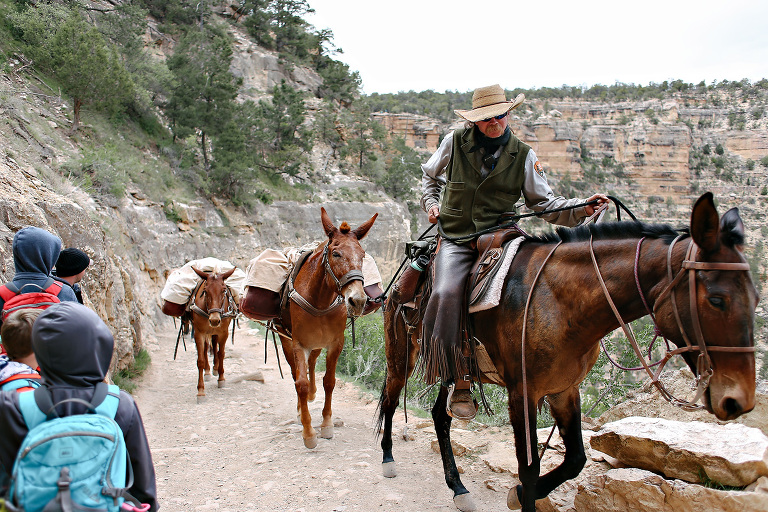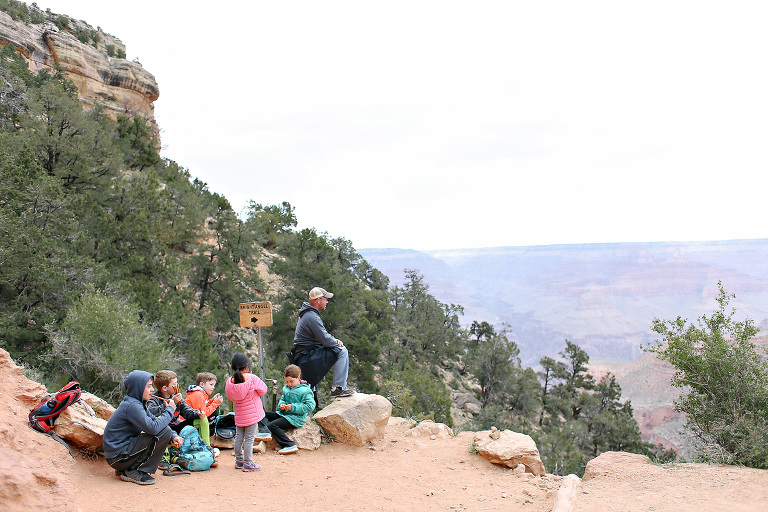 I switched between my 28mm, 50mm, and 85mm lenses while we hiked. I have a little backpack that carries all the lenses. It also holds my camera, but I typically just hike with my camera in my hand. I have primarily been using my 28mm lens as we hike in the national parks – so much to capture, I like having my wide angle. I'm trying to remind myself to get a few close ups of the kids with my 85mm too. The 50mm is getting the least amount of use.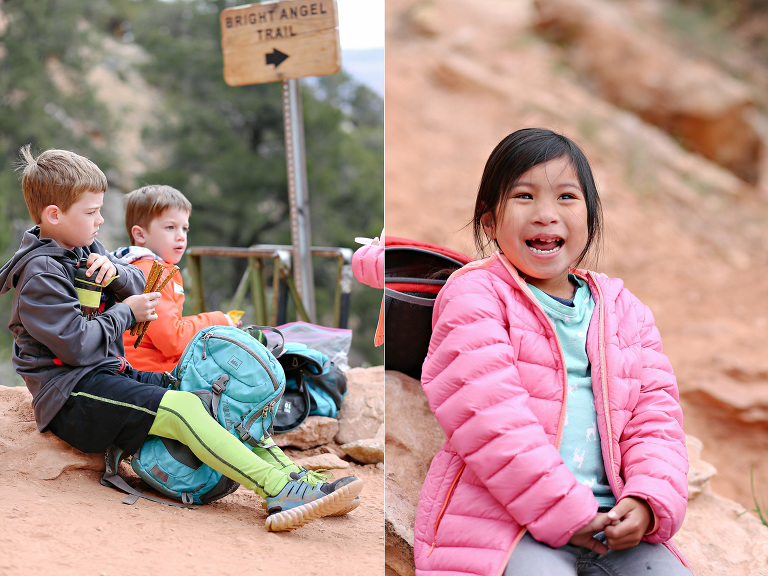 I kept telling him not to hike with a pretzel rod hanging out of his mouth because he could fall and impel himself. He pointed out I was more worried about him getting hurt with a pretzel than I was him falling off a ledge. He was right. Don't hike with pretzel rods.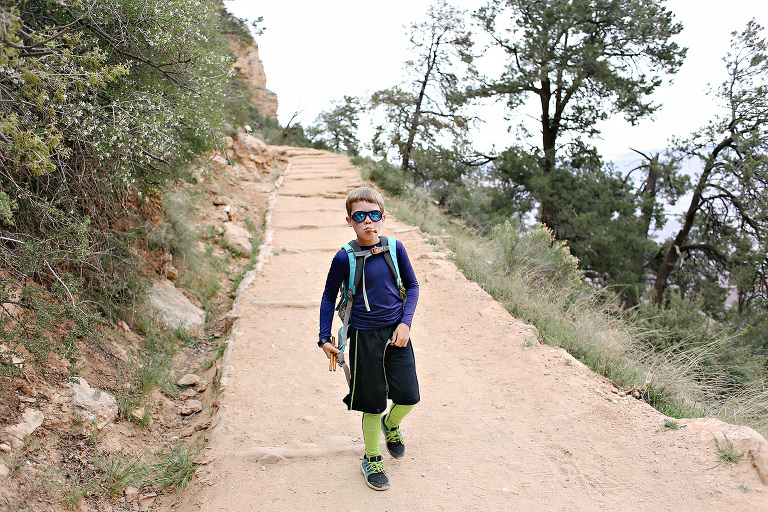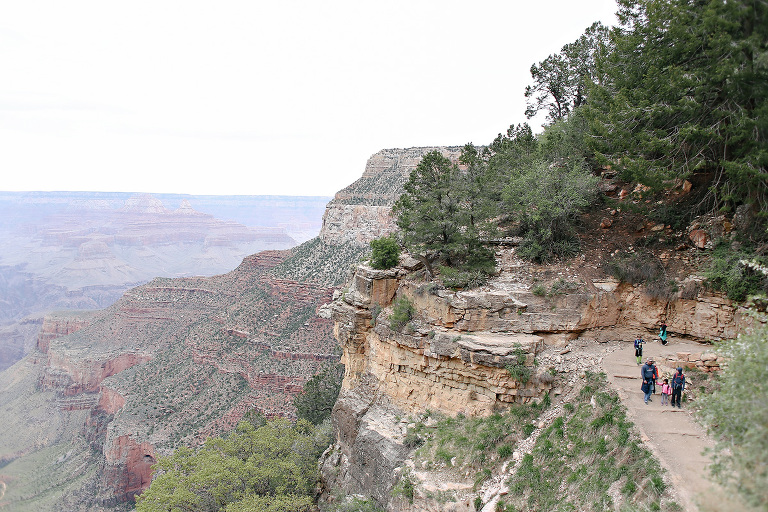 I spent most of my time hiking behind the boys and enjoying the view – both the canyon and the fun of big kids.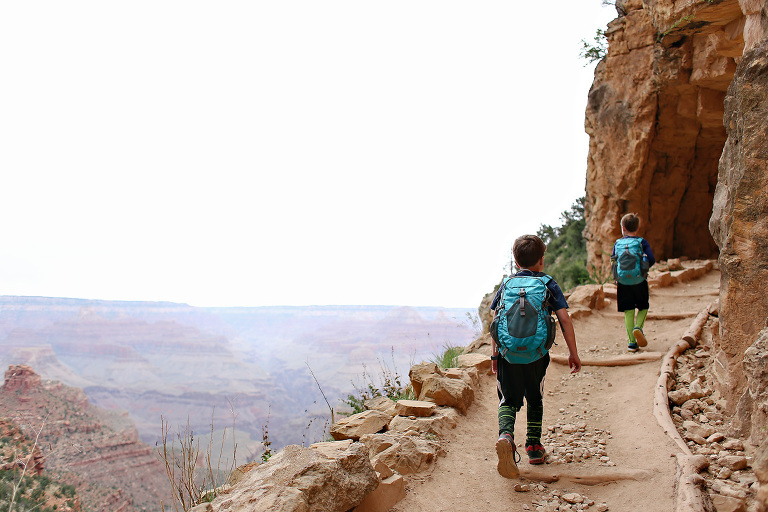 Goofballs. They were providing constant entertainment for me and fellow hikers. Did I mention hiking with big kids is pretty awesome? Chris and I would pass parents with babies in packs on their backs and we'd give each other a little fist pump. We did the baby-on-my-back hiking for a decade. Fist pumps all around for hiking with big kids!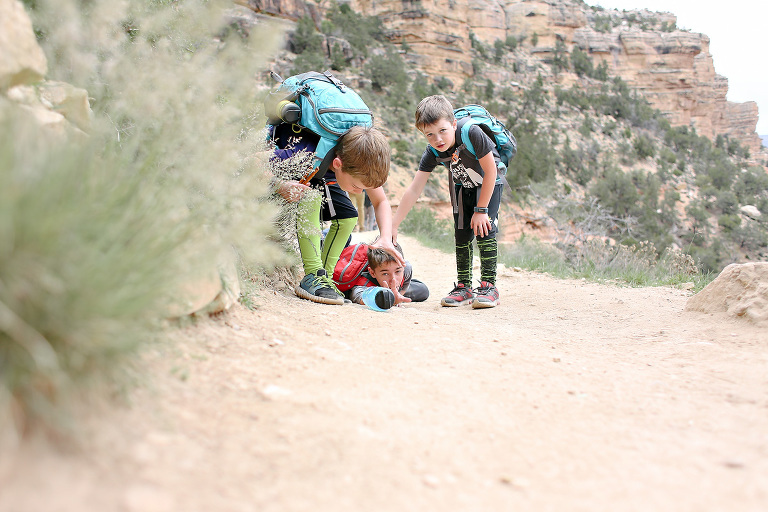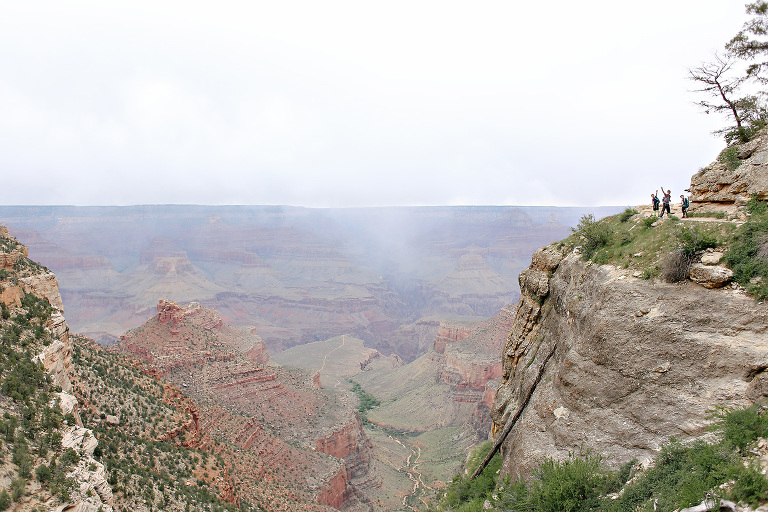 This girl was determined to hike on her own. Chris carried her a couple times just to pick up the pace, but she would promptly demand to be put back down. She let us know she was a "real hiker, not a fake hiker." We have no idea what a fake hiker is, but we know she is not one.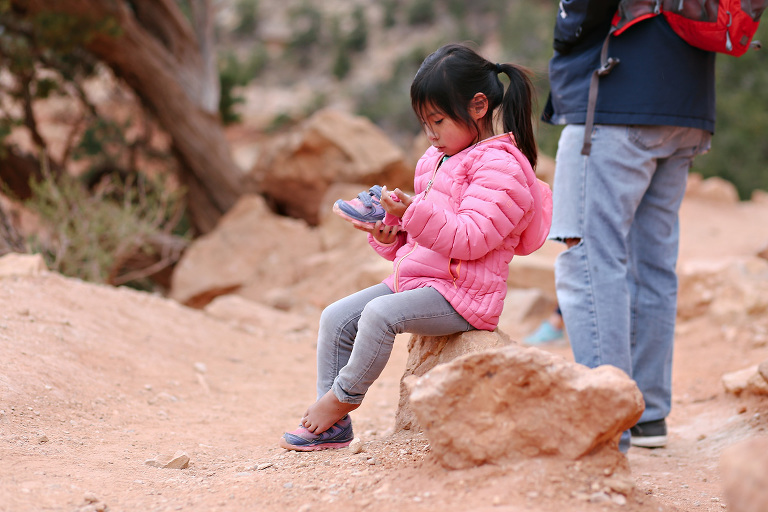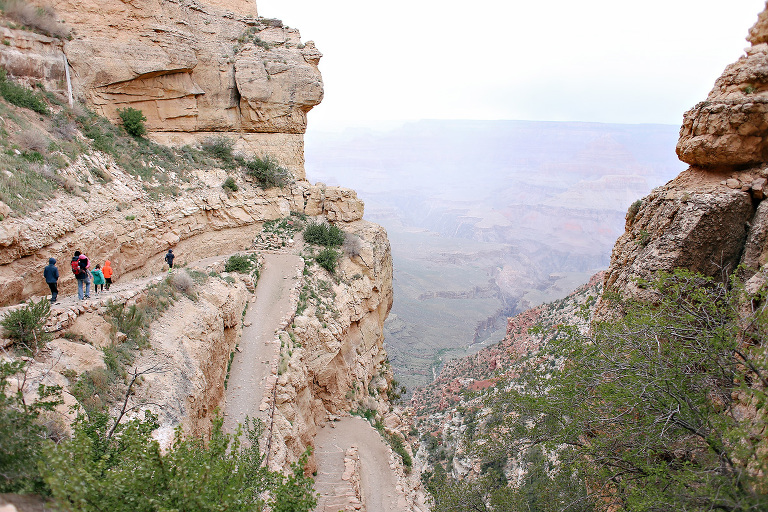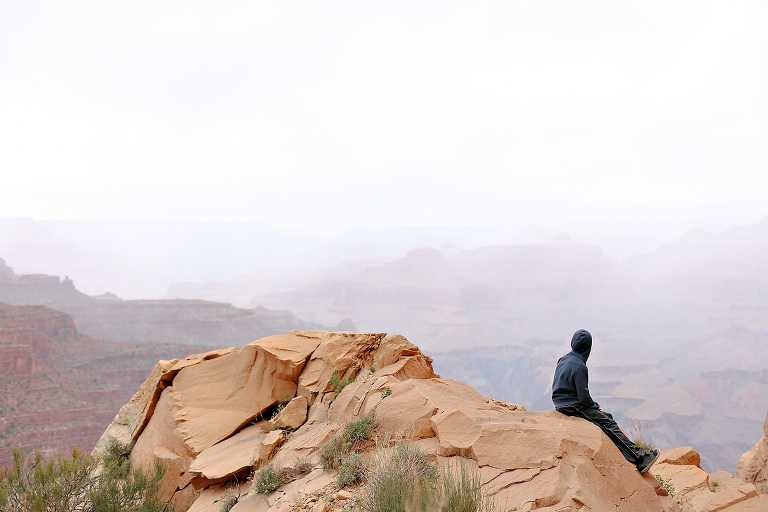 It snowed on our last day…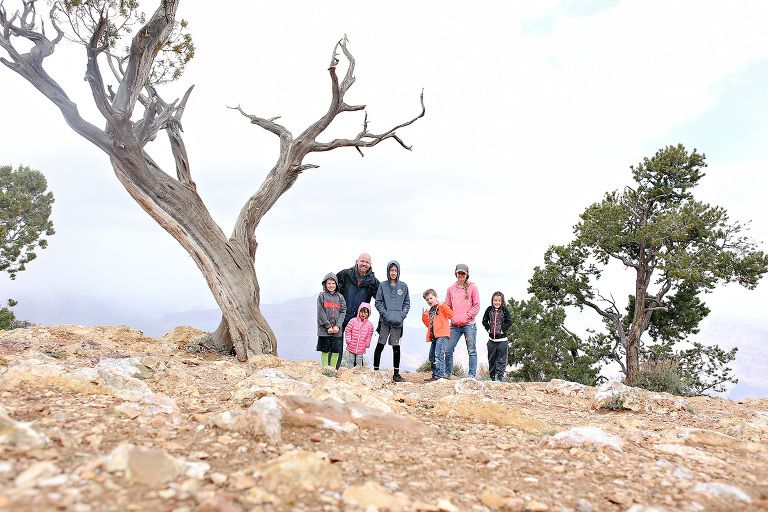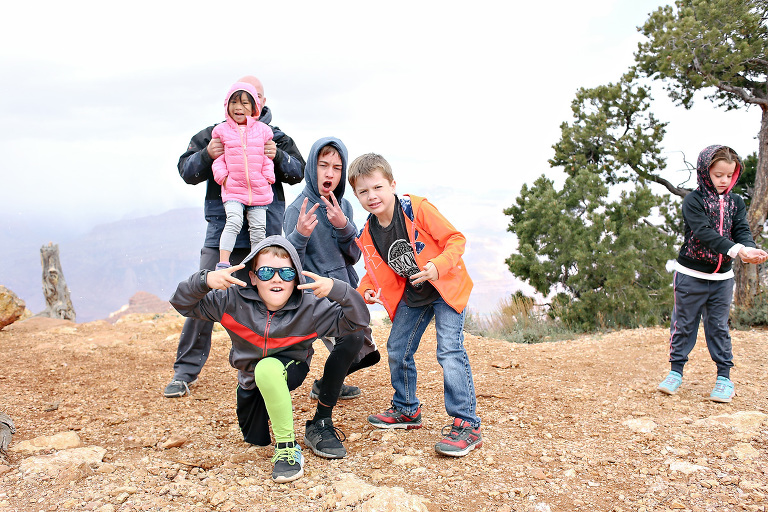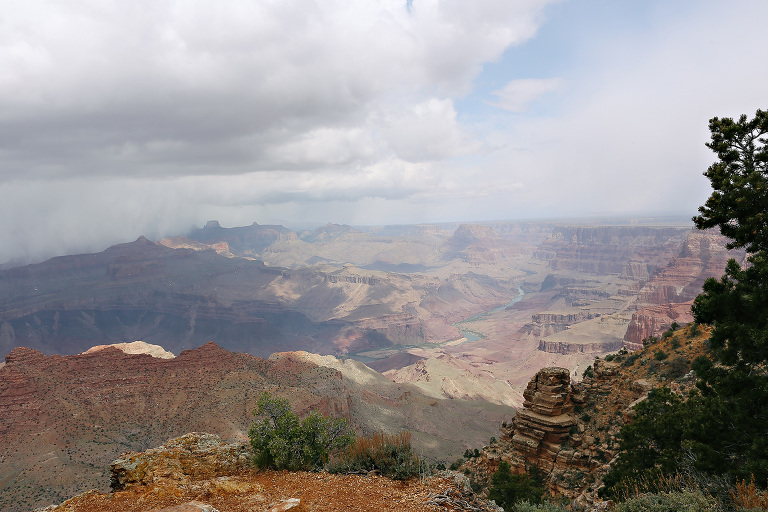 Two days was enough for now, but not enough for good. We'll go back when the girls are bigger. We'll put our names in the pot for permits. We'll hike down all the way. We'll camp by the Colorado River. We'll get on that same river. At least those are the dreams my boys walked away with…Chris and I will do our best to make those newly planted dreams a reality one day.
For those visiting the Grand Canyon for a couple days, here are my thoughts:
Mather Point is crazy at sunrise. I would drive up a little to one of the pull-outs on the way to the Desert View Visitor Center. I'd probably try one of these for sunset too. We went by the park ranger recommendation (Mather Point) and it was way too crowded for me. You can't tell that in my pictures because I go to lengths to avoid extra people in my pics. The pull-outs to Desert View provided stunning views too.
Bright Angel Trail was a fun one. It is steep in parts if that makes you nervous. We just hiked until we felt like turning around.
Ooh-Ahh Point on South Kaibab Trail was a favorite of ours too. Pretty steep too.
If our girls were older – we would have gone further on all the trails. The boys really wanted to do an all day hike to the bottom of the canyon. We hope to come back and do the North Rim to South Rim hike.
We were only there for 2 days, so I know I only have a taste. For those of you that have visited before, please leave your thoughts and favorites in the comment section!