This weekend marks another birthday in our family. My youngest son will turn 8. I keep thinking about how different it is compared to when Corbett turned the same age. 8 year old boys were a bit terrifying back then. I had no idea how incredibly awesome 8 year olds are – not a clue.
I started reading a couple posts from around the time Corbett turned 8. I really need to go back and read old posts again. It was fun to see my deep voiced 12 year old as a little guy again.
The post below was originally posted on January 9, 2012…



My first born.
My first son.
My introduction to the wonderful world of boys.
He doesn't make a lot of blog appearances because he's older and I want to be sensitive to that. His stories are becoming his to share. I asked him if I could talk about him today, he said, "sure".
I grew up with a sister. This little bundle of boy was new and strange for me. I remember holding him and thinking, "he's a baby..I can do baby boy. At least he is not eight." I don't know why I landed on "8", but I did. Baby boys, toddler boys, little boys and even teenage boys did not scare me. Eight year old boys, however, were a different world. I couldn't think of a single eight year old boy I had ever known. That was the age I stopped being friends with boys when I was younger. That was the age boys got 'yucky' and I had no interest in them for several more years.
So every birthday, I keep thinking "at least he's not eight".


His toddler years were rough. I am sure part had to do with my lack of experience as a mom, but a lot had to do with his personality. Strong willed. Independent. Confident. Determined. I would cry often wondering if I was a terrible mom. I felt like all I did was correct him and discipline. I remember emailing a close friend telling her I was struggling with knowing what to do with him. I needed to break his will, but feared breaking his spirit. I wondered if he'd ever like me and if I'd ever get to do anything with him that didn't involve a battle of the wills. It felt like those days would never end.

And yet, those days did end. I am not even sure when it happened, but it was many years ago. He's still so young…I know. But he is so old too.
He is a thinker. He doesn't make rash decisions. He's methodical and confident.


He's been saving his money nearly all his life. Every now and then he'll spend just a bit, but he usually just saves it. Not for any one thing, just to save it. Usually once a week I'll find him counting it and reorganizing it. It is just something he does. He has had to upgrade to bigger money jars numerous times.
About a week ago, I found him dividing his money into 2 piles. He had emptied his jar completely and was slowly and precisely creating two large piles. I didn't ask questions, just went on doing my thing. A while later he came to me with two bags full of coins and bills. He labeled the bags "Africa" and "China". He told me he wanted to send all his money to those countries, but wasn't sure exactly how he wanted those countries to spend it. His best friend is from Africa. His youngest sibling is in China.
I smiled. We talked about all the options I knew existed.

The next day we drove to school and I began talking about how I was proud of him, but wanted him to understand that it is okay to have money. He could give some and keep some…he didn't have to give it ALL away. He had been saving for so long. Working so hard. I wanted him to know he could do whatever he wanted. From the backseat he said, "Mommy, I don't NEED anything. There are lots of kids that DON'T HAVE anything."
I focused on driving. Speechless. How do I respond to that? How do I argue with that?
I told him he was right and I would support him in whatever he wanted to do with his money.
When I picked him up from school he had a smile as big as Texas. "I know what I want to do with the Africa money!" he said. He told me about his good friend K and how her mom was getting ready to go back to Africa to bring home K's big brothers (they are adopting). He said K's mom had met some boys that lived on the streets and had no families or possessions. She was going to go back and give them a place to take a clean bath, eat a fresh meal and provide them each with a new outfit and shoes. His sentences were fast and excited. He asked how many outfits I thought he could buy with his Africa money. His joy could not be contained.


In a few short weeks, he will turn the dreaded age of "8". Only, it isn't so bad now that I am close to it. Sure it is still an awkward age in many ways. He still pushes the limits with me and our similar personalities often leave us at odds with each other. Sometimes he hits with a light saber too hard and doesn't share the Legos. He's not always quick to obey and he is still learning what it means to respect authority. He's just a typical kid. But, he is a typical kid with an empty money jar and a full heart…who teaches me often more than I teach him.
Being a parent is exhausting. It is hard. I question every day if I am messing my kids up. But every now and then I get a glimpse into the people they are becoming. He'll be 8 soon. He still has that strong will and strong spirit. And I get to have a front row seat to watch him grow into a man….my heart is full.
And it is looking like I'm not the only girl in this house that thinks he is pretty great…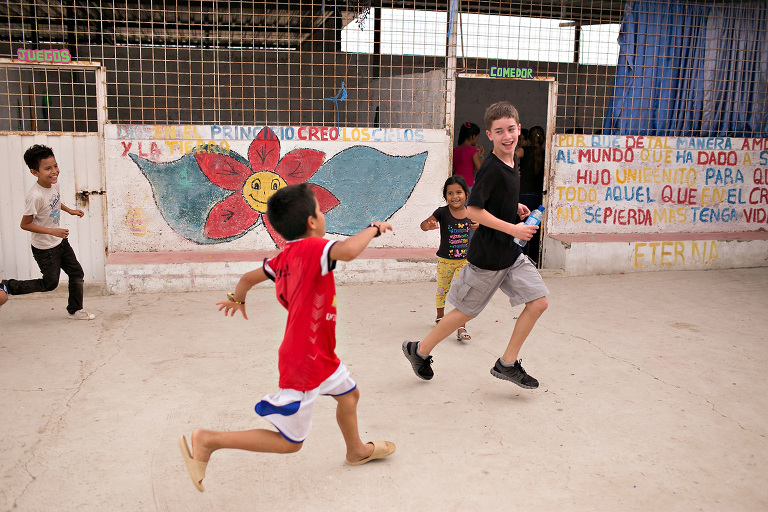 Reading that it was incredible to see how much he has not changed, but also how much he has grown in 4 short years. Wow…it happens fast! I've been thinking about re-posting some of my favorite posts on Fridays. 8 years of blogging….that is a lot of favorites lost in the archives of this random blog!