Living in a local girls' home, she dreamed of getting a haircut to attend her first dance. Her Child Welfare worker shared this with Chris, who let his friends at churches close to the girls' home know about the need. One church made sure she got her hair cut and fixed, while another provided her with a dress. The state and churches coming together to make a dream come true for a girl that probably doesn't always feel like she can dream.
This is the good stuff in life.
There are a hundred different directions I could take this, but they all have one main point – exciting things are happening in Oklahoma in the foster care realm and I'm getting to watch Chris flourish in the midst of it all. For two years now, he has been working on a team (111Project & 111Tulsa), whose primary objective is to be part of the solution to the foster care crisis in our state.
Day in and day out his team is challenging others to join in:
Foster care prevention through coming alongside birth families
Foster family recruitment for kids in need of a safe, loving family
Foster family retention through support and respite care
Recently, they introduced CarePortal to Oklahoma. CarePortal is an online engagement tool between the State (Child Welfare workers) and local churches. Child Welfare workers uncover the needs and then submit a request for help online. Churches are made aware of the needs in the community (already vetted by state workers) and given the opportunity to meet the needs.
CarePortal has been in Tulsa County for 6 weeks.
87 churches have signed up.
52 needs have already been met!
"Care Portal is the best thing since sliced bread.
Before, we felt powerless, but now we have an option to help our families in need."
~ OK DHS Supervisor
So, so good. Beds given. Bus passes provided so parents can visit kids. School uniforms. Washers. Dryers. Food. Basic needs met, but also not so basic needs met. Beyond the essentials, Child Welfare workers are able to advocate for other needs…needs that help kids not just survive, but begin to thrive. Needs that would not be met otherwise. It is so, so good!
"I have a 17 yr old boy who is a Jr. in High School.  He had to move to another foster home that was not located in his school district.  He would like to remain at his old school since he is in band and the ROTC program.  Transportation is an issue so we are asking for 4 – 30 day bus passes to get him through the year so he can continue to stay at his school.  Each pass cost $45 so the total amount will be $180."
"The foster child is a 14 year old girl in need of a clarinet to be part of the band program at her school.  Since being in her foster home the child has excelled in school, and has begun to find hobbies and interest to help express herself as a person. This young lady is in need of a clarinet, so that she can perform in band along side her sister. Music has allowed this child to find structure, open up, bond with her sister, and be able to express herself and her feelings. Having a clarinet and playing with her sister in the band would mean the world to her. The foster mother has requested support from the community. To help her obtain a clarinet for the foster child to pursue her interest in music and maintain a super close relationship to her sibling."
"11 year old needs a computer so that he can enroll in Oklahoma Virtual School.  He has a disability and suffers form Asperger's.  Because of his disability he is constantly bullied and harassed by older children at his school.  This is affecting his mental health and giving him anxiety which results in him skipping school.  He is very intelligent and needs to be able to learn in an environment free from fear and intimidation."
Chris spends many Sunday mornings at local churches – encouraging others to join in. It is a change for our family (we attend church as a family on Sunday nights now). Earlier this month I snapped a few photos of the kids painting while we watched Chris live streamed from a local church. In that moment, I was so thankful for technology. Thankful – for the strange new beauty of our Sunday mornings. Thankful – he is in a job where he is thriving and able to use all his gifts and talents in the most perfect ways.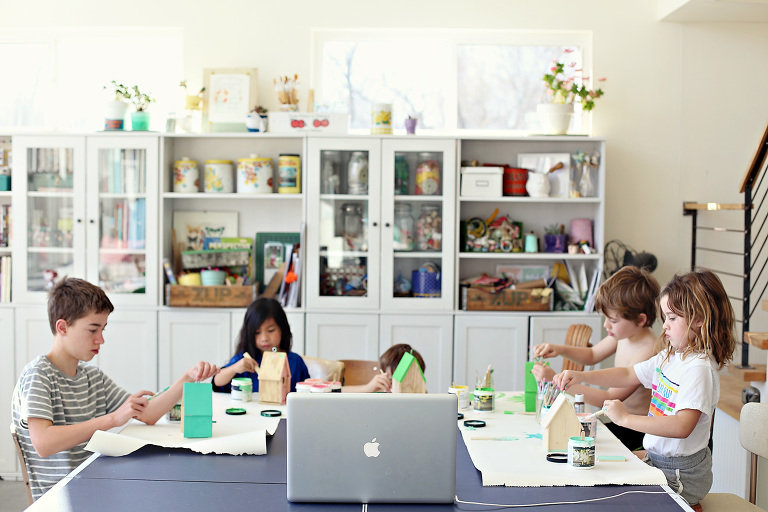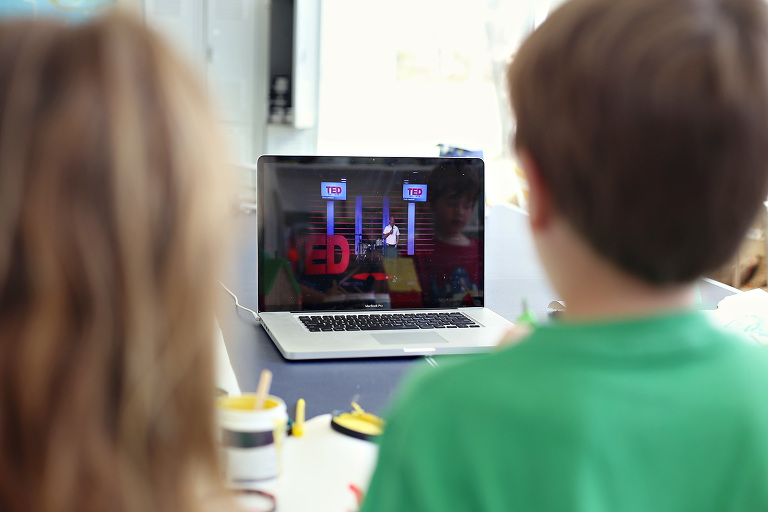 (not an actual TED talk, that was just the sermon series theme at that particular church)
We miss him when he is gone, but it sure is exciting to watch big things happening in our state. It is inspiring and beautiful to watch so many people come together to make a difference in the lives of children that too often fall through the cracks. Churches spanning denominations and joining together to collectively be a part of something truly significant – impacting a child. A family. A community.


111Project is currently working to raise an additional $35,000 to launch CarePortal to Oklahoma County. If you are interested in joining that effort, you can click here to donate.
If you would like more information on CarePortal in Oklahoma – contact 111Project
If you would like more information on CarePortal in other states – contact CarePortal
The CarePortal from The Global Orphan Project on Vimeo.