For nearly three years, I've been dreaming. Dreaming of ways to help families with children who need life-saving surgeries, but are unable to provide those surgeries. We each have different roles to play in our global community. For some, it is politics and policies. For some, it is digging water wells or providing micro-loans to establish business. For some it is community development. One mom advocates for cancer research while another raises her voice at the injustices in foster care. There is the teenager establishing a business that employees widows in third world countries and the businessman using his influence among his peers to help fund schools. So many causes. I'd like to think if we all chased after those things we'd see some incredible beauty burst forth in this world. It is often life experiences that lead to our passions.
My youngest daughter was born in China and considered 'special needs'. Her special need was she needed cleft lip and palate surgeries.
As a result, one area my heart now beats for is families that face difficult decisions regarding providing medical care for their children.
This September will mark our third year as a family of seven! I am forever grateful for the gift and beauty of adoption. It was through adoption that our family was made whole. While I will always be an adoption advocate when adoption is the best option for a child, I am also an advocate for family preservation. I'm an advocate for orphan prevention. There are so many sweet, sweet things about adoption, the difficult reality is adoption begins with some form of loss. Often multiple forms of loss. My daughter is wholly and completely mine, but the reality that I share her with another mom is never lost on me. This daughter we share was born with a cleft lip and palate. There is a good chance my daughter will one day ask me if the reason she is mine is somehow related to her being born with a cleft. And I will answer her with all the honesty and truth I can. It will be her story to process.
There are countless factors that lead to children being displaced from their families. One of those factors is poverty and the parents' inability to provide necessary care for their children. Every country is different. Every case is different. Others are tackling solutions to poverty. In the meantime – I want to help preserve families. Poverty or lack of finances for medical care should not lead to children separated from their birth families. It is unacceptable.
This is simply a hope from one mom to help another mom. Another mom, who also has a child with a medical need.
In many countries, healthcare is far different from what I know as an American. Chris and I are both self-employed. We have 5 kids…health insurance is a huge, hard, difficult area for us. However, in the most dire of circumstances if any of our kids need a life-saving surgery, we could find a way to provide the care they needed. We might have a huge financial burden, but we would still have our child.
There are countless children with life-threatening medical conditions whose parents face the worse kind of decision – a decision to insure their child gets medical care and a chance at life by relinquishing their rights or choosing to watch their child suffer a medical condition and possibly death. My friend Meredith Toering volunteers with Morning Star Foundation. She helps run a foster home in China that provides care for babies with various forms of Congenital Heart Defects.  A few months ago she shared with me her dream of helping parents she meets in the hospital…parents that are doing everything they can to provide care for their babies with CHD. Parents that without help will have to make the most impossible of decisions.
It is an exciting moment when dreams collide.
The photo and words below are from Meredith's Instagram account posted the day this project launched (I edited this post to add it because…well you will understand after you read her words):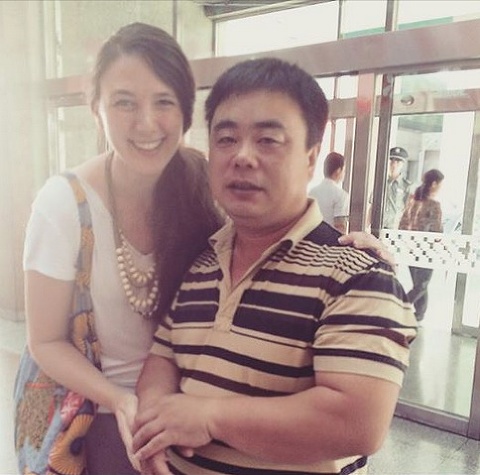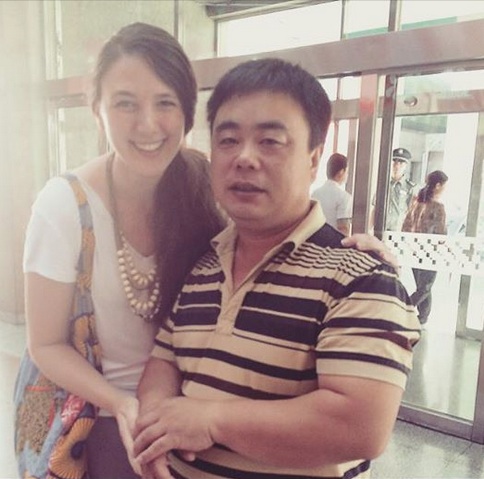 "In the bed next to Ruby in that Chinese ICU, a little 6 day old baby lay. I didn't take much notice of him at first, another baby on a ventilator among the rows. Not until we heard the quiet doctor's words. "The surgery…it's too expensive. His parents can't pay. They have sacrificed everything they have, but it's not enough. We can't do the surgery without the funds…so they are going to have to choose." They are Going. To. Have. To. Choose.
My heart broke. Those parents. Without health insurance. Without the cash in hand for the cost of a unfathomably expensive surgery. Knowing full well that, if they were to choose to abandon…to walk away, there are systems in place to support the orphan. But friends, WHERE are the systems for the family? Who will stand for them?
I walked out to meet with the father of that baby…a baby not yet even named. The tears streaming down that new daddy's face, the way his hands shook when he held mine, told me everything I needed to know. He would do whatever it took to save his baby's life. Even if that meant saying goodbye.
Friends, I grasped his hands and was able to tell him that THAT narrative? That WILL NOT be their story. We are partnering with this family. The Morning Star Love Project is covering the cost of surgery. And tomorrow morning? That baby boy will have his heart fully repaired. As a son. Not an orphan. Treasured. Loved. Forever. PLEASE keep him in your prayers. His father hugged me and sobbed, and I cried right along with him.
This. This is the future of orphan care. Supporting the Orphan…but Standing for the Family."
Arthur Ashe once said, "Start where you are. Use what you have. Do what you can."
I can't change the face of politics and the medical system in China or any other country.  I can start where I am and use what I have. I have a blog. I have talented friends. I have a voice. I want to use those things to help families not have to choose life by saying 'goodbye'. I want to help Meredith say, even if only to one mom or dad, "You don't have to say goodbye. This is a choice you don't have to make because surgery is taken care of."
So I rallied some of my people. Talented artists that chose to stand beside me on this dream and donate their time and energy. I simply asked and they jumped on board. Today Morning Star Foundation and I are launching The Love Project. Our hope is that you will join us. Morning Star has a special fund called the Love Fund. Everything in the Love Fund goes directly to families in need of assistance to provide life-saving surgeries for children with operable congenital heart defects. Our goal is simple – to increase the Love Fund. To help families.
To do this, we created
an online shop
stocked with 17 original downloadable prints available for purchase. Our hope is that you would join us in providing life saving surgeries and helping preserve families by purchasing a print.
Below are the downloadable prints available for purchase. I couldn't be more excited about the artwork my friends created. Never did I dream that blogging would allow me to meet such talented and generous artists. I am so thankful for them and their willingness to support this dream.
Room In Your Heart by Amanda Rydell          ~          Fill Your Heart by Pretty Girl Designs

Watercolor Heart by Jones Design Company          ~         Let Love Grow by Pen and Paint

Let Love Guide by Life Made Lovely          ~          Love Never Fails by Life Made Lovely

Beauty We Love by Life Made Lovely          ~          Wildflower by Joy Prouty

Because He Loved by Julie Carson          ~          A Glad Heart by Katy Girl Designs

All Things With Love by Kimber Creates          ~          Love Is by Lesley Zellers

Love You More by Lori Danelle          ~          But First Love by Megan Modderman

Love Conquers All by Ruth Chou Simons          ~          Above All Love by Fancy That Design House

Love So Mighty by Hannah Singer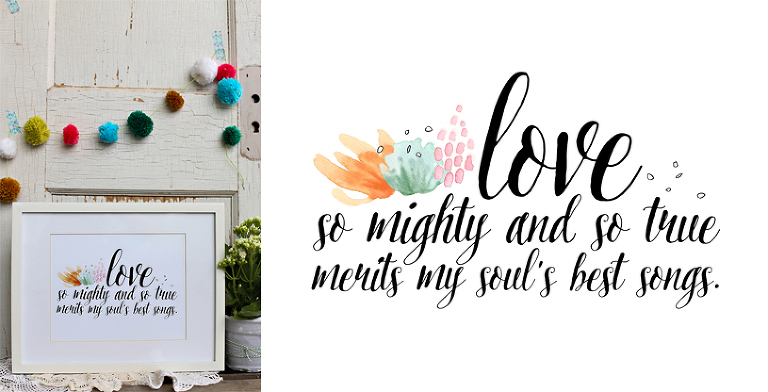 All the prints are designed to be 8x10s, but since they are downloadable – you can do a whole host of things with them. Maybe you are like me and running out of wall space, if so here are a few other ideas on how to use the files. Mpix.com graciously printed all my examples for this post as a way to support The Love Project.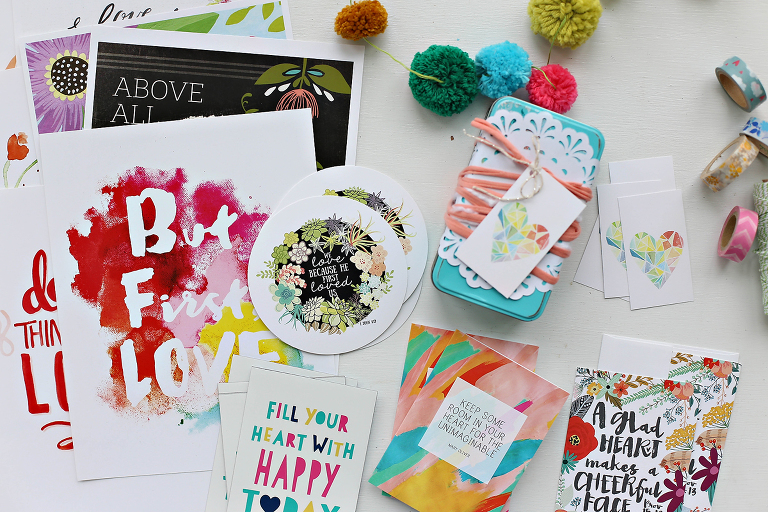 I printed round cards, folded 4×6 cards, flat 4×6 cards, magnets and business cards (to be used as gift tags!) To order these, I just uploaded the files to Mpix.com and used them in the same way you would use a photograph. Some of the products have a 'DIY' option – that is the option I used when I did not want to use a pre-designed template.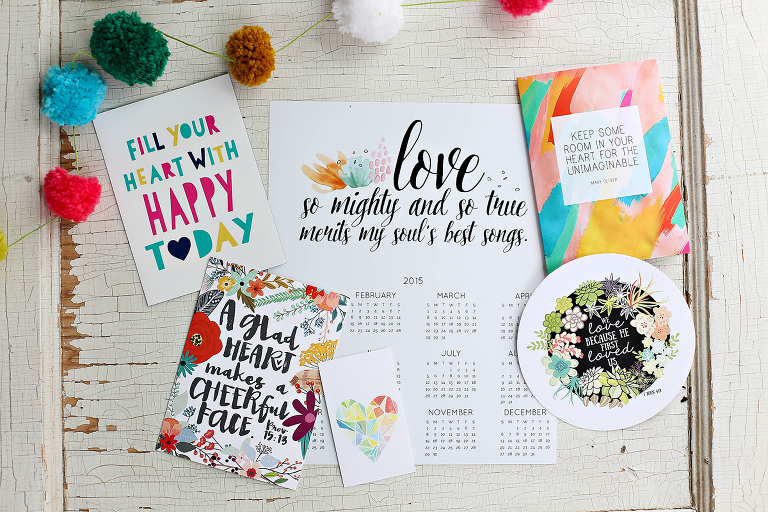 The heart tags are actually the business card print option. I punched a hole in the corner to make them into gift tags.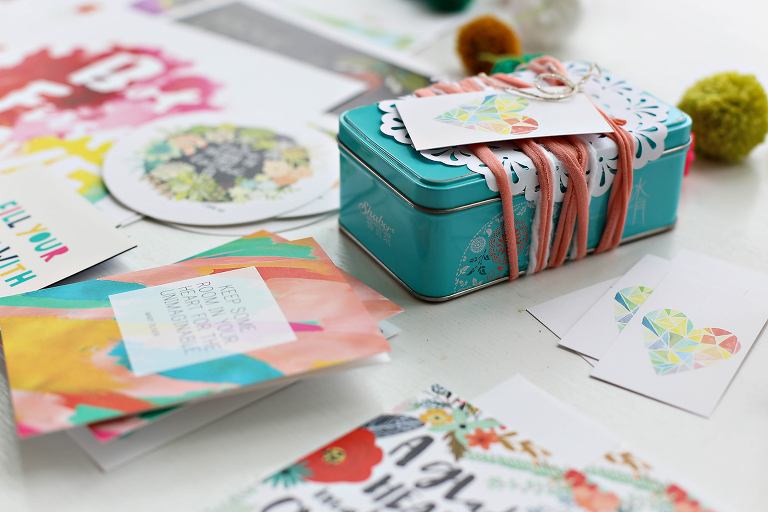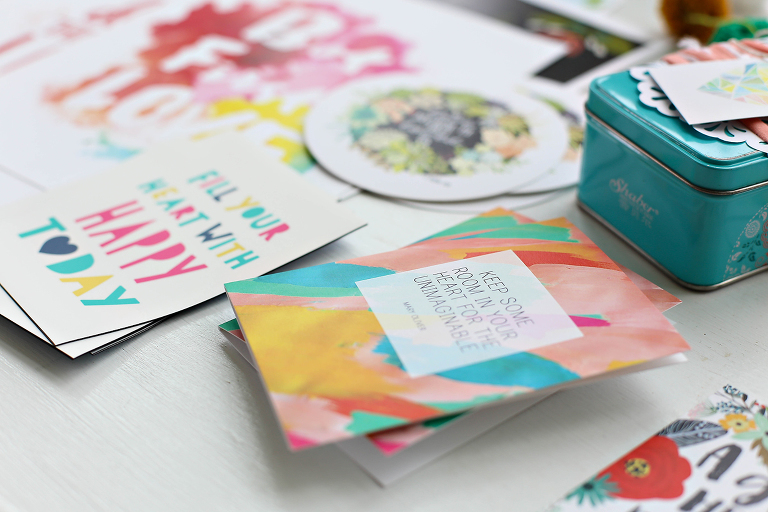 Magnets and folded cards. The folded cards come with envelopes.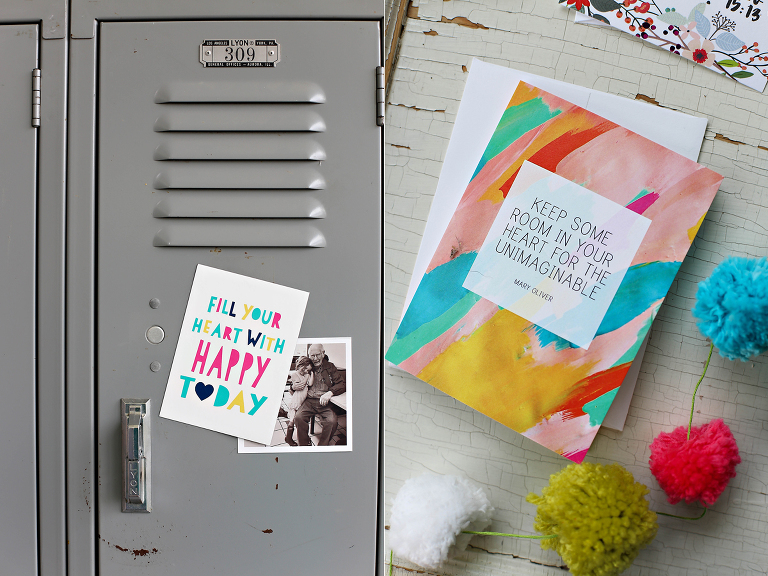 Calendar and business cards.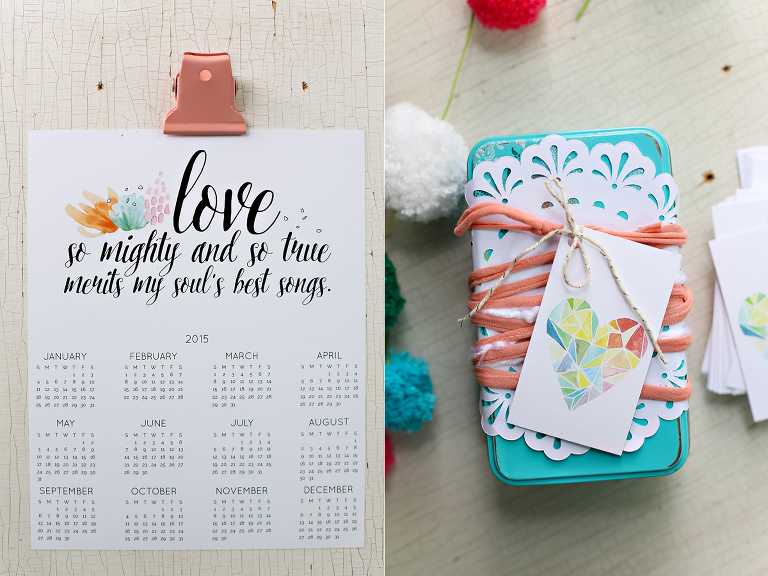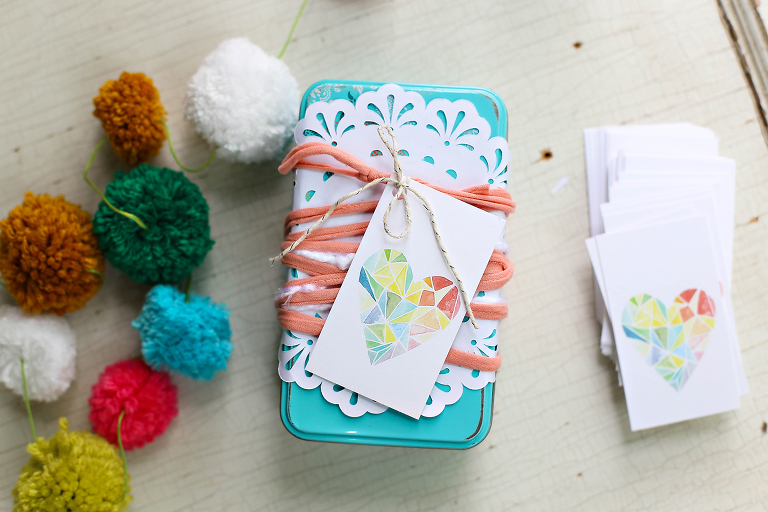 Each print is $20.00. They are jpeg files that can be downloaded after purchase. For matte finish prints, I recommend using a local professional printer. I printed mine at FedEx Kinkos and was happy with the results. Most printers use 8.5×11 paper, so you might need to trim the print a little in order to fit into an 8×10 frame.
"Keep some room in your heart for the unimaginable." ~ Mary Oliver
Meredith and I talked about setting a goal for this project, but our goal is simple – to help as many families as possible. We are leaving room in our hearts for the unimaginable. We are holding out hope that lots of babies with various forms of operable congenital heart defects will receive much needed surgeries and will be carried out of the hospital in the arms of their moms and dads. Thank you for joining us in this dream.
Click Here to visit the Morning Star Love Project Shop and purchase a downloadable print.


If you would like to share about this project, we created a few blog buttons and Instagram images (feel free to use #morningstarloveproject). Click here to download those files.