The guys' room. Or the boys' room. They told me they were really more 'guys' than 'boys'…goodness they make me laugh. And cry. And cover my ears and eyes too often. They share a bedroom and we don't have plans (or the budget) to expand the house out. Their twin-sized mattresses were all in a row on the floor after they decided they didn't want bunkbeds. Each morning we would stack their mattresses in a pile so they had room to play. It was not ideal, but it worked.
Chris and the boys came up with a plan to cut a hole in their ceiling and enclose part of our attic – giving them a sleeping loft and a functional room downstairs. It has taken us about 8 months to get it completed – life doesn't slow down for construction projects. Finally, the room is complete and I've got three very happy guys in my home.
They are ages 7, 9, and 11. I asked their input on pretty much every part of the room. They picked the wall decor, the rug, the cabinet, the shelf and the couch. They wanted a lot of floor space and room to store/display their lego creations. I could handle all the legos hidden, but it is their room and lego displays were a big deal…
And now their 'Guys' Room':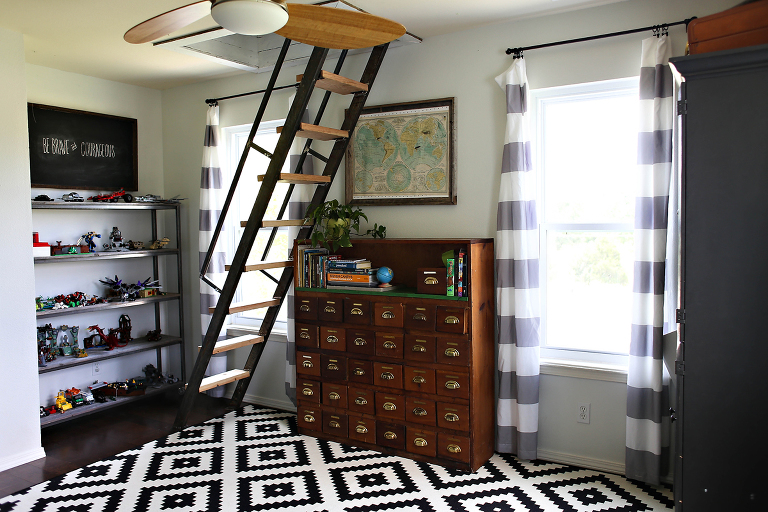 This is their room in 2010, ages 2, 4, & 6. It lasted like this for about 3 years. Then my oldest didn't like the planes, the walls got dirty, we tore out carpet and got rid of bunkbeds…then it was just chaos.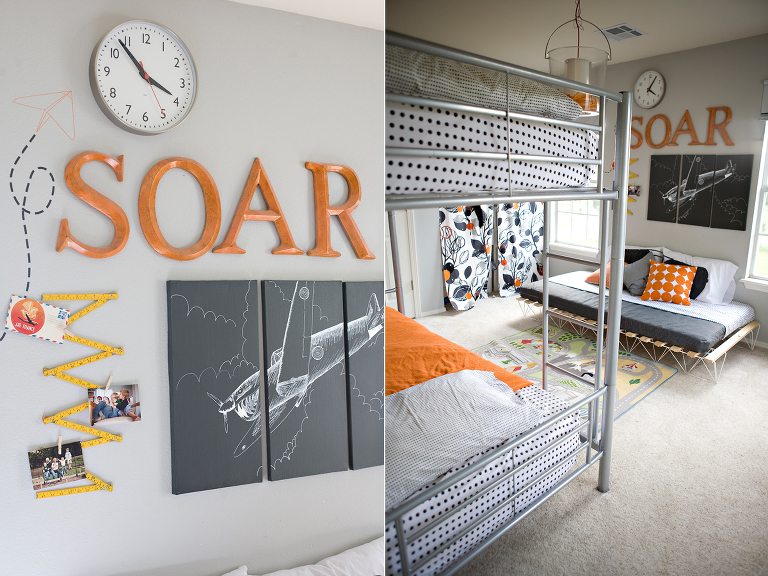 Now they've have an updated room that meets their needs. I rescued the catalog from my grandpa's basement right before the house was closed on to a new owner. I've dreamed for years of the boys organizing their legos, but they have had no desire. In the past, I knew if I organized it they would not maintain it and it would frustrate me. If I had forced them to organize it, they probably would not have played with legos as often – robbing us all of fun. So, I chose to ignore all the plastic bins of lego chaos. Then – OH GLORIOUS DAY –  they asked for the card catalog in their room to organize their legos by color. Beautiful, wonderful day. Legos have never looked so pretty. Nearly every drawer is full.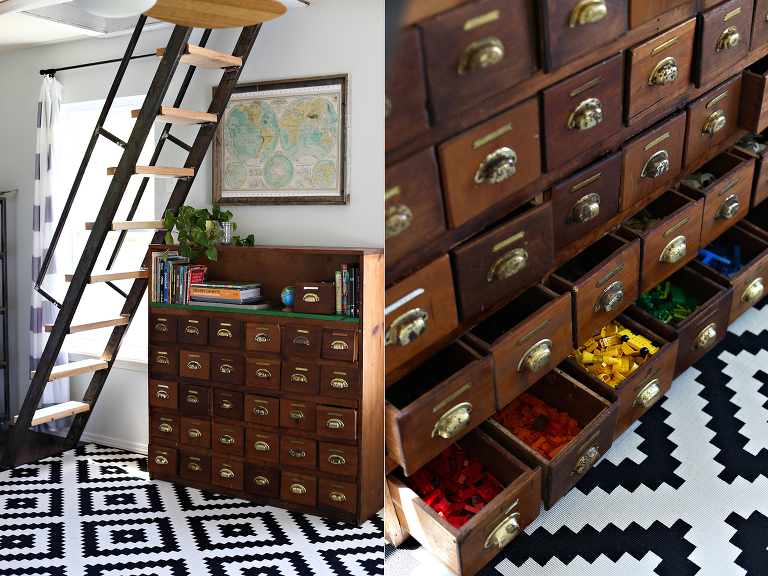 They really don't have many toys. One – we don't have a lot of room, so less is more. Two – they are happy with legos, books, dart guns and being outside. The simplicity helps with keeping a picked up room.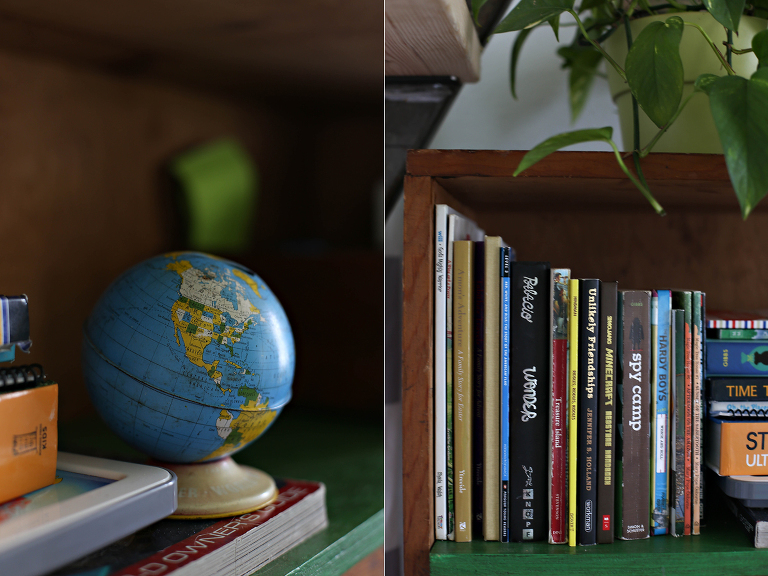 The DIY travel map is for our family to start keeping track of the places we want to visit. Click here for more info on how I made it.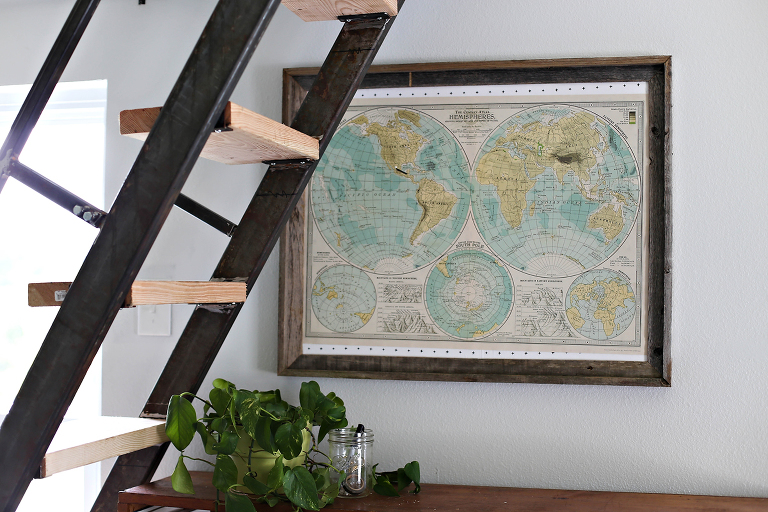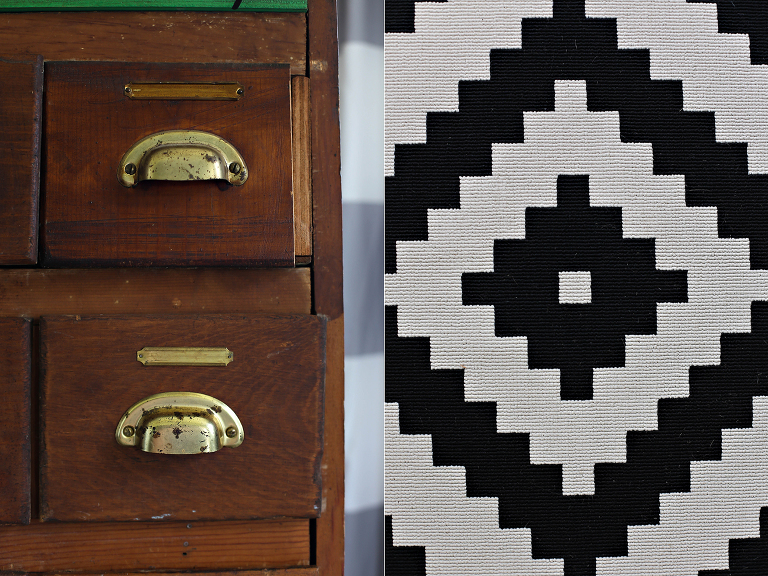 My friend Tim Paslay built the metal and wood shelf for my studio. The original plan was for it to hold ceramics before and after we fired them in the kiln. The boys wanted shelves to keep the legos that they didn't want to break apart. So, they got my shelf. The chalkboard is from 25:40Love. I first came across 25:40 Love at Hope Spoken. 15% of each sale is donated to a charity. This month the featured charity is Morning Star Foundation. I have a big announcement on Monday related to Morning Star and I am so grateful 25:40 Love chose to feature them this month. Exciting things in store!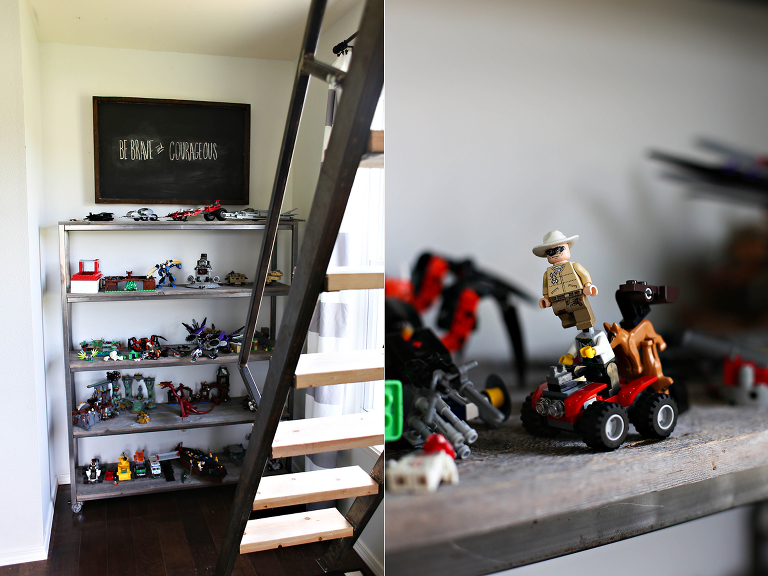 The boys sleep upstairs. When they walk down the stairs each morning the first thing they see is the chalkboard…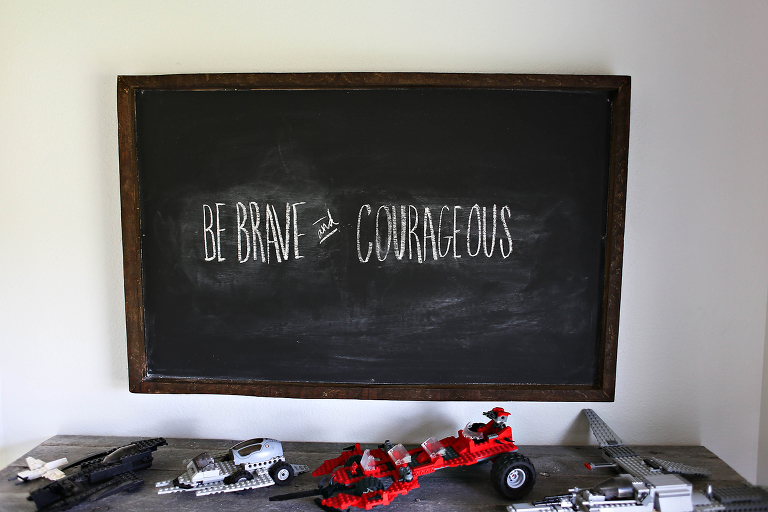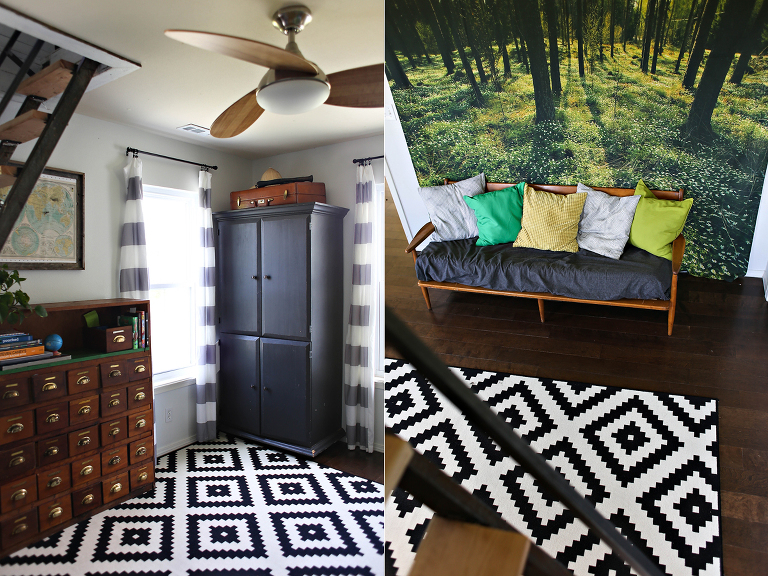 All the boys' clothes are in the closet (it is really small!) and a few in the black armoire. As a family of 7, we do laundry daily. Since everything is constantly getting washed, there really isn't a reason for us to have tons of clothes. The boys have enough, but not excess (by American standards). Stuff and things, including clothes, can quickly take over. I am constantly purging the rooms in our house to keep things simple and to fight the clutter.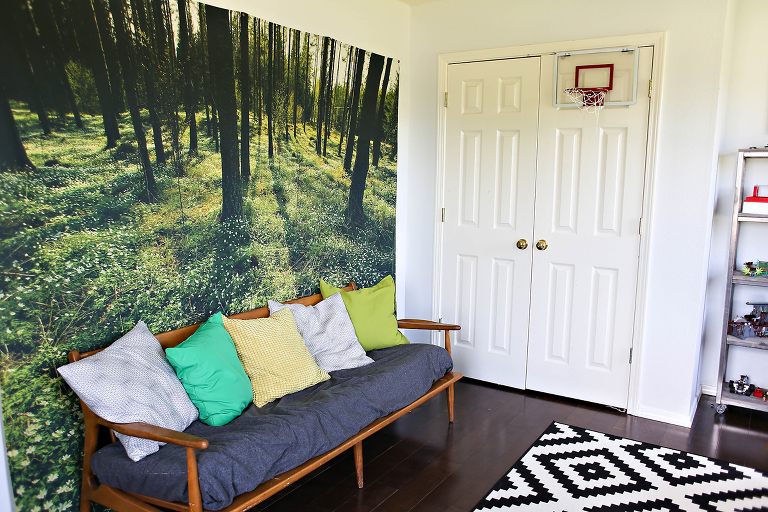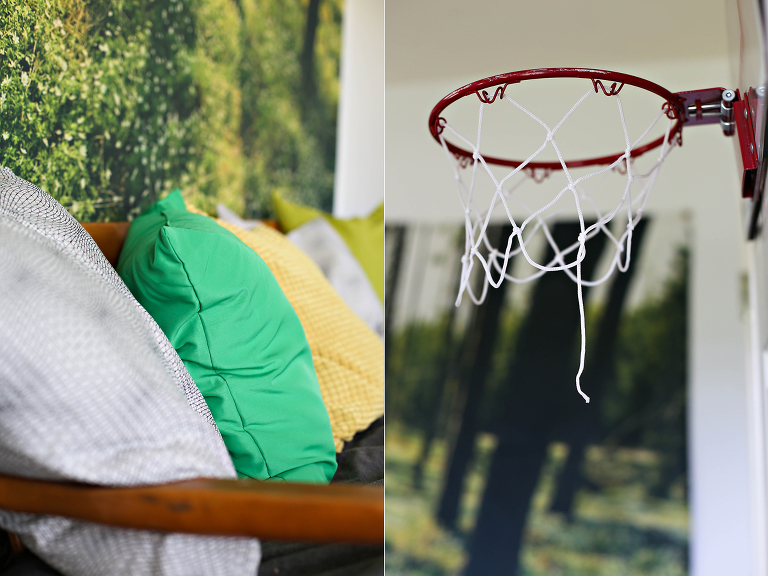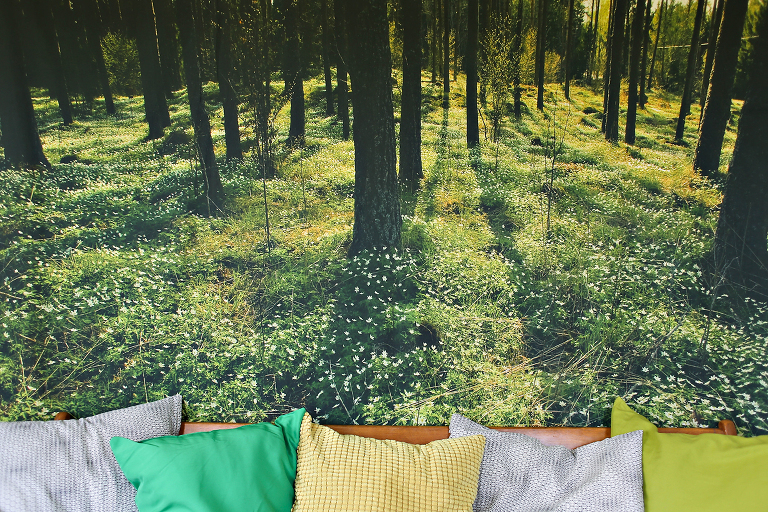 This is what their room looks like most of the time – the pull-up bar greets you and there is usually someone on the floor with legos.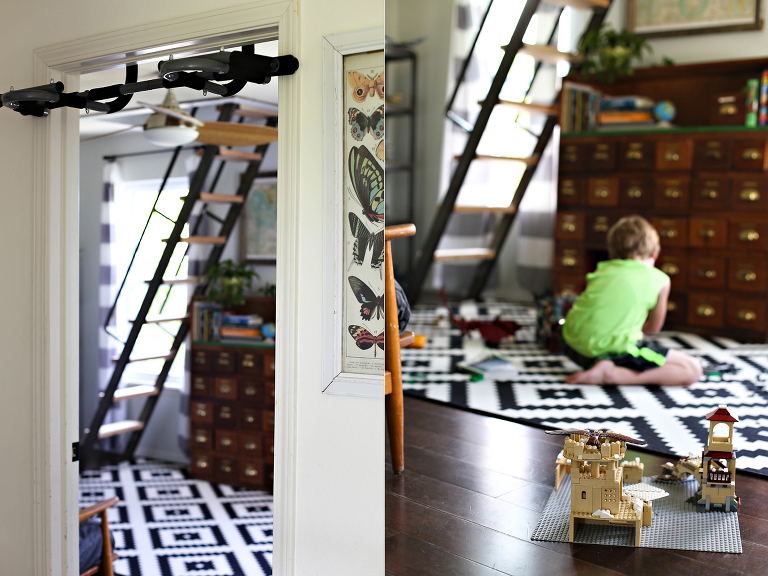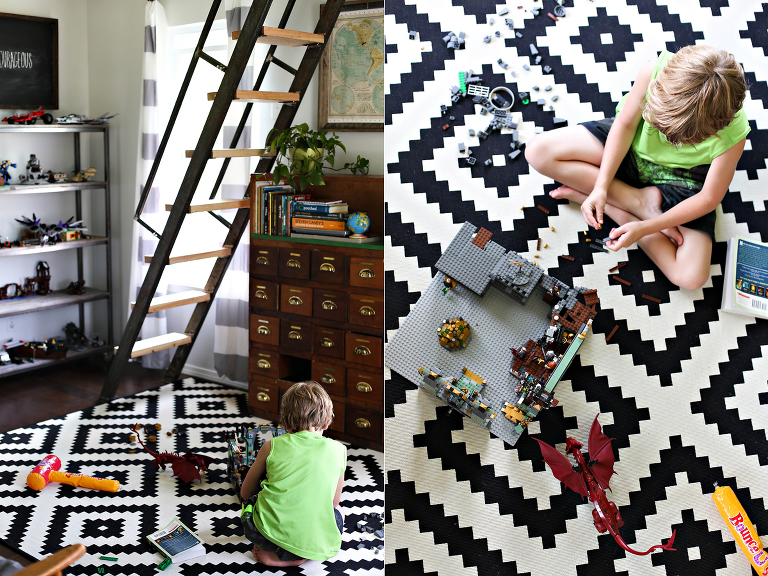 CLICK HERE TO SEE THE SLEEPING LOFT. It is so much more modern and bold than any other room in our house. The boys keep telling me how much they like it. Evidently, they are pretty thankful I didn't hang buntings and cover their pillows with vintage tablecloths like the rest of the house!
For those that are interested, here are some of my sources:
Card catalog – my grandpa's basement
Metal & Wood Shelf – by Tim Paslay
Travel map – DIY tutorial, Urban Outfitters
Reclaimed barn wood chalkboard – 25:40 Love
Pillow covers – IKEA
Legos – grandma, Nana, dad & too many friends
Rug – IKEA
Couch – found on Craigslist
Black armoire – built by my grandpa
Ceiling fan – Lowes
Woods tapestry – Urban Outfitters
Staircase – designed and built by my dad
Curtains – shower curtains from Target that I cut and sewed into curtains