About a month ago I was contacted about writing a sponsored post for Wendy's® & the Dave Thomas Foundation for Adoption (DTFA). I typically don't do sponsored posts, they just aren't my thing.  This time was different.  I accepted – because it is a very natural fit for me. So thank you Wendy's for asking and sponsoring this post.
A little while back I mentioned Chris took a new position with a non-profit that is focused on finding children in the local foster care system a loving, safe home. Foster care. Adoption. Reunification. These are all common, if not daily, topics in our home. Chris often says his goal is to work himself out of a job. If the local shelters are empty, there are an abundance of safe, loving foster homes and a strong support network built for foster families – he'll be out of a job. He is working hard to be out of a job.
Dave Thomas was adopted as a child and founded Wendy's. He was a strong advocate for finding children permanent, loving homes and he dedicated much of his life to this cause. Dave set up his foundation with one goal – helping children in foster care find adoptive families. He is a hero in my book.
Around this time each year Wendy's produces 'Frosty Coupon Books'. The books are a $1.00 each and include 5 coupons for a free Junior Frosty. $.90 of every $1.00 spent on the coupon book goes directly to the Dave Thomas Foundation for Adoption. The coupon books are available until October 31st. As a family, we purchase these every year. I've put them in goody bags for the kids to give friends. We've dropped them off in the mailboxes of friends. We've surprised distant friends with them in the mail. I thought today I would share 5 ways you can gift the coupons to others…ways a little cuter and more fun than just handing someone a coupon!
See they don't even look like coupons!
In a bag: I slipped a single coupon in a small kraft bag, punched a hole, added some ribbon.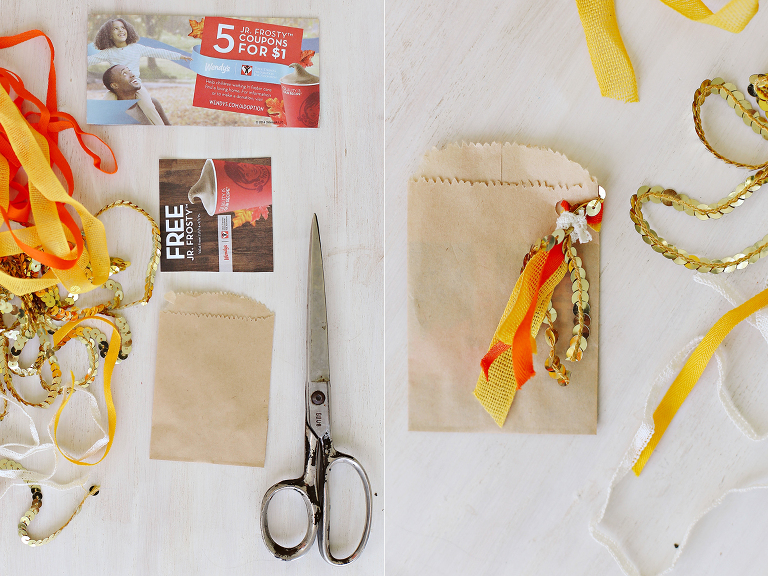 Dressed up: I wrapped a booklet in a paper doily, fall colored fabric and a ribbon. These would be fun to give other families.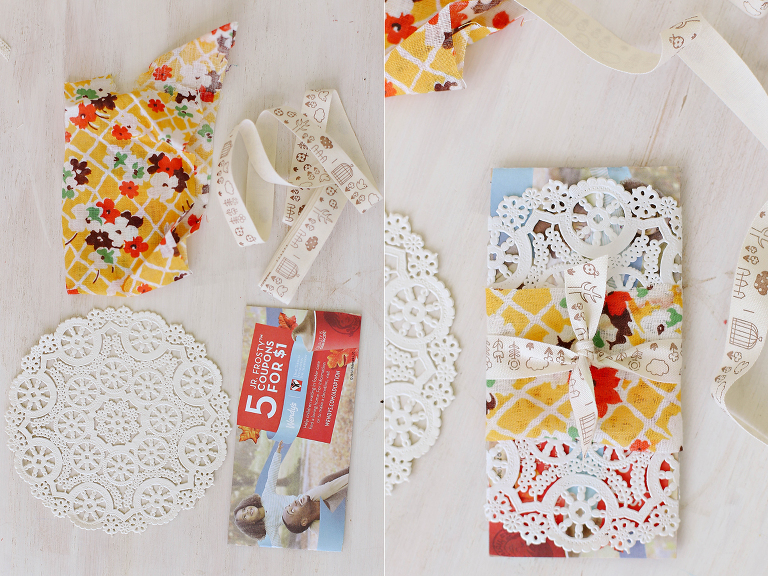 Rolled up: Super simple…I rolled up one coupon, wrapped a bit of fabric around it and tied it with two ribbons. These would look cute with a whole bunch in a big bowl to take to a party.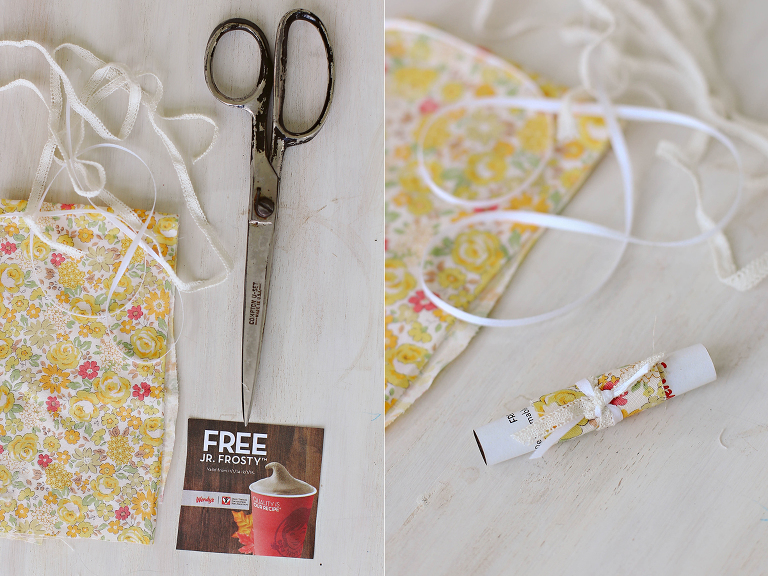 As a flag: A friend gifted me this cute succulent in a tea cup. I'm not giving my tea cup away, but if I were…I could fold up a coupon, tape it to a toothpick and add some ribbon for a surprise flag. If you use washi tape it won't tear the coupon.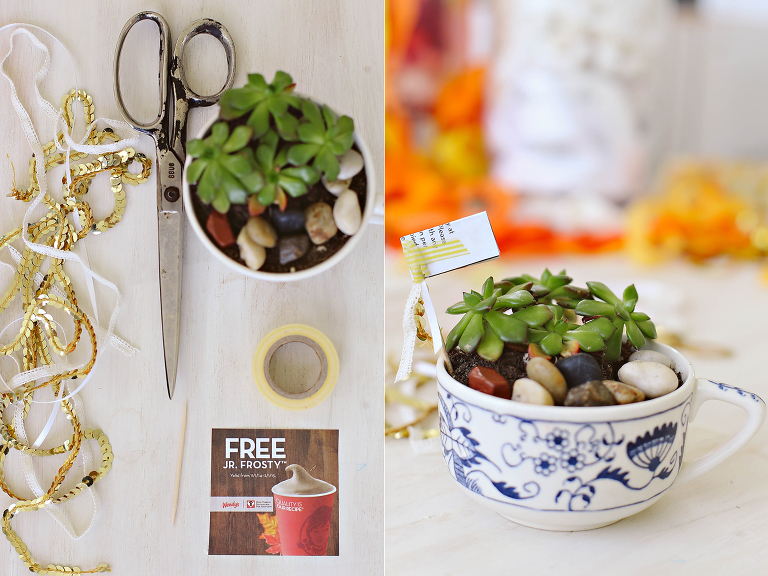 Mini Paper Airplanes: My boys didn't like all the ribbon and floral fabrics. They thought mini paper airplanes were a much better idea. I think these would be fun for a party too. If you pass out candy on Halloween, this would be a cost-effective and easy option instead of candy. A big bowl of these would be a fun just about anywhere! And if you wanted, you could just throw it through the Wendy's drive-thru when you order. Probably not, but now I am tempted.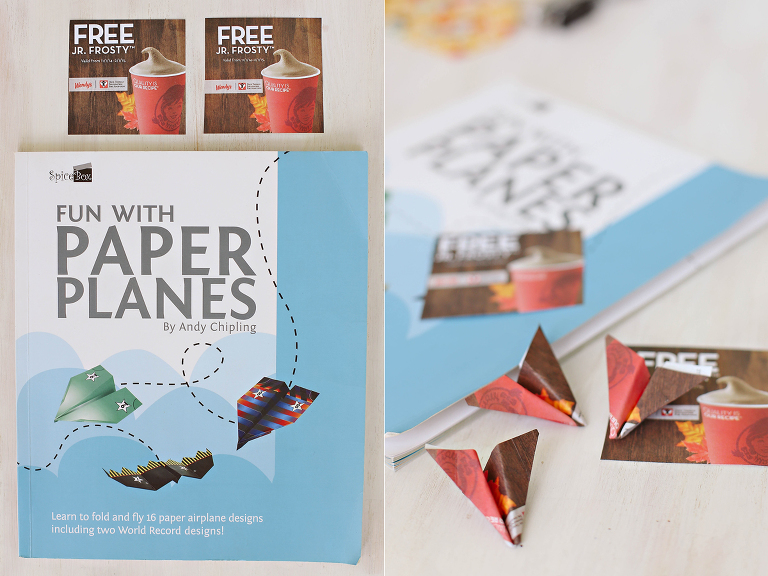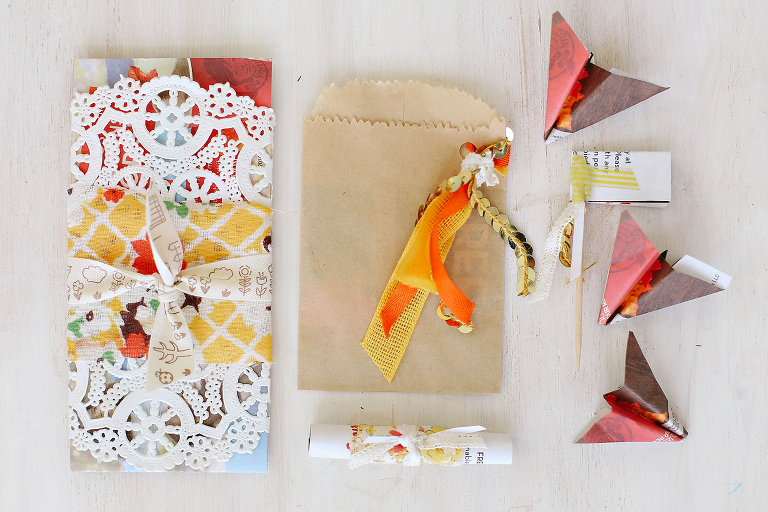 As much as I enjoy giving these each year, I relish even more the opportunity to get my kids involved and talking about foster care. They get excited about the coupon books – not because of the Frosty treat, but because they see a bigger picture. It is a beautiful thing.
As we fold airplanes and wrap coupons in fabric, we are talking about Dave's legacy and the values he held dear. We are discovering what one man did with the voice he was given.
These are the three core values of the Dave Thomas Foundation for Adoption:
Every child deserves to live in a safe, loving and permanent family
No child should linger in foster care or leave the system at age 18 without a permanent family of his or her own
Every child is adoptable
The Dave Thomas Foundation for Adoption believes it has an urgent responsibility to be the voice of foster care adoption, so that every child has a chance to find a family.  It exists to raise awareness about the issue and to develop and promote results-driven programs to find homes for children who are waiting to be adopted from foster care in North America.  In the process, the DTFA works to properly inform adults who may have misperceptions about foster care adoption that keep them from getting involved.  Through the money it raises, the DTFA provides free educational resources, promotes awareness initiatives, awards innovative grants, assists policymakers and employers, and supports adoption professionals and agencies throughout the United States and Canada in an effort to find every child a forever home. 
Adoption and foster care are so tightly woven into the fabric of my family. Right now we are not foster parents, we are using our time and voices in others ways for children in foster care. My kids are excited about the day we become a foster family. I'm excited about that day. For now, I will do what I can.
For you being involved may mean taking that brave step to become a foster parent. It may be becoming respite care for a foster family. It may mean providing a meal for a foster family or a gift basket for a case worker. It may be becoming a Court Appointed Social Advocate (CASA). It may be buying coupons and folding them like mini airplanes. Use what you have. Do what you can. Support and encourage others to do the same.
Though this is technically a sponsored post by Wendy's and the Dave Thomas Foundation for Adoption, I hope you can hear my heart and my voice. I hope you consider being involved in foster care, however that may look for you. A collective voice raised for children is a mighty powerful thing.