10 days in Ghana…most of which was spent in the bush areas.
10 gloriously, beautiful days.
10 heartbreaking days.
10 days of breathing it in, slowly, with gratitude.
10 days I've waited 17 years for.
This is Doris and her baby sister. When this photo was taken I was on the verge of tears. Across from me, my friends were playing soccer with kids from the village. Behind me was Doris' home. In my arms was the cutest little baby. By my side was her big sister. I sat on the tree soaking it in, overwhelmed by the sights and sounds around me. In awe that I was there. With them. At that moment. Thinking to myself that I would have waited another 17 years for that moment.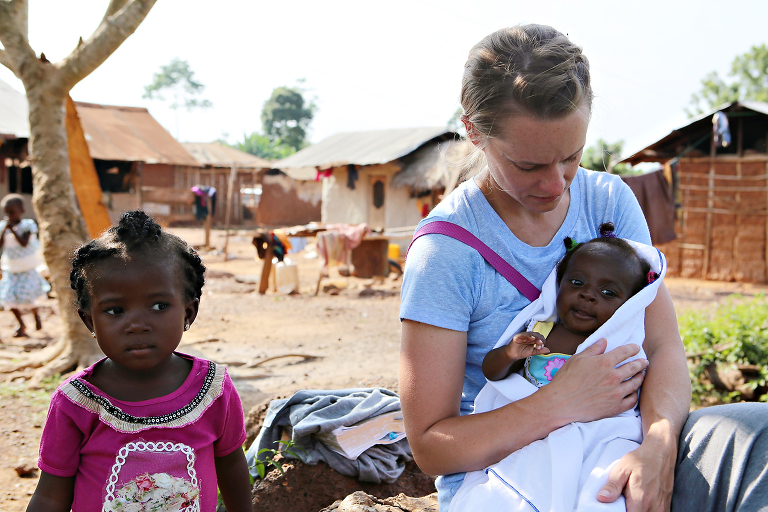 I've been to several countries. I've experienced extreme poverty and abundant wealth – abroad and at home. I've walked the road of coming home and trying to reconcile my American life with what my heart has experienced somewhere else. I'm in that spot again. Every time I visit another country, and even other areas of my country, the lens which I view my world changes. I look at the world and the people around me differently. I hear the words I speak and the words others speak differently. I am once again changed. I am once again reconciling that change with my day to day life.
Not even 24 hours of returning home I received a judgmental, critical comment directed at me and my Ghanaian friends. I've been blogging and on social media for many years now, but the sting of critical and judgmental comments never goes away. It is the ugly side of being online. There are days that I let the critic silence me. Yesterday I didn't write a post because I allowed the critic to get to me. In my heart I wanted to protect myself and my Ghanaian friends from the judgmental comments of others. So I stayed silent.
Then I kept hearing Teddy Roosevelt's quote in my mind, "It is not the critic who counts."
So, here's the deal. My life has been changed by the lives of my Ghanaian friends. I'm not going to be silent. I want to share their beauty and their stories with you. I'll post more this week. Today I am going to be vulnerable and brave and I'm not going to be silenced by the critic because I've been given a voice to use. My voice is not perfect. It is not loud or funny or eloquent. My voice is full of mistakes, terrible choices in words, and stutters. But, I have a voice and I would rather make mistakes using it than allow fear of the critic to silence me.
The reality is we all face critics and judgement at one time or another. Maybe you get it from another mom at your kid's school. Maybe it comes from a co-worker, a spouse or your parent. It can come in all kinds of forms from all kinds of sources. I'm not an expert at anything, but I do think the we could all handle a whole lot more smiles and extensions of grace and a whole lot less criticism.
Today, I'll use my voice…with a smile and maybe even a Ghanaian bounce in my step.
"We shall never know all the good that a simple smile can do." ~ Mother Teresa