I get asked a lot of questions about my youngest daughter's language skills after being born with a cleft lip and palate. Honestly, it is rough.  Really rough. Every child is so different, but with cleft affected kids there is a common bond of speech difficulties. Our daughter's cleft lip was repaired when she was 19 months old and her palate was repaired when she was 2 years old. For every month that her lip and palate were un-repaired it set her back significantly in regards to learning how to use her lips, mouth and muscles to form proper speech.
She has a handful of words, similar to what a 1 year old can say. BUT – she understands everything. She is so smart. You can imagine how frustrating it is for her to understand and want to communicate, but to be unable to physically form the words she wants to say. We are doing lots of speech therapy (and signing), but it is still such slow hard road for her. As parents it is hard to watch her have to fight for everything – fight to learn to eat, fight to learn to speak, fight to overcome difficulties from her past. And yet, it is her fight, her tiny warrior spirit that defines her in so many ways.
A few weeks ago, the children's pastor at our church shared a little bit of his story regarding being born with a bilateral cleft lip and palate.  He spoke of the difficult journey regarding speech and enduring being made fun of by his peers as a result. His story was so hard to hear for several reasons. However, his story ended with where he is today…a children's pastor. A man that stands before groups of kids and adults all the time – speaking with clarity and confidence. He talked about how God took his greatest weakness and transformed it into a great strength.
One day my daughter will speak with clarity and confidence. One day others will not ask me, "What is she saying?" One day she will not cry out in frustration. One day speech therapy will be her past. I firmly believe God has great plans for her, plans that include her voice.
One day I'll sit at the table with her and we'll have a long conversation. I'll hear her thoughts and her dreams and her voice. I'll hear her.
The picture below is from a recent trip to the zoo. It reminds me so much of this stage. We know our girl so well. She is physically and emotionally here with us, yet there is also a part of her we haven't gotten to know. Like her reflection, we can't touch or hold it but we know it is there. It is a side of her we unlock a little bit at a time as we tackle communication skills. It is such a bittersweet journey to watch parts of her being – in a way – trapped inside. It is also beautiful when those parts break out little bit by little bit.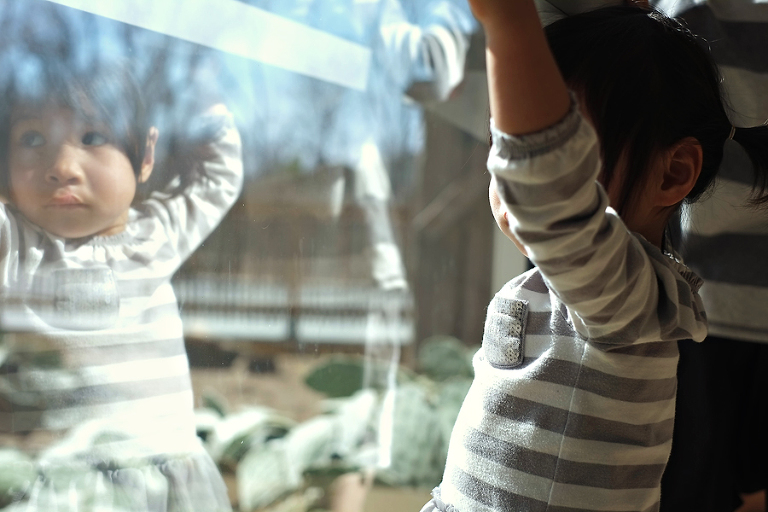 Each night she wraps her arms around my neck and in a way only Chris and I can understand she says, "Goodnight Momma, I love you." And I know she is going to be just fine.