So….thank you.
When I wrote that 'random' post last Friday, I never thought it would be one that would garner many comments from you. I can't tell you how encouraging your words were and are to me. There are many days. Many days. I wonder if anyone gets anything worthwhile out of my ramblings and joy in photography. I am a very normal mom, very un-cool, very plain and the reality that this blog has in some way brightened the day of another or encouraged  someone – I'm very humbled by that and grateful. Honestly, it blows my mind. I truly appreciate your life-giving words to me on that post. I never really understand why people would want to read this blog, so reading the reasons you wrote – wow, it just meant so much to me to see my blog through your eyes. Thank you.
This weekend my family had the opportunity to host Anna (For the Love of Joy) and Kimber (Kimber Creates). Anna and I met online years ago when she started advertising on my blog. Kimber took a recent SnapShop and has read my blog for while, but I've never met either in person before this weekend.
As much as I enjoy hosting friends, there is one member of my family that goes crazy for a "girl party" – what she calls any time a girl of any age visits our house.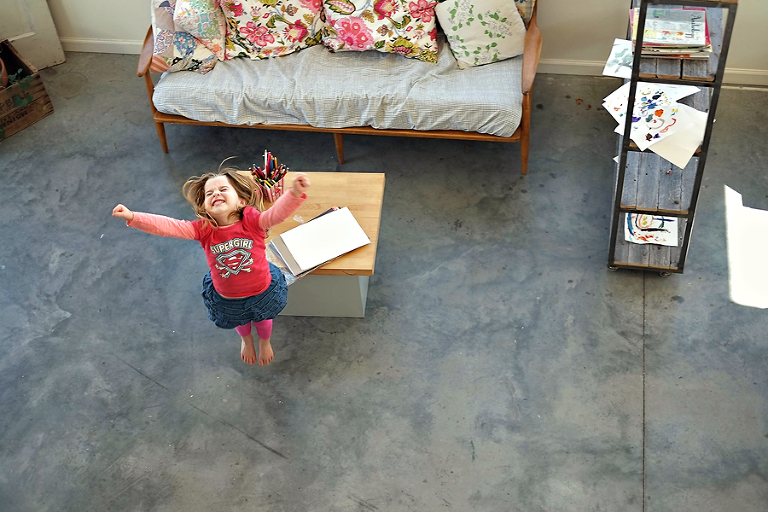 I've mentioned before that I've been trying to become a better hostess and learn ways to make others feel at home, in my home. The first guest that stayed in our 'guest room' was an author. He had written a book on hospitality. When he came to stay with us, we didn't have a bed yet. He slept on a mattress on the floor. I did my best to make it inviting and welcoming. But, let's face it hosting an 'expert' on hospitality is intimidating. I wanted to use the excuse that we didn't have a 'bed', that the bathroom was still under construction, that……….. Chris, wisely, wouldn't let me.  At the end of his stay, he made a point to tell me that hospitality is not in how cute the bed is or the thread count of the sheets. He said hospitality is in how guests feel and that guests really just want to be invited in to my family. He told me I made a great host.
I'm not sure that he was telling the truth about me being a great host, but his words were the encouragement I needed to hear. These days we have a much cuter bed for guests, but his words still ring in my ear…guests want to be invited in to your family.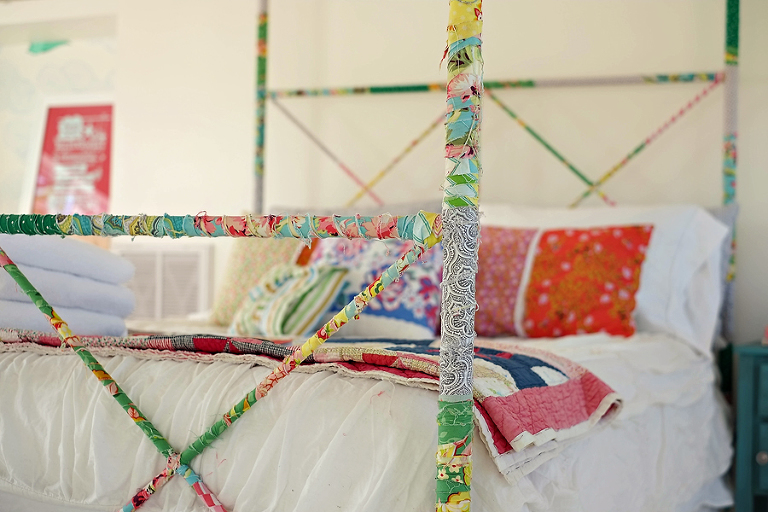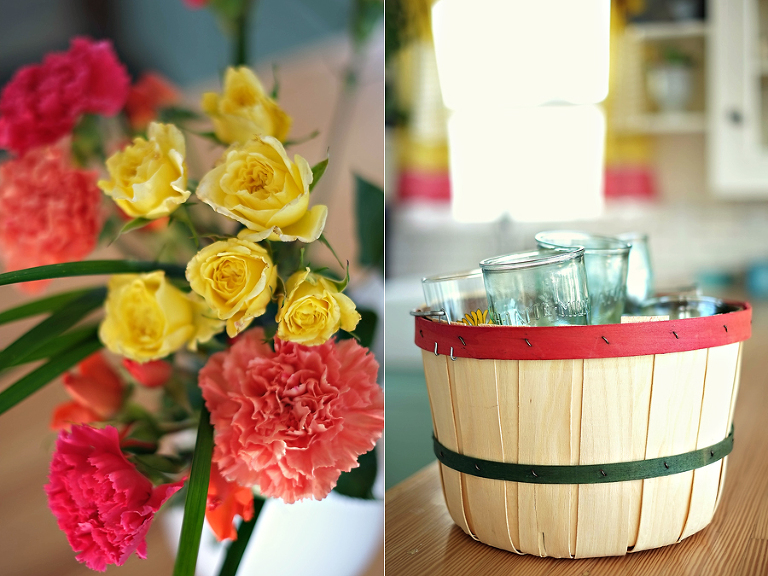 As I was cleaning up from the weekend, I noticed I never attached that drawer pull to the guest side table. I also found my missing blue flip flop under the bed…hospitality is not in how cute the bed is…it is in how the guest feels.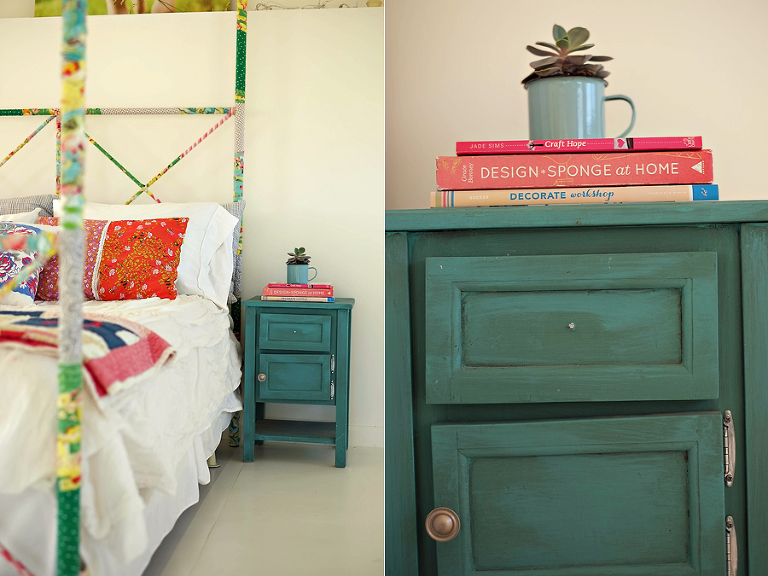 Lesley, Anna, Thuy, Kimber, Me (Katy joined us for dinner, but had to leave before we snapped this)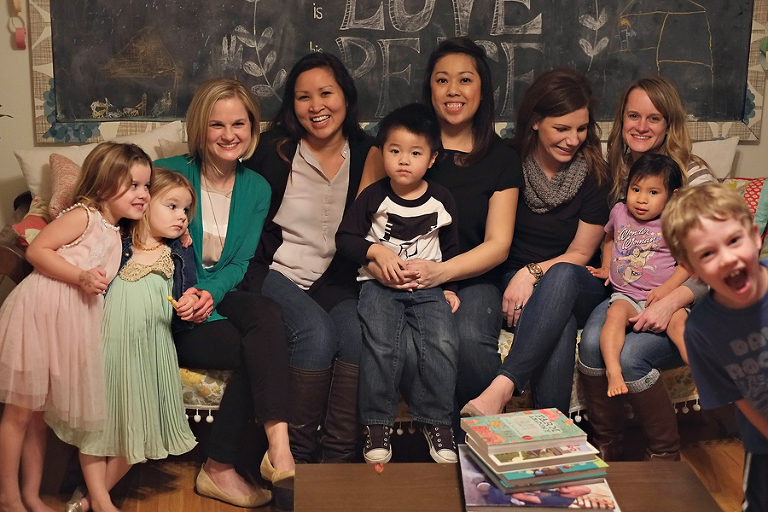 When I was in college, I spent many school breaks at my roommate Mandy's house in Wyoming. Most of those visits we would stay a night or two at her grandparents' cabin in the Big Horn Mountains. Her grandparents kept a guest book. I always enjoyed thumbing the pages and reading the words of guests from several decades. Those little notes painted a beautiful picture of the history of the cabin and her grandparents. We started a guest book for overnight guests…it has only been a year, but I already like looking back and remembering all the visits and guests.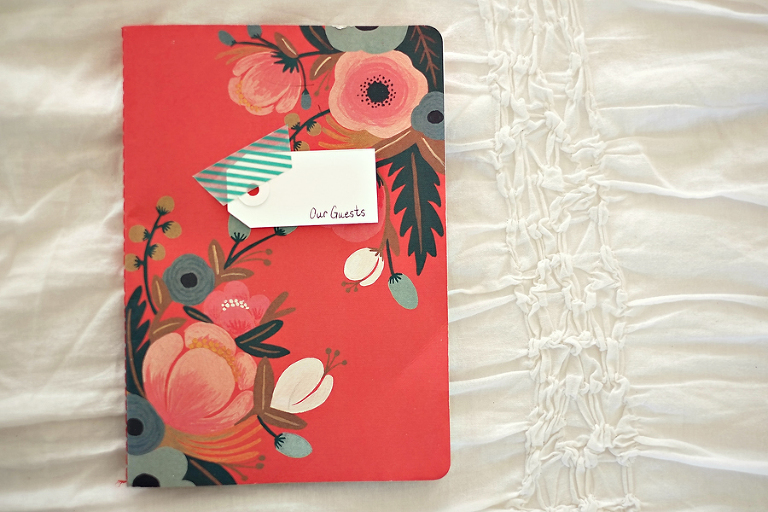 We really didn't host much before we built the studio space and guest bed area. Our three boys share a bedroom and the girls share a bedroom. We could have hosted more before we had the extra space, but I think we were intimidated by the idea of inviting people to stay overnight in our crazy. Because it is crazy. And do people really want to be invited into our crazy?
When we built the studio space, our dream and prayer was to be able to use it to bless others. Sure we would enjoy the space, but we really wanted to use it for others as much as we could. My sister gave me a perpetual calendar book last year. I've begun using it to record the 'happenings' in the studio. We've hosted baby showers, birthday parties, overnight guests, Chinese New Year's dinner, our church small group, a family luncheon following my grandpa's funeral, and other random events. As I look back over the last year, I am so grateful for how our prayer has been answered. I'm grateful for a space is already filled with many memories – both beautiful and heartbreaking. I'm thankful.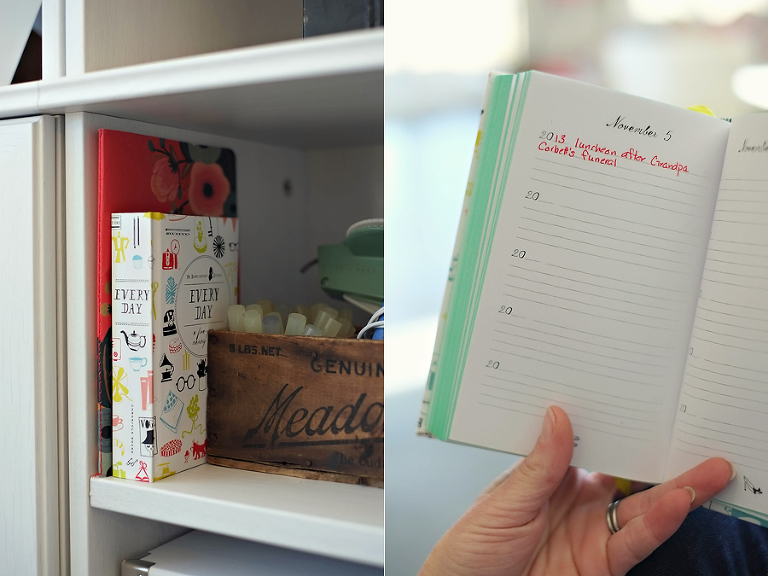 So we are learning to invite people in and that often means things are messy. It means while sitting at the dinner table, a little boy decides to use the bathroom without closing the door. It means spills on the floor and reminding kids to make good decisions. It means letting people see just plain ole' us and all our many imperfections as individuals and parents. It means risking that when they see the 'real' us, they may not like what they see.
It also means knowing the sweet joy of gathering around the table, sipping coffee, eating pancakes and experiencing the gifts found in relationships.
For some reason, the coffee and pancakes always taste better with friends.