Today is the second of two posts about gift wrapping ideas I shared at a local event called A Christmas Gathering.
Click here for my favorite items to keep on hand for wrapping
Click here for discounts from some of the stores I used for wrapping items
Click here for part one of my gift wrapping ideas
Okay…let's just get started. The first example is to use simple muslin bags and customize them. I actually got this idea from a bunch of etsy shops I've ordered products from in the past. So many of them sent my items cutely wrapped in these little bags. For one bag, I added a stamp and then layered cupcake wrappers with a tag. For another bag, I stamped green circles with craft paint and added some layers at the top. For the final bag, I sewed a fabric ruffle, then hot glued it to the bag. I clipped some boxwood and pom pom yarn to the top.
Supplies: Muslin bags, arrow stamp (I also used a US outline stamp on another bag not pictured), gold sequin trim, buttons, pom pom yarn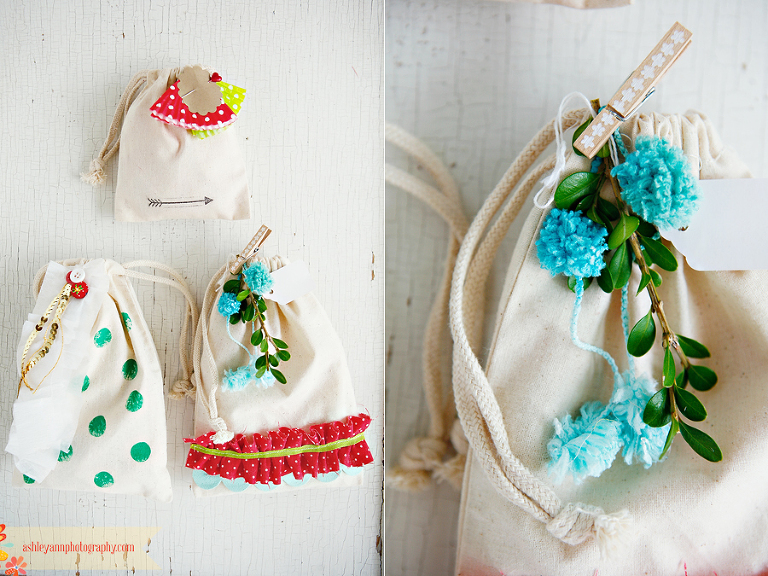 I really, really like old tins. I know not everyone would want a gift wrapped in a tin, but if you have someone like me in your life…go for it. Honestly, the tin would be the gift in my book, but if you wanted to sneak something inside it too, I wouldn't complain. The thing about tins is you really have to find the old ones. New tins just tend not to be as great. I usually find them at estate sales, garage sales, Goodwill, thrift stores and flea markets.
Supplies: Old tins and canisters, crepe paper, white cupcake liner, mini pine cones hot glued to baker's twine, red fabric tag, naughty/nice tag, kraft paper tag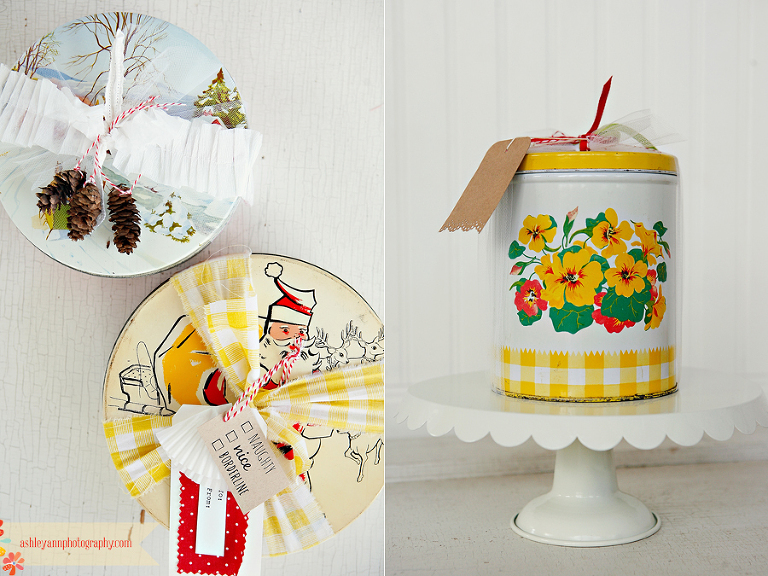 This super cute idea is another one from Amanda of Oh My Little Dears. She teamed up with Heather of Life Made Lovely to recently share this idea of wrapping in a jar. They called them "Party in a Jar"…I like that name. The idea is simple; you repurpose a jar by using it to wrap your gift. I used craft paint to paint the jar lids, then covered the paint in Mod Podge to keep it from scratching. I also added white "snow", a tree and a deer on one lid and green glitter on another.
Supplies: Bleached bristle brush tree, deer, fake "snow", scrapbooking paper, crepe paper ruffle, box wood, lace trim, paper doily, boxwood trimmings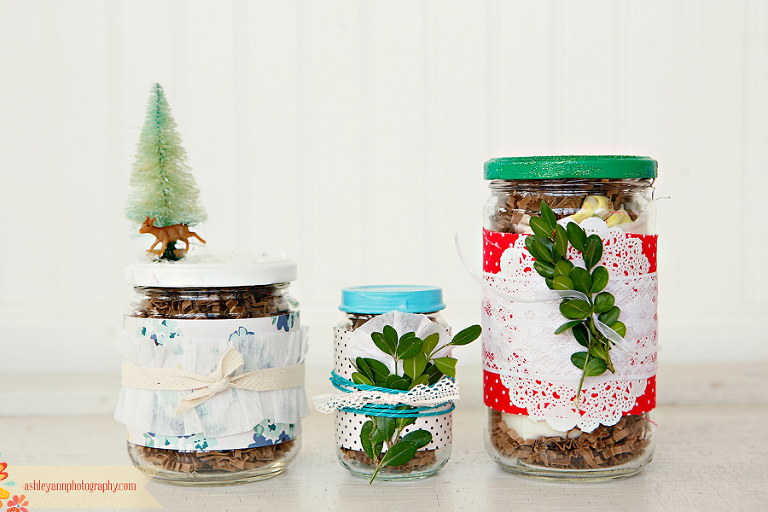 The next idea is to create packaging by sewing scrapbooking paper. For the red package, I just folded my paper and stitched three sides. I also stitched on some lace trim. I used the same concept on the striped envelope. At A Christmas Gathering, Denise said it looked a lot like a cute clutch. Now every time I see it; I see a cute clutch. I got the idea for the blue/green package from my friend Angie. She sent me a gift wrapped like this a year ago and it has stuck with me. I looked to find a tutorial online and found one with pdf directions!
Supplies: Fabric tag, notebook paper envelope, Santa clothespin (I don't have a resource for these), Scrapbooking paper (came in a pack from Hobby Lobby)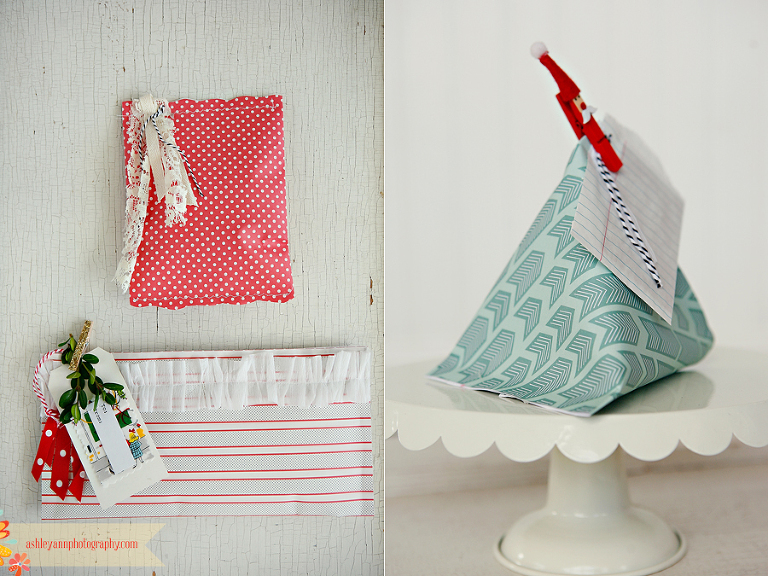 The next gift wrapping idea is to use your main gift to wrap something smaller that ties into your main gift. For instance, I could use the ADORABLE cloud pillow to hold a gift card to Starbucks for a sleep deprived new mom. The collapsible felt storage bin could hold a blanket or maybe a seasonal item with a 5×7 print clipped to the front. I know most people have stockings, but a neutral stocking could be used to wrap a gift and later as decoration.
Supplies: Cloud pillow, Fa La La print, felt storage bin, stocking, ribbon, fabric tag, wooden clip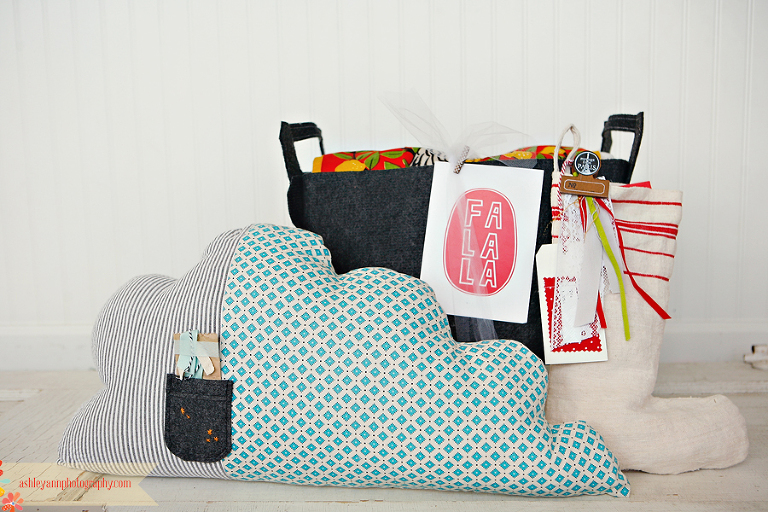 For hostess gifts, I often like to keep the gift semi-visible. As a hostess, sometimes it is awkward to know if you should or shouldn't open a gift and when the best time is for opening. If you give a gift that is semi-wrapped, the hostess can see the gift but it still have some coverage. The little berry crate is filled with wooden spools wrapped with lace trim (a gift to me from the the amazing Amanda). I added some tulle, ribbon and a clothespin with tree hot glued to it. The next gift is a metal tin filled with adorable wooden people (including nativity characters). I cut paper straws into 4 inch pieces, then hot glued cupcake liners to create little 'flowers' to fill the tin. Finally, I used a vintage cheese crate to hold two tea towels.
Supplies: Wood people, naughty/nice tag, wood crate, cupcake liners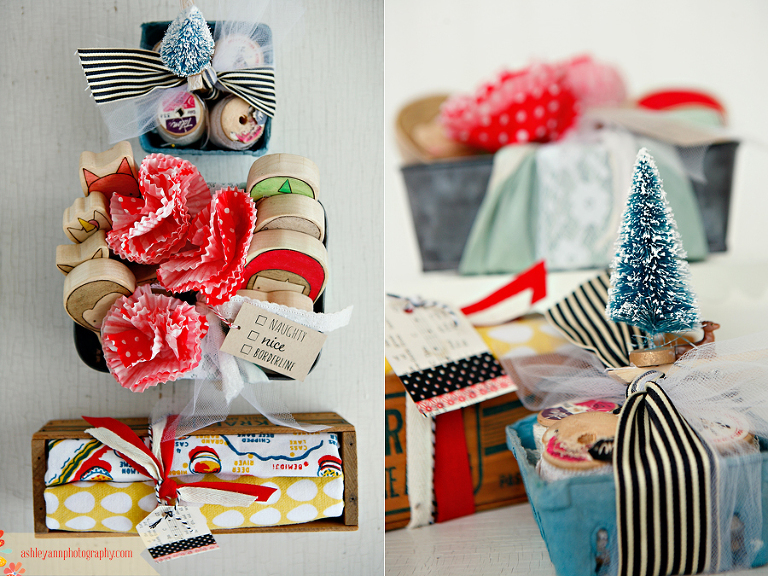 Well that has been a whole lot of long posts lately with lots of great links. I think I will take a long nap (ha!) today and enjoy some turkey tomorrow. Don't forget several of the shops have discount codes going. And with that…happy wrapping!