This is part 1 of a 2 part series on what I shared at A Christmas Gathering this year. My topic was "gift wrapping". I chose to focus on showing how I use a handful of supplies in a variety of ways.
My first tip for gift wrapping is to LAYER.
I don't like wearing layers of anything, but I sure like wrapping with layers. In the example below, I used a few very affordable items to wrap a simple wood box. The box I used was a gift from Amanda of Oh My Little Dears. She purchased the box at a craft supply store and stained it the dark color. Such a genius idea. Amanda actually sells these boxes full of beautiful gift wrapping supplies…but she doesn't sell them often. Here is a link to a post she did on the boxes.
Supplies: Wood box, ruffled crepe paper, burlap trim, boxwood from my front yard, tag, clothespin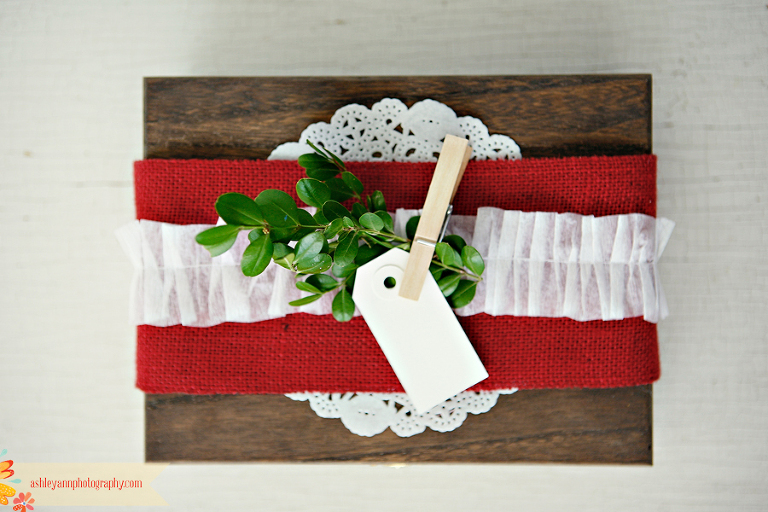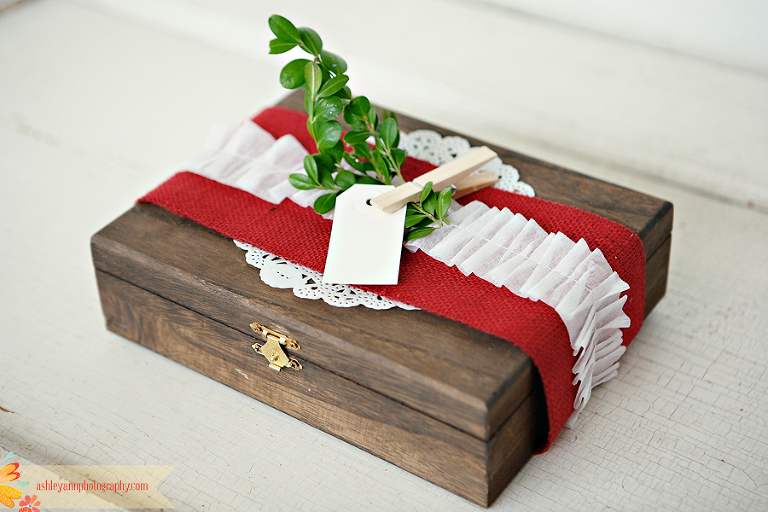 And just to show how you can change up the same concept for a different look or holiday.
Supplies: fabric, ruffled crepe paper, ribbon, monogrammed cookie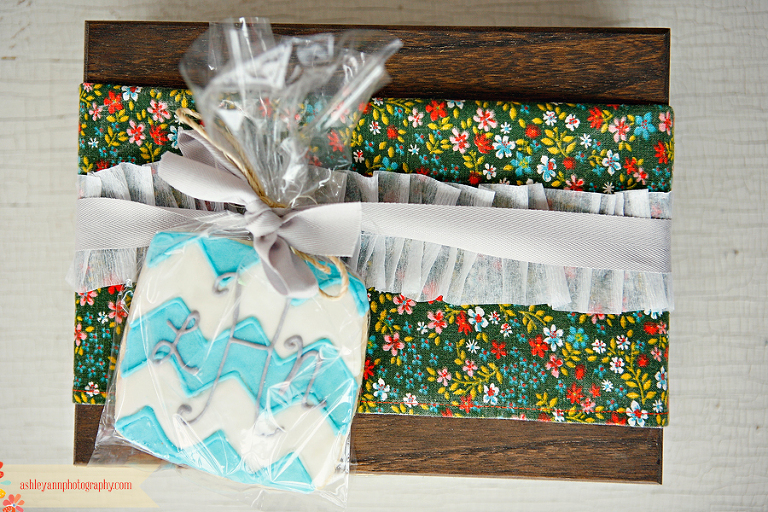 Gift cards are one of my favorite gifts to receive, but they often aren't as fun to give. The next couple of ideas are simple ways to dress up a gift card box. You can make your wrapping match the gift…so the one with utensils might hold a gift card to a restaurant, etc.
Supplies: Kraft pillow boxes, wooden utensils, gold color block key chain, ribbon, gold trim
The next three gifts were my take on more traditional wrapping (AKA the gift is in a box). I added layers of tape, ribbon and twine to the white box, the chalkboard style box was inspired by Going Home To Roost (hers are MUCH cuter…I couldn't find a paint pen!). The final example is using part of the gift to wrap the item – I used a felt garland from Benzie to wrap around my box.
Supplies: Deer (from Hobby Lobby – doll house section), ribbon, fabric tape, baker's twine, felt garland, Joy to the World gift tag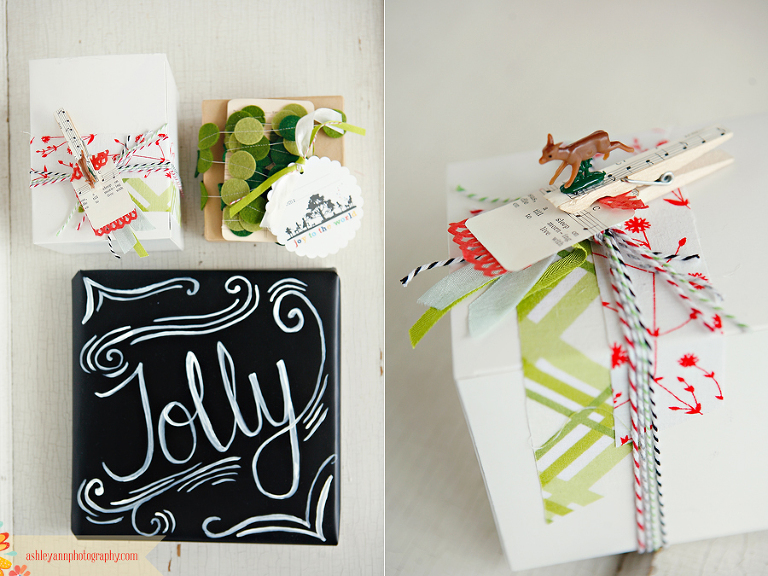 The next examples take ribbon scraps, fabric scraps and tags to layer on boxes, bags or any other container you can find. These were also inspired by Amanda, you can see her's here.
Supplies: Twill ribbon, shiny ribbon, gold sequin ribbon, Awesome stamp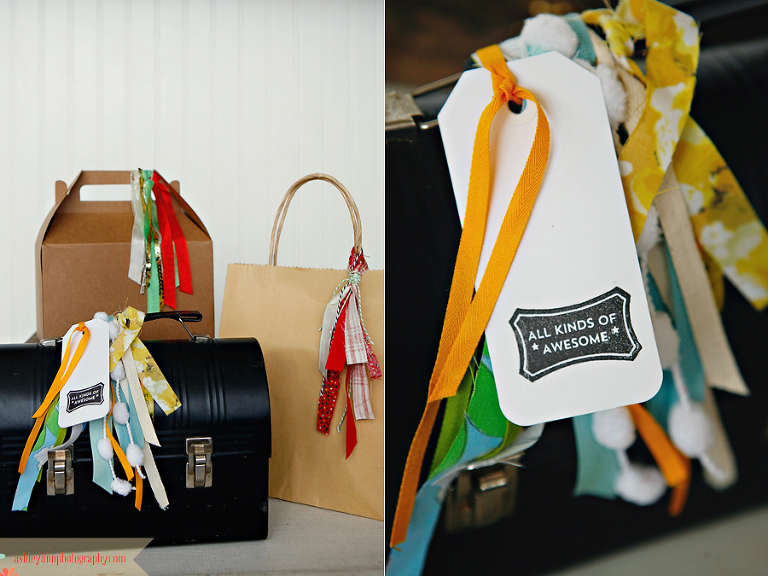 Supplies: Small boxes from Target, tree (see details below), mini cupcake liner tassels, crepe paper ruffle (hot glued to box), tag made from an old photo with my tag punch, decorative fabric tape. To make the cupcake tassles, I just folded the cupcake liners in half twice and hot glued baker's twine to them.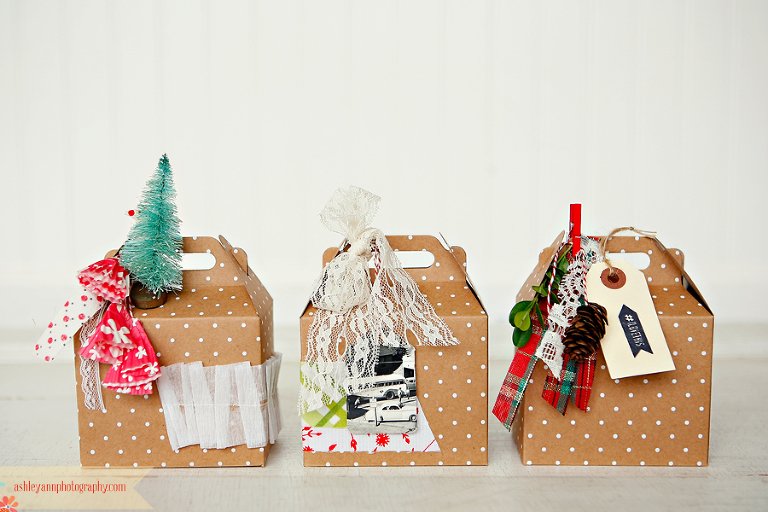 Most of you probably saw this all over pinterest last year, but for those of you that didn't….you can give craft store bristle brush trees a bleach bath. Everyone does it a little different. I used half bleach and half water, then submerged the trees. How much the trees fade depends on how long you keep them submerged. Mine faded really fast – a little over a minute. Don't leave them in too long – or you won't have a tree left. If you bleach them to nearly white, you can dye them different colors too. It is totally addicting. I have a ridiculous amount of faded and dyed trees in my home right now. Intervention might be needed.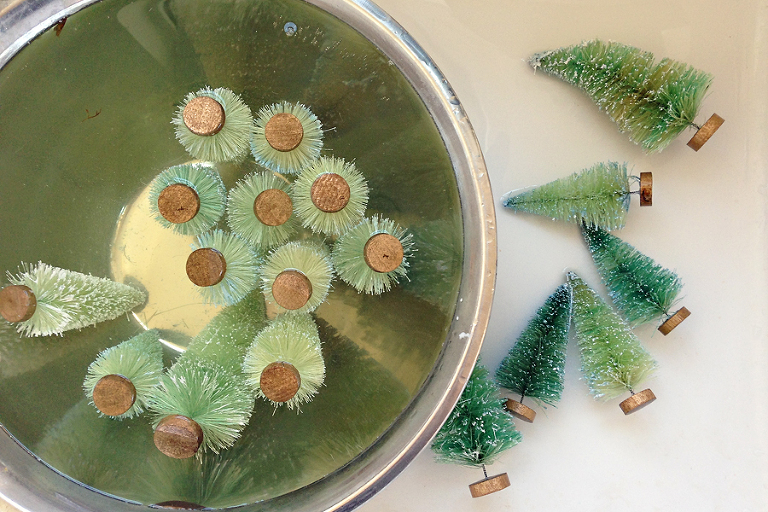 I also really like making gift tags. I use just about anything that is thick – postcards, photos, scrapbooking paper, etc. My tag punch broke, so for these I traced another tag and cut them by hand. I added the reinforcement labels for a pretty and practical touch.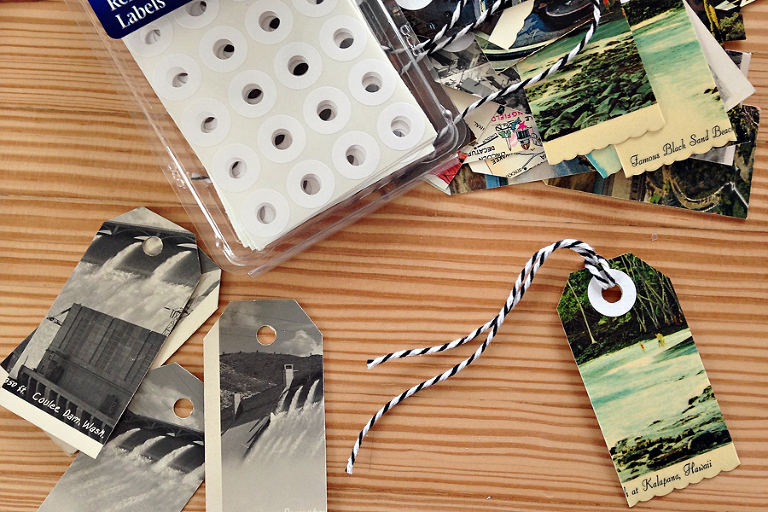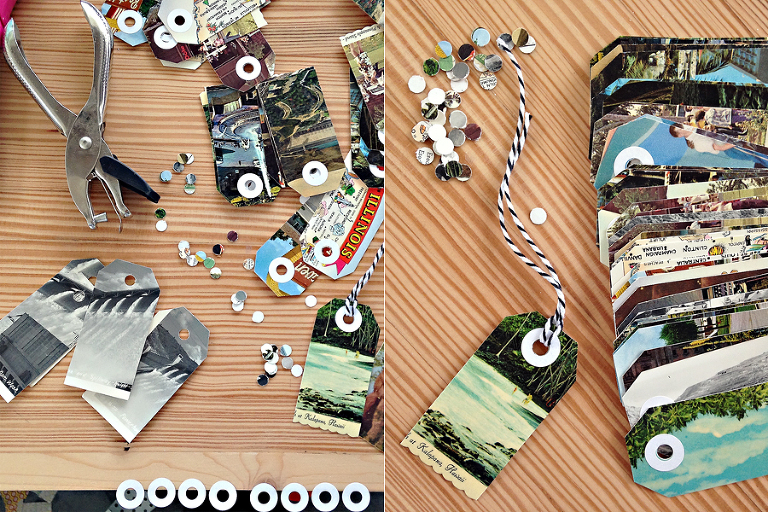 More gift wrapping ideas coming tomorrow….