I am a country music girl. Chris told me once that when he came home from work and country music was playing, he knew it had been a good day. However, there is one rap I know by heart. Okay I don't think it is really a rap, but compared to Brad Paisley, we are going with it. I know every line. And I randomly bust it out quite often. There's just something about it.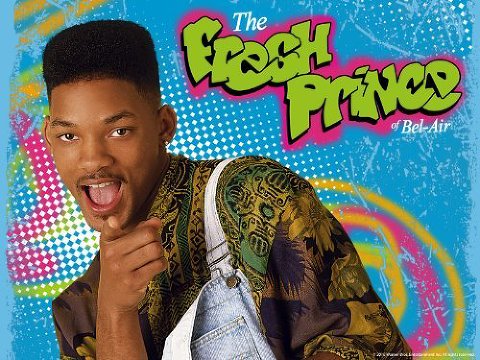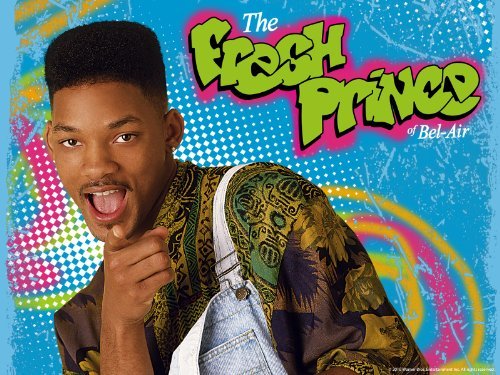 After seeing that, half of you are busting out a little "Now, this is a story all about how my life got flipped-turned upside down." The rest of you either are too young, too old or grew up without cable. For those of you lost, here is a link for your personal enjoyment.  A few weeks ago, Katie of Passive Juice Motel posted a picture of a kid's tank with the line "chillin out maxin relaxin all cool"…from the Fresh Prince theme song (rap). I wanted an adult version! Katie had made a set of dolls that looked like my family when we were still waiting to bring Little One home last year. I shared a link to those dolls, and it still gets lots of hits. Problem is Katie's business, Passive Juice Motel, has taken a new direction over the last year and they no longer offer customized dolls.
When Katie asked me about updating that post, I jumped on the opportunity to get my hands on a Fresh Prince tank! Katie let me pick out some shirts for my big clan – so fun.
I've been working on some things for the phone photography course and bought a little tripod thing and remote (Belkin LiveAction Remote). The kids and I were having fun with the remote. Sidenote: to use the remote you have to use the camera app that comes with it, and that app takes terribly grainy shots inside. The remote is fun, the grainy pictures are not.
"You Gotta Fight For Your Right To Party"…."Chillin Out Maxin Relaxin All Cool"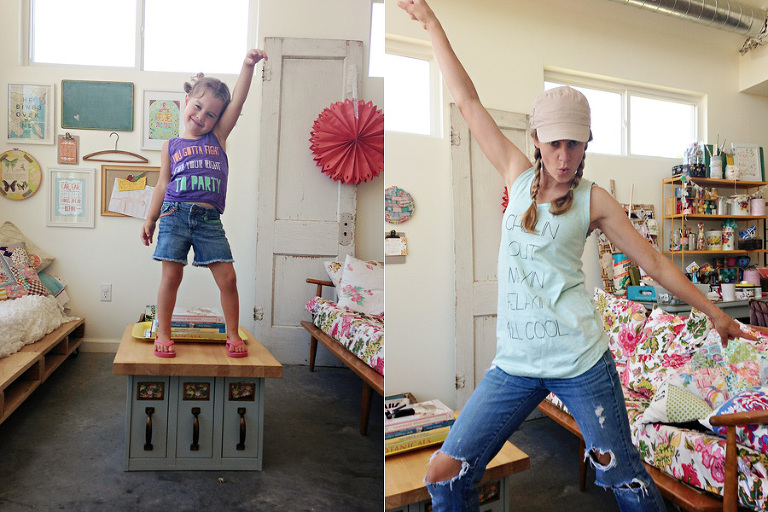 She's standing on the table, because where we put the phone was too high to capture her on the ground. She thought it was her stage.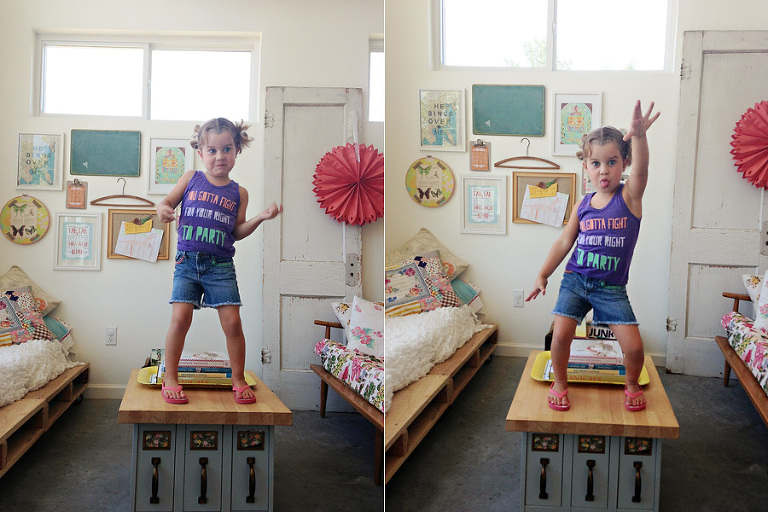 See how grainy these are? Boo on that app. You can see the remote in her hand.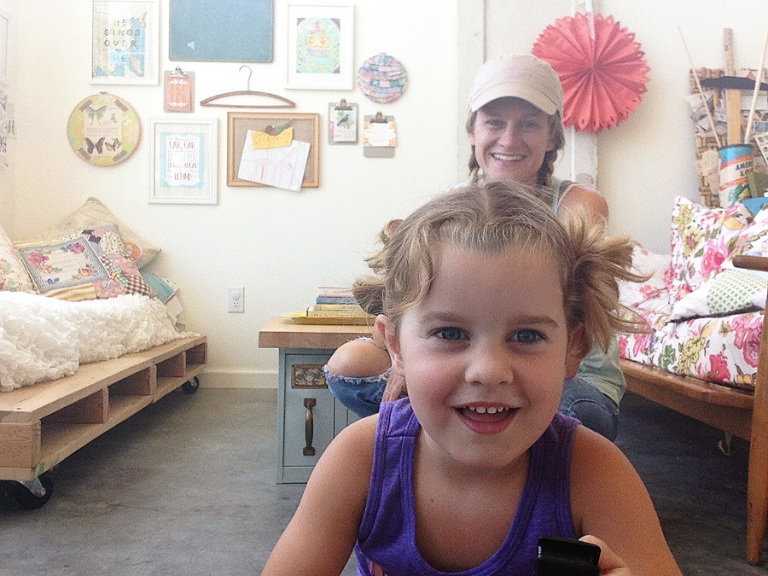 My tank was a little big, so I tied the straps in the back. My son's shirt says, "I think everybody should like everybody." Suits him. This photo makes me smile. My shirt is pretty much the opposite of my life right now. Not much chillin or maxin or relaxin happening here.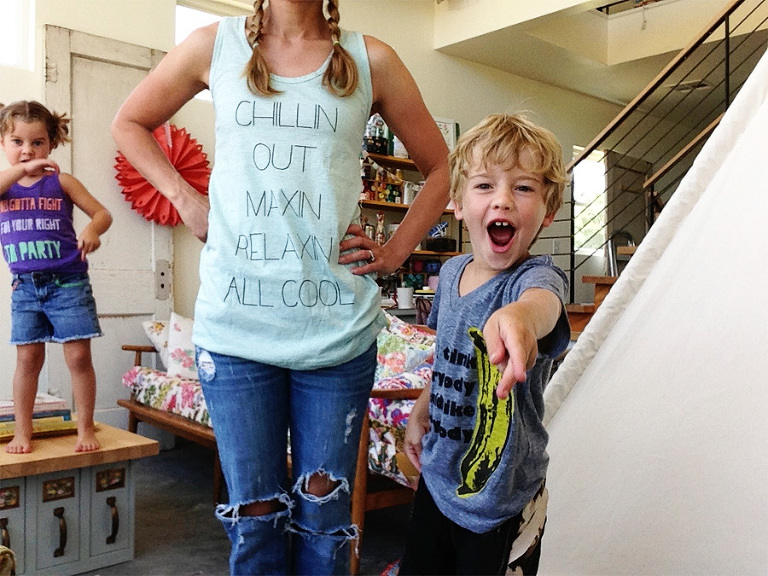 The next three pictures were taken with my regular iPhone camera…so much clearer. I really wish the remote worked without the app.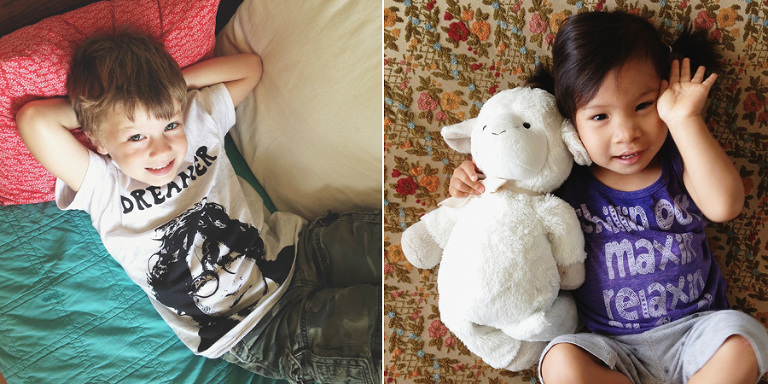 Katie also sent this pillow for my 7 year old naturalist. Pretty much perfect. He is a lefty and the scissors say "Lefty". That was an awesome detail. It has wood grain fabric on the back side.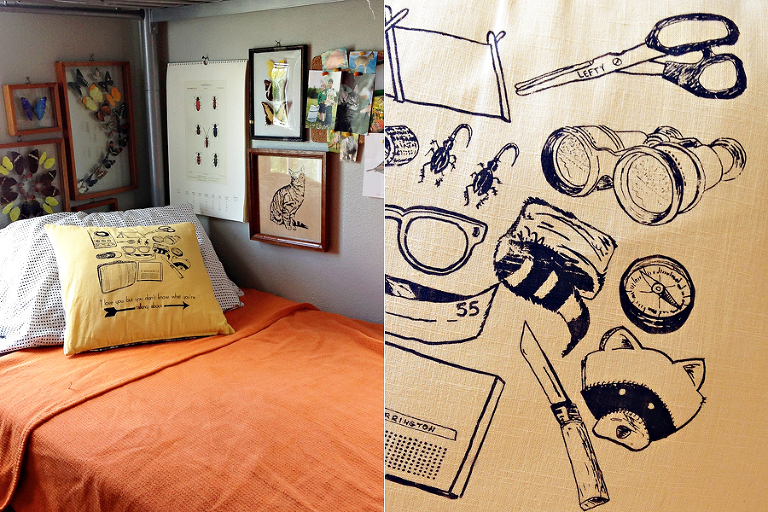 Chris got a Paul Bunyan shirt and my oldest got one that says "Let's swim to the moon". I could never get those two in a shot in their shirts. I picked out the one for my oldest because it is so opposite of him. He is very technical and analytical. He likes to talk in percentages and fractions, "The chickens are 74% through the process of becoming ready to lay eggs." "One fourth of me wants to play that, one half wants to go outside and the last quarter wants to eat." What? I knew he'd read his shirt and inform me that you cannot swim to the moon. It is 100% impossible to swim to the moon. And that is what he said. BUT, it was a fun discussion on dreaming and taking chances and using our imaginations.
You can visit Passive Juice Motel's etsy shop by clicking here
They also have an instagram account (passivejuicemotel) that is updated with new items…how I saw the Fresh Prince tank in the first place.
Yo Homes, smell you later.