This weekend we celebrated Little One turning two.
Last year we threw a big party in her honor, this year I wanted just a simple little gathering in the backyard.
I made a few fabric chandeliers inspired by Sarah's…mine were rough versions because I had three kids wanting to help make them! Everything else was just decorations we already had on hand. I crave simplicity right now.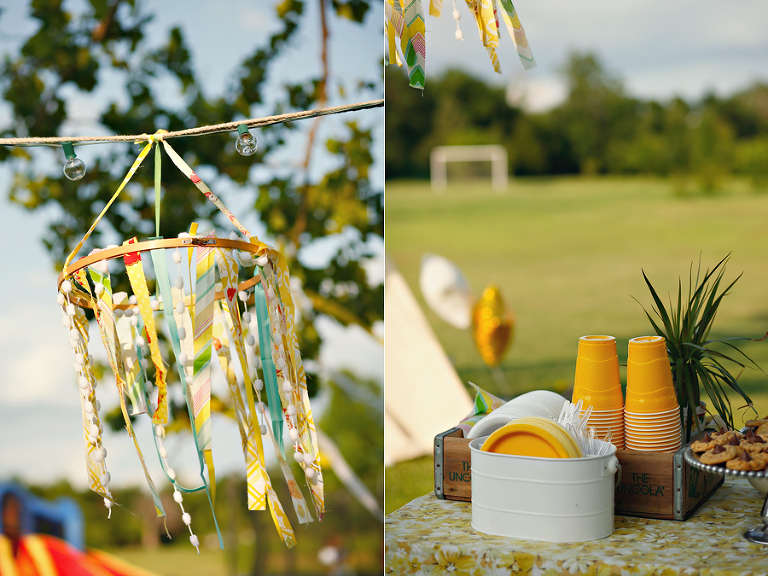 Little One opted out of all the cookies I baked…smoothie for the birthday girl.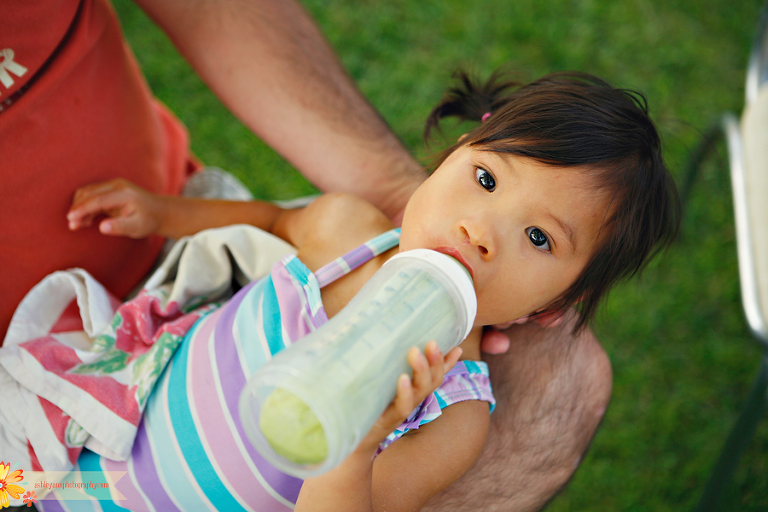 We put a little bit of her Pappy's homemade ice cream in a bowl for her after her smoothie, sang Happy Birthday, and let her think about trying some…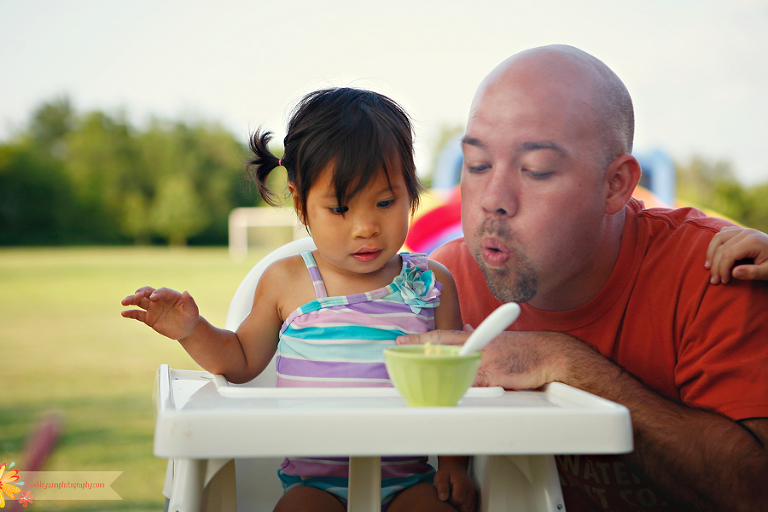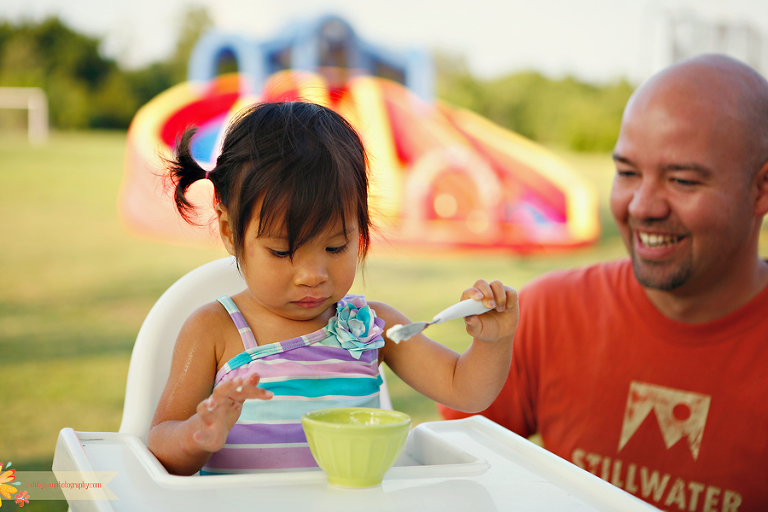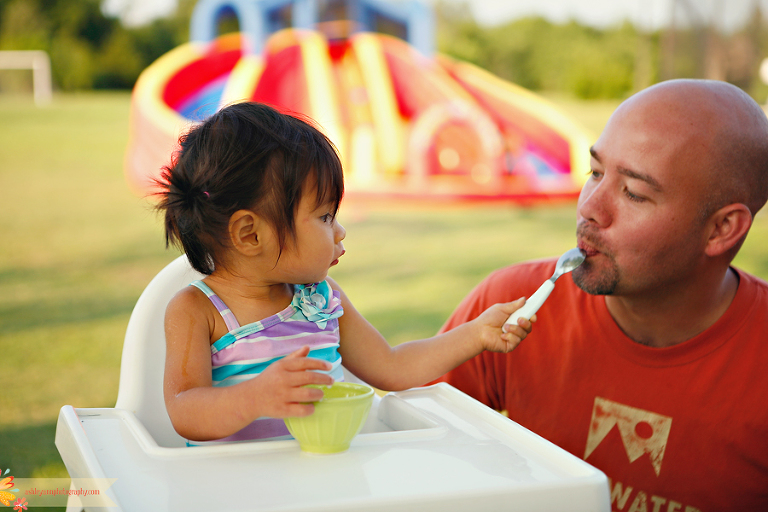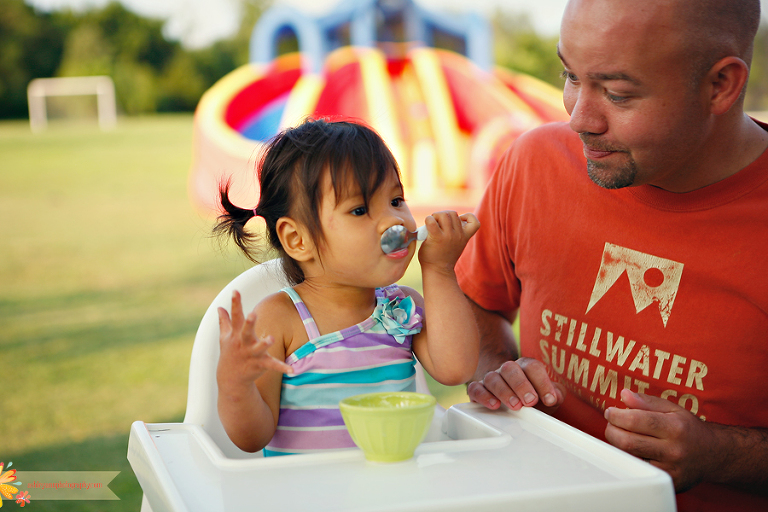 It wasn't a bite, but a lick off the spoon counts around here. My friend Shannon snapped a family photo for me. I love it. So true to life. My crew.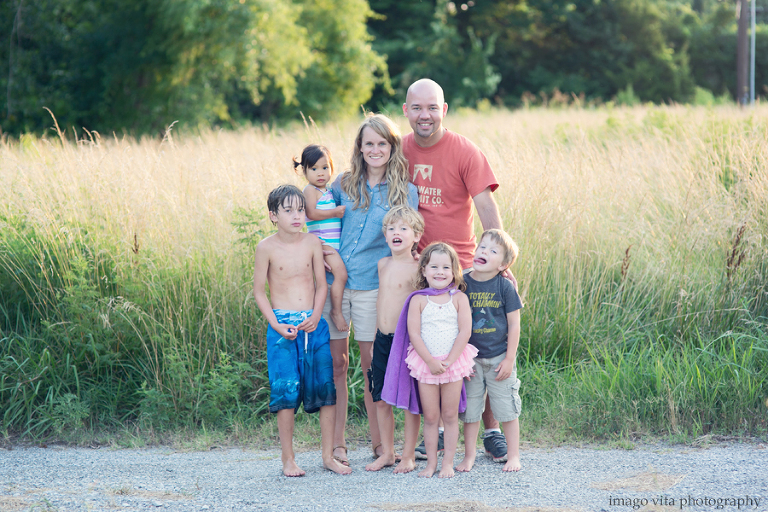 Before the party, I took a few birthday pictures of my girl. She has recently become quite enamored with one of my old cameras. Thankfully, it is a cute little camera so it worked for pictures – kept her happy and I got to get some pictures. My mom made her dress (FireCracker in it two years ago) and her headband is from My Little Dear on etsy.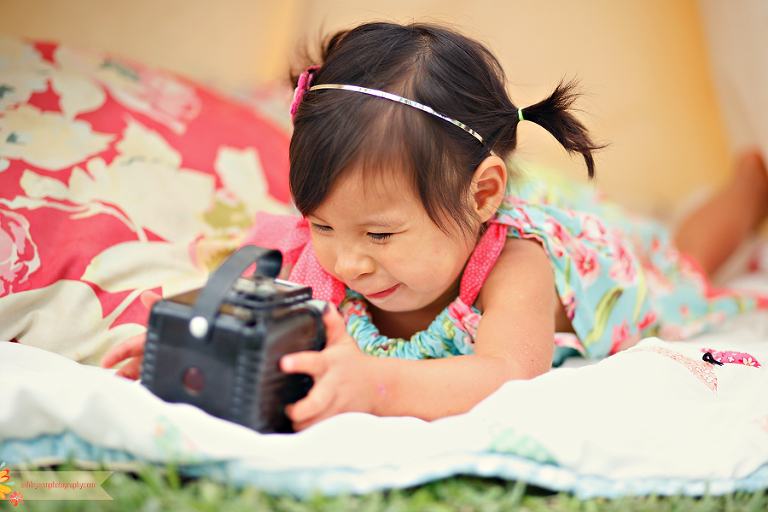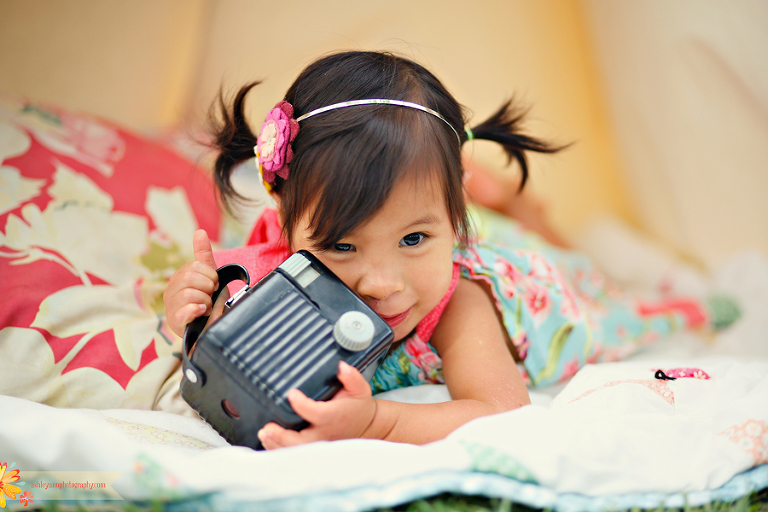 The teepee is c/o Playhaven – it is usually upstairs in the studio, but we bring it outside a lot right now for shade. It fits all my kids!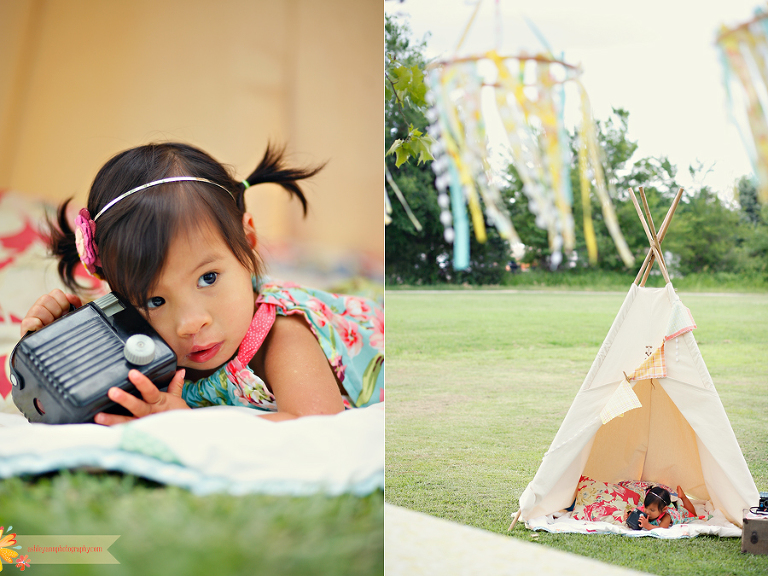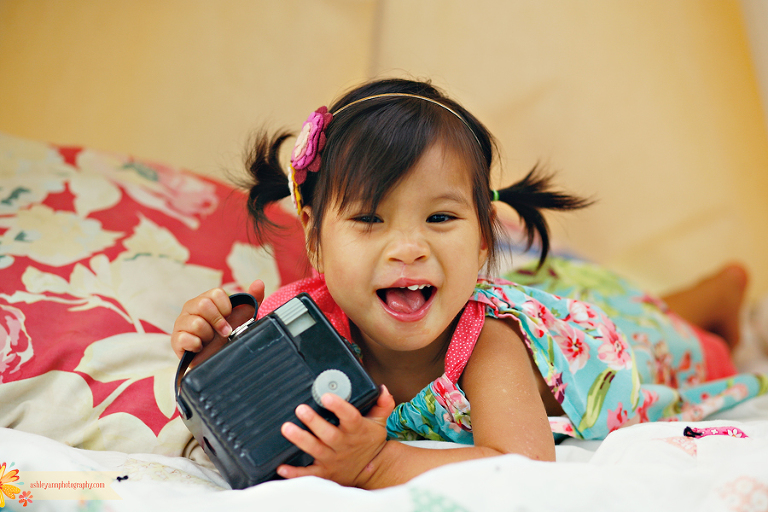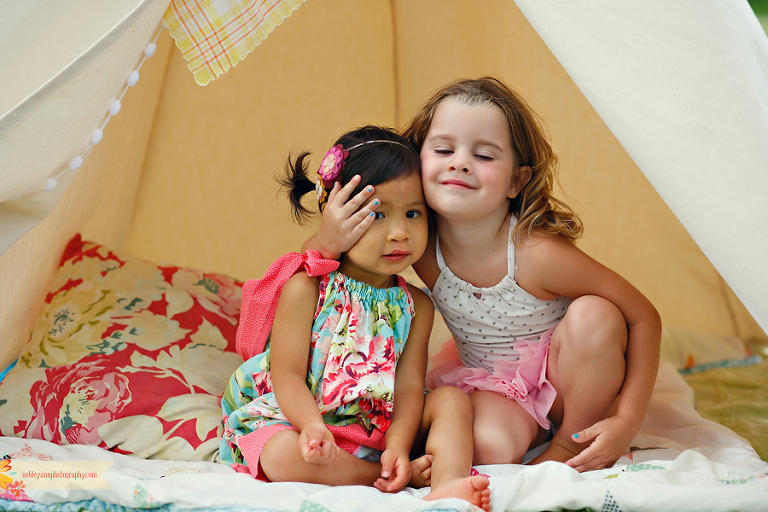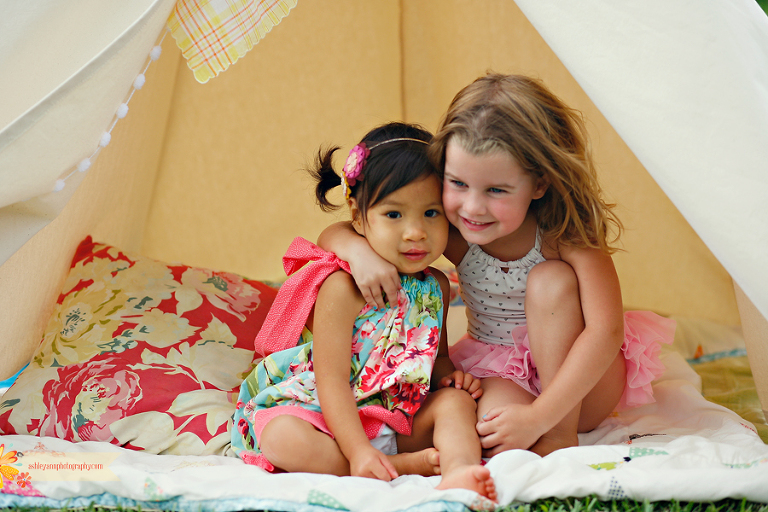 "He put a new song in my mouth, a hymn of praise to our God." ~ Psalm 40:3
Before we were matched with our daughter, I prayed that verse everyday. I prayed that God would put a new song in my child. A song of healing and restoration. The day we got the email with her information, the subject of the email had her name…which began with Song. I was praying God would create a new song in her, little did I know her actual name would be Song! We kept Song as her middle name. She is our Song. Watching her completely transform over the last 10 months has been one of the most incredible experiences of my life. She has transformed our family. She has given us a new song.
There is so much joy having her home this year. Last year we had a huge birthday party for her. It was a way to make it through the weekend being so far from her. This year her big sister woke her up singing "Happy Birthday". Her brothers gave her all kinds of special treatment. The day was filled with laughter, twirling and singing. It was filled with love and overflowing hearts. And more gratitude than words can contain. It was a beautiful, glorious day.  My daughter in my arms, on her birthday. The Best.
In the celebrating, there was also sadness. A birthday is the day you celebrate when someone was born. We sure celebrate the birth of our daughter, but I also feel great sadness for the loss that is part of her birthday. I feel loss for her mom that heard her very first cries. I feel loss for that broken relationship. I feel loss for the questions and struggles my daughter might face. I feel loss that I didn't get to see what she looked like as a newborn or know little things like how much she weighed.
And yet, I've learned over the last year that some of the most beautiful parts of life are tapestry woven with pain and joy and grace. Some would say that in acknowledging  the sadness, you take away from the joy or gratitude for the gifts in front of you.  I think the presence of pain or sadness does not negate the joy or gratitude. Sometimes it is that pain that heightens the senses to the joys. I love how God does that…how sometimes healing comes through the hurt.
This weekend I celebrated the birth of my youngest daughter.
I celebrated the woman that gave her life and the ability to sing.
I celebrated that I get to spend a lifetime helping her find her song.