Today I'm going to write about cleft lips.
This is a difficult post to write. Things I've been wrestling with for months. Each time I've sat down before to write this, I end up closing my computer. This post, these thoughts are from a mother's perspective. I don't know how my daughter will feel as she grows regarding being born with a cleft lip and palate. I've watched tons and tons of YouTube videos and read blogs of teenagers that share about their experience with clefts. So much insight for me. I am so grateful for all those teenagers that are bravely sharing their struggles, pains and joys. Their words are a gift to me.
But this post isn't about what it is like to be born with a cleft. I don't know what that is like.
This post is about what it is like to have a child with a cleft. What the eyes of a mom sees. What the heart of a mom feels.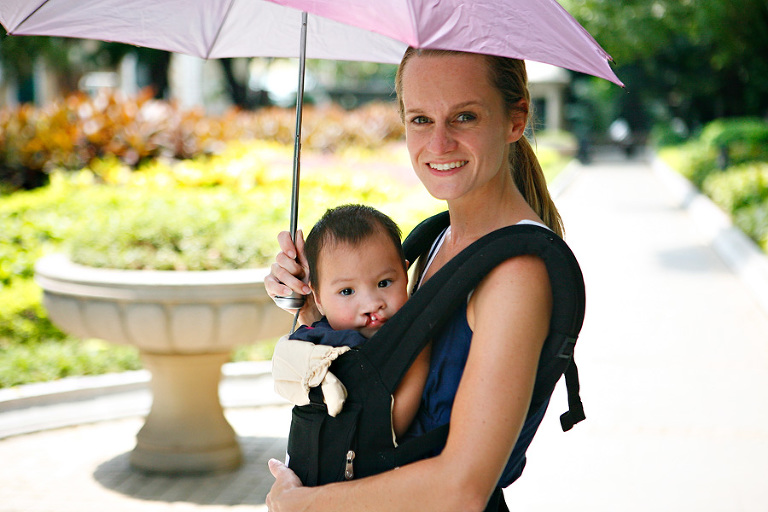 Me and my girl a couple days after we met.  I was in total bliss and a bit in shock that she was actually in my arms.
****
It wasn't long before I felt the stares of others. Everywhere we went. Stares. Whispers. Pointing. Some physically using their finger to push up on their own upper lip so as to mimic my sweet baby's lips. The streets were crowded and at times the stares were suffocating.  I don't like attention (a minor problem when you are a blond American in China!). I prefer to blend in with the crowds. I tried to focus on the joy of my girl in my arms instead of letting anger build over how others responded to her. To us.
Our oldest two boys were with us in China and I knew they were watching it all. Taking it all in. My oldest still vividly remembers sitting at a restaurant for dinner. Little One got upset so I took her outside. After I left, he looked up to see a couple of waitresses making fun of his little sister. That experience marked him.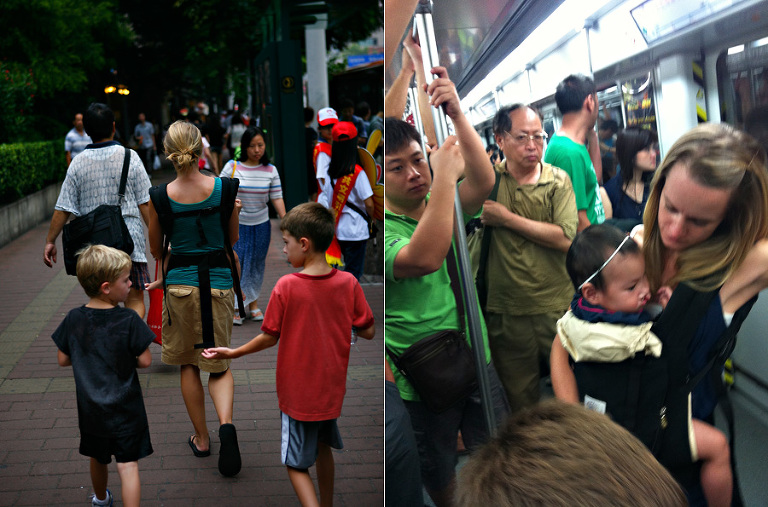 The boys were learning from us how to handle the attention and the unkind responses. I was so aware of the boys watching and my girl picking up on my emotions. I remember often whispering in her ear that we would be brave together. We would walk with our heads held high despite the stares and whispers. Despite the gasps. No matter how much we wanted to hide ourselves away, we would not let others rob our joy. Though I whispered in her ear, really the words were for me.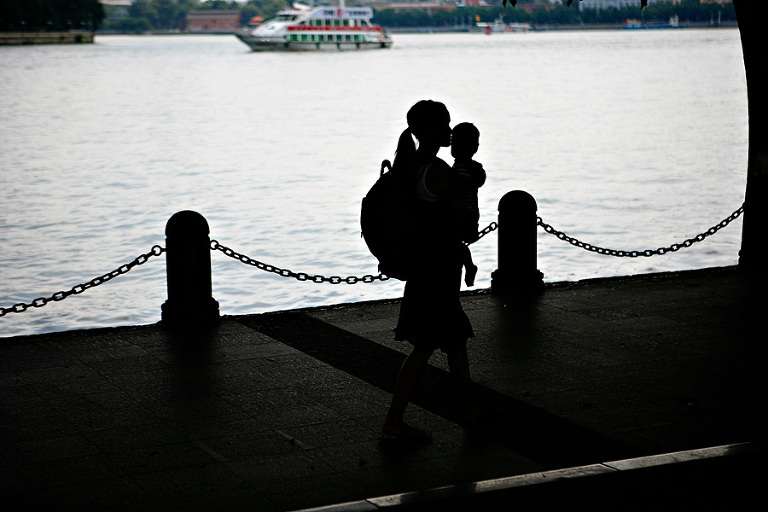 Eventually we arrived back in the US. I remember when the plane touched down in Chicago, hoping things would be different. Hoping for less stares. Hope deferred makes the heart sick. My heart was sick. It was hard. The stares, the comments, the whispers all remained. I will always be thankful for the incredible friends and family we had greeting us at the airport when finally arrived home. They became our support and our safe places. They saw our daughter, not her cleft. They celebrated her and us. They are beautiful people. I am also so thankful for all of you – this online community – that showered us with excitement and support, that loved my daughter and were captivated by her too.
However, when we weren't in our 'safe places' the stares remained.
Those first couple of months home were very hard in regards to watching how others responded to my girl. I would waver between anger and sadness. I just wanted everyone to see my beautiful daughter and it felt like so many could not get past that her lip looked different than theirs. Sometimes I wanted to scream. Sometimes I wanted to cry. Sometimes I wanted to say something I shouldn't. I wrote about all those emotions in an earlier post.
Eventually I just moved on. I still felt the stares and heard the whispers, but I just didn't dwell on it. I moved on and we had a new normal. I could predict the places we'd go and get more stares than normal. I learned that there were those that were just downright terrible regarding how they viewed my daughter's cleft. I also learned that there were those that weren't sure how to respond or how to talk to us. They would kindly comment on how cute Little One's shoes were or how her headband was adorable, but not how cute SHE was or how adorable SHE was. It was a big change. I've been through motherhood four times before and usually people comment about how cute the baby is and then maybe how cute an accessory is. I soon realized the most people just didn't know what to say. After all, we life in a world that defines beauty in certain ways and sometimes it is hard to see beauty where the masses do not.
But I saw beauty. Just like her four older siblings, she captivated me. Her big cleft smile completely changed me.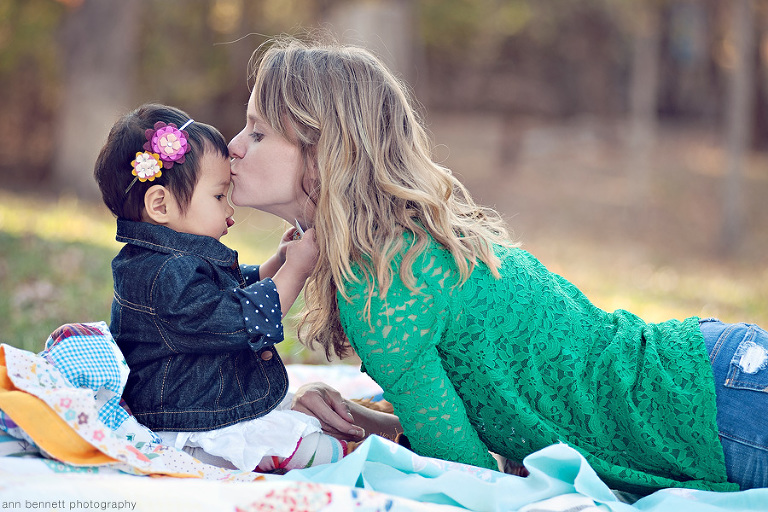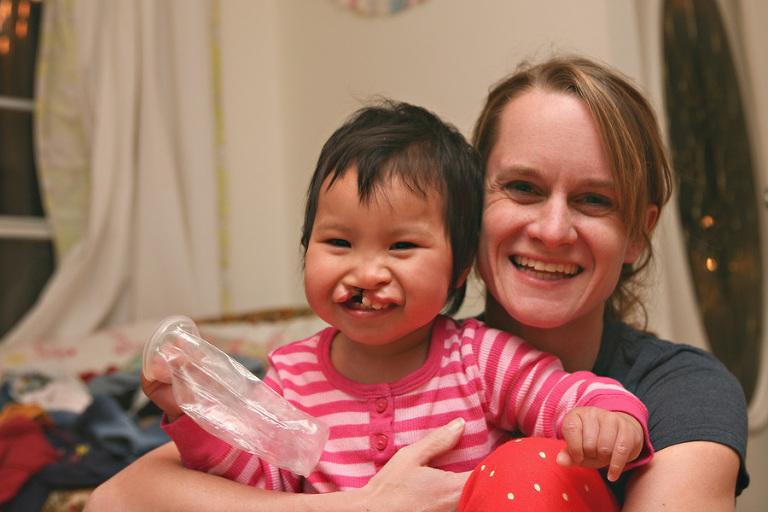 We had four months together before her lip repair surgery. I adored her face, her lips, her smile, the funny way she'd stick her tongue in and out of her cleft. Going into surgery I knew the face I saw when I closed my eyes would soon be very different. Despite all the heartache involving how others viewed her, I just ached and mourned the loss of the beautiful face I knew. Don't get me wrong, we wanted the surgery for a million reasons and knew it was in her best interest. But that doesn't change the sense of loss I felt that day.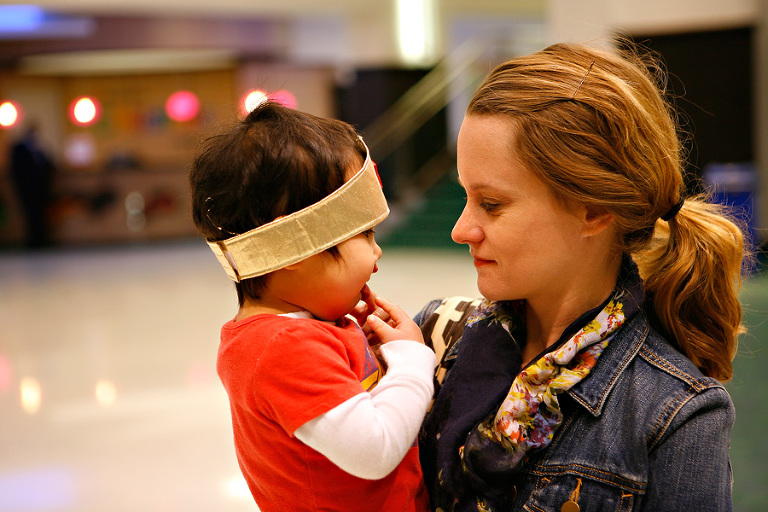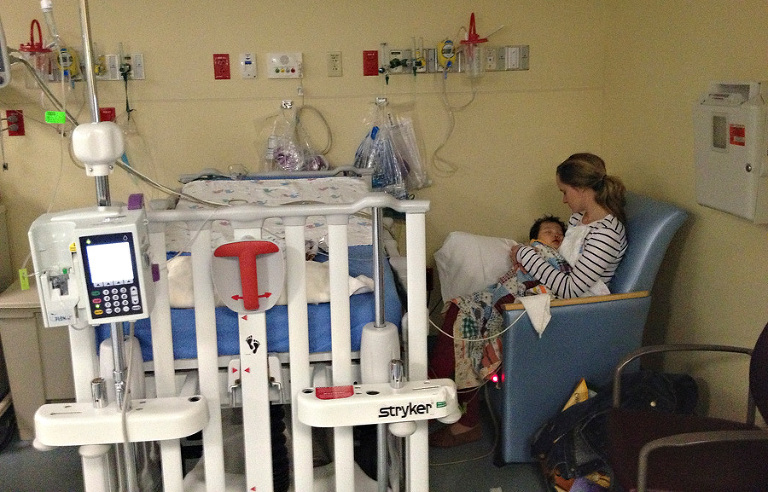 Post-op was horrible. My sweet, happy girl looked so very different. She was in pain. Swollen. Hurting. Others would comment on what a transformation took place and how amazing she looked. Her surgeon did do an incredible job, but my girl was hurting. It is hard to rejoice and smile when your child is enduring pain. So very hard.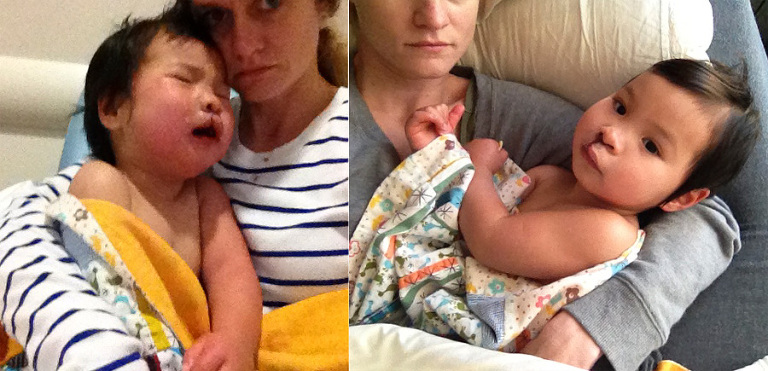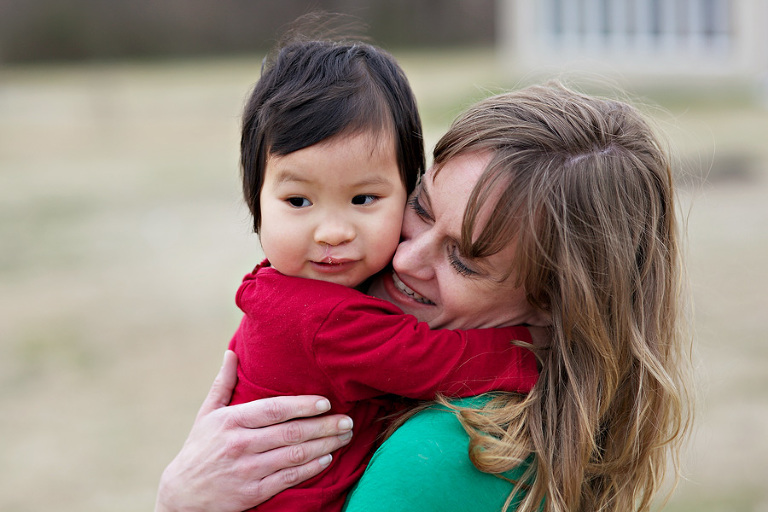 About 6 weeks later she was back to herself and rocking a gorgeous new smile. I love her smile now as much as I did prior to surgery.
Going out and about after she was healed has been so much harder than I could have ever imagined. There are no stares. No whispers. No mean looks or harsh comments. People often stop me to tell me what a beautiful daughter I have and then they might mention they like her outfit too. I am so thankful for that for her. The hard part for me is coming face to face with the harsh reality of the world we live in.
We live in a world where appearance matters tremendously.
A world that defines beauty in certain ways.
A world that can be harsh and mean if you don't fit inside certain parameters regarding what is on the outside.
A world all too often blinded to beauty.
Goodness my girl is gorgeous – since the day she was born. My daughter will always have a scar from being born with a cleft lip and palate. I pray her scar fades. We chose a surgeon we believed could make her lip look as much like everyone else's as possible. I want that for her. I don't want her to feel the stares. To hear the whispers. To see the pointing that others must face. I want her scar to fade.
As thankful as I am for an incredible surgeon and a successful surgery, selfishly at times I miss her cleft lip. It makes me sad that not everyone got to know my girl prior to surgery. I feel like they missed out by not seeing her first beautiful smile. Not many people get to have two completely different but similar smiles in life. But, I do feel like I've turned a corner finally. I no longer feel like her smile is 'new'. It is finally just her smile again.  We have both healed, I guess you could say.
I have a bunch of scars. One from roller blading down a huge hill, one from a hot glue gun, one from chicken pox, and many more. They all tell a story.
Having a child with a cleft lip and watching how the world responds to her pre and post surgery has scarred me in a most wonderful way.  A scar takes place after healing. I am thankful for pain, for the need to be healed and the scar that marks that healing. I hope and pray my scar is big, nasty and gnarly. I hope it never fades. I needed to be changed in this way. My daughter taught me about beauty. I hope in some way I am reminded of this scar everyday. I don't want this experience to be another thing I forget as time passes. I want this change in me – the one that sees beauty in new and unexpected faces – to last a lifetime.
I want my scar to mark the rest of my life.
***********
UPDATE: Sorry for not clarifying that I do recognize a lot of the stares were from a place of curiosity.  I don't believe all the world is horrible or responds terribly to those that are different. We have been showed tremendous kindness and met incredible people that have embraced our daughter and her differences. This post was more about the struggles with those that didn't. I should have done a better job explaining that!  I think it is 100% okay to comment on the headbands, shoes, etc. when you don't know what to say. I appreciated those comments because I knew they came from a place of kindness. I also recognized that they probably didn't know what to say, but wanted to say something. Those comments weren't 'wrong'. They didn't make me upset, it made me more just sad that it wasn't as natural to comment on her beauty. I never took those comments at rude or wrong. I understood the grace in which they were spoken. I apologize for not being more clear on that on this post. Goodness this is a hard post to cover it all!