My youngest and I got to go on a little girls' trip together. It was a trip several years in the making. Nearly three years ago I got an email from an etsy seller asking if I'd be interested in hosting a giveaway for her shop. The seller's name was Angie Weldon and she was working hard filling her etsy shop with cuteness in hopes to help fund their adoption. They were adopting a little girl from China. Angie sent me a few bags and I shared about them on my blog (post here). That was in September 2010.
After that initial email from Angie, I followed her blog to keep up with her story.
2011 rolled around and Chris and I began the paperwork to begin an open domestic adoption. I've written more about that whole process before. Long story short is after we had mailed off our application, I just had an unsettling feeling. We were so excited about the road we were on, and yet something just didn't feel right. I couldn't place it. Randomly, I thought about Angie. They were still waiting to travel to bring home their daughter and she had never posted a picture of her sweet girl. I really only knew that their process was going fast compared to the 5-6 year wait I had heard that Chinese adoptions take.
On May 9, 2011 I emailed Angie asking her why their process was going so fast.
She quickly emailed me back and included a photo of her daughter, Emery. A gorgeous baby girl with a cleft lip and palate.
The moment I saw Emery's photo, I knew. I knew deep down I had a Little One in China with a cleft lip and palate. (post with more about that)
There is so much more to that whole story, but you can read the old posts for all that.
Bottom line is Little One in my arms is a direct result of the life of Emery Weldon.
God is so good. I love when He writes crazy stories full of unexpected surprises.
Angie virtually held my hand through our adoption and through these past few months being home with our girl. She understood the emotions I felt in that hospital recovery room after Little One's lip repair. She just gets all the stuff that I can never explain. There have been days over the last year that felt so overwhelming and realities that have been so hard to face – Angie's sweet encouragement helped me through so much. She is a gift from God in my life.
So, last week I boarded a plane with my girl and we flew across the country to finally get these sweet girls together…and for Angie and I to meet in 'real life'.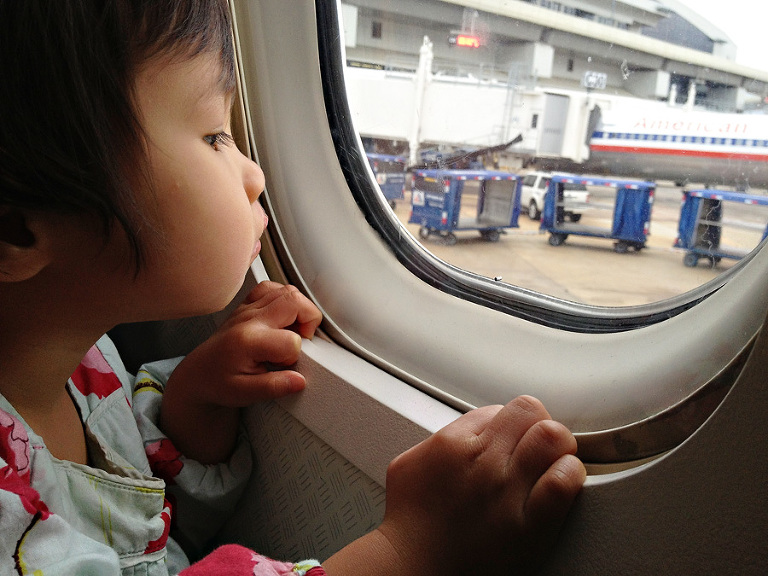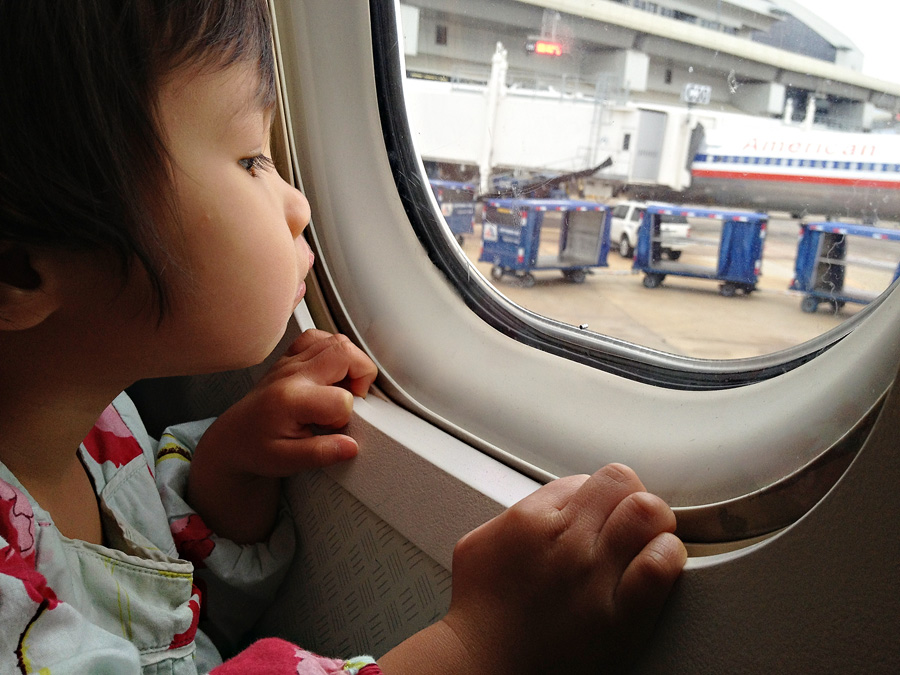 The headphones lasted about a minute. I've done a lot of traveling on planes with kids. A lot. I have lots of tricks and methods. None of them work with this girl. Our first flight was horrible. It only lasted an hour, but it was horrible. I landed and called Chris. The minute I heard his voice I started crying. I was very strongly considering renting a car and making the 5 hour drive back home. But I didn't. I trekked on…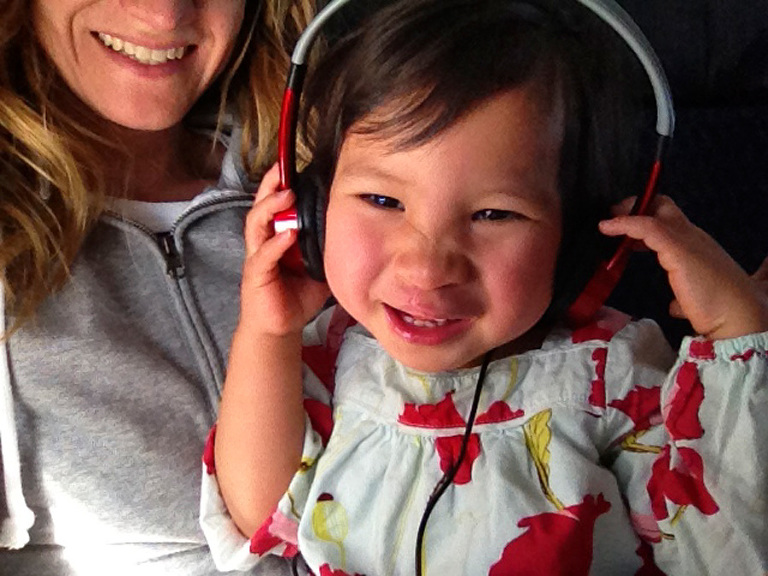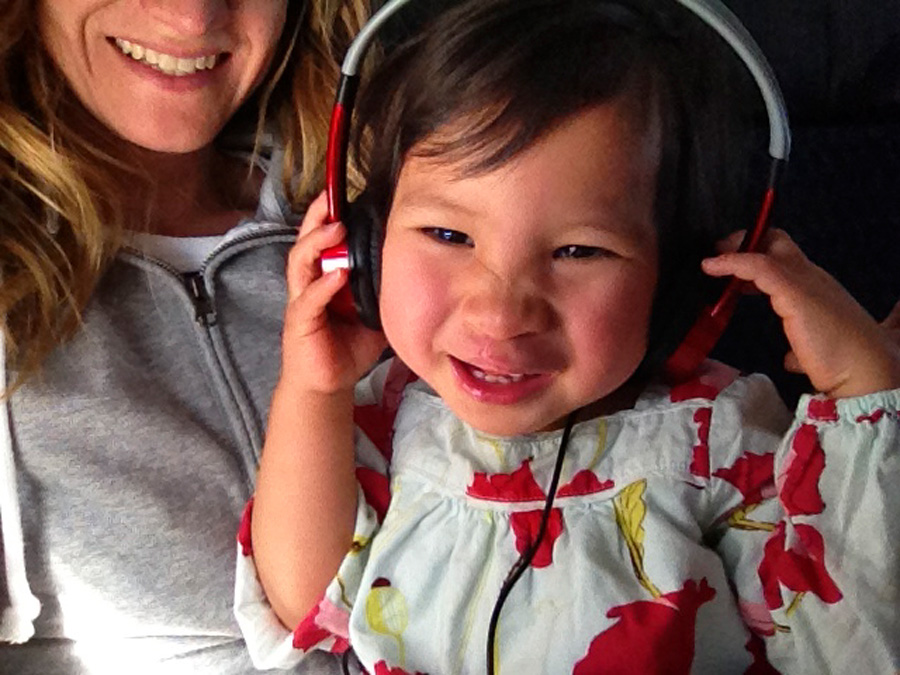 And I am so glad I didn't rent that car. When our plane landed I saw Angie and her kids waiting for us and it was like a breath of fresh air. Finally meeting Angie was such a gift. After years of emailing and texting (and a few phone calls) I was certain Angie would be exactly as she seems on her blog. She is. Laid back, easy going, creative, crazy about her kids, a great mom, the kind of woman you just want to hang out with all the time. I felt the freedom with her to just relax and be completely me. That doesn't always happen when I meet new people. Seeing our girls together was a little surreal. These two, whose stories are woven together in the most incredible ways. These two that are so very much alike and on such similar journeys. These two…a year apart in age.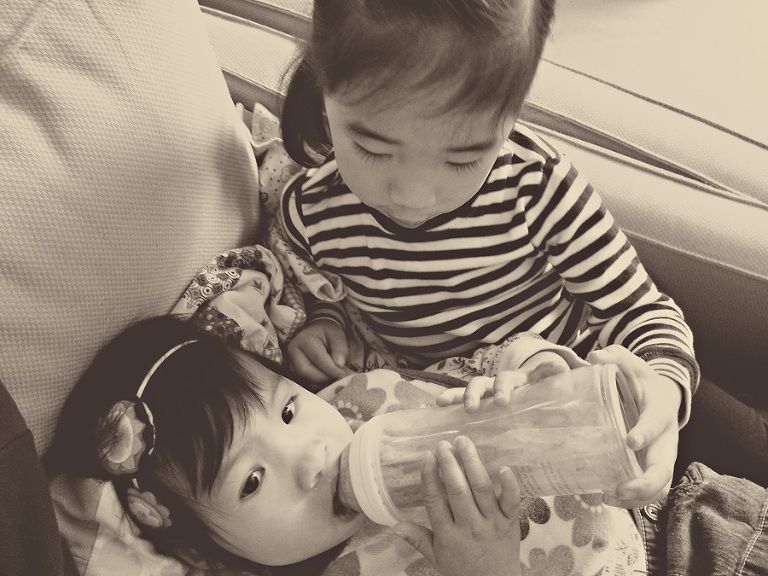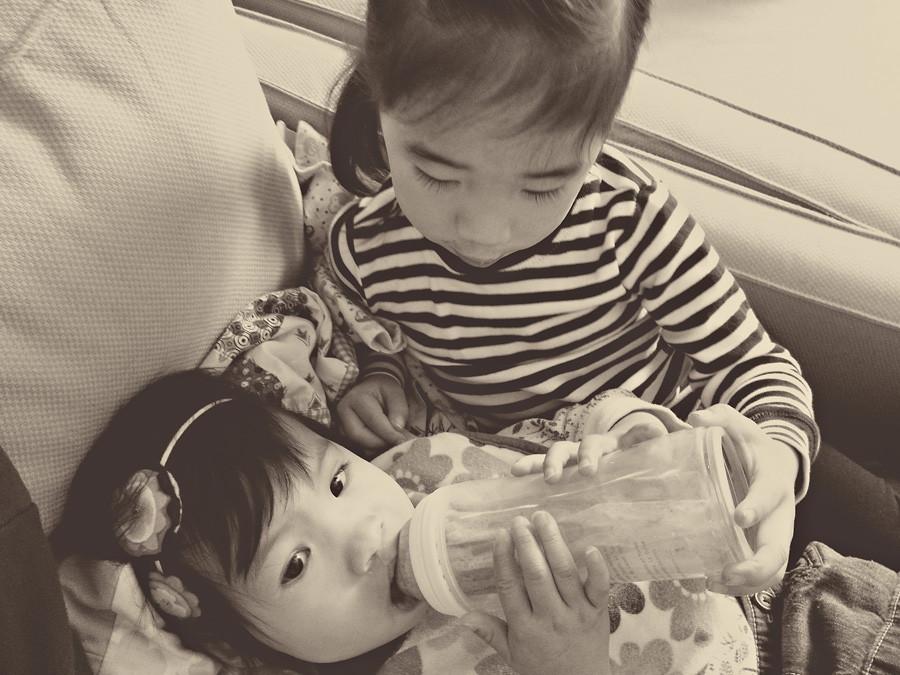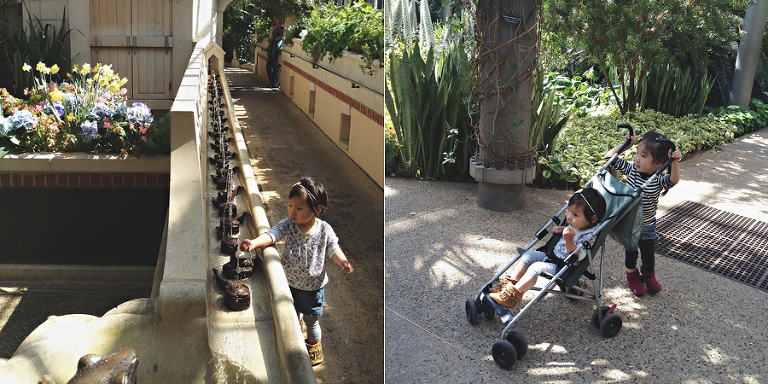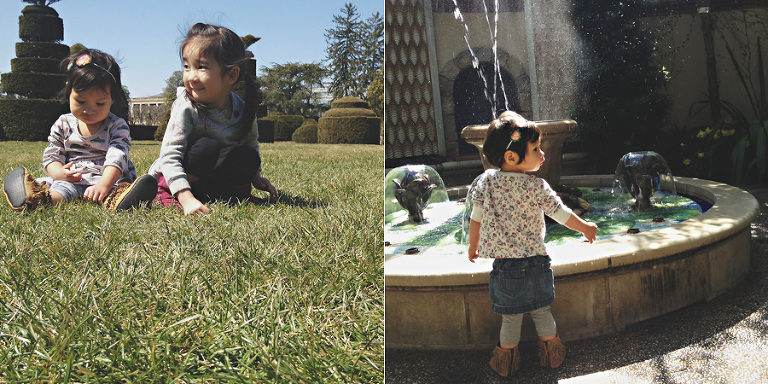 Angie has two boys the ages of two of my boys, so Little One felt right at home. I love this family so much.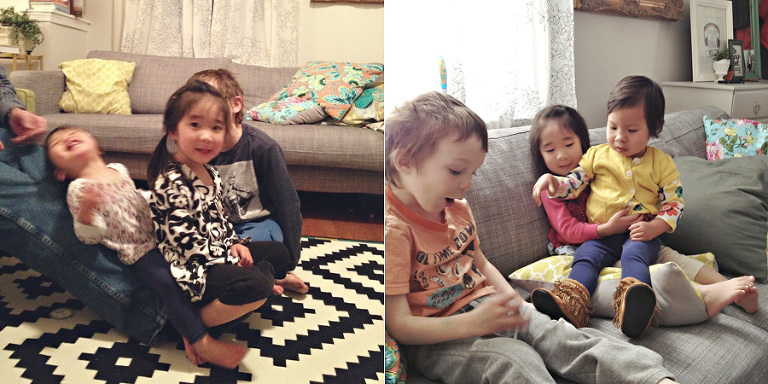 We tried for three days to get photos of the girls together, but nearly every shot is a blur. They were a blur of movement, so I guess the images are true to life.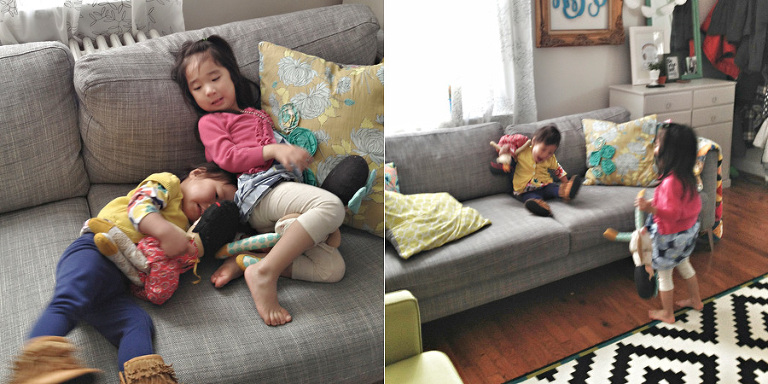 I am so grateful Clint and Angie let us invade their house for a few days. Emery is about a year ahead of Little One regarding surgeries, speech, communication, etc. I picked Angie's brain on a million things. It was wonderful to talk with someone that understood all the layers of clefts, adoption, Chinese adoptions, communication, attachment, etc. It is stuff I don't talk about regularly, but sometimes need to. Little One's next surgery will be sometime this summer and it is a much bigger surgery (medically, not cosmetically) than the lip repair. I am doing my best not to get anxious about it….it was great timing to be able to talk to Angie about all that too.
And to top it off, while we were at the Weldon's, Little One touched food to her mouth for the first time! More on that later this week, but that is HUGE!!
So, after three wonderful days with friends, it was time to head back home. Never say never. BUT, I am never flying with a toddler again.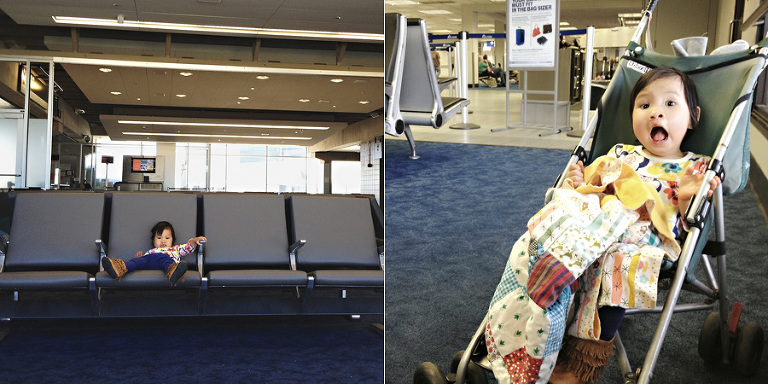 The last flight was an hour long and she crashed. Just enough rest to have energy for her siblings when she got home.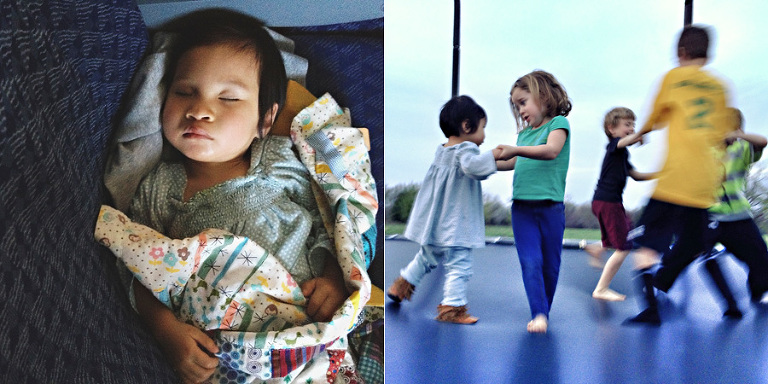 She hasn't been away from her brothers and sister for that long since she came home. I wish I had video of her on the trampoline with them. She was more excited and giddy than we have ever seen her. She just kept laughing and wrestling with the boys. She couldn't contain her excitement to be with them again. It was quite simply awesome.