Well, I need to address yesterday's stocking post…I am sorry to say, but the old stockings are not up for grabs. They actually all have my kid's names embroidered on them! I turned them around for pictures to post on my blog. If my kid's names weren't on them, I would have been happy to pass them on to one of you.
Quite a while back, I pulled out a magazine page that had just a glimpse of a corkboard made with cork stoppers. I can't find that page anymore. I also thought I pinned it on one of my pinterest boards and can't find it there either. I did, however, find a bunch of great ideas for ways to make corkboards out of cork stoppers while looking for the original on pinterest. So, all that to say…this is not an original idea. It is just my version based on that old magazine page.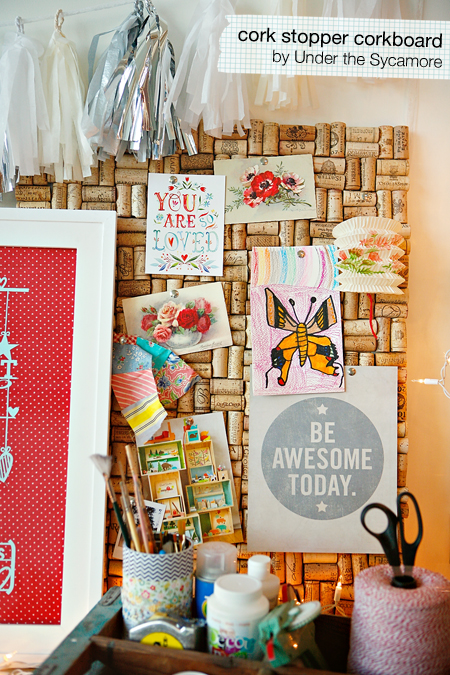 Supplies:
Scrap board
Corks (a sweet friend hooked me up with a huge stash)
Hot glue and glue gun
Table saw (not necessary if you know exactly the size you want)
You can barely see the board in this picture because it blends into the wall. It was just a scrap piece we had on hand.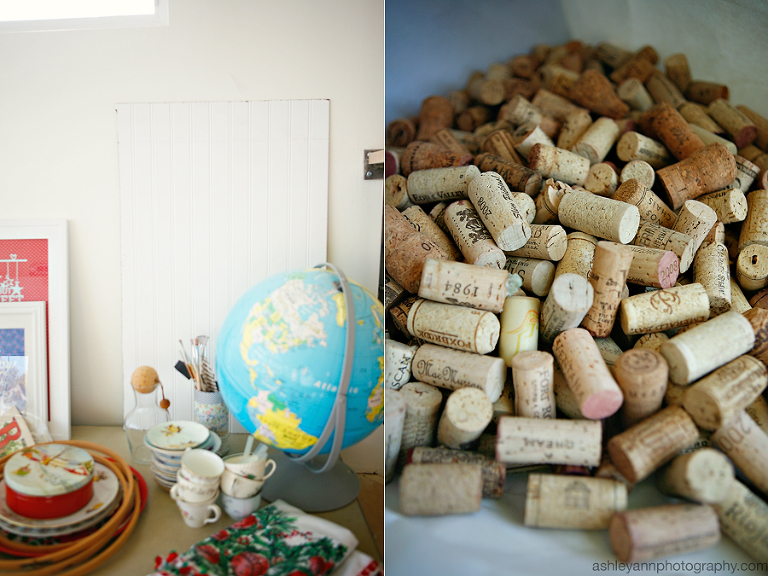 I started on one edge and just started gluing. The hot glue held them in place great.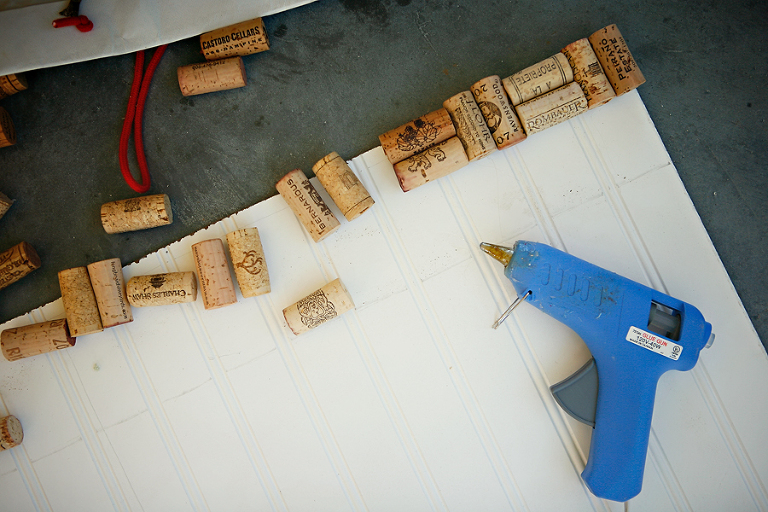 Little helper/mess maker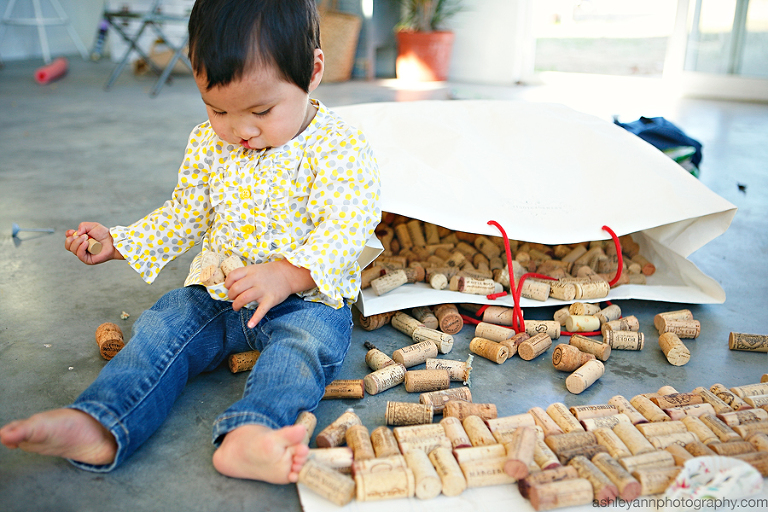 I left room for the last row on two edges. I wasn't sure when I would run out of cork, so I wasn't sure how big the board would end up being. Once I got close to the end of my cork, Chris trimmed the board down with his table saw, leaving room to finish off the last two edges. I trimmed them just enough to be hidden behind the cork once it was added. This project took me a month just because it wasn't a priority…hence why I have different pants on in these pictures. There is also green paper on the floor in both pictures, which makes me laugh. I do sweep daily!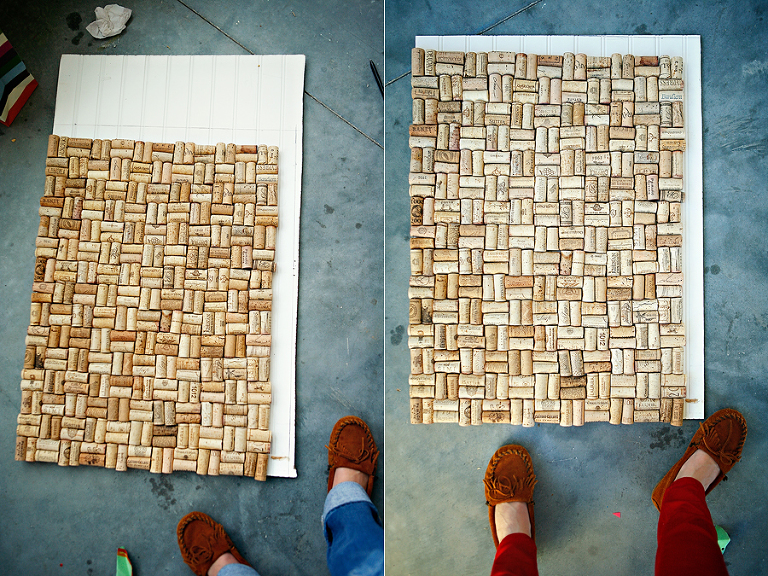 It is going on my desk in the studio. I still need to build shelves and such for storage on my desk, but it is getting there.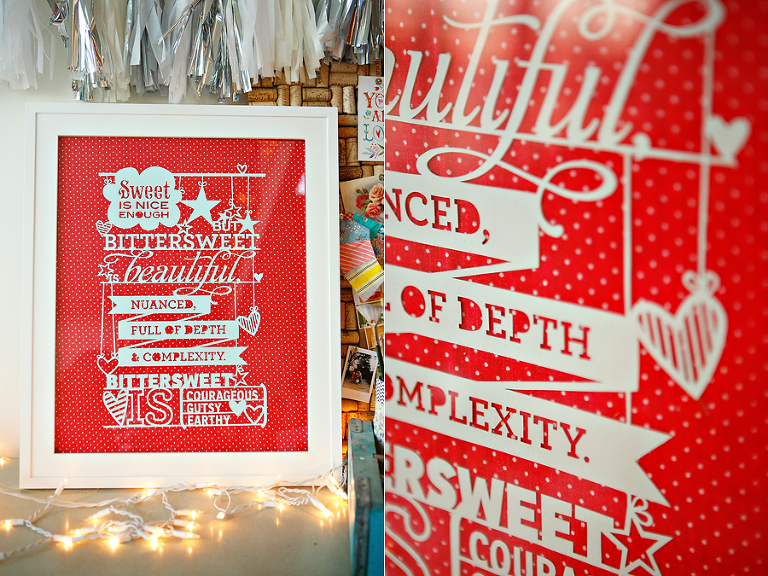 In other news, I've gotten a lot of questions about my Bittersweet paper cutting. It was a gift from my friend, paper cut artist Lori Danelle. It is incredible. Lori is now selling silk screen prints, laser cut prints and hand cut prints in her etsy shop ~ shop.loridanelle.com Gratitude wells up in me each time I read it. The quote is by Shauna Neiquist from her book Bittersweet. If there was ever a quote I would use to describe this past year for me, it would be this one. A year full of beauty, nuances, depth, complexities, courage, guts, bitterness and sweetness rolled into one.
10% of all proceeds from any Bittersweet items sold will be given to support adoption/orphan care
Lori is offering 15% off your entire order through the end of 2012 ~ use the code MERRY15