Two years ago I wrote a DIY post for Design*Sponge…a Vintage Postcard Calendar Journal (long name, I know)…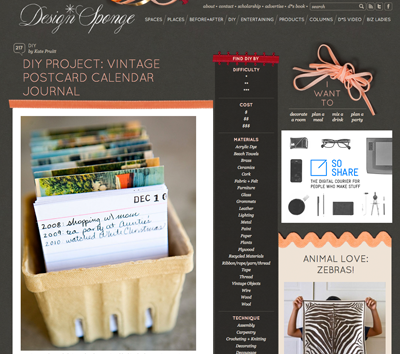 It could make for a great gift for someone in your life that likes to keep a record of the days. The idea is to record a little something from each day. There is room for you to add to it for years to come. I keep one. So today I can look back at something random that happened on this day in 2011 and 2o10. I look forward to when I have 10+ years recorded. Anyway, after that post several other versions began popping up online and linking to me so it was easy to see them. One used a vintage recipe box – which is so smart and would solve my problem with FireCracker constantly dumping mine. I also had no idea there were such cute vintage recipe boxes out there.
For 2 years now, I've been searching online, at antique stores, garage sales and flea markets for the perfect recipe box. Not for a calendar, but just to have for something someday. Two years of searching and I have almost settled several times, but I've held out hope that one day I would come across the perfect one.
I am happy to say that day arrived on Saturday. And this is my ode to my new recipe box…complete with a pop up rooster to hold the recipe card. I am quite sure I've never seen a recipe box more perfect for me. It was worth the wait…and it was $5.00. If you've looked for great vintage recipe boxes, you know I got a steal.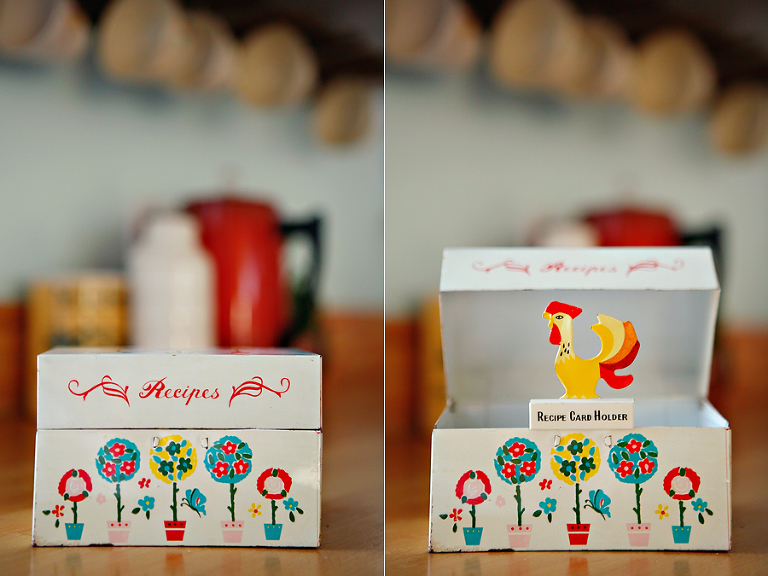 My recipe box matches my house quite nicely. Pink, red, teal and yellow…even at Christmas time.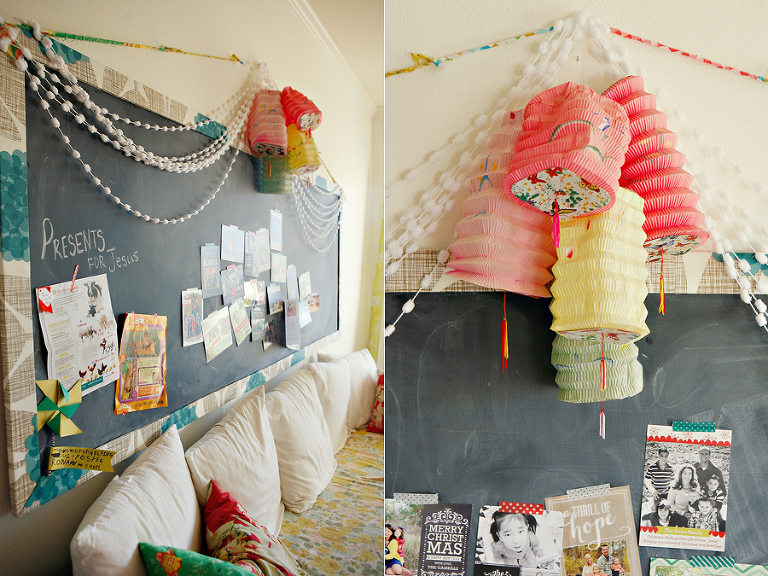 My chalkboard may not look too 'Christmas-y'….but if you sit on the couch and look the other way the lights on the tree make it feel more like Christmas.
This kid. Goodness, he pushes my patience and completely melts me in the same moment.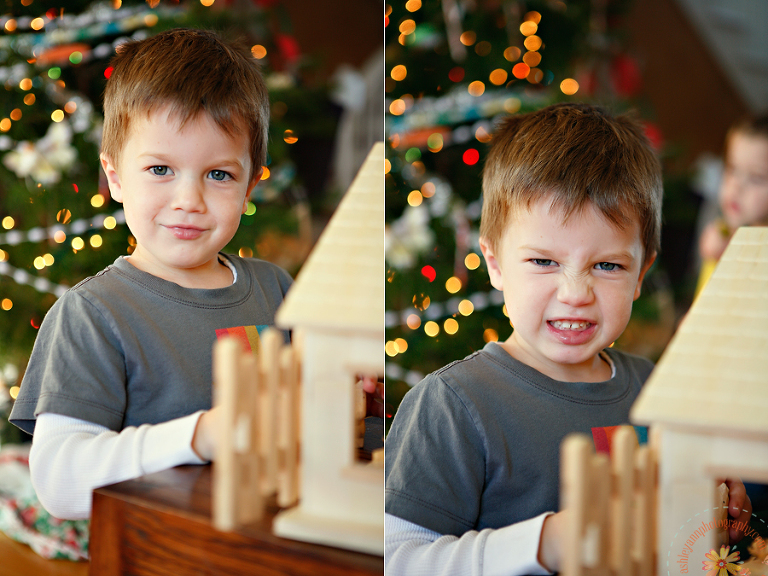 For those that wanted to see the construction paper hanging on the tree…here is one of the ornaments the kids made. They have also been coloring pictures for each other and 'wrapping' them in all the random empty boxes they can find. I'm pretty sure when people come over they think we have trash piling up under the tree, but nope, it is just sibling love. It reminds me of the true joy in Christmas. However,  I will admit I would not mind re-wrapping those boxes.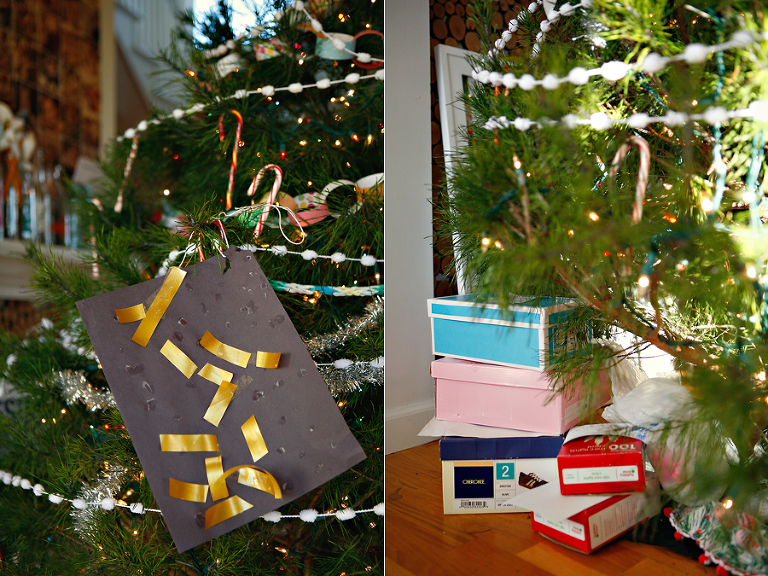 There were also some questions about our wood nativity. I got it at Hobby Lobby after Christmas 2 years ago. It was in the kids craft section. It gets played with everyday.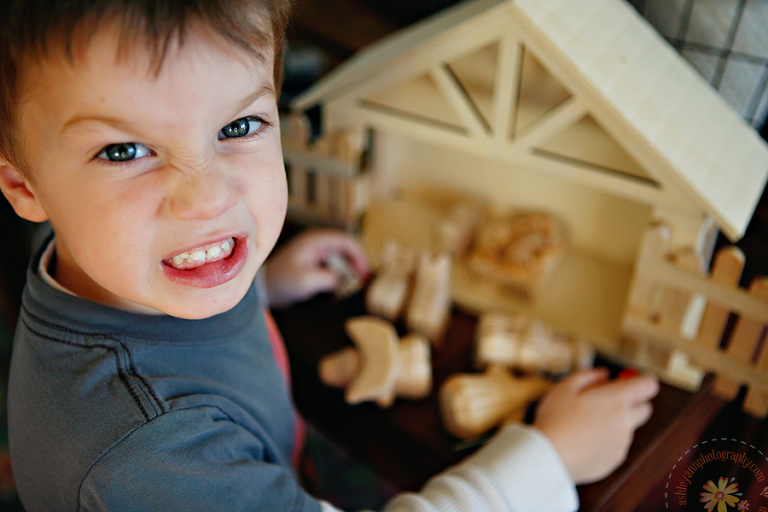 I wasn't going to send Christmas cards this year. Shocking because I am a HUGE fan of Christmas cards. I just didn't think I could get my act together enough to order and mail them. But I came to my senses. Thanfully, Mpix.com is super fast so I should get them all mailed out before Christmas. I love getting cards from friends.  If it wasn't cold, I'd run to the mailbox everyday to see if we got a new one. Instead, I send the boys to get the mail.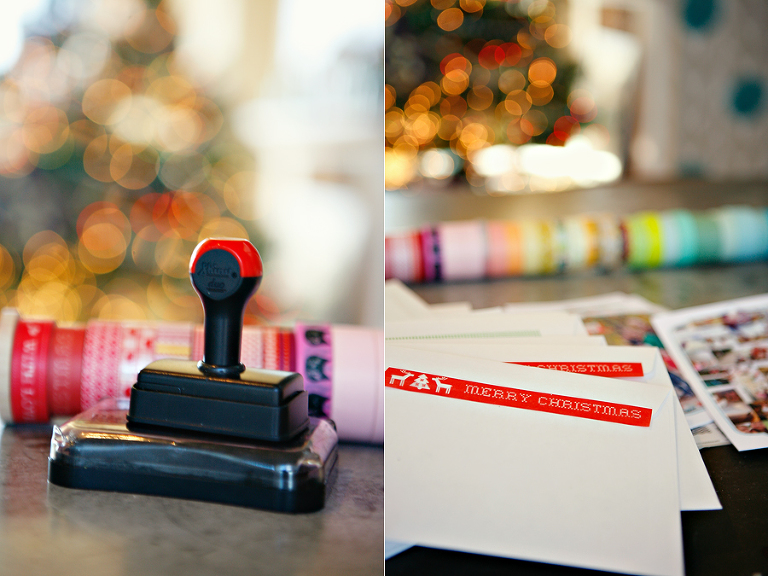 When I scored the recipe box, I also excitedly bought this little toy camper for Little One….FireCracker has been testing it out. Oh how I've missed flea markets! My super wonderful husband was on daddy duty all weekend so I could get a lot done for the weeks ahead. Thanks babe.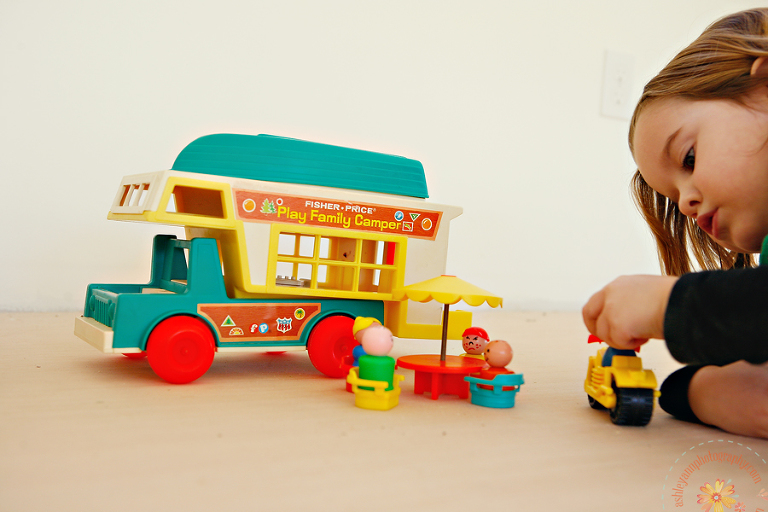 I am busy working on some diy projects. I had hoped to do a different tutorial everyday this week, but I've yet to finish any! Maybe this week I'll get some tutorials up. Or maybe not. I might just curl up under a blanket with a cup of coffee and Christmas movie….